The Best Specialist for Every Category in the NBA Today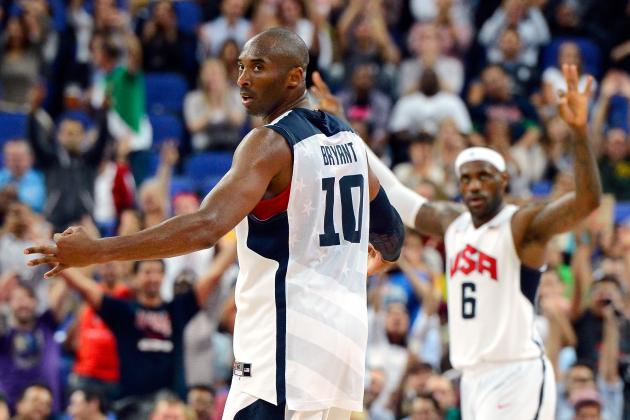 Ronald Martinez/Getty Images

In sports, we are always on the lookout for who we can deem as the best.
It could be the best team, the best player or the best to do a specific ideal. Either way, we're naturally compelled to find out who is arguably the best and then debate if there are other players who can challenge the best player in that specific department. Perhaps this is natural because we are always looking to debate and challenge an existing idea.
In the NBA, there are plenty of arguments over who is the best at a specific category, or even the best overall. Even though LeBron James dominated the 2011-12 season, there are still plenty of people who are willing to argue that Kevin Durant or even Kobe Bryant had the better season. The great part about it is that there aren't any wrong answers; it's all just opinions.
While we won't delve into the topic of who is the best player (we've been through it too many times), we'll speak of who is the best at each specialty category instead. By specialty, we speak of the set niche, whether it's who's the best at defending in the post and on the perimeter, or even the best scorers at driving and jump shooting.
We take a look at who is the best at what they do and offer up some honorable mentions as well.
Begin Slideshow

»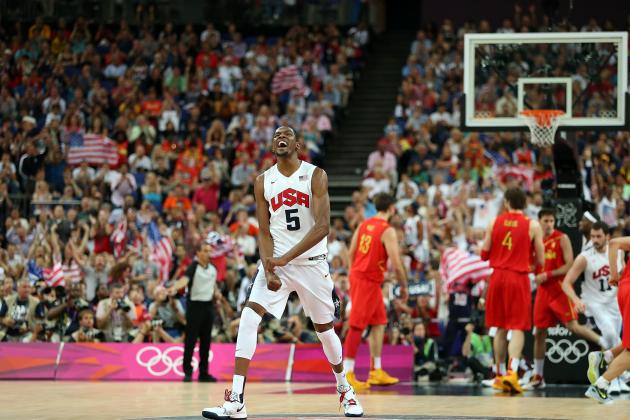 Christian Petersen/Getty Images

It's incredible to think of what Kevin Durant has accomplished before he has even reached the age of 24.
In only five seasons, Durant has led the Oklahoma City Thunder to two Conference Finals and an NBA Finals, became the youngest player to ever win a scoring title when he averaged 30.1 points per game at the age of 21 and is on a run where he has won the past three scoring crowns.
Durant has averaged at least 20 points per game every year he's been in the league and has dropped in at least 25 points per night in the past four seasons. His lowest shooting percentage in that span was 46 percent, and he recently just shot a career-high .496 from the field. His three-point percentage in the past four seasons has never dipped below 35 percent, and it's been as high as 42 percent.
Kevin Durant is the best scorer in the league thanks in part to some ludicrous range and length that can allow him to get from the three-point line to the rim with only one dribble and two steps. Although Durant doesn't attack the rim as much as he probably could, his jump shot is nearly unstoppable, as his release is too quick and his range too far for average defenders to limit.
Even LeBron James and Shane Battier had loads of trouble limiting him in the Finals. With two of the league's top individual defenders guarding him, Durant still managed nearly 30 points per game because of how effective of a dual-threat he is; you don't want to give him any room for his jumper, but you also don't want to give him space to drive and get to the rim in two steps.
Honorable mentions: Carmelo Anthony, Kobe Bryant, LeBron James and Monta Ellis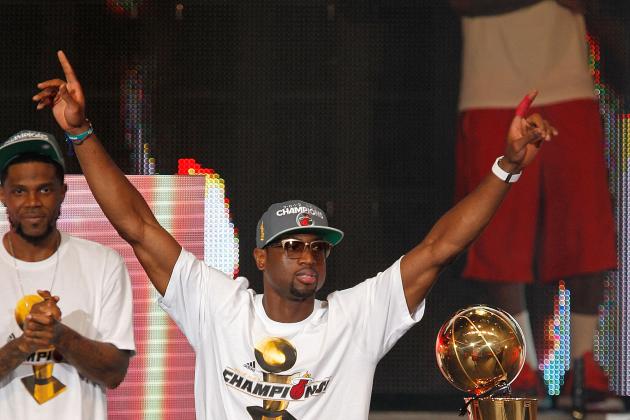 Mike Ehrmann/Getty Images

When you call on a player to get to the rim and take a high-percentage shot, chances are likely that you're going to call on the services of perennial slasher Dwyane Wade.
Despite being 6'4"—and that's giving him a lot—Wade has been one of the league's top slashers since joining the league in 2003. His ability to read defenses and split double-teams at the perimeter before they can be set is a key characteristic of his game, as he does whatever he can to get to the rim.
Wade's change-of-dribbles, agility, decision-making and a little bit of luck help him on just about every strong drive he's ever taken. Because he's never had a complex crossover, Wade takes advantage of preying on the weaknesses of his defenders by either using his strength, quickness or wits to get by his original defender.
Once he eludes the original defender, he then has a quick decision to make on whether he wants to kick-out the pass or take on the seven-footer that plans on blocking his shot. More times than not, Wade is going to take it to the rim, and he's usually going to either finish at the rim and/or receive a trip to the charity stripe.
He's extremely quick on his vertical leap, and he also happens to be strong enough to out-muscle the defender that is impeding his progress.
Wade can beat you in many ways as a slasher, but he's always looking to go over the top of the final defender to finish off the play rather than contorting himself in a way to make a difficult lay-in.
Honorable mentions: Derrick Rose, Monta Ellis and LeBron James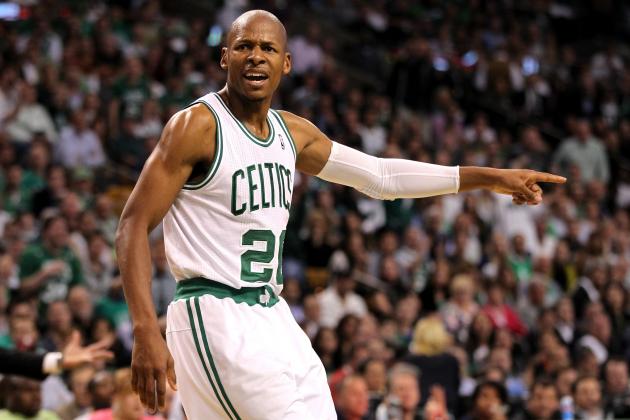 Jim Rogash/Getty Images

In this jump-shooting game, nobody even comes close to touching Ray Allen.
Despite just turning 37 years old and having played over 40,000 minutes in 16 years worth of professional basketball, Allen remains as the league's most lethal jump shooter. In fact, it seems that age may be playing a key role in Ray's shooting; he's had the two best shooting percentages of his career from beyond the arc in the past two seasons.
Ray is shooting 40 percent from beyond the arc over his career, has never shot below 35 percent and has converted over 40 percent of his three-pointers in seven seasons.
In 46 games last year, Allen converted 2.3 three-pointers per game at a 45 percent clip. There's a reason why Ray was getting offered $12 million over the next two years from the Boston Celtics: He's the best shooter the league has ever seen, and it doesn't look like it's planning on stopping anytime soon.
Allen took a hit in last year's playoffs with sub-par shooting-percentages, but they can be attributed to him possibly returning too soon off an injury he suffered near the end of the regular season.
When healthy, however, Allen's quick release and ability to hit the dagger is a key component for any championship team, especially the team who signed him that will thrive off of Ray hitting open three-pointers on kick-outs from slashers.
Honorable mentions: Steve Novak, Kyle Korver and Kevin Durant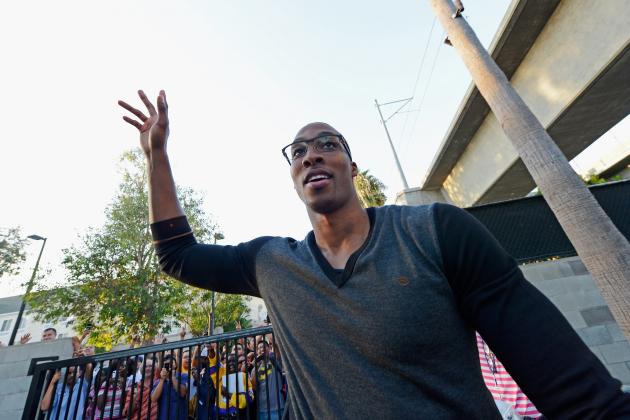 Kevork Djansezian/Getty Images

Just because Kevin Love won the rebounding title with a number we haven't seen since the early-2000's doesn't meant that he can waltz in here and be deemed as the league's top rebounder.
As far as it goes, the guy who has led the league in rebounding in four of the past five seasons, including last year, deserves that honor.
Dwight Howard, who averaged a career-high 14.5 rebounds per last season, is a dominant force in the paint that is as close to unstoppable as you can get from a center today. His rebounding is one of the most ideal characteristics of Howard's game, as his imposing presence at 6'11", 240 pounds and sharp elbows is enough to clear space for himself when clamoring for the board.
His athleticism is staggering for a player his size, rendering it nearly impossible for any other center to contend with Dwight for rebounds.
With excellent hands to tack on to a chiseled frame that also comes complete with the most athleticism we've seen from someone who stands at 6'11", Howard has dominated in the rebounding department, and it should only persist with him being paired up with another excellent rebounder in Los Angeles.
Honorable mentions: Kevin Love, Andrew Bynum and DeMarcus Cousins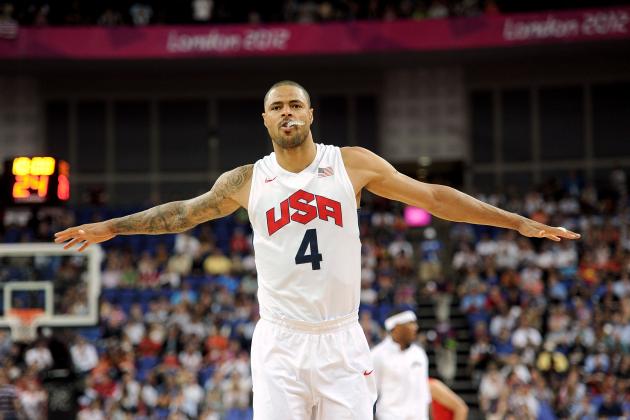 Harry How/Getty Images

As much as we all would have loved to see LeBron James go for a clean sweep in the league's most significant awards, Tyson Chandler was an obvious choice to win Defensive Player of the Year.
Think about it: James can at least rely on Shane Battier to help his minutes, as well as the team's overall defensive scheme, which relies on all five players on the floor working together.
Chandler, on the other hand, is playing with a number of players who have a lot of difficulty defending and keeping their man in front of them.
Even with the likes of Amar'e Stoudemire, Carmelo Anthony and either Jeremy Lin or Baron Davis starting at point guard, the Knicks finished in the top 10 in points given up per game. Why? Because Tyson Chandler is in the post using his absurd wingspan to swat and disrupt shots, keeping his assignment quiet (even Dwight Howard) and playing without fouling.
Chandler took a Knicks defense that ranked 27th in points per game the year before and had them 10th going into the end of the season. The fact that he's able to compensate for the lack of individual defenders on his team and can do it all without getting into foul trouble is enough for Tyson to be known as the league's top post defender.
Honorable mentions: Dwight Howard, Kevin Garnett and Serge Ibaka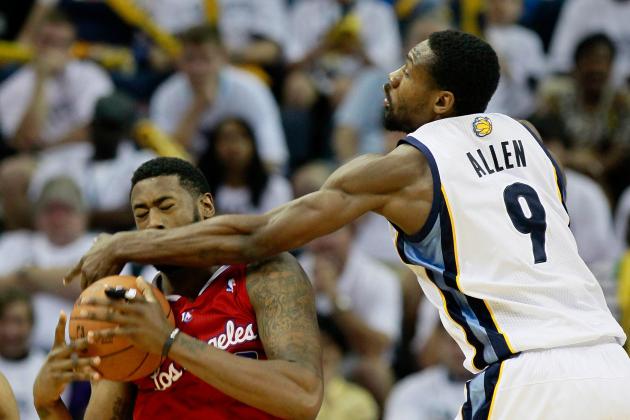 Kevin C. Cox/Getty Images

The league's most underrated defender, Tony Allen is probably the best player you've never heard of.
While Allen's offensive repertoire is limited, his perimeter defense is tops in the league and it's why he has been able to keep a starting job as the Memphis Grizzlies starting shooting guard despite there being a much better scorer in O.J. Mayo playing as his backup.
Allen's defense is too valuable to the Grizzlies and any team that would be fortunate enough to have him on their side. He's an excellent teammate, a great locker room presence and, above all, an incredible perimeter defender who has the strength and lateral quickness to keep his defender in front of him at all times.
Despite being 6'4", Allen can utilize his athleticism and length to disrupt the shots of opposing two-guards who can sometimes stand as tall as 6'7".
Honorable mentions: Andre Iguodala, LeBron James and Avery Bradley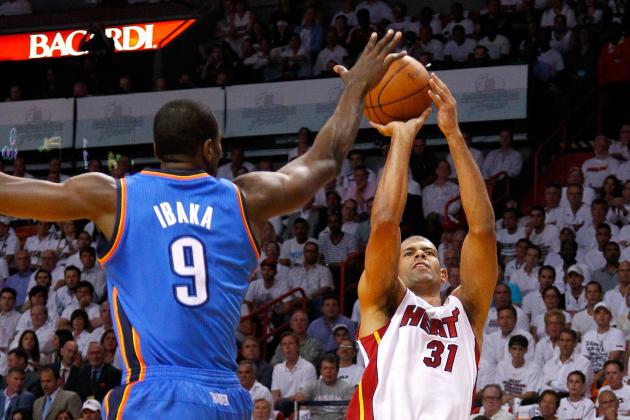 Mike Ehrmann/Getty Images

Those Oklahoma City players sure did know how to make an impression early on in their career's.
The biggest surprise out of the bunch would be the Republic of Congo's own Serge Ibaka. The 6'10", 220-pound power forward was taken with the 24th pick in the 2009 draft by the Seattle Sonics, and the Thunder have been living off the unexpected success they have garnered from the defensive capabilities of Ibaka.
While his individual defense has room for improvement, his shot-blocking has earned a name for Serge as one of the league's most feared players to come across for slashers when entering the lane. Because of Ibaka's athleticism and length, Ibaka is able to get to nearly every shot that comes his way.
Although he can be a little too ambitious and has blocked a lot of shots that resulted in goaltending violations, it's that same ambition that allows Ibaka to stay with and go after every shot. It's exactly what you want out of any elite shot-blocker, and Serge has emerged as an elite in the category in only three seasons.
Ibaka averaged 3.7 blocks per last year; that's 1.5 blocks per more than the player to have the second most in that category, and it's also the most the NBA has seen since Theo Ratliff in 2001.
Honorable mentions: Dwight Howard, JaVale McGee and Josh Smith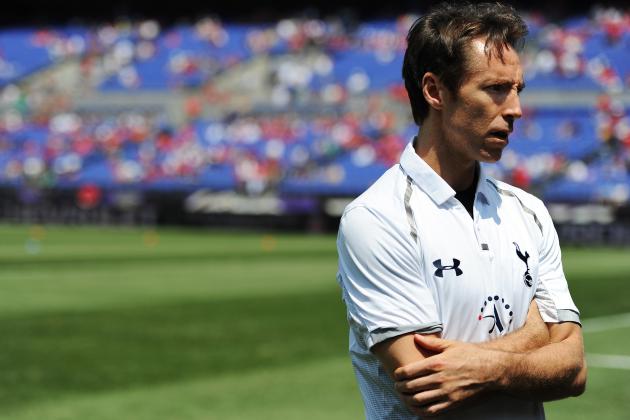 Patrick Smith/Getty Images

This was the toughest decision to make because it came down to two of the league's top pure passers.
When it comes to passing, Steve Nash and Rajon Rondo are the five-star generals of their respective teams. They can dictate an offense and control the tempo of a game like no other point guard because of how willing they are to give up the ball. Unlike most other point guards who will incorporate their scoring touch, Rondo and Nash look to win games with their passing and will score if their team calls upon them.
Rondo's ability to get to the rim and Nash's ability to shoot are just a few more attributes to pin on the league's top passers. However, Nash comes away with the slight advantage because of how effective he's proven to be with lesser talent. I don't want to punish Rondo for being gifted with incredible teammates, but Nash has done so much with so little at times.
The Suns from last year could have garnered a top-five pick in last year's draft if not for Nash. His ability to run the pick-and-roll with just about any big man with feet is a testament to Nash bringing the best out of everybody, as well as his creativity when it comes to finding looks for his teammates.
With that ability to run the pick-and-roll to perfection, we can only think of the wonders Nash will be able to accomplish with Dwight Howard by his side.
Nash has led the league in assists per five times, including two of the past three years and five times in the past eight years, and most recently posted 10.7 assists per, good enough for second in the league.
Honorable mentions: Rajon Rondo, Chris Paul and Deron Williams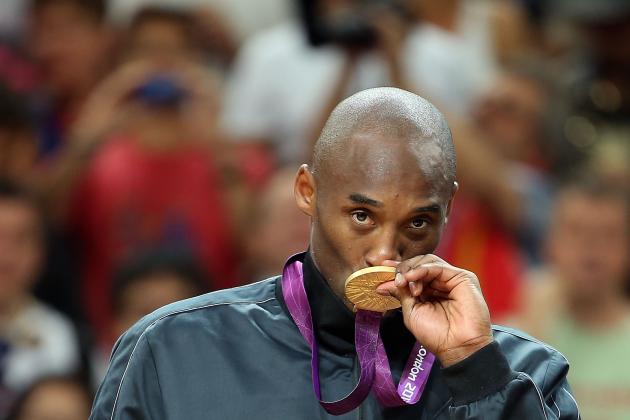 Christian Petersen/Getty Images

It's painful to hear when Kobe Bryant gets criticized for "overshooting" because those same shots that he's missing are the same shots you could be cheering for him to shoot a day later when he's in a better rhythm.
You can't base Bryant's capabilities on a game-by-game basis. If you look at his overall production and what he has done over his career, it's obvious to see that Bryant is one of the league's greatest leaders and is the player you want taking the shot last shot if he's on your team and the last player you want to see taking a shot if you're the opponent.
No stats should tell you otherwise: Kobe Bryant is a born leader. While many will throw the "Oh, look at his shooting percentage at the end of games" argument, it's also important to note that Bryant is usually the one taking the last shot under most circumstances. Sometimes the shots miss and sometimes they go in, and we'll base our judgment of Bryant on whether he makes or misses.
It's not fair to Bryant's capabilities. He's a five-time NBA champion and a two-time Finals MVP with the high possibility that he may add one more to each of those categories by the end of the year. He's earned all of those accolades because he's an excellent leader who has hit incredible shots and made the big-time plays that has given his team the leg-up they needed to come up victorious.
Even in the down years post-Shaq and pre-Pau, Bryant still led his team to two postseason appearances because he was doing what was necessary to will his team to those heights.
That's what a leader is about: showing up when the team needs you most, even if it means scoring 81 points to beat Toronto.
Honorable mentions: Kevin Garnett, Tim Duncan and LeBron James
Christian Petersen/Getty Images

The Magic Johnson of our generation, LeBron James is a point guard in the body of a 6'8" behemoth who can play just about every position on both sides of the ball.
Since he joined the league, James has dabbled in everything on the court. He's proven to be an excellent scorer, a rebounder when called upon, a standout defender who will guard the opponent's best player and a facilitator who is always looking out for his teammates.
While he may have been too reliant on his teammates in pressure situations, it seems that James has turned a corner with excellent scoring performances late in games in the NBA Finals and the recent Olympic games. LeBron is becoming more confident in his abilities and it's only making him a better all-around player.
James is capable of scoring as much as Kevin Durant or Kobe Bryant. Instead, he utilizes his physical attributes and ability to see the floor to facilitate for his teammates. There's no doubt that he can get to the rim with ease and now has a post game to help him get set up in high-percentage areas, but he also uses those attributes to find easy scoring opportunities for his teammates.
LeBron averaged 26 points, 7.6 rebounds, six assists and 1.8 steals per game last year on a team with arguably another top-five player and also one of the league's top power forwards.
Since his move to Miami, James has proven that he can be a unselfish teammate with another superstar while continuing to play comfortable and expanding his horizons.
Honorable mentions: Rajon Rondo and Andre Iguodala