Carolina Panthers: 3 Position Battles to Watch in 2nd Preseason Game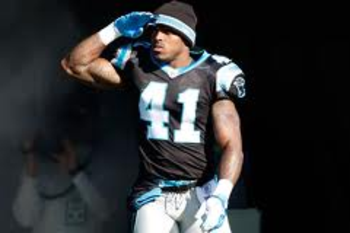 Captain Munnerlyn (41) had better look over his shoulder to retain starting cornerback role. Photo courtesy Panthers.com.
The Carolina Panthers finally broke training camp at Wofford College on Wednesday, but position battles remain all over the field and none are more heated than the open competition at cornerback, wide receiver and kicker.
Carolina will conclude the first half of its 2012 NFL preseason under the Friday night lights when the Miami Dolphins and HBO's "Hard Knocks" crew descend upon Charlotte's Bank of America Stadium at 8:00 PM on August 17.
The Panthers' preseason opener against the Houston Texans last weekend, a 26-13 loss, was a big disappointment for fans expecting to see more production out of the first-team offense and improved play out of the defense and special teams.
Carolina ran a watered-down version of offensive coordinator Rob "Chud" Chudzinski's Yellow Pages-sized playbook in their first preseason game, and though they will open it up a bit wider tomorrow night, do not tune in expecting to see much trickery from Cam Newton and Co.
Instead, the main reason to watch preseason football is for the on-field battles taking place between position players fighting for roster spots and starting roles once the regular season begins on September 9 in Tampa Bay, Florida.
Here is a look at three of Carolina's hottest position battles that are still up in the air with just over three weeks to go before the Panthers' 2012 NFL season begins.
Cornerback Competition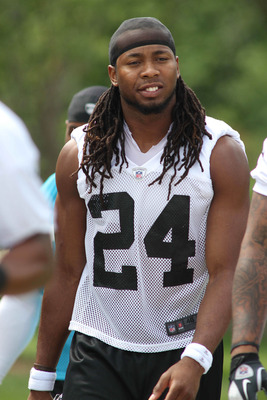 Josh Norman (24) can take the lead in cornerback battle with a solid performance against the Miami Dolphins.
Jeremy Brevard-US PRESSWIRE
Cornerback was an interesting position for the Panthers last season.
On one side of the ball they had Chris Gamble, who was among the best cover corners in the NFL in 2011.
But the other side was manned by Captain Munnerlyn, who had one of the worst seasons of any NFL corner.
The Panthers drafted a cornerback in each of the past two seasons—Brandon Hogan (West Virginia) in 2011 and Josh Norman (Coastal Carolina) in 2012—but Hogan missed nearly all of training camp with leg problems after spending 2011 on the physically unable to perform (PUP) list with a torn ACL.
Munnerlyn talks a big game and does not lack in confidence, but he looked over-matched in man-to-man coverage against the Houston Texans last weekend and he has been practicing at the nickel back position this week according to the Charlotte Observer.
Norman, who has been getting the majority of first-team reps this week, had four interceptions in a now legendary practice earlier this week.
I expect No. 24 to play well against the Dolphins on Friday night and to take another step towards earning a starting role in the Carolina secondary.
No. 3 Wide Receiver Up for Grabs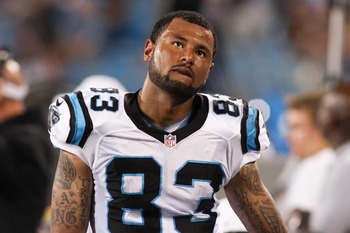 Louis Murphy (83) had two catches for 42 yards in his Panthers preseason debut vs. the Houston Texans.
Jeremy Brevard-US PRESSWIRE
The battle for the No. 2 wide receiver position was over before it started with Brandon LaFell being the clear-cut winner.
But the Panthers still need to decide who their No. 3 wideout will be this season.
Third-year Panther David Gettis was expected to be in the hunt for LaFell's position after missing 2011 with a torn ACL. However, he has not fully participated in practice since training camp began and it is questionable whether he will be ready to start the season.
Enter Louis Murphy, Seyi Ajirotutu and Kealoha Pilares into the conversation.
Murphy, acquired from the Oakland Raiders on July 23, had a pair of catches for 42 yards in Carolina's preseason opener against the Houston Texans and he looks like the early front-runner for the Panthers' third wide receiver position.
Ajirotutu has also made strides this offseason and he has impressed the coaches in practice, but he let a potential touchdown catch slip through his finger tips on a rising fastball from Cam Newton that Steve Smith or LaFell likely would have grabbed.
Pilares, a second-year player out of Hawaii who had 88 catches and scored 15 touchdowns as a college senior, has also flashed his ability in practice. But he needs to play well out of the slot receiver position on Friday to justify the buzz he created with his 101-yard kickoff return at Detroit last season.
Gettis will likely take over the No. 3 receiver spot once his health is fully restored, but for now Murphy, Ajirotutu and Pilares each have an opportunity to lay claim to a significant role in Chud's wide open offense.
Kicker Duel on Its Final Leg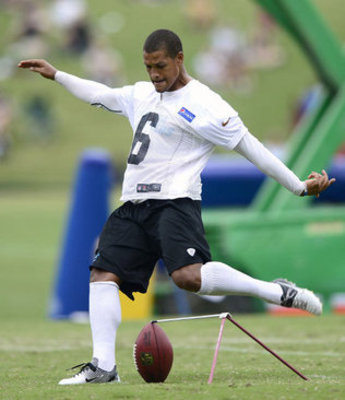 Justin Medlock (6) kicks at Panthers camp. Photo courtesy Charlotte Observer's Jeff Siner (jsiner@charlotteobserver.com)
Olindo Mare and Justin Medlock continue to battle it out for the Panthers' kicker job which head coach Ron Rivera expects to be decided by the third preseason game against the New York Jets on August 26.
The Panthers will cut their roster down to 75 players on August 27 and only one kicker will stay in town while the other packs his bags.
Mare (33 yards) and Medlock (48 yards) each converted on their only field goal attempts versus the Houston Texans in the Panthers' first preseason game, but field goals are only half of the battle.
Rivera will only keep one kicker on the roster and he has to handle kickoff duties as well.
Mare, entering his 16th NFL season, ranked second in the NFL with 53 touchbacks last season while hitting 78.6-percent of his field goals (22-for-28) after replacing longtime Panthers kicker John Kasay.
However, a couple of crucial misses against the Minnesota Vikings in Week 8 and the Atlanta Falcons in Week 14 put his job in jeopardy.
Medlock, a former fifth-round pick by the Kansas City Chiefs in 2007, is at his tenth stop in six years. His debut with the Panthers did not get off to a good start when his first kickoff attempt landed at the 10-yard line and was returned 90 yards for a touchdown by the Houston Texans' Trindon Holliday.
The journeyman kicker out of UCLA has kicked for the NFL's Chiefs, St. Louis Rams, Washington Redskins and Detroit Lions; the Canadian Football League's Toronto Argonauts (twice), Edmonton Eskimos and Hamilton Tiger-Cats; and he was with the Omaha Nighthawks of the fledgling United Football League for two days.
Medlock told the Charlotte Observer's Tom Sorenson that his journeyman days are coming to an end and that 2012 will be his last season as a professional kicker if he does not secure a position with the Panthers or another NFL team this year.
Jimmy Grappone is a Featured Columnist covering the NFL and the Carolina Panthers for Bleacher Report since 2008.
Be sure to check in for Grappone's live blog coverage of the Carolina Panthers v. Miami Dolphins beginning at 8:00 PM (EST) on Friday, August 17, 2012.
Recent articles by Jimmy Grappone:
5 Panthers Having Worst Training Camps

5 Things to Watch For in Panthers Preseason Debut
Takeaways from First 10 Days of Panthers Camp
Latest Panthers Camp News, Cuts and Updates
Carolina Panthers' Complete 2012 Preseason & Training Camp Guide
Keep Reading

Carolina Panthers: Like this team?