WWE SummerSlam 2012: 5 More Matches We Want to See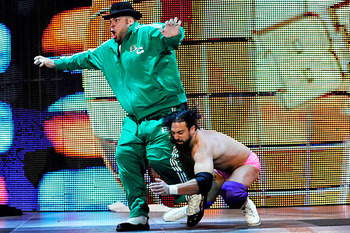 Photo courtesy of WWE.com
Sunday's SummerSlam card appears to be essentially set, and although we may see one or two matches added on the night of the event, there probably won't be much more than that. What that means is that several high-profile superstars are going to be left off the card, which is unacceptable when it comes to the No. 2 pay-per-view of the year.
I realize that there certainly won't be five matches added between now and Sunday, but if the writers were committed to putting forth the highest quality show possible, then they would be able to squeeze more bouts in and jam-pack the show with intriguing contests.
Instead, we're getting a live performance from Kevin Rudolf and likely some other filler as well, but fans generally want to see matches and the creation or continuation of feuds. SummerSlam could potentially offer plenty of that, but it doesn't seem like it will live up to its full potential.
Here are five more matches that we would love to see added to Sunday's card.
Damien Sandow vs. Brodus Clay
Of all the possible matches on this list, the one with the highest probability of being added is Damien Sandow vs. Brodus Clay. These two up-and-comers have been engaged in a bit of a rivalry for a few weeks and it boiled over two weeks ago when Sandow attacked Clay on the ramp during his entrance.
Clay then interrupted Sandow's match against Christian on Monday, but Sandow was able to regroup and win the match. There hasn't been much midcard storyline development taking place, so this is about the best we've got at the moment. I do enjoy both Sandow and Clay, though, and a match between them on Sunday makes a lot of sense.
It seems like Sandow and Clay are going in different directions, as Sandow has been on a major roll while Clay has been falling off since losing to Big Show. Sandow is truly on the ascent and may soon be in position to win the United States Championship, so I would like for him to look strong and come out on top against the Funkasaurus.
Ryback vs. Tensai
Ryback received a better crowd reaction than he ever has on Monday when he defeated JTG, but unless he does something substantial soon, I'm guessing the "feed me more" chants will get softer while the "Goldberg" chants will return with a vengeance.
Nobody is impressed with Ryback squashing local talent or other jobbers at this point, so it's time to give him a big victory.
If the WWE want to truly elevate Ryback to the next level, then they need to put someone who appears to be an actual threat against him.
The perfect opponent at this point is Tensai.
He has obviously lost almost all of his momentum since debuting, but he is a large, menacing figure, and the crowd would certainly pop if Ryback got him up for his finisher.
Tensai has been losing quite a bit lately, so it wouldn't be any skin off WWE's back to put Ryback over him. There aren't many guys in the company who are as physically imposing as Ryback, but Tensai is one of them.
I anticipate seeing Ryback vs. Jinder Mahal instead, but a match with Tensai would be far more beneficial to Ryback.
Randy Orton vs. Christian
This may seem somewhat random, but Randy Orton and Christian are two of the top veteran superstars in the WWE currently and neither of them are on the SummerSlam card. Both are babyfaces at the moment, but they had a fantastic feud over the World Heavyweight Championship last summer, and I'm sure a lot of fans would like to see a brief reprisal of that.
In fact, Orton and Christian had one of the best matches of the year at 2011's edition of SummerSlam, as Orton defeated Christian in an action-packed, no holds barred match.
I would love to see a segment where Christian and Orton bump into each other backstage and reminisce about their match from last year only to come to the realization that neither of them has anything scheduled this year.
Christian could then tell Orton that they should have one more match, which would be an obvious nod to his heel persona from the previous SummerSlam. It would be a nice way to get both men on the card and it would add a great match to a card that is otherwise lacking in that area.
It could be a one-off deal, or the creative team could build it a bit and eventually turn either Christian or Orton heel since the main-event heel situation is dire at the moment.
Sin Cara vs. Cody Rhodes
The parade of relevant superstars left off the SummerSlam card continues, as neither Sin Cara nor Cody Rhodes are slated to compete at the moment.
Both Sin Cara and Rhodes are supremely talented and should be key cogs in the midcard, but it seems as though the writers are at a loss with regard to what to do with them and how to put them in a position to succeed.
They had an entertaining match last week on SmackDown, though, and fans certainly wouldn't complain if they got to see it again. I liked the way that Rhodes was trying to unmask Sin Cara in that match and how it was related to the fact that he used to wear a mask. I feel like the creative team could go somewhere with that and I hope they do.
I'm a fan of Rhodes, but he has essentially no gimmick and that has hurt him more than anything. I didn't enjoy the grotesque gimmick as much as a lot of people, but at least it was something that gave him substance. Rhodes needs a kick start in order to get back on the verge of a main-event push, and maybe a feud with Sin Cara would do the trick.
Layla vs. Eve
I've officially run out of important superstars to put on the SummerSlam card, but there should definitely be a Divas Championship match.
Whether you're a fan of the divas or not, they do put in just as much work as anyone and deserve to have a pay-per-view match. The WWE has done absolutely nothing in terms of diva feuds lately, but most probably wouldn't mind seeing Layla vs. Eve.
Aside from Beth Phoenix and Natalya, Layla and Eve may be the two best divas in terms of pure wrestling skill, so they could have a solid eight-minute match and it wouldn't suck the life out of the show. Eve has been pushed more than any diva not named AJ Lee recently, so I suppose she would be the logical challenger to Layla.
What I'm actually expecting is some sort of divas bikini battle royale to fit the SummerSlam feel, and while that obviously wouldn't be bad television, it would lack substance. I don't mind divas wrestling when two good in-ring workers put together a proper match, and I feel like Layla and Eve would do exactly that.
Follow @MikeChiari on Twitter and listen to him on Ring Rust Radio.
Keep Reading