NFL Preseason 2012: Must-Watch Matchups for Week 2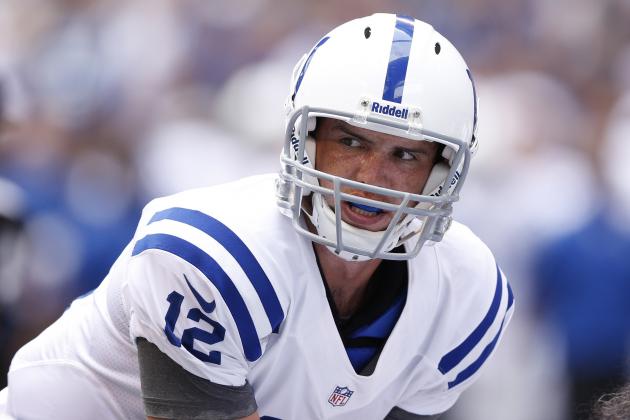 Joe Robbins/Getty Images

In preparation for some exciting preaseason action, I take a look at some matchups this week you absolutely can't miss.
From big-name rookies to established veterans, this week's lineup is full of intrigue sure to have football-hungry fans salivating.
So if you happen to find yourself struggling to decide which games to watch or what you should focus on in the games you are watching, I invite you to refer to this list as a guide for all the best of Week 2's head-to-head contests.
Begin Slideshow

»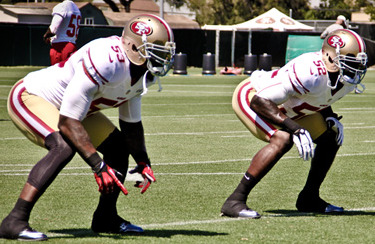 Photo courtesy of sf49ers.com
For those living under rocks and unaware of Arian Foster and Ben Tate, last year these two dynamic runners combined for over 2,000 yards rushing while leading the Texans all the way to an eventual playoff win over the Bengals, despite Houston losing its starting quarterback late in the season.
It's fair to say the Texans run game has been an unstoppable force.
Well, this Saturday that unstoppable force will go head to head against the NFL's most immovable object, the run defense of the San Francisco 49ers, led by Patrick Willis and NaVorro Bowman.
Willis and Bowman destroyed running backs all season while being part of the first team in NFL history not to allow a single rushing touchdown through the first 14 games of the season. Seattle's Marshawn Lynch broke that streak in their 15th game.
This matchup should serve as a great calibrator for both units.
Fans should be looking forward to see which pair gives in first, the unstoppable force or the immovable object.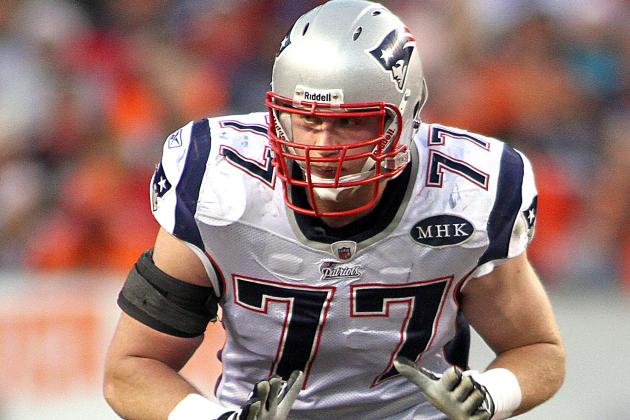 Marc Piscotty/Getty Images

It's no secret that Nate Solder struggled in Week 1 against the Saints. The Patriots expect big things from their first-round draft pick of a year ago, as the success of their high-powered offense and health of franchise QB Tom Brady depend on his play at left tackle.
This Monday night, Solder will have his hands full trying to block one of the league's best pass-rushers in Trent Cole, who should be making his preseason debut after missing the Eagles' opening game against the Steelers.
Solder is slotted to replace longtime starter and Pro Bowler Matt Light at left tackle this season and has gotten off to a rather shaky start. After the game he had this to say to the Boston Herald:
I got to do better than that...It's just learn and move on. I want to continue to improve, I know that it's a whole group effort, so I want to be a part of that...I've seen some of the good competition out there and I know that maybe I'm not to where I want to be yet, I'm not satisfied with the way that I play and I want to continue to get better.
Trent Cole should be a great lesson for Solder, and it should be interesting to see whether Nate does any better against a defensive end with much more speed and quickness than the one he faced last week.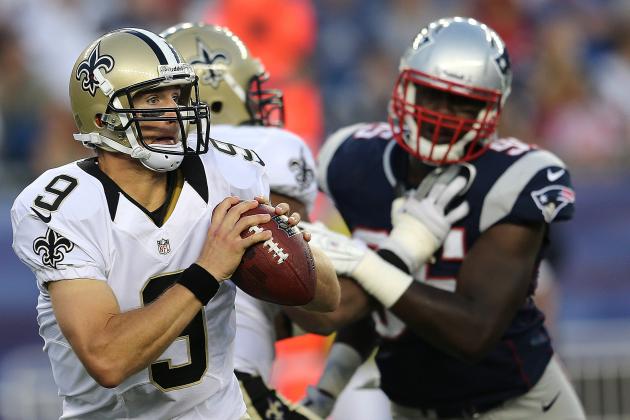 Jim Rogash/Getty Images

Last week Demetress Bell was the starting left tackle for the Eagles. He was signed to a five-year deal worth $34.5 million after the Eagles lost Pro Bowl tackle Jason Peters for the season.
It didn't take long for Bell to lose his starting job, though. In fact, it took only six snaps before longtime reserve tackle King Dunlap was replacing him and eventually being named to the first unit.
Whoever ends up playing the bulk of the first half this Monday night between the two will be matched up against one of the more impressive-looking rookies from Week 1, Chandler Jones.
Jones flashed incredible functional strength and an unbelievable motor in his NFL debut. His matchup against a pair of replacements at left tackle should be an interesting one. This is a great opportunity to see if he can demonstrate some consistency as a force in this league.
On the other hand, for the Eagles, it's imperative they find an adequate replacement at left tackle, or Mike Vick will have to hold off on visions of a dynasty and focus more on the pass rush.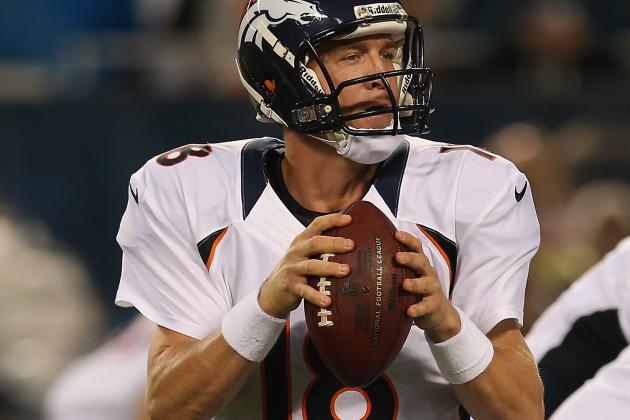 Jonathan Daniel/Getty Images

As Peyton Manning works his way back into form after a year removed from the game and following four neck surgeries, his progress should really be put to the test against one of the most physically gifted secondaries in the NFL.
The Seahawks feature perhaps the biggest defensive backfield in the history of the game. With Kam Chancellor (6'4"), Richard Sherman (6'3"), Brandon Browner (6'4") all over 6'2", teams should struggle to find their targets all season long. They also have first-round pick and Pro Bowler Earl Thomas to round off what was the youngest secondary in the league last year.
This is the year the group can do some really special things and the strength of the team.
But before the real competition begins, enjoy their must-watch preseason matchup against one of the all-time greats at QB, scheduled to kickoff Saturday at 9 p.m. ET.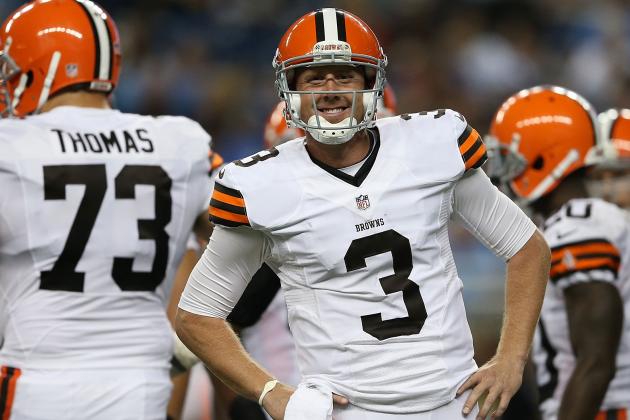 Leon Halip/Getty Images

Brandon Weeden may be older than most rookies in the NFL, but he sure didn't play like it last week, going just 3-for-9 for 62 yards and a fumble in his debut in Detroit.
This week against Green Bay's revamped defense, Weeden hopes to improve his performance and show Browns fans why he was drafted 22nd overall in this year's draft.
But the Packers had a major defensive youth movement this offseason, spending their first six picks of the draft on that side of the ball.
Headlining the class is Nick Perry, who, unlike Weeden, displayed an impressive performance last week in his NFL debut. Keep a close eye on him to see if he can give Weeden some more growing pains.
Second-round pick Casey Hayward should also be a fun one to watch in the secondary. He is one of my favorite players from this year's draft.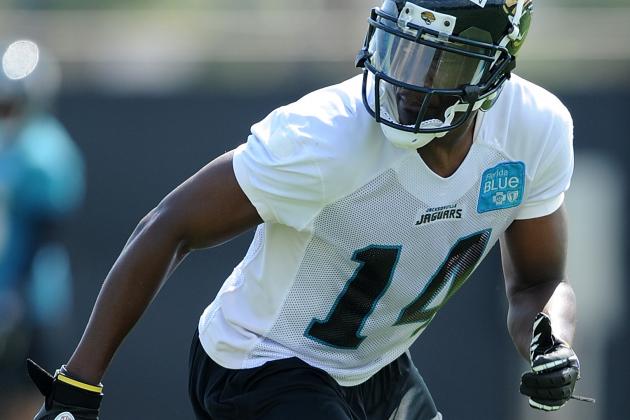 Rick Dole/Getty Images

It's time for Justin Blackmon to put his offseason dramatics behind him, from his DUI charge to his controversial holdout for most of training camp.
Jaguars fans are more than ready to see this talented receiver finally take the field against a formidable Saints secondary.
Throwing him the ball will be another questionable top pick, QB Blaine Gabbert, who looked miserable at times during his first year as a pro. Both of these men may be counting on each other for any hope of career success.
The Saints secondary has looked promising in its first two preseason games. Look for it to play aggressive against this youthful tandem. This unit leads all teams in exhibition play thus far with three interceptions.
Blackmon is expected to play the entire first half of the game with the first-unit offense. This should be an exciting matchup to watch and is definitely a can't miss.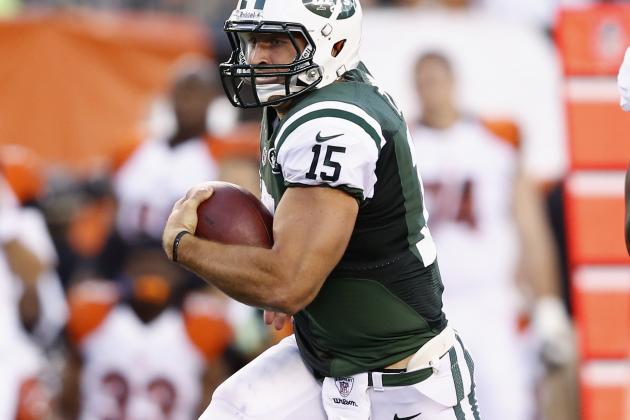 Joe Robbins/Getty Images

This is the battle of inspirational icons. On one side you have the mega-media machine and NFL choir boy Tim Tebow, while on the other side you have Mark Herzlich, the odds-defying cancer survivor who miraculously managed not only to beat a life-threatening sickness but was also able to make an NFL roster and win a Super Bowl ring in his rookie campaign.
Not bad for a guy who was told he would never play football again.
Perhaps this in some way parallels Tebow, who is constantly told he can never play quarterback in the NFL.
Come Saturday at 7 p.m. ET, we should be able to see these two meet face to face on the football field.
Perhaps this is destined to be a game full of miracles.
Photo courtesy of stltoday.com
We should expect Robert Griffin III to have an extended role in this week's game against the Bears.
This should be his greatest test as a pro to date, as he comes face to face with one of the league's most feared pass-rushers, Julius Peppers.
Peppers was suited up for the Bears' first preseason game but was held out of action due to rainy conditions. He should see significant playing time in the first half of the game. One can only imagine his excitement to give RG3 a proper welcome to the NFL.
Look for two highly talented athletes to clash in perhaps the best game of cat and mouse all week.
Will the Heisman Trophy winner manage to escape the pursuit of Peppers?
Either way, it should be exciting to see Griffin forced out of the pocket a few times, putting that world-class speed on display for our viewing pleasure.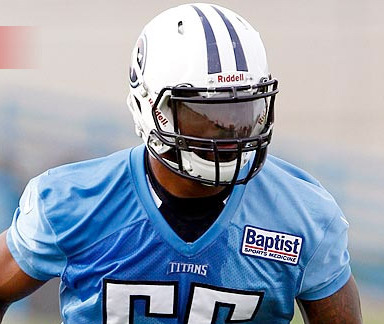 Photo courtesy of nfl.com
This should be a great matchup of talented rookies, who should find themselves on the field at the same time.
Martin was a first-round pick for the Buccaneers and has already shown the ability to run hard with the ball. He had seven carries for 21 yards and a touchdown and one catch for seven yards in his NFL debut, which are not the most impressive stats, but he did show a lot of potential.
Brown is an intriguing talent who, according to NFL.com's Bucky Brooks, won state titles in the 100-meter and 200-meter dashes as a high school student. He also was the state champion in wrestling. If that wasn't enough, he is the record holder in the 60-meter dash for the University of North Carolina, despite carrying a beefy 244 pounds.
The big question for Zach Brown has always been his skill as a football player. Well, he seemed determined to prove his critics wrong with an impressive performance against the Seahawks in Tennessee's season-opener.
Come Friday night, be sure to watch these two talented rookies attempt to get the best of each other.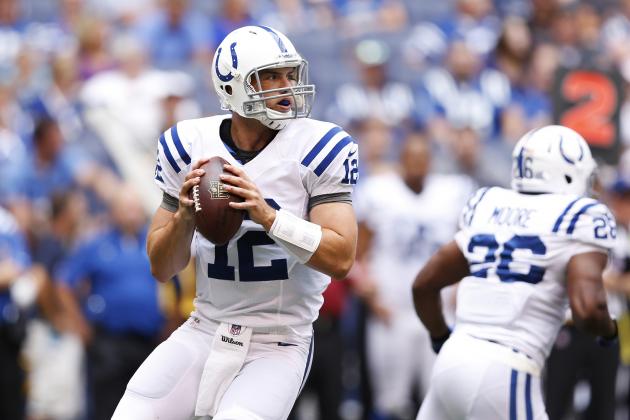 Joe Robbins/Getty Images

The Steelers held Mike Vick to 3-of-4 passing for 6 yards and a sack in their season opener. Clearly this defense is looking to continue its long-held dominance into the 2012 season.
This should be quite the test for No. 1 overall pick Andrew Luck as he continues his maturation process. Luck looked the part last week against the lowly Rams defense, picking St. Louis apart like a 10-year veteran.
He came into this league with a reputation bigger than life itself. As of right now, he has met expectations.
However, if anyone can put a damper on the phenomenon known as Andrew Luck, it's the man with the hair, the "Tasmanian Devil" himself.
I expect Troy Polamalu to play more than the three snaps he had last week in the preseason opener against the Eagles. But how much time this injury-prone superstar will see has yet to be determined.
However, one thing is for sure: His presence on the field will give Luck plenty to think about.
Polamalu has a reputation as being one of the most difficult guys in the league to read. If Luck manages to make the Steelers defense look bad, well, we may be looking at the one guy capable of stealing the spotlight from Tim Tebow.
Fortunately for the league, this attention would be well warranted.