Boston Red Sox: Bobby Valentine Won't Survive Past October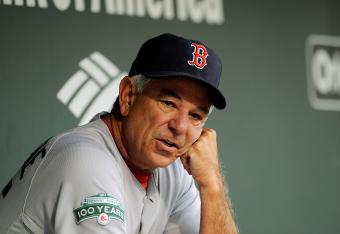 Patrick McDermott/Getty Images
Between the analyzing of Tim Tebow's 25th birthday, Peyton Manning's neck and the Jets' quarterback situation, you may have heard a tidbit or two of information from a certain four-letter network concerning the job status of Boston Red Sox manager Bobby Valentine.
In case your cable has been disconnected or you have been living under a rock, feel free to check out the latest installment of the Bobby V saga here, courtesy of Jeff Passan of Yahoo! Sports. All done? Good. Now let's break down what it means.
Bobby Valentine will not be the manager of the Boston Red Sox come opening day 2013.
I was not a fan of the hire. Boston is one of the most difficult sports markets to hold an occupation, and I did not believe for a second Bobby V's personality would mesh with the players or the fans.
It would be foolish to place the blame of the team's poor performance completely on the team's skipper, as he has not fielded a single ball nor stepped inside the batter's box this season. However, in sports, there is a rule that I tend to think is quite accurate. On the day a manager is hired, his days with the organization regardless of the sport are already numbered.
Bobby's number is shrinking faster than the Stephen Strasburg inning limit.
When John Henry said the team has a strong policy of keeping things within the clubhouse, it quickly jumped toward the top of my list of comical things said by the Red Sox organization. Was he referring to the same team whose players were downing beer and devouring chicken just last season? That wasn't too much of a secret.
Passan was obviously accurate in his reporting when he claimed that the Red Sox players no longer wanted to play for Valentine. Of course, you expect the club to attempt to save face when the news broke by saying it was a lie, but we all know it's true.
When will Bobby Valentine be fired?
Valentine's methods have been questionable since his arrival in Beantown. From calling out (now former Red Sox player) Kevin Youkilis on his effort, to leaving in pitcher Jon Lester to get rocked for 11 runs out on the mound, I have constantly wondered if players really supported the man who fills out their lineup.
The answer is now a clear no.
It is highly doubtful that ownership fires Valentine in the middle of the season, even if the playoffs begin to seem more and more out of reach. Bobby V was brought in to cure the issues within the Red Sox clubhouse, not to add fuel to the fire.
Of course, with injuries and constant under-performance of most of the club's star players—I'm looking at you, Josh Beckett—the job hasn't exactly been made any easier.
So the Red Sox basically have two options: fire Dustin Pedroia, Adrian Gonzalez and all other players who have an issue with Valentine, or fire the manager of the team one year short of completing his contract. The answer is pretty obvious.
Where there is smoke, there is typically fire. There's so much smoke at Fenway Park that it's getting pretty difficult to breathe.
There is no such thing as the word patience in Boston. There are no "rebuilding years" or asking the fans for their patience. The players are clearly burnt out with Bobby Valentine, and the fans are too.
The Bobby Valentine experiment will end this October. This club will likely look different in April of next year.
Boston fans will not object to either.
Follow Brandon Wheeland on Twitter @BrandonWheeland. Check out his newly launched blog Wheeland On Sports. Brandon Wheeland also covers the Houston Astros at ClimbingTalsHill.com
This article is
What is the duplicate article?
Why is this article offensive?
Where is this article plagiarized from?
Why is this article poorly edited?

Boston Red Sox: Like this team?