Chicago Blackhawks' 3 Worst Missed Opportunities This Offseason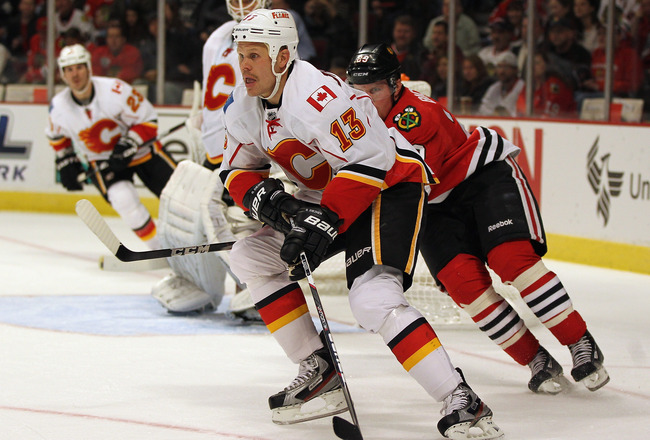 Jonathan Daniel/Getty Images
When you have a core that consists of Jonathan Toews, Patrick Kane, Marian Hossa, Brent Seabrook and Duncan Keith, there should be no reason why you can not have a contending team year in and year out.
For the Chicago Blackhawks, that is the case. They will enter the 2012-13 season with one of the most exciting rosters in the league. However, it all depends on how they come together as a team if they are going to play well.
Even when you have some of the best players in the NHL playing for you, it is imperative that you fill out the rest of your roster with a supporting cast. The Blackhawks have been able to do a good job of that, either finding solid role players or incorporating their up-and-coming rookies into the position.
Even so, this summer they missed the ball on some deals that would have made them the team to beat in the Western Conference.
Let's take a look at the three worst missed opportunities that the Chicago Blackhawks had this offseason.
Not Trading for Roberto Luongo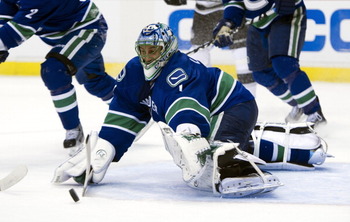 Rich Lam/Getty Images
The biggest hole on the Chicago Blackhawks roster is in between the pipes. The tandem of Corey Crawford and Ray Emery does not strike fear into the eyes of opposition goal scorers.
The Blackhawks have the opportunity to trade for Vancouver Canucks goalie, Roberto Luongo, if they so choose. This would better their goaltending situation and provide some stability and consistency in the crease.
With the Canucks signing Corey Schneider to a multi-year deal they have shown confidence he is their goalie of the present and future. That makes Luongo expandable, and he wants out of Vancouver.
The Blackhawks have been connected to the All-Star goaltender and Luongo himself has talked up the chance to play in Chicago, according to Greg Wyshynski of Yahoo Sports!.
I think there's a lot of cities that are great to play in, and Chicago's definitely one of them. But you have to realize that it works both ways. There's not only me involved in this decisions. It's also a question if the Blackhawks would be interested, if the team would be interested in trading me there and if I wanted to go there.
Although it would take getting used to, seeing Luongo in a Blackhawks jersey, there is no questioning the fact he would make them a better team. Of course, they are still able to contend with Crawford and Emery in net, but having a world class goaltender, like Luongo, would put them on another level.
Failing to Lure Shane Doan
Christian Petersen/Getty Images
With Shane Doan still a free agent, the Chicago Blackhawks have time to make this happen, although it seems like he is about to re-sign with the Coyotes very soon.
They may have missed their window of opportunity in landing the veteran forward.
It would have taken some incredible arm-pulling on behalf of the Blackhawks to steal Doan from the only team he has played for, but if they did, it would have been an incredible move. There was mutual interest between the two parties, but so far it has yet to amount to anything of significance.
Chris Kuc of the Chicago Tribune tweeted this, in regards to the Blackhawks interest.
Captain Jonathan Toews said he lobbied with Shane Doan the last couple of days to join #Blackhawks as a free agent.

— Chris Kuc (@ChrisKuc) June 27, 2012
Even Doan and his agent expressed Chicago would be a nice fit, and that they did have an interest in playing for the team. All of this, however, could just have been part of a backup plan in case Doan could not reach an agreement with the Coyotes.
Nonetheless, it was enough to get our mouths watering over the fact.
Doan would have been an excellent fit in the Chicago lineup—a perfect combination of grit and skill. It would have toughened up their first two lines and he could have been complimented with two highly-skilled forwards.
Doan also brings a leadership presence that would be invaluable to any team.
Not Acquiring Olli Jokinen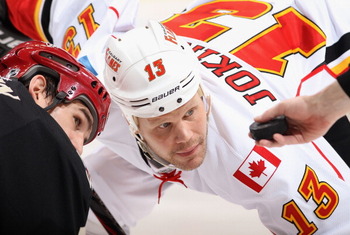 Christian Petersen/Getty Images
Olli Jokinen knew that he was not going to be brought back by the Calgary Flames for this upcoming season, and the Blackhawks should have picked up the aging centerman as soon as July 1st rolled around.
I know what it means to play in a Canadian market. If a team doesn't make the playoffs there's going to be changes and the easiest way to make changes is not to re-sign the expiring contracts, said Jokinen, according to Ed Tait of the Winnipeg Free Press.
Ultimately they missed out, and the Winnipeg Jets signed him to a two-year $9 million contract (via the Winnipeg Free Press).
Jokinen would have provided the missing piece to the puzzle up front, sliding himself nicely into the second line center role. That would allow Patrick Kane to move back to the wing, his natural position, and cement Dave Bolland to his duties on the third line.
Jokinen still has a couple years left of productivity. He should be able to get close to 50 points this season. The real advantage to signing him, however, would be to have another natural centerman in the lineup.
Jokinen was the best available free-agent center on the market, and the Blackhawks would not have had to spend a fortune in acquiring him.
This may be the biggest of the missed opportunities by the team this offseason.
Keep Reading

Chicago Blackhawks: Like this team?