Oklahoma State Football: The All-Time Dream Team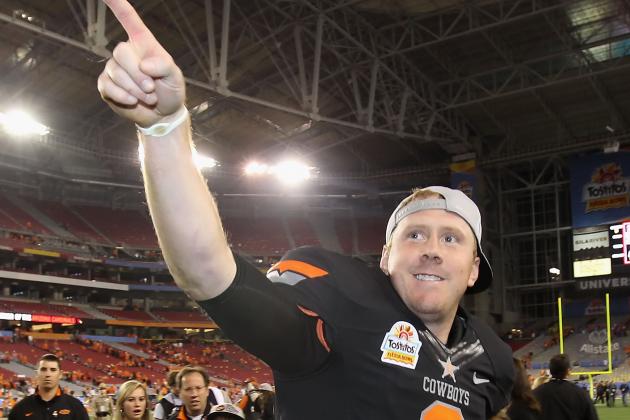 Christian Petersen/Getty Images

Oklahoma State football has had a storied history with many great players. Making an all-time dream team of Cowboys is no easy task, but it is a fun one.
Cowboy football has gone through many different eras, each with its own set of expectations, priorities and playing styles. Each era has also had its own Cowboy legends, and it will be from those players that this team is selected.
For each position, I will select an all-time great Cowboy and a backup. I will be using the old-fashioned positions since the Cowboys, although they do not use them now, have had some great tight ends over their history. I will be judging the players based purely on their college careers.
Begin Slideshow

»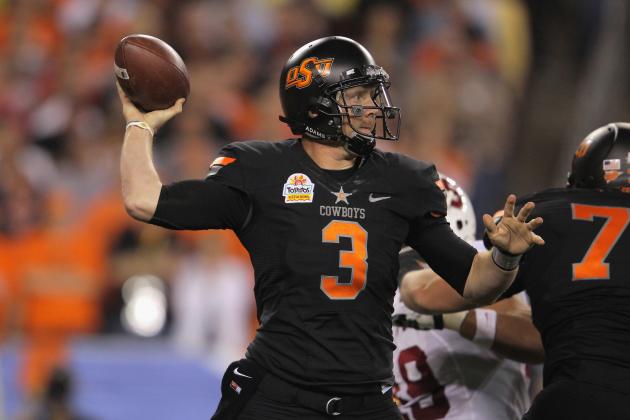 Doug Pensinger/Getty Images

Brandon Weeden is the clear choice for the quarterback position. He owns all of Oklahoma State's passing records and led the team to a 23-3 record as a starter. He is also the only Oklahoma State quarterback to be named to the All-Big 12 first team. The school's only Big 12 title in football and only BCS game are also just a few of the feathers in his cap.
Backup: Mike Gundy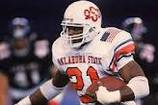 Barry Sanders is another obvious choice. He is the only Heisman winner in Oklahoma State football history and still holds the NCAA records for the most rushing yards and rushing touchdowns by any player in a single season. To make it even more impressive, Sanders established that record in just 11 games and accounted for over 200 more in the Holiday Bowl that year. Sanders' backup is an obvious choice as well.
Backup: Thurman Thomas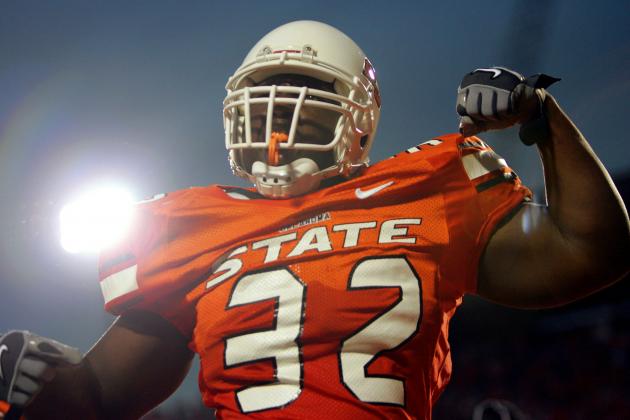 Ronald Martinez/Getty Images

Fullback is not a position that I am very aware of historically at Oklahoma State. If there is someone I have forgotten about who should be in this spot or as a backup, please let me know in the comments.
Julius Crosslin rushed for 432 yards and 23 touchdowns during his four-year career at Oklahoma State. He was one of the leaders of the team during the transition between Les Miles and Mike Gundy, and was a big part of why the Cowboys became one of the best teams in the Big 12 South in 2008.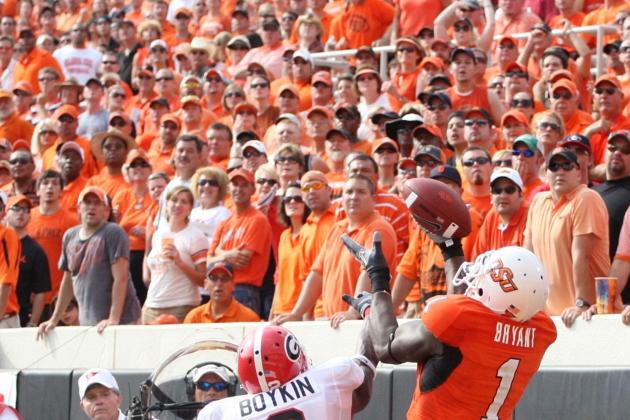 Christian Petersen/Getty Images
Dez Bryant
Dez Bryant was probably the most physically gifted receiver in Oklahoma State history. He could jump, catch, run and had the size to battle with the best cornerbacks. It is a shame that he never got the chance to play in the Cowboys' current pass-happy system.
Justin Blackmon is the most prolific receiver in Cowboy history. While not the physical specimen that Bryant was, Blackmon worked much harder and really became the fantastic player that he was. Despite the off-the-field problems each has had, they are still both the most talented wide receivers in Oklahoma State history.
Backups: Hart Lee Dykes and Rashaun Woods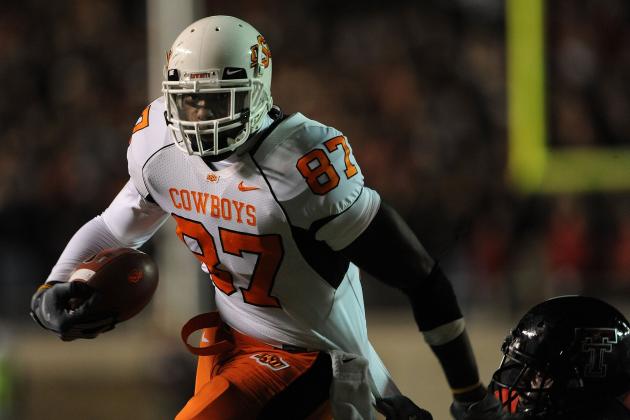 Ronald Martinez/Getty Images

Brandon Pettigrew's potential was never fully realized on the field with the Cowboys thanks to an injury that kept him out for a significant portion of his senior year. Still, he was very physically gifted and was versatile for his position. He could block, catch passes and was big and fast. He was everything a team could want in a tight end, and that is why he is having a successful NFL career right now.
Backup: Alonzo Mayes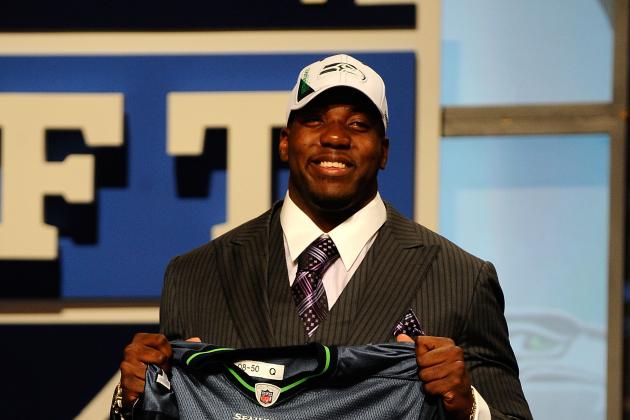 Jeff Zelevansky/Getty Images
Russel Okung
Russell Okung is the class of this group as a Top 10 draft pick of the Seattle Seahawks just a few years ago. John Ward and Derrel Gofourth were consensus All-Americans, and Levy Adcock is the most underrated lineman in Oklahoma State history. Charlie Johnson had a great career at Oklahoma State, which only got better in the NFL as he won a Super Bowl with the Indianapolis Colts. There are no backups for this group as this is one of the most numerous and hardest to judge positions.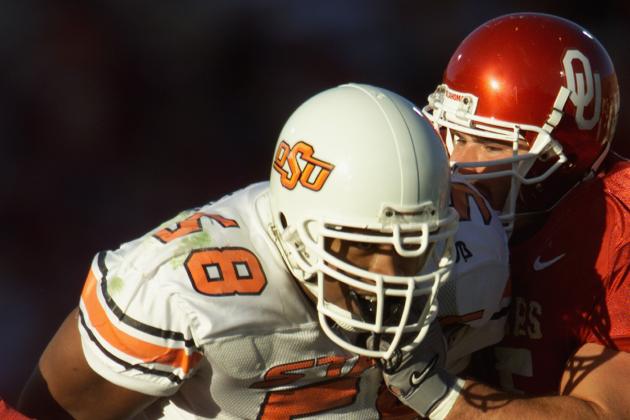 Brian Bahr/Getty Images
Kevin Williams
Kevin Williams is one of the greatest players in Cowboy history. He was an anchor defensively that helped turn the Cowboy program around in the early 2000s. He also accounted for 160 tackles, 38 tackles for loss and 18.5 sacks. He went on to become one of the NFL's best defensive linemen. Philip Dokes played for the Cowboys in the 1970s, helping them win a share of the Big 8 title in 1976. He was an All-American that same year.
Backup: James White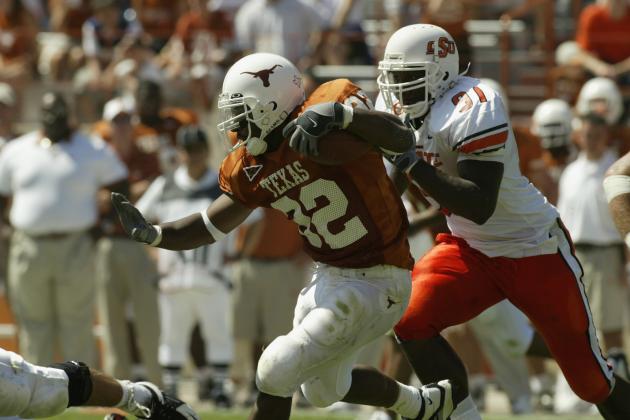 Ronald Martinez/Getty Images

Leslie O'Neal was a consensus All-American in 1985 and one of the most disruptive pass-rushers in Oklahoma State football history. O'Neal's play was so good that he is considered to be among the best Oklahoma State Cowboys ever not named Barry Sanders or Thurman Thomas. Currently a defensive end for the Houston Texans, Antonio Smith started his career at Northeastern Oklahoma A&M before transferring to Oklahoma State for his junior year. He played an integral part, along with defensive tackle Kevin Williams, in anchoring the Cowboy defense that helped turn the program around under Les Miles.
Backups: Richetti Jones and Jamie Blatnick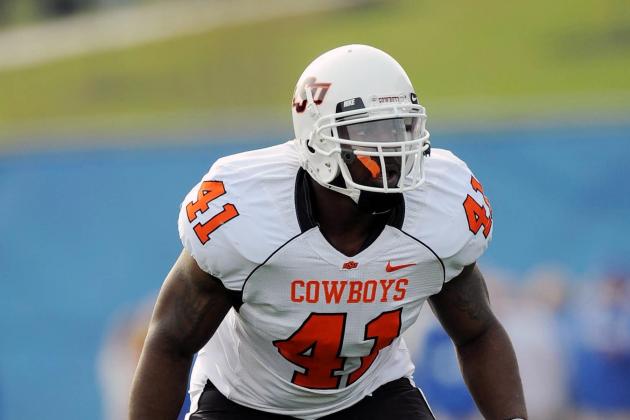 John Rieger-US PRESSWIRE
Orie Lemon
Orie Lemon was the leader of the defense a few years ago when the Cowboys took a big step toward becoming the Big 12 championships they were last season. He led the team in tackles and, despite not being a big-name player, will always be remembered as one of the best defensive leaders in Cowboy history. John Corker was named the 1978 Big 8 Defensive Player of the Year, despite playing in just seven games that season. In 1979, he was a second-team All-Big 8 and All-American player. He went on to a successful pro career in the NFL and USFL.
Backup: Jack Baker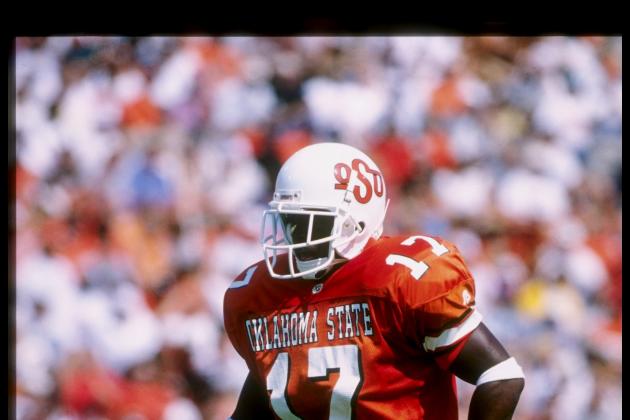 Stephen Dunn/Getty Images

R.W. McQuarters was one of the most versatile players in the nation during his time at Oklahoma State, playing considerable minutes at cornerback, wide receiver and kick returner. He was best as a returner and set a school record of 521 punt return yards, averaging 16.3 yards per attempt. He went to an NFL career that culminated in a Super Bowl title with the New York Giants. Darrent Williams was a four-year starter at Oklahoma State who ended his career tied for the NCAA record for interceptions returned for a touchdown in a career. A few years into his career with the Denver Broncos, Williams was killed as an innocent bystander to a drive-by shooting.
Backups: Brodrick Brown and Perrish Cox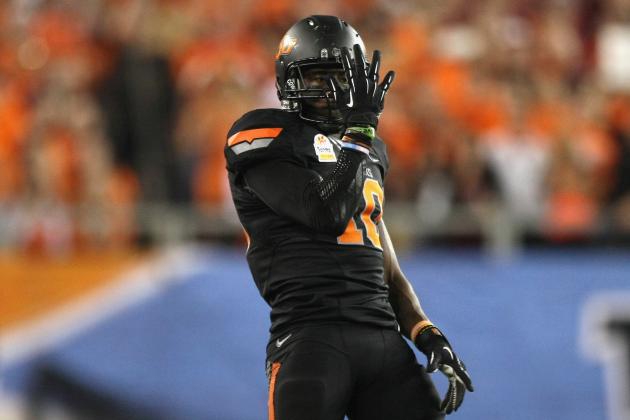 Donald Miralle/Getty Images

I am not familiar with very many great safeties in Oklahoma State history. If anyone knows of someone who should be here instead of Markelle Martin, or as a backup to him, let me know in the comments.
Martin was an integral part of the resurgence of the Cowboy program over the past decade. He helped lead one of the most underrated secondaries in the country over the past few years and came up huge in multiple bowl games for the Cowboys. He accumulated 178 tackles in his career, and will begin his professional career this season for the Tennessee Titans.
Backup: Daytawion Lowe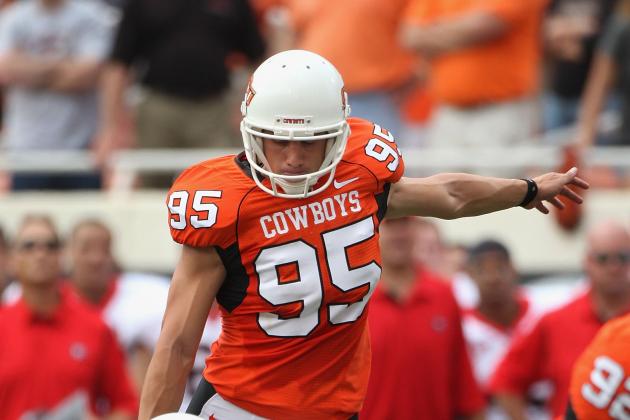 Christian Petersen/Getty Images

The 2010 Lou Groza Award winner as the nation's best kicker of that year, Dan Bailey was stellar during his time as the starting kicker for the Cowboys. During his senior year, Bailey made 87 percent of his field goals and accounted for 149 points individually. It is no coincidence that Bailey is now a starting kicker in the NFL.
Backup: Luke Phillips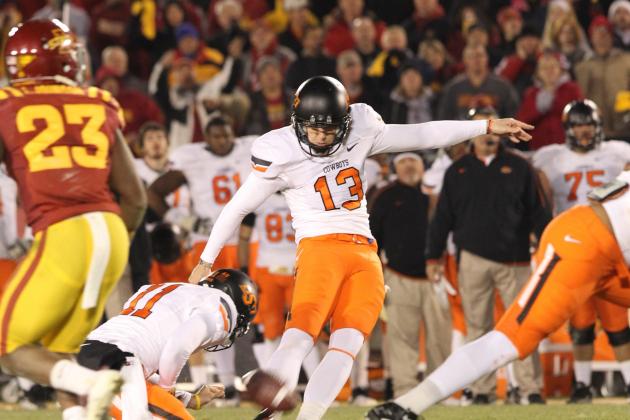 Reese Strickland/Getty Images

Unlike other punters in Oklahoma State history, Quinn Sharp has never won the Ray Guy Award, which is given to the nation's best punter. However, the reason he did not last season was because he did not punt enough times to qualify. He has led the nation in net yards per punt for multiple years and has one of the strongest legs in the nation. Last season and this season, he assumed all kicking duties for the Cowboys.
Backup: Cole Farden