Louis Murphy and Other Panthers Who Will Make Cam Newton's Encore Even Better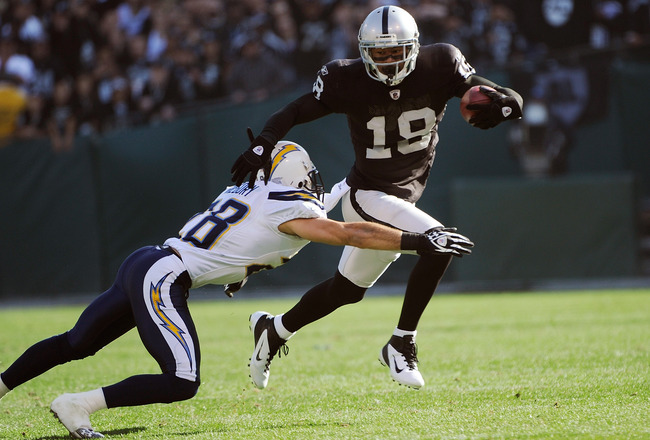 Thearon W. Henderson/Getty Images
Cam Newton is looking for an encore of his rookie performance, but it will take receiver Louis Murphy and a couple other Carolina Panthers to make the sequel better than the original.
Cam Newton took the league by storm, and it took the efforts of veteran WR Steve Smith along with veteran TEs Jeremy Shockey and Greg Olsen to make it happen.
This year, the veterans will look to help Newton repeat his 2011 performance, but it will take a group of youngsters to make last season look like a warm-up.
Most may know that RB Mike Tolbert and WR Brandon LaFell will look to make their marks on the team. Tolbert adds versatility at fullback, while LaFell will try to take advantage of lighter coverage as teammate Steve Smith draws the eye of the defense.
These two are expected to excel and help the team, but there are three other players that Newton will need in order to improve on last year's amazing season.
Louis Murphy, WR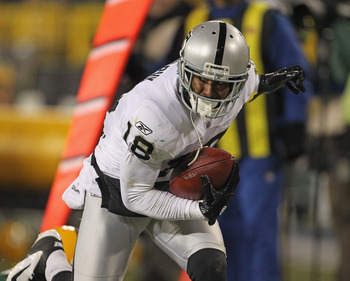 Jonathan Daniel/Getty Images
Louis Murphy was traded by the Oakland Raiders to the Carolina Panthers for a conditional seventh-round pick.
This could be the best move the Panthers made all offseason, as Murphy has quickly put himself as the favorite for the No. 3 wide receiver position.
The 6'2" receiver out of Florida was once a teammate of Newton's while he was in Florida. He provides another big-bodied receiver for Newton.
Head coach Ron Rivera likes Murphy and knows him very well from his days as the defensive coordinator for the San Diego Chargers. Coach Rivera thinks of Murphy as a "very capable football player" and that "he'll add competition to the position" (via Carolina Huddle).
Murphy has already made a clear statement that he wants the No. 3 receiver job with his play in the first preseason game against the Houston Texans.
With David Gettis still on the sidelines trying to get healthy, Murphy was given a chance to shine, and he glowed with 42 yards receiving on two catches.
He did a good job using his body to get into position, and he showed off a solid pair of hands. Plus, his 21-yards-per-catch average shows that he will have little problem fitting into a passing scheme that features big plays down the field.
The 2011 Carolina Panthers had Steve Smith and some other guys that could maybe play. The 2012 Carolina Panthers could have as many as four NFL-caliber receivers ready to change the game on any play, and Louis Murphy looks to be one of those guys.
Gary Barnidge, TE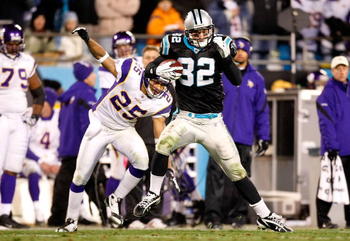 Kevin C. Cox/Getty Images
Gary Barnidge is the exact clone of fellow TE Greg Olsen.
At an ideal 6'5", 250 pounds, Barnidge looks the part, but so far in his career he has been unable to act the part.
This will be Barnidge's fifth year in the NFL, but he only has 12 receptions for 242 yards in those five years. He has been plagued by injury after injury, and his career never had a chance to start, but this year it will all change.
Barnidge is finally healthy and ready to become an NFL tight end.
Last season, Barnidge had the chance to learn not only from Olsen, but also from TE Jeremy Shockey.
Shockey and Olsen fell five yards short of a combined 1,000 yards receiving, and they combined for nine touchdowns.
Now that Barnidge is healthy, he should be able to not only match but improve on those numbers.
He started with a good opening preseason game, as he had two catches for 34 yards. Now it just depends on whether Barnidge can build on that performance and show that he's finally ready to start his NFL career.
Byron Bell, OT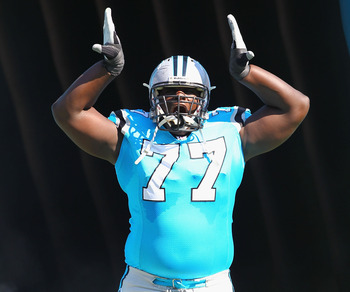 Dilip Vishwanat/Getty Images
Byron Bell is exactly what a right tackle should look like.
Bell stands a massive 6'5", 340 pounds. The undrafted rookie out of New Mexico looks like a guy that first plows over opposing defenders and then eats them.
Last year he had a little indigestion, but Bell did well seeing that he was probably not expecting to start in place of Jeff Otah.
Bell has some areas for improvement, though, as he struggled with penalties. According to STATS Inc. (via ESPN's Pat Yasinskas), Bell was flagged for 14 penalties, fourth-most in the entire league.
But Ron Rivera believes in Bell. According to Yasinskas, Rivera thought Bell played "pretty doggone well" and that the "year of experience bodes well for him."
The Panthers were fifth in the NFL in scoring with Bell at the right tackle position. The penalties may have been due to nerves, and that area can be fixed.
With an improved Byron Bell providing gaping holes for Newton to pass through and run through, Newton will have the chance to better decide how he will beat opponents on Sundays.
This trio does not gain a lot of attention, but they will be crucial to Newton's success and his attempt to outperform his 2011 rookie self.
Keep Reading

Carolina Panthers: Like this team?