New Orleans Saints' 5 Most Exciting Players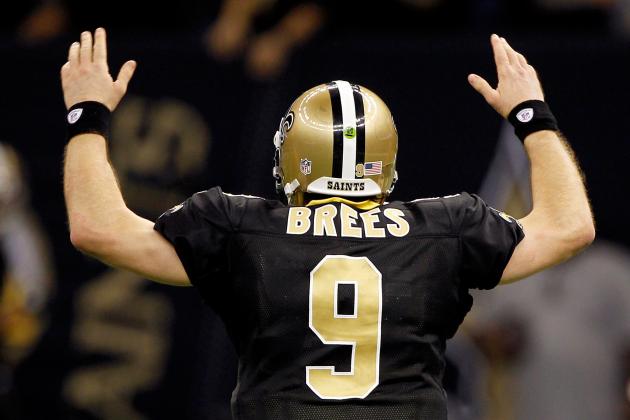 Chris Graythen/Getty Images
Drew Brees threw 46 touchdown passes in 2011.
When you look at the New Orleans Saints, one word should come to mind: exciting.
The Saints ranked second in the league last year in scoring with 34.2 points per game and led the NFL in passing yards with 334.2 yards per game. This offense can open up the floodgates and score at will. Scoreboard operators have their busiest days when the Saints are in town.
But it isn't just the Saints' passing attack that leads to New Orleans being so great on offense. Only five teams in the NFL rushed for more yards per game (132.9) last season, and no one moved the chains better than the 26 times per game New Orleans notched first downs.
It's an awful lot of fun to watch the Saints on game day. Last season, New Orleans scored 30 or more points 10 times, putting up 62 against Indianapolis and 49 against the eventual Super Bowl New York Giants. Their lowest scoring output of the year came in Week 6 in a 26-20 loss to Tampa Bay.
Every time the Saints step onto the field, expect fireworks. But who should you watch, specifically, to get an idea of just how explosive this team is?
Here are the Saints' five most exciting players.
Begin Slideshow

»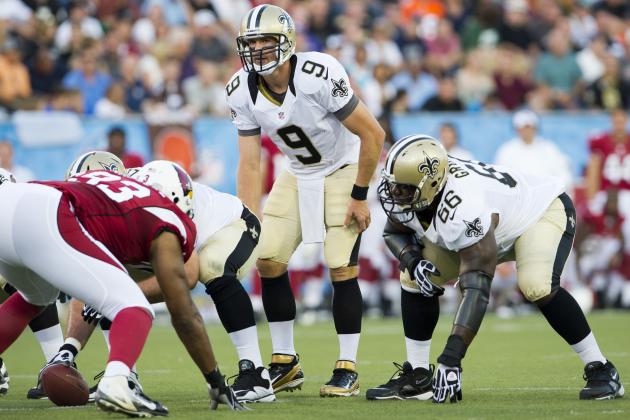 Jason Miller/Getty Images
No one in the NFL threw for more yards than Drew Brees last year.
One of the most prolific passers in the NFL is New Orleans Saints quarterback
Drew Brees.
Brees joined the Saints in 2006 and has since led the team to a 62-33 record
over six seasons, five playoff appearances and a 2009 Super Bowl win. But
it's Brees' individual stats that have been otherworldly.
In his six seasons, Brees has thrown for 28,394 yards on a 67.8 percent
completion rate. Never has Brees thrown for less than 4,388 yards in a season
in New Orleans, and he has averaged just over 4,732 yards per year.
In 2011, Brees set an NFL record with 5,476 passing yards—more than any
other quarterback in a single season in football history.
Brees led the NFL with 46 touchdown passes in 2011. In fact, Brees has
led the league three times (2008, 2009 and 2011) in touchdown passes.
Whenever Brees has the ball just about anything can happen. He works in an
offense tailor-made for him and cuts up defenses with doctor-like precision.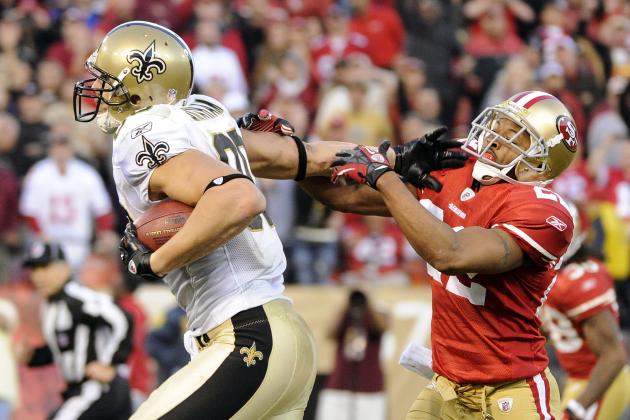 Thearon W. Henderson/Getty Images
No other tight end in the NFL caught more passes than Jimmy Graham in 2011.
Tight end Jimmy Graham was selected by the New Orleans Saints in the third round of the 2010 NFL draft with the 95th-overall pick. No one, not even the Saints, could have predicted that Graham would achieve the kinds of numbers he has so quickly in his young career.
Graham started five games in his rookie season and caught 31 passes for 365 yards. That was a great start to his career, but it was his five touchdown catches—one per game, on average—that showed good things to come.
And Graham didn't disappoint in 2011. In fact, Graham did a few things that no other tight end had ever done in the history of the NFL.
Graham caught 99 passes—more than any other tight end in the NFL and fourth most in NFL history—last year and notched 1,310 receiving yards to boot. Had Patriots tight end Rob Gronkowski not gone for 1,327 yards last year, Graham would have had the single-best season ever for a tight end.
As is stands, Gronkowski and Graham are the only two tight ends in history to ever surpass the 1,300-yard mark receiving.
Graham's size causes mismatch opportunities of epic proportions, and his speed—which is good for a 6'7", 265-pound behemoth—is tough to cover, no matter who draws the assignment on defense.
The New Orleans Saints went out on the free-agent market after the 2010 season and picked up 5'6" running back Darren Sproles. That move was arguably the best free-agent pickup of any team in the league last year.
Sproles averaged 6.9 yards per carry in 2011 on 87 rushes and scored two touchdowns. It was the second-most carries of his six-year career but by far the most yards (603) he's ever gained.
More important than yardage was the fact that Sproles ranked 12th in the NFL with 14 running plays of 15 yards or more. When Sproles was handed the ball, he was explosive. It was in the passing game, however, where Sproles truly shined.
Sproles caught 86 passes last year—more than he ever had in his career—and scored seven times in the passing game. His 2.05 yards per route run ranked third in the NFL among running backs that were targeted at least 50 times.
It wasn't just on offense that Sproles made a difference. Sproles returned kickoffs and punts, and led the Saints to the third-best return average in the league.
Sproles had a kick return of 92 yards (he didn't score on that one) and scored on a 72-yard punt return.
Sproles truly was an exciting asset in multiple facets of the game for the Saints in 2011.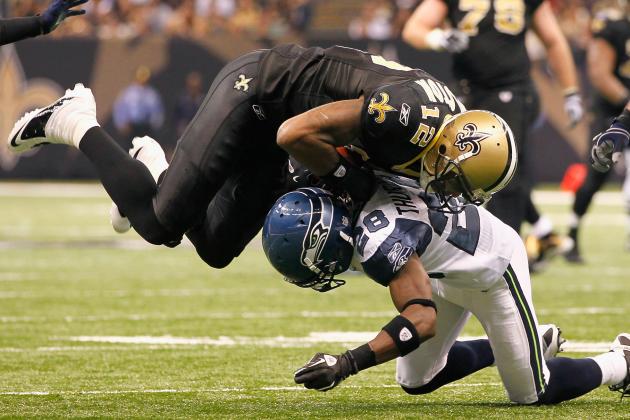 Kevin C. Cox/Getty Images
Marques Colston led all WRs on the Saints roster in receptions in 2011.
Wide receiver Marques Colston didn't have the touchdown grabs of tight end Jimmy Graham, nor did he equal the number of receptions that running back Darren Sproles got.
But Colston was an invaluable asset in the passing game to quarterback Drew Brees and the New Orleans Saints.
In 14 games, Colston caught 80 passes for 1,143 yards and eight touchdowns. Moreover, he was one of the most deadly slot receivers in the NFL.
At 6'4", moving Colston inside to the slot was a winning move for the Saints. He moves well through traffic and can take a hit. But Colston doesn't spend all his time running across the middle to move the chains—Colston can also be a deep threat when needed.
Colston was a perfect 9-for-9 on passes on 20 yards or more that were catchable and came his way. He also caught five of his eight touchdowns on those deep routes.
Colston can do just about everything in the Saints offense and has the faith of his quarterback Drew Brees, something that shouldn't be taken lightly.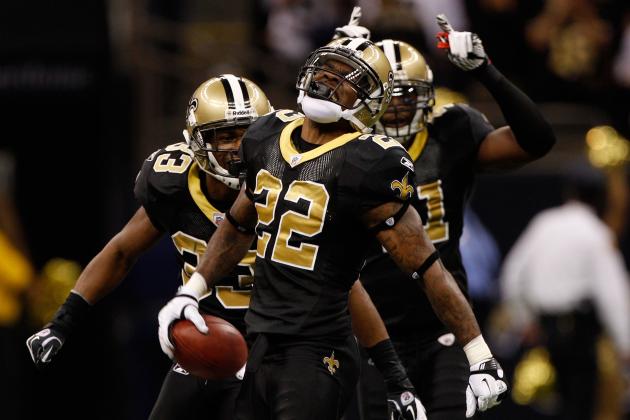 Chris Graythen/Getty Images
Roman Harper led the NFL in sacks by a safety in 2011.
On a team with such a high-powered offense, it would have been easy to select five players from the offensive unit as the Saints' most exciting. But safety Roman Harper easily steps up and represents for the defense.
No safety in the NFL last year got to opposing quarterbacks more than Harper, who registered 7.5 sacks in 2011. Harper was also around the ball a lot, making 95 tackles.
But Harper was unable to pick off any passes, and that's likely going to have to change for Harper to make this list after the 2012 season.
New defensive coordinator Steve Spagnuolo likes to bring pressure from the front-four of his defense. This means Harper might be relegated to more coverage assignments.
In 2007, Harper had three interceptions, one he returned for a touchdown. He'll need to regain those skills in 2012 if he's not going to be rushing the quarterback as frequently.