Chicago Cubs: 2 Things We've Already Learned About Vitters and Jackson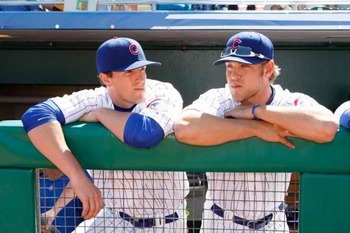 For the foreseeable future, the Chicago Cubs have become the organization's AAAA affiliate. AAAA Chicago: Where those believed too good for AAA, or those who require major league level instruction to cure their minor league woes, go to develop into the future of the club.
It has been a little over a week since the Cubs called up both the highly regarded Brett Jackson—ranked as the Cubs No. 1 prospect by both Baseball Prospectus and Baseball America—and Josh Vitters, also a top 10 Cubs prospects.
With a little over a week's worth of playing time, it seems logical to declare what can be concluded about these two players.
Both of these prospects were deemed to be ready for the "Big Time," but Vitters' numbers suggested he was more prepared for the call up than Brett Jackson. But really, neither were ready to be promoted.
Begin Slideshow

»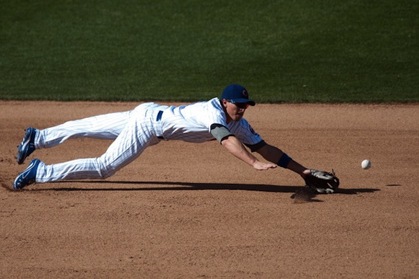 Photo courtesy of CBSSports.com
In a normal situation, I do not believe either of the call ups would have been warranted. But being in the situation the Cubs are in, bringing both players up at this time seems appropriate.
Josh Vitters has spent only one season at AAA-Iowa, and while looking at his decent hitting numbers in his one season in Triple-A ball—HR, RBI, Avg., OBP, Slugging and OPS—he may have appeared to be ready for the call up and the more promising prospect of the two. However, his minor league career fielding numbers would suggest otherwise.
Labeling Josh Vitters as "error prone" at third base would not be…well…erroneous. Throughout his minor league career at third, Vitters has showcased—or rather to coin a phrase low-cased—his fielding to be subpar.
His highest fielding percentage at third base—factored using the formula Putouts + Assists / (Putouts + Assists + Errors) in case you like to do the math as well (remember your order of operations)—was a mere .922 in 42-games of A+ ball in 2009.
In playing 95 games at third this season at Iowa, Josh Vitters amassed 21 errors out of only 240 chances—that is one error every 11.43 chances—and managed a putrid .913 fielding percentage.
Since being called up, Vitters has made five starts at third base, making one error in 15 chances. He has also made what ESPNChicago.com's Doug Padilla calls "a pair of spectacular diving plays, one to his left and one to his right…"
Nevertheless, if the Cubs were an American League franchise, then bringing him up based on his offensive numbers alone would make since because he could hit at DH. However, they are not in the AL, and Vitters will have to play defense.
Maybe the Cubs believe his fielding will not improve much no matter how long he stays in the minors, and this is as best a time as any to call him up so he can get all the MLB experience manning the hot corner he can, at a point when winning is not of the most importance.
"Vitters has to develop defensively and a lot of this is the development at the big league level," Cubs manager Dale Sveum said. "We now get to see what we have first-hand and go from there during the winter."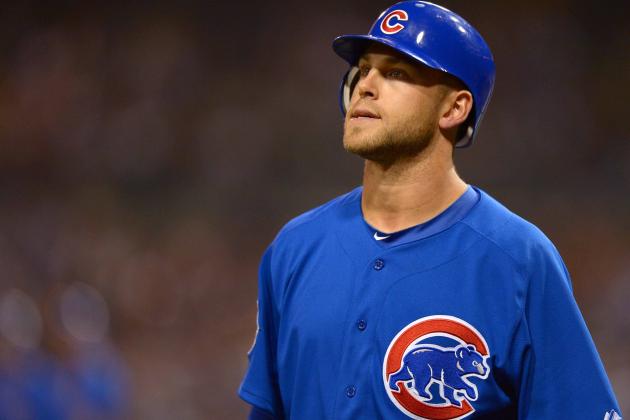 Jake Roth-US PRESSWIRE

What Dale Sveum said about Josh Vitters can also be said about Brett Jackson.
Calling Brett Jackson a "strikeout waiting to happen" would not be a "swing-and-a-miss."
Whether he needed more time or better instruction in the minors to get his strike out totals under control, I do not believe Jackson's call up would have occurred under any other circumstance.
Although he had been able to maintain decent OBP and slugging percentages, along with decent stolen base numbers, his strikeout percentage has always been high and his K\BB ratio has always been low.
In 106 games this year with the Iowa Cubs, he amassed 158 strike outs out of 407 at-bats; that equals out to 1.5-Ks per game, one for 2.58 at-bats, and striking out 39 percent of the time.
In 2011, split between AA-Tennessee and AAA-Iowa, Jackson played 115 games, striking out 138 times.
Before the start of Wednesday's game against the Astros, in 31 plate appearances, he has had only four hits, drawn three walks and has struck out an amazing 16 times. Not what you would have expected from the Cubs top prospect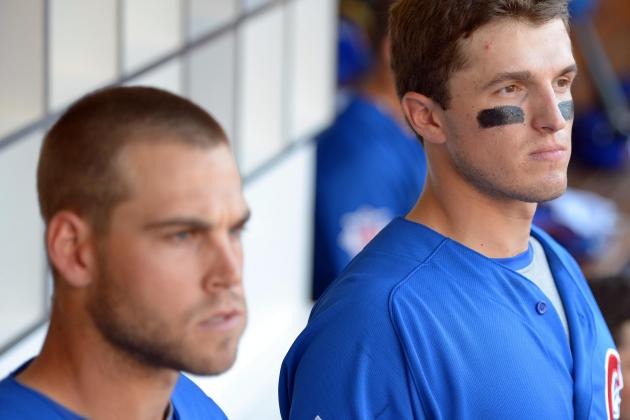 Jake Roth-US PRESSWIRE

A bold proclamation, I am sure.
For the past couple years, Cubs fans have been waiting for the call up of Brett Jackson and, to a much lesser extent, Josh Vitters. And now that they are here, they are here to stay.
Regardless of their statistics for the rest of the 2012 season, both of these two young players will have the opportunity to get as much field time as Dale Sveum sees fit.
After this season, both will most likely play a winter ball or have an extended training session that lasts through the winter. But what these last two months are about is getting them acclimated to life in the MLB for the 2013 season.
Even then, the 2013 season will serve as their opportunity to supplant themselves as starters at 3B for Josh Vitters and CF for Brett Jackson.
You will most definitely see marked improvement from both, and the holes in their games will begin to be patched up—Vitters' defense and Jackson's plate discipline. But still, 2013 will be seen as the year they join the strong nucleus of Rizzo, Castro, Barney and Castillo.
As their roles become more determined, you will see their all around games progress into a 2014 squad that will hopefully challenge the .500 mark if the club's pitching staff performs as well.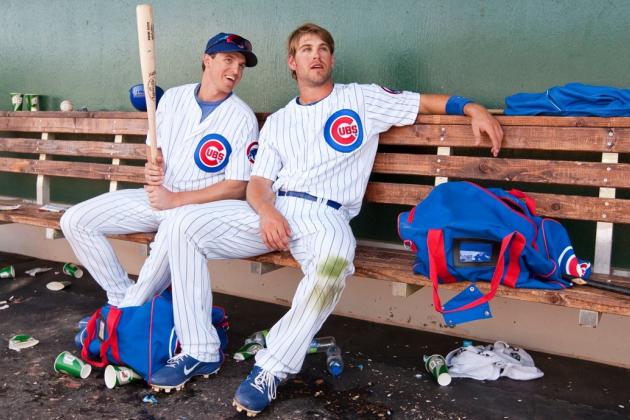 Photo courtesy of MLBlogs.com
Vitters and Jackson are both young, talented players. What both of these players have going for them—besides their talent that will eventually show up—is an organization that is, and can afford to be, patient with them as they go through their growing spells.
"We almost expect young guys to come up and struggle. That is part of the growth process. It doesn't make it any easier to go through, but it is a natural step in the player's development."

Both of these guys will develop; it's just a matter of time, and time is what the Cubs will give them and what the fans need to give the Cubs.
If something worth having is worth waiting for, if these players are worth putting on the roster, then they are worth giving the chance to prove themselves.