MLB Baseball: Top 5 Candidates for NL Cy Young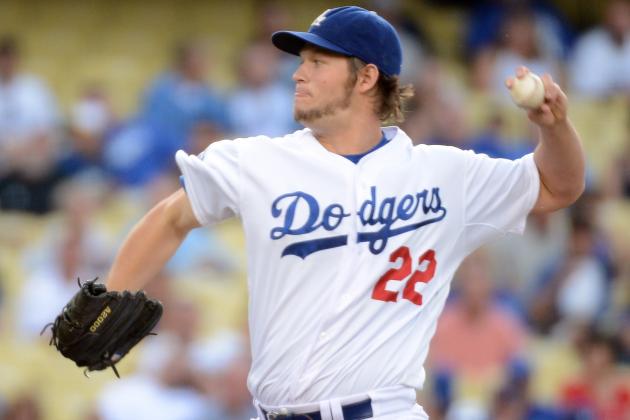 Harry How/Getty Images

Who is the current front-runner for NL Cy Young? Your guess is as good as mine. The fact that there are so many contenders at the front of the pack on playoff-contending teams should make for a fun finish.
Nobody is really having that dominant season in the NL the way guys like Clayton Kershaw, Roy Halladay and Cliff Lee did last year. However, there are still obviously a few guy having outstanding seasons.
These rankings are based on who should win the award if the season ended today, and not on how the final standings will look. Again, these five pitchers are the most deserving of the award, not whom the media wants to see win it most.
Begin Slideshow

»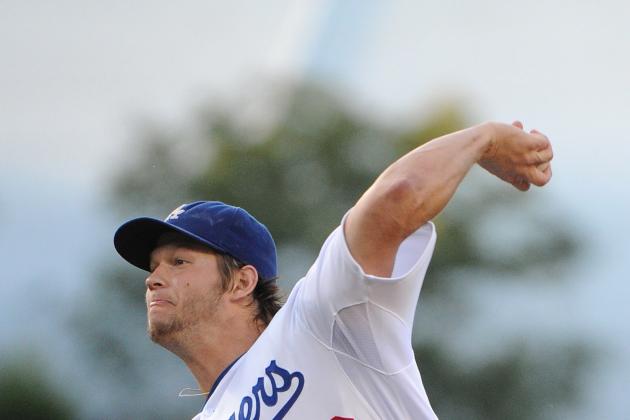 Lisa Blumenfeld/Getty Images

Clayton Kershaw is not having his typical Kershaw-like year that we've become accustomed to seeing. With that being said, he's still 10-6 with a 2.88 ERA; that just goes to show you how much is expected year in and year out of this great young pitcher.
Kershaw was absolutely dominant last year en route to his Cy Young award. He went 21-5 with a 2.28 ERA, which led the majors. He also struck out 248 batters, which led the NL by 10..
He's still striking out a ton of batters here in 2012, but just not as many, as he ranks fifth in the NL.
I think he would have been higher on this list, but too often this year he has gone out and just simply gotten rocked. He gave up eight earned runs in his July 24 start and has given up five earned runs in three other starts this year.
With that being said, he has obviously been dominant at other times, which balances out to a pretty consistent ERA that has been in the high 2's most of this year.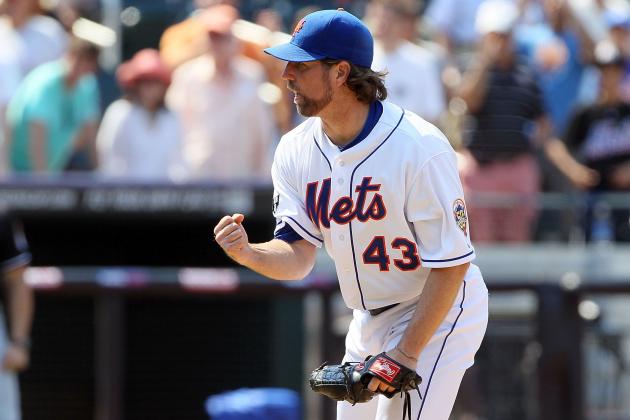 Jim McIsaac/Getty Images

What a story R.A. Dickey has been here in 2012. For the first half of the season, Dickey basically was the main focus around the major leagues.
What he did in the months of May and June was unbelievable, as he simply dominated almost every opponent he faced.
In the month of May, Dickey pitched at least seven innings in three of his five starts, and gave up one run or fewer in all three of those starts.
What he did in June was even more unbelievable. He threw three complete-game shutouts in the month alone and didn't give up a single run in five of the six starts he made in June. At the start of July, he was 12-1 with a 2.15 ERA.
Even though he was the odds-on favorite to start the All-Star Game, Tony La Russa instead chose Matt Cain.
The second half hasn't been as kind to Dickey, though; unfortunately for him, a pitcher's whole body of work obviously has to be looked at when being considered for Cy Young.
Dickey still has a 15-3 record with a 2.72 ERA, is tied for the NL lead in strikeouts and has a WHIP of exactly 1.00, which also leads the NL.
These are all obviously very impressive numbers, and he is still a strong candidate to win the award.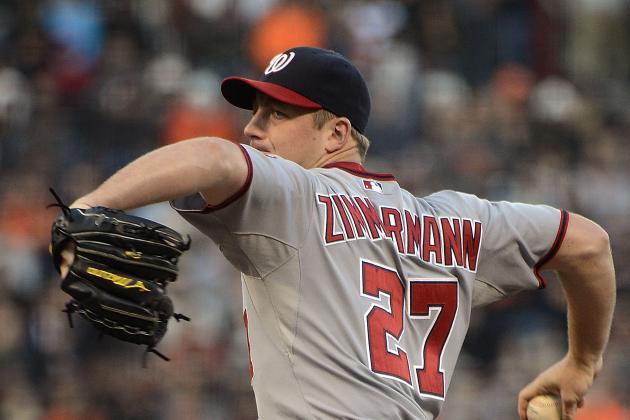 Thearon W. Henderson/Getty Images

I had a hard time putting Jordan Zimmermann this low on the list. He is overshadowed badly in DC by Stephen Strasburg and even Gio Gonzalez somewhat and basically receives zero media attention.
Zimmermann is a huge reason the Nationals have arguably the best rotation in the majors and is a big reason the team is well on its way toward winning the NL East.
After having Tommy John surgery earlier in his career, Zimmermann's consistency has been a welcome sign. He has not given up more than four earned runs in a single start this year, and has only given up four three different times.
However, I think this stat is most impressive: The absolute highest Zimmermann's ERA has been this season is 2.92. That was in mid-June, and it has been on a slow decline ever since then, falling as low as 2.28 at the end of July.
It currently sits at 2.38, which leads the NL and is second in the majors only to Jered Weaver's 2.22. So why isn't he receiving more attention? Probably because he isn't racking up the strikeouts like some pitchers and also because his record is only 9-7. The record obviously isn't his fault, though, and honestly shouldn't even be taken into account.
Strasburg and his innings limit have also taken a lot of the attention away from Zimmermann. With an ERA that low and a strikeout-to-walk ratio of 114-to-27, Zimmermann simply has to be one of the top two or three candidates for the award.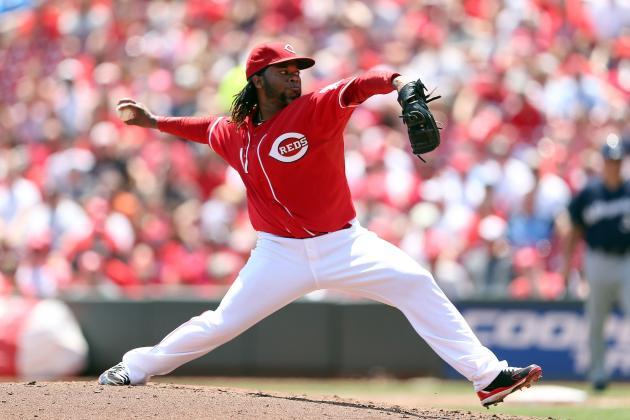 Andy Lyons/Getty Images

Johnny Cueto has remained the ace of the surprising Reds, even with the offseason addition of Mat Latos. Like Jordan Zimmermann previously on this list, Cueto's consistency has been unbelievable.
I have him here at No. 2 on the list, but it was a struggle not to put him No. 1. Cueto has become one of the best pitchers around over the last few years, and even though he does receive a decent amount of attention, he deserves more.
Cueto started the year extremely hot, as he didn't give up more than one earned run in six of his first seven starts. Unbelievably, the absolute highest Cueto's ERA has been all year is 2.63.
It currently sits at 2.45, which is about the same range it has been all year. He is tied for the major league lead in wins with 15, but I think it also has to be taken into account how frequently the Reds as a team have been winning.
A lot of Cueto's other numbers are solid but aren't necessarily outstanding. Regardless, he has been getting the job done all year for the Reds and at 26 years old has established himself as one of the best young pitchers in the game.
I have him here at No. 2 but would have no problem if people consider him the front-runner for the award.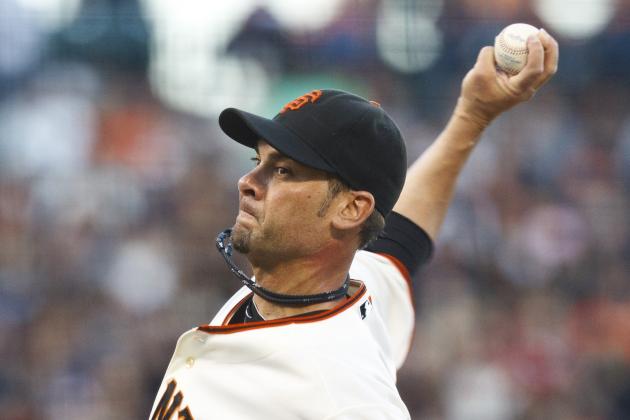 Jason O. Watson/Getty Images

I bet most people didn't see this one coming. After all, Vogelsong is one of the most underrated and ignored pitchers in the majors, even though he has been absolutely great the last two years.
As I mentioned, it was hard not to put Johnny Cueto in this spot, but I have no problem with Vogelsong being here either. When looking at his body of work, there's no reason not to have him as one of the top two or three guys to win the award.
He didn't get off to the best start in April, but after that he has been absolutely dominant.
From May 3 to August 8, Vogelsong made 18 starts and pitched at least seven innings in 14 of those 18 starts. Even more impressively, Vogelsong gave up two runs or fewer in 14 of the 18 starts ranging from the dates mentioned.
As recently as August 2, Vogelsong had a 2.22 ERA, which led the majors. His ERA today is 2.72, but that number is a bit skewed, so don't let it fool you. In his last start on August 13, Vogelsong gave up eight earned runs which caused his ERA to shoot from 2.27 to 2.72.
Again, the Cy Young is based on your entire body of work and not just what you've done recently, so that terrible start shouldn't affect him too much.
Some of his other statistics aren't necessarily outstanding, but again, he gets the job done. The main reason is because he keeps the ball in the park, as he has only given up 10 home runs the entire season.
Vogelsong is, without a doubt, overshadowed by teammates such as Matt Cain and Tim Lincecum. Because of that, will he win the Cy Young? Probably not. Is he deserving? Absolutely.