Tennessee Titans Camp Report: Would It Kill Someone to Answer a Question?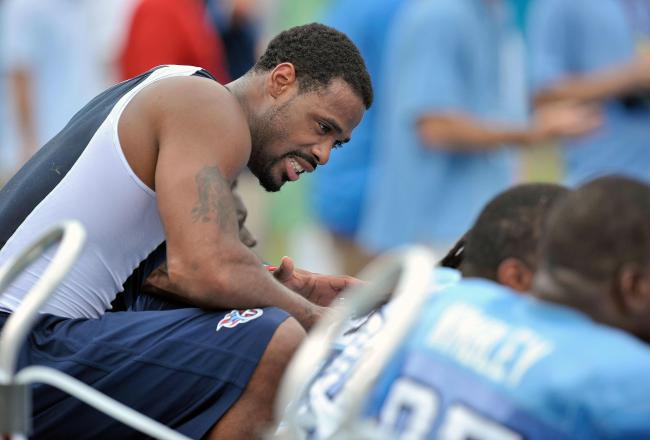 Kenny Britt is still on the sidelines indefinitely.
Jim Brown-US PRESSWIRE
I hate repeating myself.
As we look at the Tennessee Titans training camp, there are times when it feels like a scratched record. Last week, we explored the critical issues surrounding the team, and now, a week later, it feels like nothing has changed.
Welcome to Camp Question Mark.
Jake Locker is Starting Preseason Week 2
Locker wasn't perfect in the first game, but he doesn't have to be perfect.
He only has to be as good as Matt Hasselbeck.
Without bothering to rehash the nightly numbers between the two passers as they vie for the starting gig, it's safe to say that right now, as has been true for months, they are virtually indistinguishable from one another.
Hasselbeck started the first game, and now Locker is being tabbed to start the second (hat tip to Jim Wyatt of The Tennessean). It's important not to read too much into that, because the Titans have been alternating reps and roles for the two men from the start of camp.
We have more data than we did a week ago, but I can't see that we are any closer to an answer. Locker continues to make it hard on the Titans to fall back to the default position of starting Hasselbeck, but not so hard on them that they can just name him the starter.
Barring lights-out play from Locker this week, I doubt the issue will be any more settled seven days from now.
Chris Johnson Cannot Confirm or Deny His Head is Screwed on Straight
Johnson had a miserable first game, and while it's just preseason, his explanation for it is a head scratcher. He told John Glennon of The Tennessean that fans shouldn't worry about his preseason performance and more curiously of his dropped passes,
"Basically it's a concentration thing, not looking the ball all the way in – trying to get up field and make a play," Johnson said. "It's just something I have to concentrate on and focus. I've never really had a problem catching the ball. It was just a preseason game and I had a few drops, nothing major to be concerned about."
The issue with Johnson all along has been his desire and focus. No doubts that he's uber-talented. The only question is how badly he wants to succeed in the NFL.
We aren't any closer to answering this question than we were before camp started.
The defense? You think there are any more answers there? Watch this video and tell me. There's a healthy mix of huge runs and stops for a loss. You figure it out.
Kenny Britt Waits for the Axe to Fall
I hate to mention this point at all, but for the sake of symmetry, it gets an appearance.
Kenny Britt is still hurt.
The Titans still don't know when he'll be back.
Britt still doesn't know if (more accurately how long) he'll be suspended.
So, still another unanswered question for the Titans.
This article is
What is the duplicate article?
Why is this article offensive?
Where is this article plagiarized from?
Why is this article poorly edited?