Manchester United Transfers: 5 Possible Starting XIs to Include Robin Van Persie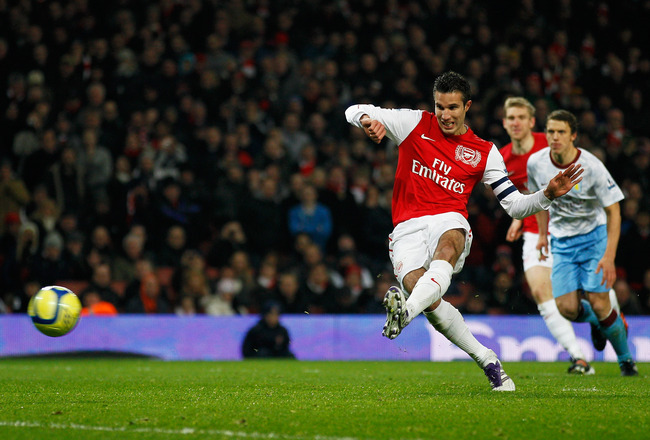 Paul Gilham/Getty Images
One of the most intriguing aspects of Manchester United's purchase of Robin van Persie is trying to work out how Sir Alex Ferguson plans to utilise the striker.
With star forward Wayne Rooney already in the squad, one would imagine that the United boss' options will be limited in terms of flexibility in attack.
However, this may not necessarily be the case, as this slideshow will seek to prove.
Here are five possible ways to incorporate Robin van Persie into the United lineup.
(Oh, and please excuse the crudeness of the diagrams!).
4-3-3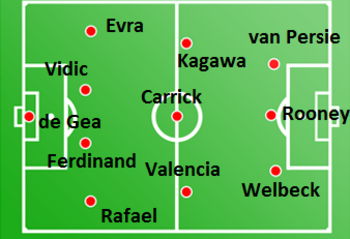 United deployed a formation similar to this during their Champions League-winning campaign of 2007/08.
Then, it was Cristiano Ronaldo, Wayne Rooney and Carlos Tevez leading the line, whereas in this scenario it would be van Persie, Rooney and Danny Welbeck.
Antonio Valencia would be required to push in to assume a more central position, whilst Shinji Kagawa would sit a little further back than he's used to.
Van Persie is no stranger to playing the role of left forward, but in truth, either he or Rooney could be the central striker in the system.
It goes without saying that 4-3-3 is an incredibly attacking formation, but if practiced with a rigid discipline, it can be absolutely devastating.
4-4-1-1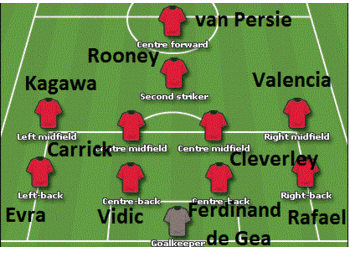 It may not be ideal to ask new signing Shinji Kagawa to play on the left flank, but he has recently proven capable of doing so for the Japanese national team.
Perhaps the best thing about deploying the 4-4-1-1, would be van Persie being able to play the lone striker, a position from which he led the league in goals last season.
Rooney would play in the hole behind the Dutchman, whilst Michael Carrick and Tom Cleverley would compose a well-balanced central midfield.
Though perhaps a little safe, this formation is a very realistic option for Sir Alex, especially if he believes van Persie would operate best on his own in attack.
4-4-2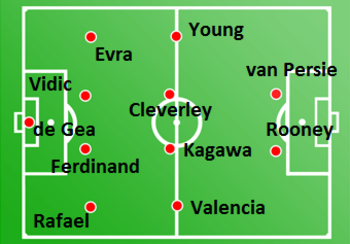 The most common formation in British football, the 4-4-2 would best allow Valencia and Ashley Young—United's natural wingers—to do what they do best.
The central midfield partnership of Cleverley and Kagawa is perhaps a little attacking in nature, but with both creative midfielders in the team, one could expect a barrage of United goals.
It would also be interesting to see how van Persie and Rooney operate as a regular forward partnership, similar to how Andy Cole and Dwight Yorke teamed up to such effect in the 1998/99 season.
Of course I've not yet mentioned United's enigmatic Nani, who in truth could take the place of either Young and Valencia on either flank.
4-2-3-1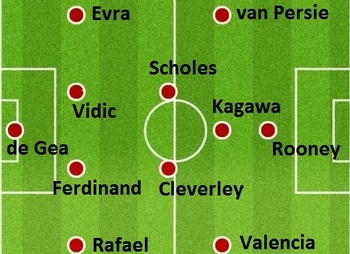 If I were Sir Alex, this would probably be my formation of choice.
It gives Kagawa the opportunity to assume his preferred trequartista role, whilst also allowing for two holding midfielders in Scholes and Cleverley (although Anderson and Carrick are more than capable alternatives).
Perhaps van Persie's talents may be a little wasted on the left-hand side, but very few of Europe's finest teams operate with two strikers in today's game.
Although the 4-2-3-1 has traditionally been a more continental formation, an increasing number of Premier League teams are cottoning on to its effectiveness these days.
4-3-1-2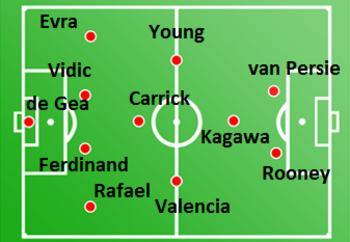 Although it might perhaps leave Michael Carrick a little isolated in central midfield, the diamond-shaped 4-3-1-2 would allow Kagawa to play in behind both Rooney and van Persie, who would share attacking duties.
I would therefore argue, with such a strikeforce ahead of him, this would be the system that the Japanese international would most prefer to play in.
Young and Valencia would certainly have to assume more of a central role for it to be effective, but wing-backs Patrice Evra and Rafael would be afforded more opportunity to attack down the flanks as a consequence.
Kagawa may have to play a little more deeper whenever the opposition is in possession as well.
Keep Reading

Manchester United: Like this team?