WWE Summerslam 2012: Brock Lesnar Will Defeat Triple H in Colossal Main Event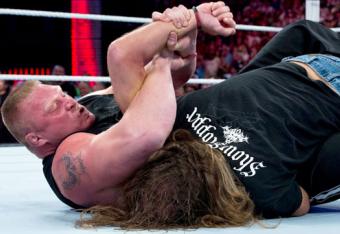 Courtesy of wwe.com

Brock Lesnar destroyed Shawn Michaels on Monday Night Raw, and that will carry over to a SummerSlam victory over Triple H on Sunday.
It just makes sense. The WWE will seemingly do anything to make Lesnar into the freak of nature that your eyes tell you he is, but he's never completely broken through.
After his vicious assault on Shawn Michael Monday night, it appears that the time is now to push Lesnar to the top of the card. There's no better way to do that than by having Lesnar defeat The Game in the summer's ultimate event.
Lesnar has momentum. He just "broke" Michaels' arm, and Michaels' reputation goes without saying. The WWE wouldn't bring him back to do something that major if they were just looking for another short-term run from this beast of a man.
That means Lesnar needs to beat Triple H at SummerSlam. A victory there would open up all kinds of options for Lesnar down the road. The WWE can build his character further, weave in more storylines and see what happens when Wrestlemania and Survivor Series eventually come up on the pay-per-view docket.
There's no doubt that Lesnar creates "watchable" television. He's violent, full of energy and still a relatively fresh face despite several appearances in the WWE.
Who will win Summerslam's main event?
It wouldn't make any sense to have Lesnar return and lose to Triple H like he did to John Cena earlier this year. Intrigue would be avoided entirely, and it would create a dead-end scenario.
The easy answer points to Triple H avenging Michaels' injury by systematically destroying Lesnar Sunday night, but that won't be the case. The WWE will make the right call, and Lesnar will be standing over The Game's prone body by the time their main event ends.
The WWE already did a great job of making Lesnar look like he's on a mission. His altercations with Michaels' and Triple H in the past boiled over Monday night, and this could be its final chance to market him to his fullest potential.
Sooner or later, he's just going to be old news.
Everyone in the arena will be cheering for Triple H when these two men enter the ring Sunday evening, but this storyline writes itself.
Lesnar wins via Kimura after a back-and-forth main event.
This article is
What is the duplicate article?
Why is this article offensive?
Where is this article plagiarized from?
Why is this article poorly edited?