Following a victory over the New Orleans Saints in their first preseason game, the New England Patriots returned to Gillette Stadium for another tough week of training camp.
With the second preseason game against Philadelphia a week away, things are starting to heat up at practice as players continue to fight for roster spots.
Here are some observations from the last three days of practice:
Logan Mankins Returns
Arguably the best news to come from the latest string of practices has been the return of Logan Mankins. With the Patriots' offensive line struggling throughout camp and in the preseason game, the return of the All-Pro guard is terrific news to Tom Brady and Pats fans.
With the line still suffering from injuries and inconsistencies, a player of Mankins caliber can lift the entire line to another level.
Also returning to practice was linebacker Brandon Spikes. Spikes, who has been unable to stay healthy throughout camp, looked as good as ever by blowing up plays all over the place. Spikes, was arguably the Patriots best defender in the final two games of last season, and his presence alone changes the attitude of the defense.
Playmaking Safeties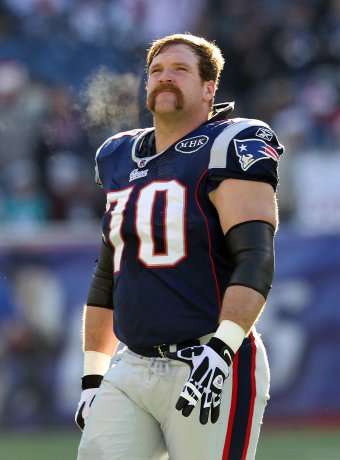 Jim Rogash/Getty Images
Following a game in which both Patrick Chung and Steve Gregory picked off passes, the Patriots safety duo have continued to make plays in camp.
Chung in particular, has been getting his hands on the ball as he seems to be taking the next step in his career.
Chung and Gregory seemed to have developed a fine chemistry through camp, something that cornerback Kyle Arrington noted was extremely beneficial to the team.
Tight Ends Gone Missing
The Patritos all-star tight end duo of Rob Gronkowski and Aaron Hernandez both missed the last two days of practice, with Gronkowski missing Sunday's practice as well.
Both were seen walking around in sweats prior to practice so it seems as if the two have been held out for precautionary reasons. Gronkowski and Hernandez are arguably the two most exciting Patriots to watch, so practice has been a little quite these past few days.
With fellow tights end Visanthe Shiancoe, Jake Ballard and Daniel Fells also out injured, the tight end group was reduced to just Alex Silvestro and Tyler Urban.
Chung and Ridley Show Up in Kickoff Duty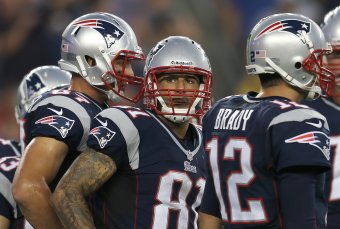 Jim Rogash/Getty Images
Following Brandon Tate's departure at the beginning of last season, the Patriots have run with a combination of Julian Edelman and Danny Woodhead as the kick returners, but this has been met with little success.
It seems as if Belichick has held an open audition for the returner position, as Stevan Ridley and Patrick Chung both had turns returning kicks in practice. Also returning kicks were Jeremy Ebert and Shane Vereen.
Chandler Jones the Wrecking Ball
Chandler Jones not only lived up to expectations in the first preseason game, but he simply blew them out of the water. Jones garnered national attention for his play against Saints Pro-Bowl left tackle Jermon Bushrod and he has continued his stellar play in camp.
Jones' ability to bat down balls at the line of scrimmage is just as incredible as his ability to rush the passer. Despite having not even played a regular season NFL game yet, Jones has firmly established himself as a starter and could be the Patriots' best defender outside of Jerod Mayo and Vince Wilfork.
Already getting comparisons to Giant's All-Pro defensive end Jason Pierre-Paul, the future is looking increasingly bright for Chandler Jones.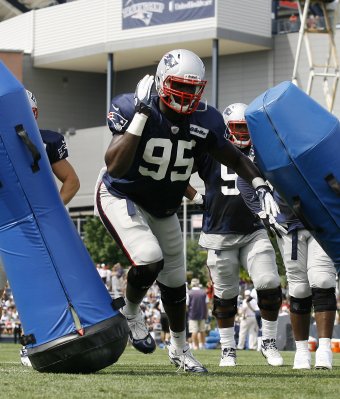 Stew Milne-US PRESSWIRE
Nate Ebner Making a Serious Bid for a Roster Spot
Nate Ebner may only have one year of football experience but that is not stopping him as he makes a serious push to make the 53-man roster. Ebner picked off a pass in Tuesday's practice, a day after recording an interception in Monday's practice. Throw in his stellar special teams play and Ebner could be a darkhorse to make the opening day roster.
Belichick loves him some versatile special teams players, so Ebner's ability to play on all four special teams units could bode well for him.
Return of the Barrel Drill
A favorite among fans has been the annual barrel contest, where the Patriots' quarterbacks attempt to throw the football into a barrel located about 40 yards away. Ryan Mallett was the only one to get the ball in the bucket, with Brady hitting the rim once. Offensive coordinator Josh McDaniels joined in the fun, only to fail miserably in his two attempts.
Shane Vereen Aiming for Starting Gig
After an impressive showing against the Saints, Shane Vereen has gone from strength to strength in practice and is putting some serious heat on Stevan Ridley for the starting running back job.
After failing to display the quickness and shiftiness that he showed at Cal during his rookie season last year, Vereen looks like he has regained his mojo, as he has left multiple defenders in the dust during practice. With Ridley fumbling in practice for the first time this preseason, Vereen chances of becoming a starter are getting greater by the day.
Dan Koppen, Nick McDonald and the Offensive Line
It looks like Dan Koppen is going to have to fight hard for a spot on the roster, with both Dan Connolly and Ryan Wendell taking first team reps at center.
With Logan Mankins returning to practice and Donald Thomas having a strong camp, the likelihood that Connolly starts at center is getting stronger each day. Thomas has quietly been one of the more impressive Pats at camp playing at both guard spots.
Also impressing on the offensive line has been Nick McDonald. McDonald, who started at center last year when Connolly was injured, has played at tackle, guard and center in camp. Following practice he talked about his versatility on the line shortly after Bill Belichick praised him for his play through camp.
Use of Fullback and Dual Back Sets
In the first preseason game against the Saints, the Patriots unleashed the fullback sets they had been practicing throughout the preseason. The fullback play and I-formations yielded limited success, but it has become clear that Josh McDaniels will be introducing diverse sets into New England's offense this season.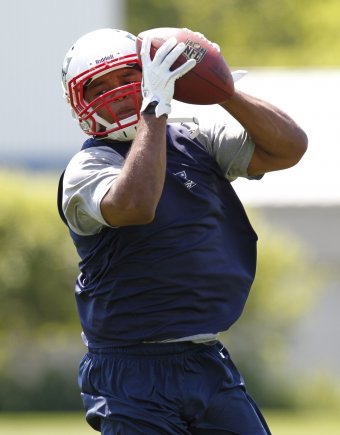 Greg M. Cooper-US PRESSWIRE
Another potential wrinkle was unveiled in practice, as the Patriots used dual-back sets. With two running backs split to either side of the quarterback, the formation is very similar to what most college teams use.
At one point Shave Vereen and Brandon Bolden were together in the backfield, and later on, a Bolden/Woodhead combination was used.
The use of these different looks will keep defense guessing when they play the Patriots' offense.
Justin Francis and Jermaine Cunningham Gunning for Roster Spots
Almost every year at least one undrafted player makes the Pats roster, and this year, my money is on former Rutger's defensive end Justin Francis.
Francis is a high motor defensive lineman with a good amount of pass rush moves. He also has the ability to kick inside and play defensive tackle should the need arise.
Francis had another good run of practices, twice beating Marcus Cannon and relentlessly attacking the quarterback in other action.
Another defensive lineman playing well has been Jermaine Cunningham. Cunningham who is on his last chance with New England has had far and away his best training camp since arriving in Foxboro. Cunningham has played at both defensive end and outside linebacker in camp and even took some snaps at defensive tackle in Tuesday's practice.
Belichick likes his players to be able to do multiple things, and Cunningham and Francis have played well in several different roles.