Dwight Howard Perfect Franchise Star for LA Lakers in Post-Kobe Bryant Era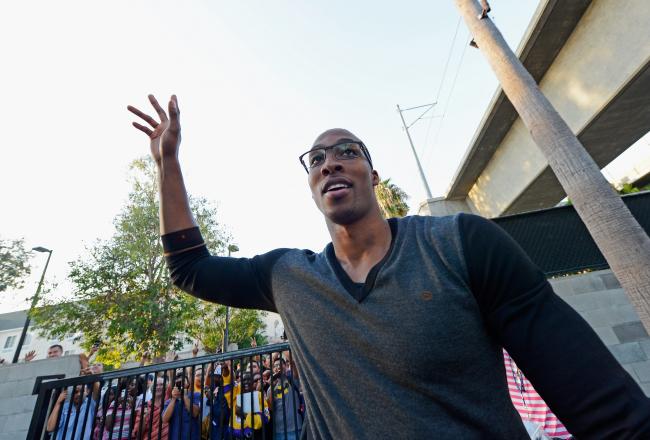 Kevork Djansezian/Getty Images
The Kobe Bryant Era is coming to a close more quickly than most people in Los Angeles would like to see, and even quicker than they would like to admit. However, they've now got the perfect player to replace Kobe, who has been "the man" in Los Angeles ever since Shaq was traded away to Miami.
While the trade for Dwight Howard set the Lakers up incredibly well for the season to come, it also sets them up for the next seven or eight years. Of course, that's all dependent upon his health and whether or not he ends up re-signing with the Lakers. Both questions are still up in the air, but it seems more likely that he'll stay and be healthy than not.
Kobe has spent the past decade as the face (or at least the co-face) of the Lakers, and never has the most important player on one of the most important teams in basketball led such a turbulent career. It's impossible to argue that he's one of the most important players in NBA history, but his place is under more scrutiny than Bobby Valentine.
He's filled in the role as the face of the Lakers nicely, but it seems like his predecessors did so with less controversy. Shaq, Magic Johnson, Kareem Abdul-Jabbar, Wilt Chamberlain, Jerry West, Elgin Baylor and George Mikan led the teams in their own time, all proving to be terrific and memorable pictures that defined separate eras of Lakers basketball. Kobe is no different.
Should he decide to take more money, more fame and more glory, Howard will follow in those players' footsteps and become yet another franchise player in the long line reflected in the rafters in Staples Center.
Among the top players in the NBA, who would fit best as the next face of the Lakers?
Sure, there are many holes in Howard's game that critics can poke at. He's not the dominant offensive player that Shaq was, he's content with getting just 13 or 14 shots a game and he seems to lack the competitive drive to use his body to the fullest of it's ability. Even amidst all that, he's still the most dominant defensive player in the NBA and he's capable of easily scoring 20 points in any given game on just a handful of touches.
Whatever shortcomings Howard has, his biggest strength is that he's completely capable of becoming the next face of the Lakers franchise. It's not every day one of those comes along.
Howard's amiable personality comes out first, even if he did just do his best to destroy his public image over the past year. If we've learned anything from athlete's mistakes over the past few years it's that the general public is wont to forgive him, especially the people that jump onto the Lakers bandwagon over the next few months.
Tiger Woods and LeBron James have both been forgiven, more or less, by the public, so it's only a matter of time before more people enjoy Howard's game than they throw his holding hostage of the Orlando Magic back in his face. It'll be especially easy when Orlando "miraculously" wins the Draft Lottery next year.
His place as the next dominant big man after Shaquille O'Neal makes him the perfect replacement for Kobe, especially when you consider the fact that four of the most dominant big men in NBA history have played for the Lakers at one point or another. Plus, Howard will make four of the last seven, with just Moses Malone, Hakeem Olajuwon and Tim Duncan escaping the Lakers' grasp.
Beyond that, Howard is an extremely likable guy, regardless of the past eight months. It doesn't matter if the rest of the world likes Howard, the only thing that matters is if Los Angeles fans like him, and as soon as he starts winning games and cracking jokes, he's in. Heck, he was probably in as soon as he raised that number 12 gold jersey above his head.
He's going to be a great replacement for Kobe, but he'd better hope he continues the winning tradition in Los Angeles, lest he be remembered negatively in Lakers lore, which is a hard thing to do.
This article is
What is the duplicate article?
Why is this article offensive?
Where is this article plagiarized from?
Why is this article poorly edited?

Los Angeles Lakers: Like this team?