Alabama Football: Most Beastly Players in 'Bama History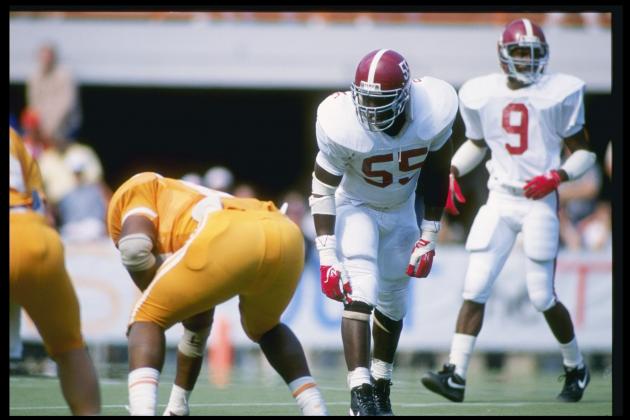 Allen Steele/Getty Images
The late Derrick Thomas set an NCAA record with 27 sacks during his senior season in 1988.
Alabama is one of the most tradition-rich programs in college football history—and as such, the Tide have produced some of the most physically gifted athletes the sport has ever seen.
Championship-winning coaches like Paul "Bear" Bryant, Gene Stallings and current Tide leader Nick Saban helped to mold those athletes into dominant forces that were practically unstoppable on Saturdays in the fall.
Which players in the Tide's illustrious history standout as the most freakish athletes to ever suit up in the Crimson and White?
Here are the 17 most beastly players in Alabama history*.
*List appears in chronological order
Begin Slideshow

»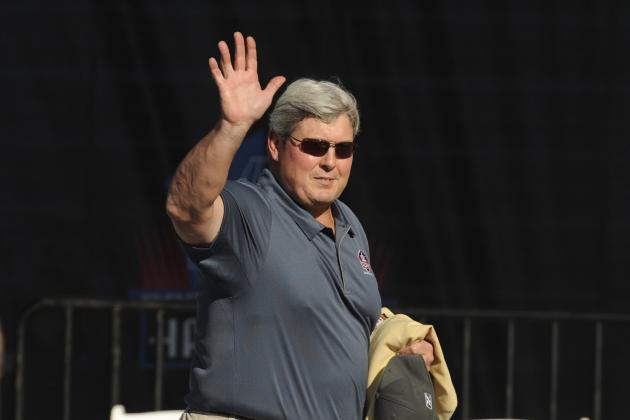 Al Messerschmidt/Getty Images
Hannah launched his Hall of Fame career under Bear Bryant at Alabama in the early 1970s.
Perhaps one of the greatest offensive linemen in college football history, Hannah was a man amongst boys at Alabama—claiming first-team All-American honors in 1972.
Hannah carried his dominant play to the NFL—becoming a nine-time Pro Bowler, and he was inducted into the Pro Football Hall of Fame in 1991.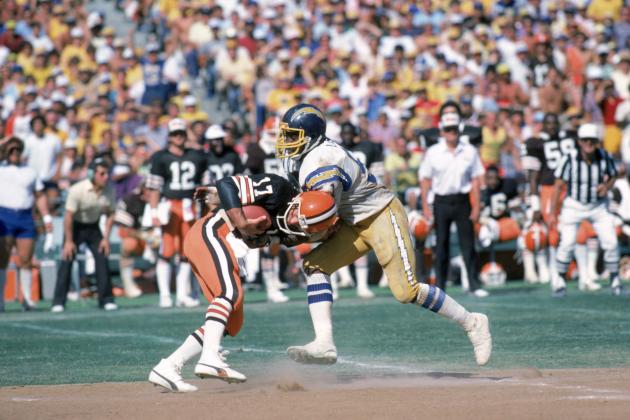 George Rose/Getty Images
Lowe went on to a standout career with the San Diego Chargers in the NFL.
A 2009 inductee into the College Football Hall of Fame, Lowe was the first three-time All-American in Crimson Tide history.
Lowe was a standout linebacker on the Tide's 1973 national title team, with his 134 tackles that season still standing as the most any Tide defender has ever recorded in a single season.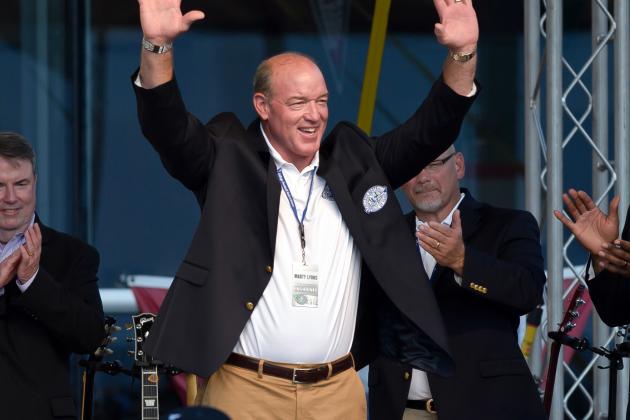 Matt Cashore-US PRESSWIRE
Lyons was inducted into the College Football Hall of Fame last month.
Lyons teamed with linebacker Barry Krause (more on him later) to form the backbone of the defense that helped Bryant claim the fifth of his six national titles of his legendary career.
The 6'6", 250-pound defensive tackle racked up 119 tackles—an astounding number for a player that lined up with his hand in the dirt—during the Tide's 1978 national championship season.
Lyons is the 23rd and most recent Alabama great to be inducted into the College Football Hall of Fame.
Perhaps most known for his goal-line stop of Penn State's Mike Guman that sealed a national title and a 14-7 win in the 1979 Sugar Bowl, the victory capped a memorable senior season that saw the 6'3", 235-pound linebacker earn All-American honors.
Krause was an imposing presence for Bryant's defense that helped lead the Tide to a 31-5 record during his tenure at the Capstone.
The 6'4", 215-pound Bennett terrorized the SEC in the mid-1980's, becoming one of just two Crimson Tide players to earn All-American honors three consecutive seasons. (Lowe is the other).
Bennett captured the Lombardi Award and SEC Player of the Year honors for his dominating effort as a senior, with his sack against Notre Dame quarterback Steve Beuerlein still revered as one of the most memorable plays in Tide history.
After posting 25 sacks over his first three seasons in Tuscaloosa, Thomas set an NCAA record with 27 sacks in 1988 on his way to claiming a slew of national awards at the conclusion of his senior season—including the Butkus Award and his year was dominant enough to warrant the 6'3", 230-pounder finishing 10th in the 1988 Heisman Trophy balloting.
Thomas went onto a decorated Hall of Fame career with the Kansas City Chiefs, but his life came to a tragic end when he passed away in 2000 due to complications suffered in an automobile accident.
One of the most dominant players in college football history, Thomas has inexplicably yet to be inducted into college football's Hall of Fame.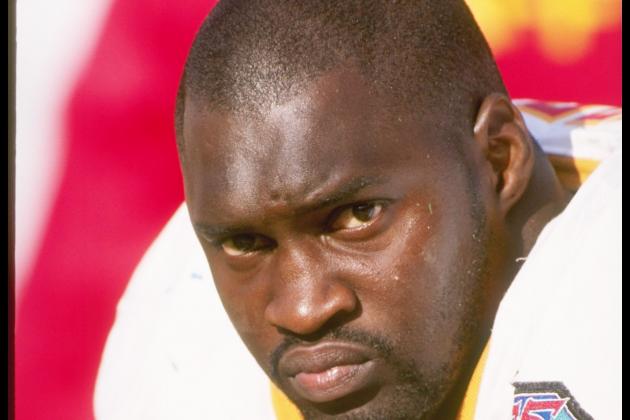 Otto Greule Jr/Getty Images
Curry was one of two Tide DEs to be top 10 picks in the 1992 NFL draft.
Curry wreaked havoc with fellow pass-rushing phenom John Copeland (more on him later) during the 1991 and 1992 seasons, and together, they helped lead Alabama to a shocking 34-13 thrashing of Miami in the 1993 Sugar Bowl.
The 6'6", 265-pounder racked up 114 tackles and 22.5 sacks in his three seasons at Alabama, and he went on to become the sixth pick of the 1993 NFL draft (one spot behind Copeland).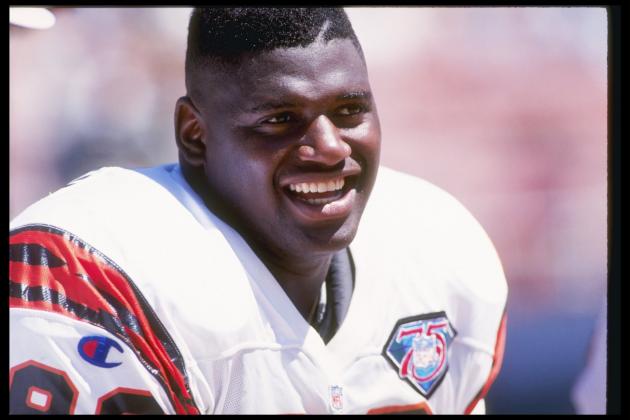 Gary Newkirk/Getty Images
Copeland teamed with Curry to form one of the most dynamic DE tandems in college football history.
Copeland teamed with Eric Curry to form perhaps the most dominant defensive end duo in Crimson Tide history—one that propelled Alabama its first national title in the post Bear Bryant-era in 1992.
The 6'3", 261-pounder spent just two years at the Capstone, but opponents felt his wrath as he recorded 130 tackles and 17.5 sacks (10.5 in 1992 that helped him earn All-American recognition) in his career.
The "deuce" was one of the most electrifying offensive players in the Tide's history, with his versatility personified by his ability to lineup at quarterback, tailback and receiver and as a return man on special teams.
The 5'9", 170-pound Palmer may have been light in his physical stature, but his play spoke loudly to the impact he had in changing games—which led to him finishing third in the 1993 Heisman Trophy balloting.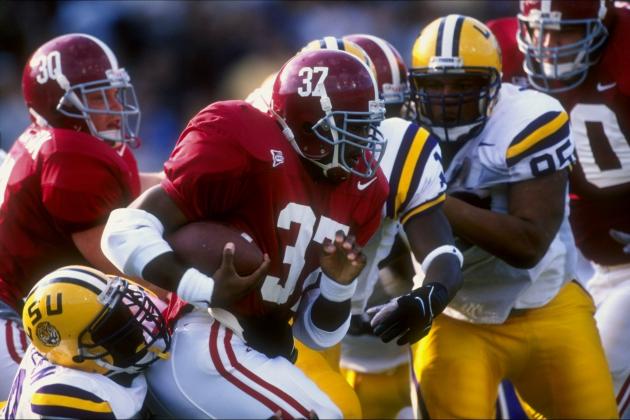 Vincent Laforet/Getty Images
Alexander ran wild through SEC defenses during his four years in Tuscaloosa.
The 6'1", 220-pound Alexander wasted little time making an impression on the college level, galloping for 291 yards and four touchdowns in a game against LSU in his freshman season.
That memorable performance led to a brilliant college career that would see Alexander rush for 3,565 yards and score 49 total touchdowns and culminate with him being named the 1999 SEC Player of the Year.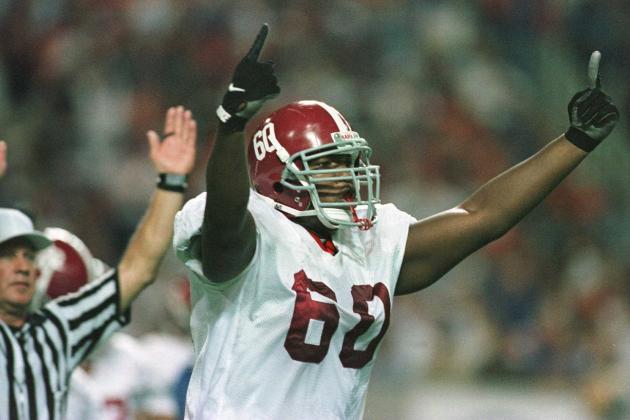 Andy Lyons/Getty Images
Samuels was drafted with the third pick in the 2000 NFL draft.
Senior center Barrett Jones became Alabama's third offensive lineman to win the Outland Trophy in 2011, but the first Crimson Tide great to claim that honor was Chris Samuels in 1999.
The 6'6", 291-pound tackle is one of the most decorated linemen in Alabama's illustrious history, with his quick feet and athleticism being a catalyst that helped Alexander put up monster numbers during their years together in Tuscaloosa.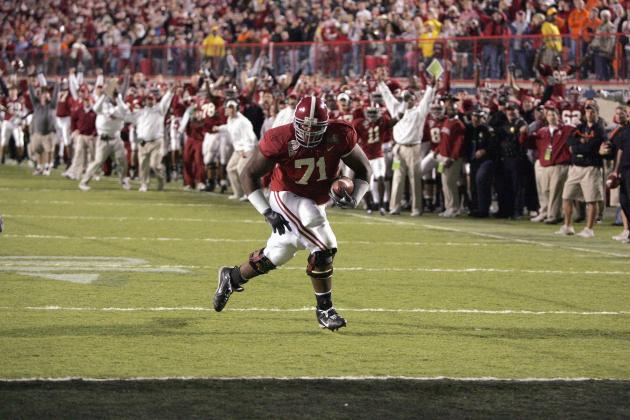 Chris Graythen/Getty Images
Smith was a rare OL that maintained a dominant level of play with minimal transition from high school to college.
Smith was considered a franchise left tackle when he was a consensus 5-star recruit in the class of 2006—and his college career validated those beliefs, with Smith going on to become a three-year starter and capturing the Outland Trophy in his junior season.
At 6'4", 330 pounds, Smith was a dominant player from the minute he arrived at the Capstone—with his size and quickness proving to be a rarity at a premium position on the offensive line.
Chris Graythen/Getty Images
McClain helped Alabama topple Tim Tebow and the Florida Gators en route to the 2009 national title.
Standing at 6'4", 258 pounds, McClain played linebacker with the size of a defensive lineman, yet the agility of a defensive back.
That 31.5 of his 275 career tackles came behind the line of scrimmage speaks volumes to how disruptive of a force he was throughout his Tide career.
The 2009 Butkus Award winner was one of the key cogs of a defense that spearheaded the Tide's run to a 14-0 season culminating with the school's 13th national title.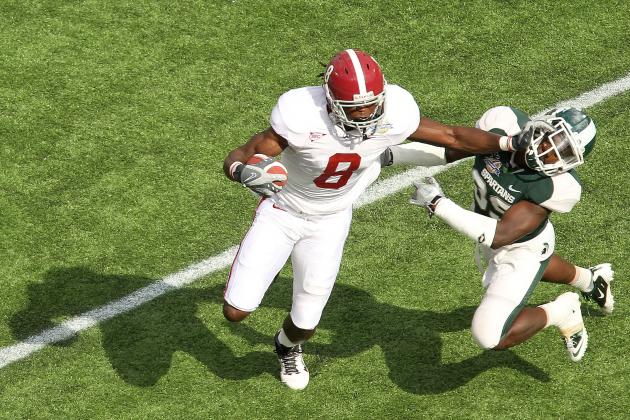 Mike Ehrmann/Getty Images
Jones was a physical mismatch for nearly every corner he faced while at Alabama.
Jones was the crown jewel of Nick Saban's 2008 recruiting class, and he would go on to earn SEC Freshman of the Year honors after catching 58 passes for 924 yards and four touchdowns.
Quite possibly the most gifted receiver in Crimson Tide history, Jones made a lasting impact in his three years in Tuscaloosa as a freakish talent that was unstoppable even with injuries dogging him consistently throughout his career.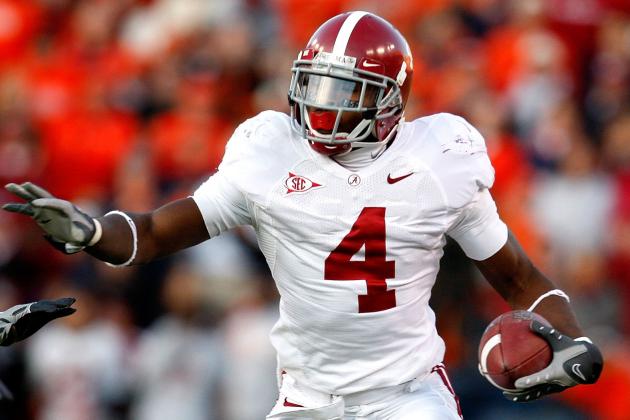 Kevin C. Cox/Getty Images
Barron quarterbacked the most dominant defense in the modern BCS era.
Barron was a three-year starter at safety for Alabama, and most importantly, he was viewed as the quarterback of Saban's dominant defenses on the Tide's two most recent national title-winning squads in 2009 and 2011.
The 6'2", 218-pounder was a first team All-American in his final two seasons and made first team All-SEC in each of his three seasons as a starter—with his 231 career tackles and 12 career interceptions serving as a testament to his ability to play with equal effectiveness as a run-stopper and as a ball hawk against the pass.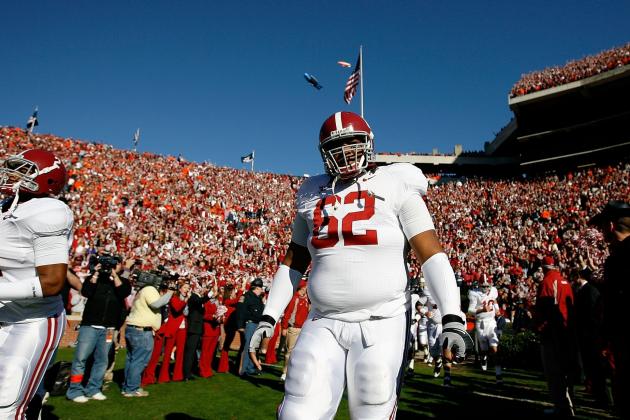 Kevin C. Cox/Getty Images
Cody's massive frame was an immovable force that helped the Alabama lead the SEC in rush defense in 2009.
Cody's mammoth 6'5", 354-pound frame plugged the middle for Saban's first national title-winning squad in 2009—with his two blocked field goals in a 12-10 win over Tennessee serving as a defining moment in the Tide's march to an undefeated season.
The fact that Cody was an unblockable force for his two-year stay in Tuscaloosa was a big factor in helping him earn All-American honors in both of his seasons at the Capstone.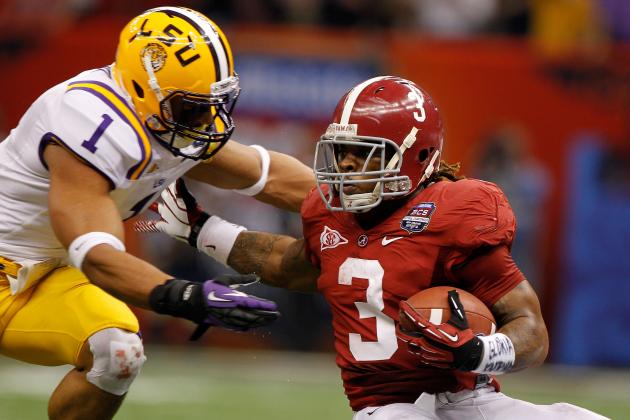 Chris Graythen/Getty Images
Richardson's combo of size and speed helped him the first Tide RB to capture the Doak Walker Award.
The 5'11", 224-pound Richardson emerged as one the most dominant college running backs in recent memory—with his bruising, physical style helping the Tide stampede to two national titles in his three seasons at the Capstone.
While his running mate for his first two seasons—Mark Ingram—captured the Heisman Trophy in 2009, Richardson rushed for more yards and more touchdowns last season en route to being the first Tide tailback to capture the Doak Walker Award.