The 1998 NHL entry draft had one very cringe-worthy moment. That moment came shortly after the Tampa Bay Lightning selected Vincent Lecavalier with the No. 1 overall pick. While there was no denying that Lecavalier deserved to be chosen with that pick, what he did not deserve was the proclamation by then Lightning owner Art Williams that Lecavalier was going to be "the Michael Jordan of hockey."
Williams was a new owner at the time and we can forgive him for getting caught up in the moment of picking a future star in Lecavalier. What we can't forgive is the fact that he would make a Jordan comparison; as long as he was making ridiculous comparisons he should have stuck with the same sport and used Wayne Gretzky or even Mario Lemieux.
While Williams can be forgiven for his faux pas, the most recent individual to make an out-of-line comparison should have known better. Carolina Hurricanes General Manager Jim Rutherford, a man that has been around hockey pretty much his entire life, made the following claim (per NHL.com) about the team's now 20-year-old defenseman Justin Faulk:
Playing defense in the NHL is very difficult and playing at 19 years old is even more difficult. But as long as I've been around the game, even as far back as when I played, I've never seen anyone handle the position like Justin Faulk has as a teenager.
And just in case you thought that perhaps Rutherford had a brain freeze and forgot about some of the stars of the past, he then named names:
We've had defensemen come into the League like [Bobby] Orr, [Denis] Potvin and [Phil] Housley, who were great offensive players, but I've never seen a player play so well defensively and offensively at his age. I can't describe it well enough to tell [fans] what they're in store for having this great young player.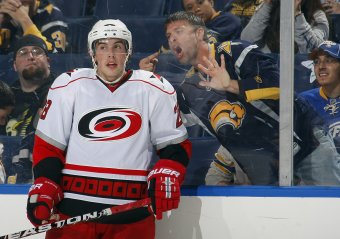 Dave Sandford/Getty Images
Lofty praise for a kid that played 66 games and put up eight goals and 14 assists to go along with a minus-16 rating. By contrast, Orr had 41 points in his rookie season, Potvin had 54 and Housley had 66. Of that group, only Housley debuted at a time plus/minus was tracked, and he posted a minus-four. From a strictly numbers point of view, one could argue that Faulk wasn't even half as good as the players that Rutherford said he was better than.
If you want to dig a little deeper, one could argue that Faulk wasn't even the best teenage defenseman in the NHL last season. Cam Fowler turned 20 in December (Faulk turned 20 in March) and he put up 29 points while posting a minus-28.
I know that Rutherford made these statements during the Hurricanes' "State of the Canes," and that he was speaking to fans, but some of these fans may take the boss' word as gospel. Putting those types of expectations on a developing player is unfair and possibly harmful.
Rutherford and the Hurricanes fans should be happy that they have a solid young defenseman on the team and leave it at that. To compare him to two players that are in the Hall of Fame and one that ranks top four in all-time scoring among defensemen is unfair at best.
Jim Rutherford of all people should have known better than to make this claim.