WWE Raw: Why Confiscating Abraham Washington Signs Is a Big Mistake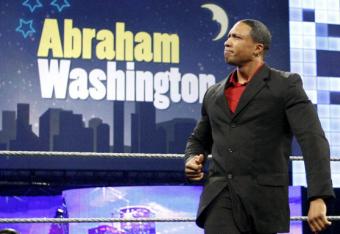 Photo from wwe.com

The audience for WWE Raw's last episode before SummerSlam 2012 had their freedom of speech ripped out of their hands. PWmania.com reports that WWE personnel confiscated signs that referenced recently fired manager Abraham Washington.
WWE is headed down a dangerous road here.
The company cannot forget that their job is to please the fans: That's who purchases the tickets to their shows.
AW was released after his controversial Kobe Bryant joke. This overreaction doesn't serve The Primetime Players, WWE or the fans.
The pettiness of the act only angered the audience. Fans in Dallas apparently wanted to express that anger through handheld, homemade signs.
Fan signs have long been one way to gauge the crowd's mood. If a wrestler's name appears hundreds of times throughout the crowd, chances are, they are successfully over with the fans.
The WWE Universe can express their disdain for a wrestler they want to see gone, for a match they'd love to see happen or an angle they're not interested in.
WWE would be wise to keep their eyes on these signs.
One lone "Great Khali for WWE Champion" sign won't affect anything. But what if the American Airlines arena had been filled with signs asking WWE to rehire AW? It would have simply been an expression of the fans' wishes.
Photo from wwe.com
Unless the signs were threatening or vulgar, there isn't a legitimate reason to take them from fans.
These are the same fans WWE wants to continue to watch their shows, order their pay-per-views and buy their merchandise. Telling the fans that they aren't allowed to express themselves is not the best way to make lifelong lovers of the company.
WWE needs to address this situation. Angering the pro-AW contingent will either push them away from the product or push them into making louder statements.
WWE won't be able to censor Twitter or Facebook. And forget about stopping an arena full of chanting people.
Rather than silencing fans, WWE needs to hear them out.
This article is
What is the duplicate article?
Why is this article offensive?
Where is this article plagiarized from?
Why is this article poorly edited?