Dwight Howard: Breaking Down How He Bolsters the Los Angeles Lakers' Defense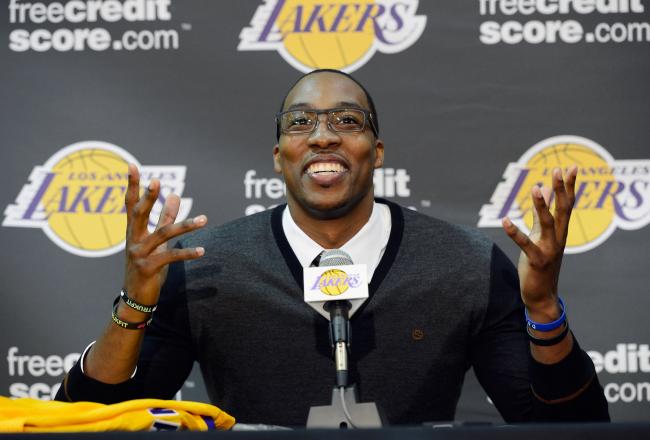 Kevork Djansezian/Getty Images
It doesn't take an NBA guru to come to the conclusion that adding a three-time NBA Defensive Player of the Year award winner bolsters the Los Angeles Lakers' defense. In fact, any person with general basketball knowledge and a third of a brain could probably find their way to that assumption.
However, exactly how the addition of Dwight Howard changes the makeup of the Lakers on the defensive end of the floor is a bit more complex than what you see on the surface.
Last season, Howard ranked third in the NBA in blocks per game, only behind Serge Ibaka of Oklahoma City and JaVale McGee who played for the Washington Wizards and Denver Nuggets.
Even though Howard's 2.15 blocks per game a season ago only ranked him three slots higher than former Laker Andrew Bynum's 1.93 blocks per game, the addition of D12 should be viewed as a gigantic upgrade in the interior defense department.
Bynum is no slouch on the defensive end. In fact, at times while in a Lakers uniform, Bynum was quite good at protecting the rim (namely his 10 block performance in Game 1 against the Denver Nuggets in the playoffs last season, tying an NBA playoff record).
However, it was easy to get the feeling that Bynum was going for those blocks simply to tie (or break) that playoff record for individual success, not necessarily with the primary thought of helping the team.
Bynum hammered home that suspicion, at least in my mind, when he told ABC sideline reporter Lisa Salters after the game (h/t Dan Devine of Yahoo! Sports), "I was jumping at everything trying to get (the record)."
Playing sound defense in basketball does not often consist of "jumping at everything." In fact, the opposite is true.
Standing your ground, not getting fooled by pump fakes and deciding exactly when to leave your feet to block shots effectively is what made stellar defenders like Bill Russell and Dikembe Mutombo so great.
In addition, outside of Bynum's 10-block Game 1 performance, the Lakers' interior defense was exploited in a big way by the Denver Nuggets' up-tempo offense (specifically by Nuggets' point guard Ty Lawson). This led to a full seven-game series that the Lakers barely slid past.
If you watch the Lakers-Nuggets Game 5 YouTube clip (starting at about 40 seconds in) you get an idea of how the Lakers' interior defense was lacking in that series. The quicker, more athletic Nuggets players would penetrate to the bucket with ease and finish. Often times they did so without any help defenders altering their shots. The Lakers' big men in the post were often caught flat-footed, not providing help for perimeter defenders who got beat off the dribble.
As if that wasn't bad enough, JaVale McGee scored 21 points in the game, dunking the ball a total of seven times. Giving up seven dunks to one player simply isn't a formula for success, especially in the postseason when stakes are raised.
Although the Lakers managed to win the seven-game series against a gritty Nuggets team, their interior defense got taken advantage of once again in Round 2.
If you watch the next clip recapping Game 1 of the Lakers-Thunder series, take note of how easily Russell Westbrook, Kevin Durant and James Harden get into the paint and finish throughout the highlight clip.
Not only were they penetrating and finishing close to the basket, but Thunder players repeatedly found teammates wide open at the rim for easy scores. Against a team as talented as OKC, giving up easy buckets in the paint is a death sentence.
The Thunder absolutely eviscerated the Lakers in Game 1, building the lead to 32 points and winning the game 119-90.
Adding Howard, a freak athlete with a more fundamentally sound defensive IQ, should ensure that Ty Lawson and Russell Westbrook won't have as easy a time scoring at the rim when they face the Lakers.
Lakers coaches have to be giddy with the addition, because D12 will sweep many of Nash's defensive mistakes under the proverbial rug.
This article is
What is the duplicate article?
Why is this article offensive?
Where is this article plagiarized from?
Why is this article poorly edited?

Los Angeles Lakers: Like this team?