Ranking the Nashville Predators' Uniforms Throughout History
Frederick Breedon/Getty Images
The Nashville Predators have had some of the most interesting looks in hockey, as they have changed their appearance three times since their inception in 1998.
The team has been seen in eight different sweaters, which is quite a few for a team that has only been around for about a decade and a half.
Let's take a look at some of the Predators' best and worst looks.
8. "Mustard" Jersey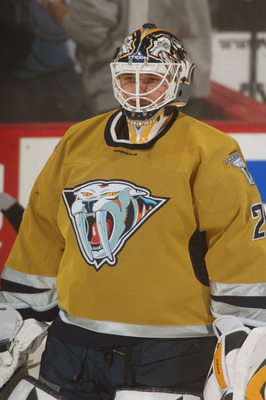 Mitchell Layton/Getty Images
These are regarded among hockey fans to be some of the worst jerseys even worn in history, and it's not hard to see why.
While the logo isn't horrible, it fails to show the ferocity of the primary mark and looks a little too cartoonish.
The worst part, however, is the color and design. Can anyone come up with a worse shade of yellow?
I could never understand the dark blue circles under the arms either.
7. 1998-2007 White Jersey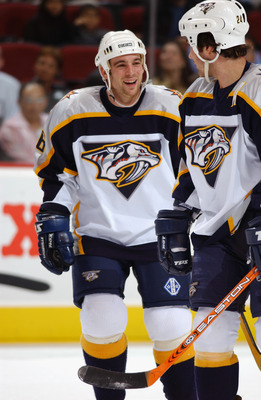 Barry Gossage/Getty Images
While the logo is great, this jersey is still pretty ugly.
I like the silver on the sleeves, but the triangle behind the logo is unnecessary and the design and layout of the jersey looks too techy and futuristic. It looks overly busy and has an overall confusing and unimpressive look.
6. Current Yellow Jersey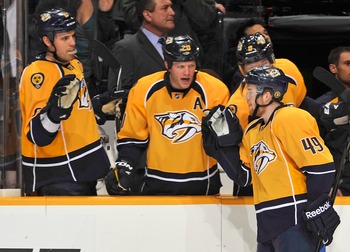 Frederick Breedon/Getty Images
Maybe some of it has to do with me being a Michigan State student, but the new yellow and blue jerseys don't impress me a whole lot.
Nashville gets kudos for being the only NHL team with yellow as its primary color, but despite the fact that this is better than the mustard jerseys, I still don't like this shade of yellow.
The logo was also modified before this past season, but I'm not a fan. The old shinier logo looked a lot sharper and more defined than this one.
It is a lot better than the previous two jerseys though.
5. 2007-2011 White Jersey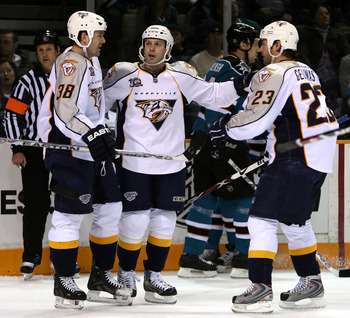 Christian Petersen/Getty Images
I still don't like the triangle behind the logo, but this version is much better than the previous white installment.
Most NHL teams re-did their uniforms when Reebok and the NHL partnered up in the summer of 2007, and the Predators were one of those teams. Unlike many teams, the Predators' changes were definitely for the better when it came to the white jersey.
4. 1998-2007 Blue Jersey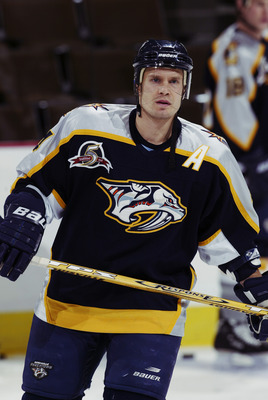 Brian Bahr/Getty Images
While this jersey is still not overly impressive, it is head and shoulders better than its white counterpart. The logo looks great on here, especially without the triangle behind it, and the jersey is much, much cleaner.
3. Current White Jersey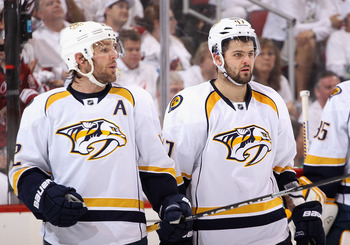 Christian Petersen/Getty Images
The older logos were still better than these, but the new white uniforms are clearly better than their yellow counterparts.
Nashville's most recent jersey change resulted in a downgrade in terms of their home jerseys, but their white jerseys suddenly became one of the best looking road sweaters in hockey.
2. 2007-2011 Blue Jersey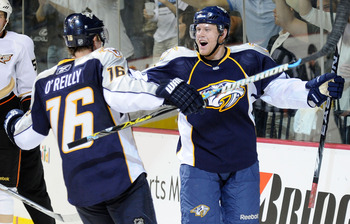 Frederick Breedon/Getty Images
Nashville's blue installments of the Reebok EDGE template looked terrific. Despite the cookie-cutter template which was hated by many fans (including myself), Nashville found a way to make it work.
Here, they provided just the right mix of blue, yellow and silver while still incorporating their terrific original logo.
1. 2009-2011 Alternate Jersey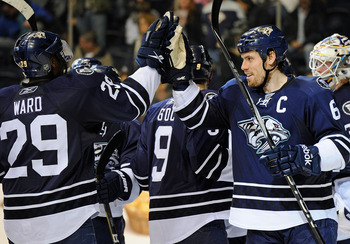 Frederick Breedon/Getty Images
I personally believe that these are some of the greatest sweaters in hockey history.
By introducing these in 2009, Nashville made a different and better-looking color scheme to its already-great logo while also introducing a simpler throwback template to the jersey.
By getting rid of yellow, simplifying the font and color scheme, and giving the jersey a simpler color scheme, Nashville created one of the easiest-on-the-eyes sweaters in hockey.
Ladies and gentlemen, this is how you do a hockey jersey. Why did they have to put this one in mothballs?
Keep Reading

Nashville Predators: Like this team?