San Diego Chargers: What We've Learned About Every Positional Unit in Preseason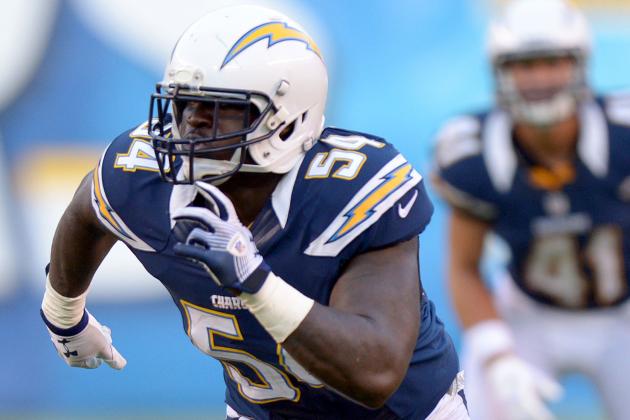 Jake Roth-US PRESSWIRE

The San Diego Chargers still have three preseason games remaining, but a lot of information can be gleaned from what the team has done thus far.
A.J. Smith added a lot of new faces to the roster following a disappointing 2011 season.
The influx of talent is expected to help the Chargers win their first AFC West title since 2009.
Smith has added a significant player to each positional unit except for cornerback.
Let's take a look at what has happened to each positional unit as they prepare for the regular season opener.
Begin Slideshow

»
Stephen Dunn/Getty Images

For the first time in seven years, Philip Rivers will have a new backup quarterback.
The Chargers decided to let Billy Volek go and bring back ex-Charger Charlie Whitehurst.
Whitehurst was extremely disappointing during his two-year stint with the Seattle Seahawks. He never became the solid starting quarterback that the Seahawks expected when they yielded a third-round pick to the Chargers for his services.
However, Whitehurst has the talent to be a good backup quarterback, and that's all the Chargers need from him.
Unfortunately, Whitehurst hurt his MCL early in training camp. He hasn't been able to get many repetitions in camp, but he should be ready to back up Rivers once the season begins.
Because of Whitehurst's injury, undrafted free agent Jarrett Lee was able to line up behind center for most of the Chargers' first preseason game.
Lee has been surprisingly good during the preseason. Some people weren't sure if Lee's training camp success would translate to game action, but he completed 15 out of 22 passes for 235 yards, one touchdown and one interception in his preseason debut.
There's a significant chance that Lee could force himself onto the roster as the third-string quarterback.
As for Rivers, there hasn't been a change in the veteran's demeanor. If the offensive line can keep Rivers on his feet, he should have a bounce-back season following a disappointing 2011.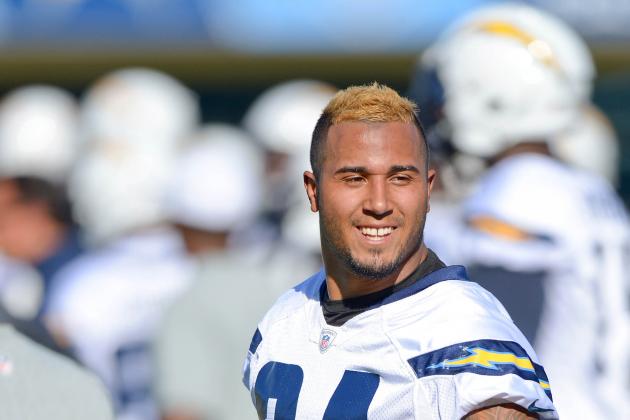 Jake Roth-US PRESSWIRE

The running back unit got off to the worst start possible in its first preseason game when Ryan Mathews went down with a broken clavicle.
A.J. Smith brought in two veterans and two rookies in order to add depth during the offseason, and he will need some of them to step up in Mathews' absence.
Mathews believes that he can make it back in time for the season opener, but the chances of him returning by then do not look likely.
Therefore, Ronnie Brown will have to show that he can handle the bulk of the carries in Mathews' absence. Brown has looked good during training camp, and he should be a serviceable starter for as long as Mathews is injured.
Jackie Battle is the other veteran that the Chargers brought in to strengthen their stable of running backs. Battle hasn't had as much time in camp as the other running backs, and it has shown. Battle has been very unimpressive thus far.
The Chargers spent a seventh-round selection on Edwin Baker, but he hasn't even been the most impressive rookie running back in camp.
Undrafted free agent Michael Hayes has outshone Baker in training camp. The Chargers most likely won't use a roster spot on Hayes, but there is a very good chance that he will occupy a spot on their practice squad.
The one returnee among the Chargers' running backs is Curtis Brinkley. Although he entered training camp with little fanfare, he looks to be the third-string running back behind Mathews and Brown.
Brinkley flashed some ability in limited time in 2011, but he is still an unknown. He should receive significant playing time during the preseason, and if he impresses, he could even supplant Brown as the starter in the regular season opener.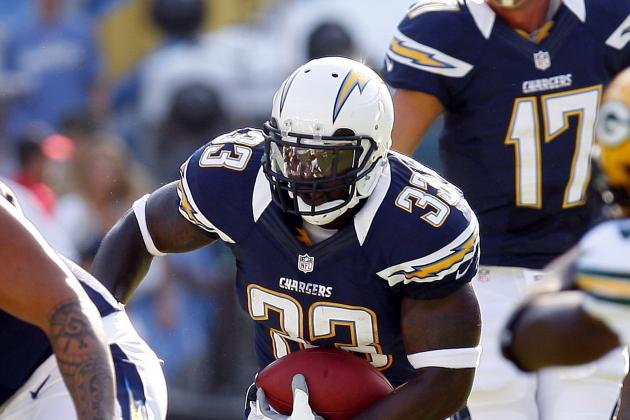 Jody Gomez-US PRESSWIRE

The Chargers brought in Le'Ron McClain to add some more physicality to their backfield. McClain will replace Jacob Hester, who is still on the roster.
With McClain and Hester on the roster, the Chargers are not hurting for a lead blocker. Although he is now the backup, Hester was always good at setting blocks at the right time. However, Hester lacks the strength that McClain possesses.
McClain will help strengthen the running game, and Hester will be an impact player on special teams.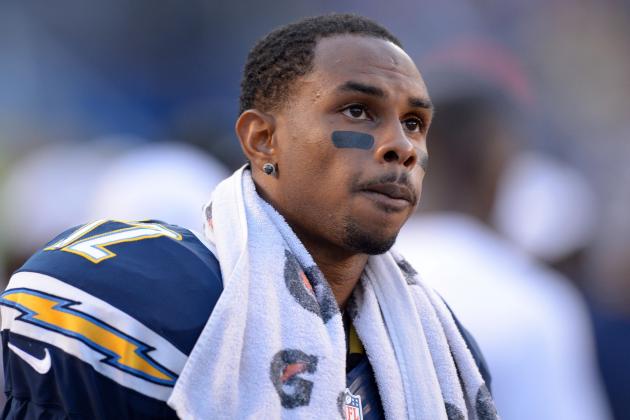 Jake Roth-US PRESSWIRE

The Chargers lost star wide receiver Vincent Jackson, but they were able to bring in Robert Meachem and Eddie Royal in an attempt to replace Jackson's production.
According to Scott Bair of the North County Times, Meachem and Rivers have been working tirelessly in order to build a solid working relationship.
All eyes will be on Meachem this year after the team inked the former New Orleans Saint to a big deal.
However, Malcom Floyd might be the one who is the main beneficiary of Jackson's departure. If Floyd can stay healthy in 2012, a 1,000-yard season should be in his reach.
Meachem and Floyd are the top two receivers on the team, but Vincent Brown might have something to say about that in the near future.
Just a few weeks ago, there was uncertainty as to whether or not Brown would beat out Eddie Royal for the slot receiver spot. Royal still has a chance, but it appears like the spot is Brown's due to the groin injury that has hampered Royal.
Now, Dan McLellan of CBS Sports speculates that Brown has a slight chance to start over Meachem.
Brown had an impressive first preseason game, which included a 36-yard catch and an impressive 27-yard catch-and-run for a touchdown.
Despite the media attention he has garnered recently, Brown will likely be the third receiver on the Chargers, and Meachem should be the starter all year.
However, it is nice to have three wide receivers who have the ability to start.
Don't forget about Royal—he can be an impact player for the Chargers, who hope that he can revert to his rookie form. During Royal's rookie season, he racked up 980 receiving yards and five touchdowns.
The Chargers may not have the same star power at wide receiver, but they certainly have a deeper group of receivers than in 2011.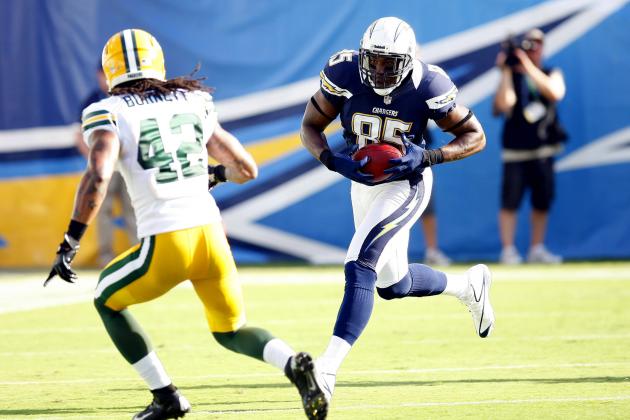 Jody Gomez-US PRESSWIRE

Antonio Gates has gone on a diet and subscribed to a more intense workout program during the offseason, and it looks like it has paid off for him.
According to Ian Rapoport of NFL Network, "He's in shape. He looks skinny. He was burning cornerbacks left and right in practice.…He is feeling healthier now than he's been in a couple of years."
A healthy Gates will be huge for the Chargers in 2012 following the departure of Vincent Jackson.
Randy McMichael has been a solid backup tight end for the Chargers, but he faces some stiff competition in Dante Rosario.
Rosario looked good in the Chargers' first preseason game, and McMichael was nowhere to be seen.
Ladarius Green has done very little thus far, but he is an impressive receiving tight end. Once he puts on weight, he should be a very good NFL tight end.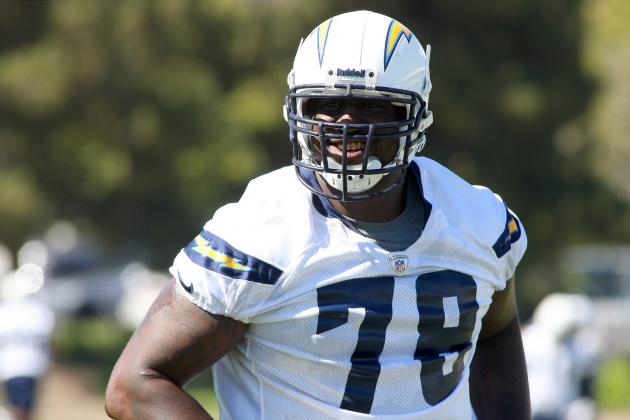 Jake Roth-US PRESSWIRE

This preseason, we've learned that Jared Gaither is still as injury prone as he was with the Baltimore Ravens.
The Chargers need a healthy Gaither at left tackle this season; otherwise, Philip Rivers will likely be under constant pressure from opposing defenses.
At the other tackle, Jeromey Clary continues to hold the starting position. Clary is a below-average tackle, and he either needs to improve this season or to be replaced.
Mike Harris has been a great find as an undrafted free agent, and he could potentially replace Clary at some point this season.
Mario Henderson has done little this preseason, but he should make the team as a swing tackle if he can keep his weight down.
At the left guard position, Tyronne Green has held off Rex Hadnot, and Green will be the starter heading into the regular season. Green is a serviceable guard, and it's good that he has a solid backup in Hadnot.
Louis Vasquez has been solid, but it'd be nice if he took a big step forward this season. The team needs a dominant guard now that Kris Dielman is in retirement.
As always, Nick Hardwick looks like he will be a rock in the middle for the Chargers. The team dodged a bullet this offseason when Hardwick decided to return after contemplating retirement.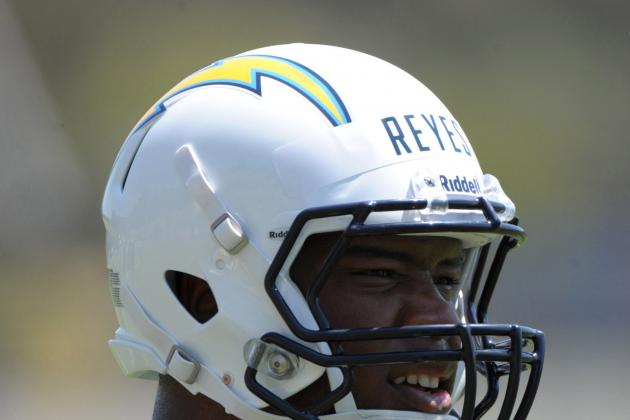 Kirby Lee-US PRESSWIRE

Kendall Reyes has been very impressive during training camp. ESPN's Bill Williamson states that Reyes has already shown the ability to rush the passer and stuff the run.
John Gennaro at Bolts From the Blue states that Corey Liuget has flashed the ability to be dominant during training camp. It'd be very nice to see Liuget take a huge step forward in 2012.
With the addition of Aubrayo Franklin to the roster, Antonio Garay could be pushed to the outside as a five-technique lineman.
Putting Garay on the outside with Franklin anchoring the line could make the Chargers' defensive line very dangerous.
Two other defensive linemen that will be significant contributors are Vaughn Martin and Cam Thomas. Both players improved a lot during the 2011 season and have the chance to start this year.
The Chargers' defensive line has much more depth than it's had in recent seasons.
It will be especially exciting to see how Reyes and Liuget perform this year.
Stephen Dunn/Getty Images

The linebacking corps for the Chargers is the strongest it's been in years.
Shaun Phillips has been the Chargers' best linebacker for quite some time, but the team hopes that his skills aren't on the decline.
Regardless of Phillips' ability, the Chargers have a stacked group of outside linebackers.
The addition of Jarret Johnson will help shut down opponents' running games. Johnson might be the top 3-4 outside linebacker in the NFL when it comes to stopping the run. Unfortunately, Johnson is a liability when it come to rushing the passer.
In passing situations, Antwan Barnes will likely spell Johnson. Barnes was a pleasant surprise for the Chargers last year, racking up 11 sacks.
Melvin Ingram will be used in a variety of ways on the Chargers' defense. He could line up at outside linebacker on one play and, on the next play, he might have his hand on the ground, going straight up against an offensive lineman.
Ingram has been extremely impressive during training camp. There's no doubt that he is a legitimate candidate for Defensive Rookie of the Year.
On the inside, the Chargers have Takeo Spikes and Donald Butler returning.
Spikes lacks speed, but he is still productive due to his ability to read plays and make certain tackles.
Butler was fantastic in his first full season. It will be interesting to see how much he improves going forward.
Mike Ehrmann/Getty Images

The Chargers' biggest weakness is at the cornerback position.
Quentin Jammer had an absolutely terrible 2011 season, and Antoine Cason was nothing special.
Jammer was in the middle of a divorce last season, which likely contributed to his poor play. However, it is clear that his skills are quickly leaving him as well.
If Jammer wants to remain an effective NFL player, a move to safety will be necessary for him in the near future.
After a subpar 2011 season, Cason has been working hard so that he can have a bounce-back year.
According to Kevin Acee of The U-T San Diego, Cason revealed that he has hired a nutritionist to help him with his diet.
"I'm eating clean, right, healthy. That really helped with my endurance and mental focus," Cason said.
If Cason's dedication during the offseason leads to him playing like he did in 2010, he can be in line for a big contract after the season.
The nickelback spot is still up for grabs. Last year's nickelback Dante Hughes was a cap casualty during the offseason.
Marcus Gilchrist has more experience than Shareece Wright, but Gilchrist suffered an injury a few weeks ago.
Gilchrist's injury has allowed Wright to step in and impress the coaching staff. It appears as if Wright is leading the position battle at the moment.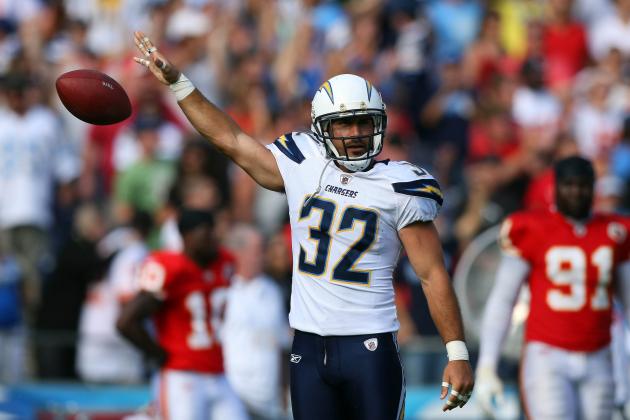 Donald Miralle/Getty Images

Eric Weddle has developed into one of the best safeties in the NFL. He will provide the Chargers with fantastic production from the free safety spot for the foreseeable future.
On the other hand, strong safety has been a revolving door lately.
Atari Bigby was a solid acquisition in free agency. The Chargers added more talent to the position when they traded up in the third round to select Brandon Taylor out of LSU.
If Bigby can stay healthy, he will win the job heading into the regular season. Unfortunately for Bigby, he has always been prone to injuries.
Although Bigby is the presumptive starter, there's no doubt that Taylor will have the opportunity to wrestle the starting job away from Bigby during the season.
The battle between Bigby and Taylor for playing time will be an intriguing storyline to follow throughout 2012.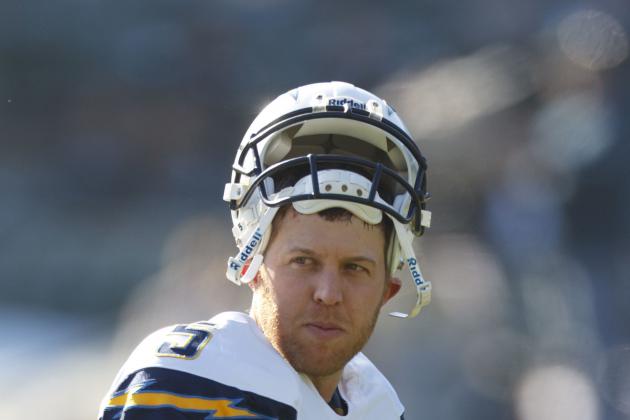 Jason O. Watson-US PRESSWIRE

Nate Kaeding has a significant edge over Nick Novak in the kicker battle following Novak's inability to nail a 35-yard field goal against the Green Bay Packers last week.
Mike Scifres should be his usual dominant self this year.
The Chargers brought in three wide receivers who can return kicks and punts: Michael Spurlock, Roscoe Parrish and Eddie Royal.
The return spots are still up in the air.
Parrish, Royal and the incumbent kick returner Richard Goodman all missed the Chargers' first preseason game.
Goodman was impressive last season, and it will be hard for any of the newcomers to beat him out for the kick returner job.
It will be interesting to see how the return specialist battle plays out during the remainder of the preseason.