Grading Golf's Biggest Names This Majors Season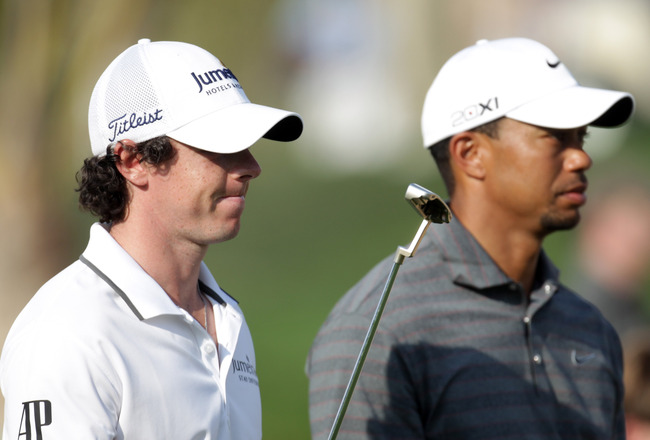 Ross Kinnaird/Getty Images
It was a majors season with one playoff, two collapses, and an uncontested finish for Rory McIlroy.
Predicting who succeeds and fails in any golf season is about as easy as, well, Bubba Watson's second shot on the second hole of his playoff at Augusta. After all, who would have thought Ernie Els would win The Open? Webb Simpson at the Olympic Club?
Yep, this was quite a year. The majors for 2012 are in the books, but how did the biggest names fare?
Rory McIlroy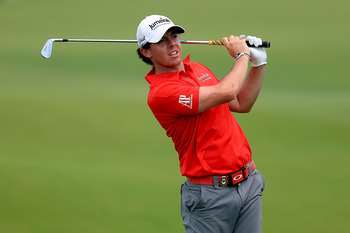 David Cannon/Getty Images
Grade: A
Yes, he had disappointing appearances at the U.S. Open—where he was cut—and The British Open, but he was absolutely brilliant at Kiawah Island.
McIlroy was in total command for the better part of Sunday afternoon, leaving fans to simply marvel.
His birdie from 25 feet at the 18th sealed the deal. Not since Seve Ballesteros has a player so young won two majors.
Tiger Woods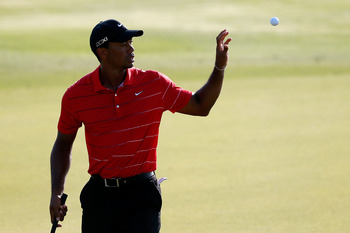 Sam Greenwood/Getty Images
Grade: C+
He's leading the way on the FedEx Cup standings and took home victories at AT&T National and Memorial, but Woods just couldn't get it done at any of the four majors.
He was leading going into Saturday at both the Masters and the PGA Championship, but then he stumbled. Badly.
A few years ago it seemed unfathomable that Woods wouldn't catch up to Jack Nicklaus's record 18 majors.
Now, we're still waiting for him to just win one major again.
Bubba Watson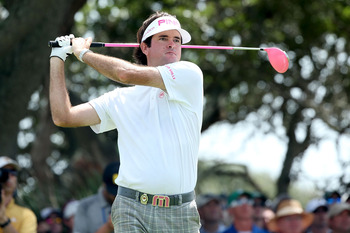 Andrew Redington/Getty Images
Grade: B+
The playoff between Bubba Watson and Louis Oosthuizen was a thrilling end to the Masters.
Watson's risky and insane second shot on the second playoff hole earned him the green jacket.
Most wondered if a player like Watson could even win a major.
As it turns out, yes, and in a spectacular fashion.
Graeme McDowell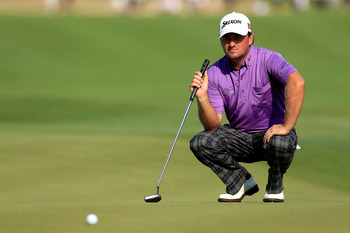 David Cannon/Getty Images
Grade: B-
He was on the leader board at the Masters, U.S. Open (where he tied for second) and the PGA Championship.
Adam Scott's collapse at Royal Lytham captured the headlines for the British Open, but earlier, McDowell played himself out of contention on a course that the Irishman otherwise should have dominated.
In the final pairing, he played alongside Scott but both watched Ernie Els take the Claret Jug.
Phil Mickelson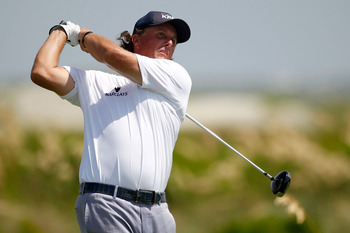 Jonathan Ferrey/Getty Images
Grade: C-
After an absolutely dreadful Thursday at The Masters, where he shot a 74, it was a miracle that Mickelson was almost a contender to take home the green jacket (he ended the day tied for third).
It was a different story at both the U.S. Open as well as the British Open, where he failed to make the cut at Royal Lytham.
At the PGA Championship, Mickelson finished the tournament tied for 36th, ending a majors season that was a roller coaster of bogeys and infuriating drives that felt like an endless loop.
Ernie Els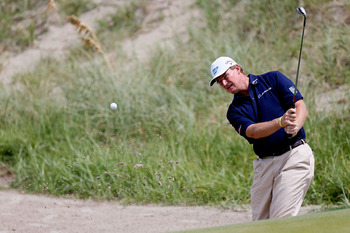 Sam Greenwood/Getty Images
Grade: A-
It was bittersweet for Els to take home the Claret Jug while standing next to Adam Scott, who bogeyed the last four holes to cede the win.
The South African, who last won a major in 2002 also in the British Open, was the picture of class during his victory speech.
His win at Royal Lytham capped off a return to form for Els, who failed to make the cut at the Masters earlier in the year.
With his victory at the Open, Els definitely makes it to Augusta in 2013.
Jim Furyk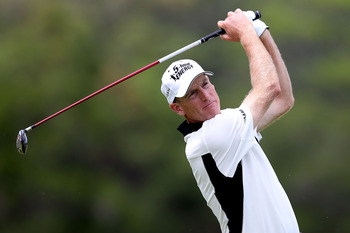 Ross Kinnaird/Getty Images
Grade: D-
As if his collapse at the U.S. Open wasn't bad enough, the scenario essentially repeated itself at the WGC Bridgestone.
What transpired at the Olympic Club seemed enough to rattle Furyk, who was barely a factor at the British Open or the PGA Championship.
He's consistent at shooting greens in regulation and putting, but maybe Furyk should look closer at the 5-hour ENERGY drink he endorses.
Particularly, that final hour.
Steve Stricker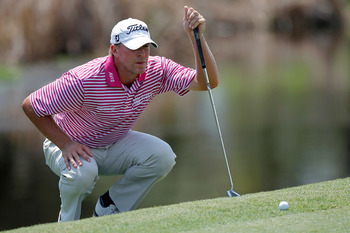 Jonathan Ferrey/Getty Images
Grade: B
After going through a devastating slump a few years ago, it's nice to see the Midwest's favorite golfer back on the leader boards.
He made the cut at all four majors but his best performance was at the PGA Championship, where he finished tied for seventh.
After a consistent year, it's no surprise that Stricker is a lock for the Ryder Cup.
Luke Donald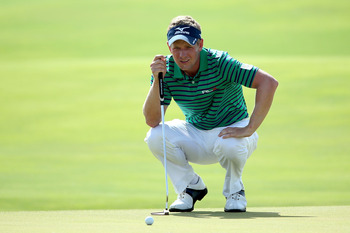 Andrew Redington/Getty Images
Grade: D
Another year that Luke Donald doesn't win a major.
He did finish tie for fifth at the British Open, but it's still a disappointing season for Donald.
After the PGA Championship, he slipped down the World Golf Rankings to No. 2 behind Rory McIlroy.
Most still believe he will win a major, but with each year that passes, the more pressure Donald faces.
John Daly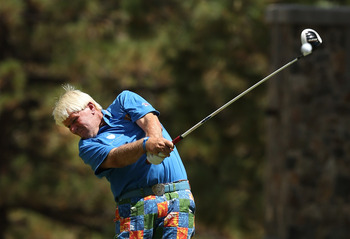 Stephen Dunn/Getty Images
Grade: A-
Yes, he's still wearing those ridiculous pants.
But finishing tied for 18th at the PGA Championship after shooting a Sunday 69 isn't bad for golf's bad boy.
And he certainly brightens up any green.
Keep Reading