Houston Texans: Why Trindon Holliday Will Win the Starting Job at KR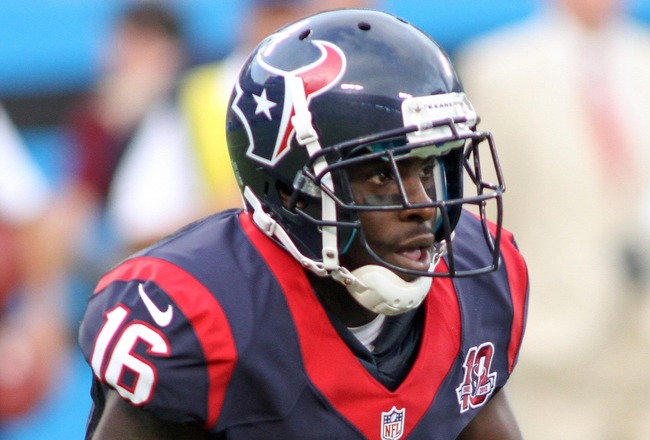 Jeremy Brevard-US PRESSWIRE
Trindon Holliday, 26-year-old former LSU Tiger, is about to show the NFL that he belongs. Despite size issues, standing at only 5'5", Holliday has the speed to make a huge impact on special teams—specifically on kick returns.
After battling injuries since being drafted in 2010, No. 16 is about to turn plenty of heads this preseason. Here's why.
Impeccable Speed

Holliday running an official time of 4.28 in the 40-yard dash.

A two-sport athlete at LSU, Holliday was a track star, as well as return specialist for the Tigers from 2006-2009, which included a championship season in '07.
In fact, during his high school days, he led the nation in both the 55-meter and 60-meter dashes.
Holliday was clocked at a blazing 4.34 in the 40-yard dash at the 2010 NFL combine—impressive, but not his fastest time. According to Holliday via a nola.com report, he said he's been timed as fast as a 4.21 dash.
We've seen the combination of lethal speed and lack of size prove effective in the NFL, especially in return men. Most recently, Darren Sproles—a mere inch taller than Holliday—has been doubly dangerous first as a return specialist, as well as an option out of the backfield.
Texans special teams coordinator Joe Marciano told Ultimate Texans that he thinks Holliday could be as good a return man as Devin Hester and Antonio Cromartie.
Holliday took back a 90-yard return for a touchdown during the preseason's first week, in Houston's game versus Carolina.
Parody at the Position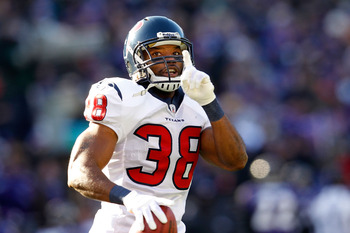 Rob Carr/Getty Images
Aside from six-year pro Danieal Manning, the Texans have no other threats at the returner spot. Manning was effective returning kicks last season (his first in Houston), as he averaged 27 yards a return on 13 returns.
Manning however, is another year older and, now at 30 years old, facing the point of his career that hasn't been kind to past cornerbacks and returners. The job is Manning's to lose.
Another player that shared returning duties last season for Houston is Sherrick McManis. The DB is entering his third year in the league, and last season averaged 20 yards a return on 10 attempts. It won't be surprising to see Holliday pass McManis on the depth chart early on.
His Lack of Size Could Be a Blessing in Disguise
Holliday feels his short stature could play to his favor in the return game. "I think it's an advantage when I'm returning," he told Ultimate Texans. "I guess I'm so small, I get to hide behind the guys. They don't see me, I just pop out of nowhere."
He may be right. We saw Darren Sproles make a habit out of this technique, and the former Charger just played himself right into a new four-year contract with New Orleans.
You can see for yourself in the video how Holliday creeps behind his team's wedges, and then explodes through before any defender can wrap up the speedster.
A Great Way to 'Get a Foot in the Door'
Rob Carr/Getty Images
It's no secret: Holliday's best chance at making a pro roster is as a return man. However, head coach Gary Kubiak says Holliday must bring more to the table.
"If you're on the team you've got to be able to do a lot of things," Kubiak said according to Ultimate Texans.
Also according to the report, Kubiak said that he planned on giving Holliday more of a look on offense at receiver and running back—similar to a role that Percy Harvin fills in Minnesota.
Holliday combined for four rushing touchdowns in four years in Baton Rouge, while averaging just 29 attempts per season—not much of a sample size.
It's not easy to tell this early on if Holliday can be much of anything besides a return specialist. At 5'5", he's the shortest player in all of football. But after injuries to his thumb and hamstring in each of his first two NFL seasons, respectively, Holliday is playing with a chip on his shoulder, knowing he's running out of chances with the Texans.
Expect him to literally run with this chance, right onto Houston's starting return team. From there, Holliday will have to prove that his talents expand beyond his legs, and more importantly to his heart, as he'll need to prove to the NFL world that he is more than your average return man.
Keep Reading

Houston Texans: Like this team?