How Every NBA Team Will Compare to Last Year's Version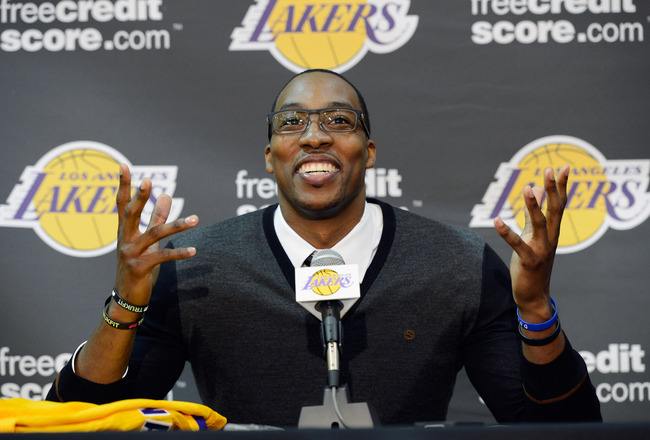 Kevork Djansezian/Getty Images
After what can only be described as a landscape altering offseason, the NBA is set for a major change of pace. From the big names who found new homes to the draft picks ready to make an instant impact, each and every NBA franchise has changed for better or worse.
The question is, how has each team truly been altered? For that answer, the following slides will tell you just that.
Some teams have improved via addition while others have simply removed players that held them back from maximizing their potential. Other teams, meanwhile, have lost their superstar and ended up in a worse position than they had likely imagined.
So who is moving up and who has taken a few steps back? Let's find out.
Atlanta Hawks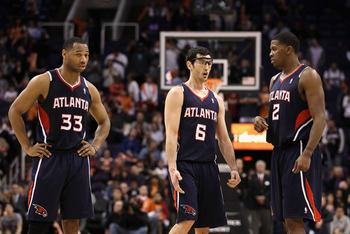 It's out with the old and in with the new for the Atlanta Hawks.
Christian Petersen/Getty Images
If there is any team in the NBA that was in need of a face lift, it was the Atlanta Hawks. After an offseason that included the trade of star shooting guard and Atlanta mainstay Joe Johnson, it's safe to say that new general manager Danny Ferry gave the franchise just that.
And more.
Not only were key pieces shifted around, but both the depth and style of this roster were altered entirely. After possessing the second-oldest roster in the NBA during the 2012 season, Atlanta replaced aging veterans such as Tracy McGrady and Willie Green with Lou Williams and Anthony Morrow.
The Hawks also drafted Vanderbilt's John Jenkins and acquired Kyle Korver via trade, thus giving them three of the best pure shooters in the league.
Due to the severity of the moves that were made, the Hawks can be expected to run a much stronger half-court set. That doesn't mean they won't get out in transition, however, as the team added Devin Harris to the point guard position and are fully expected to endlessly run the floor.
Expect Josh Smith and Al Horford to post career years as the Atlanta Hawks have the best all-around roster the two players have ever seen.
Boston Celtics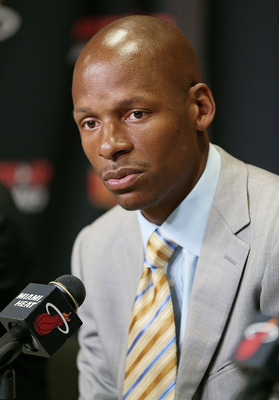 Ray Allen left and a surplus of depth replaced him.
Mike Ehrmann/Getty Images
While the loss of Ray Allen may cause some to believe the Boston Celtics have become weak, the team they currently have assembled blows last year's squad out of the water. For the first time in a long time, the Boston Celtics have legitimate depth at almost every single position.
And they return the trio of Rajon Rondo, Paul Pierce and Kevin Garnett while bringing in 2011 NBA Champion and Miami Heat slayer Jason Terry. I'd call that a scary lineup, wouldn't you?
While the new Big Four may garner the headlines, the Celtics successfully padded their rotation with a handful of quality players. Joining Terry are the likes of Courtney Lee, who is a defensive and three-point specialist, and rookies Jared Sullinger and Fab Melo.
Two key re-signings include Brandon Bass and Jeff Green, who play the forward spots.
At 6'5", Courtney Lee is much bigger than Avery Bradley, who stands at a generous 6'2". This is significant considering the Celtics can now deploy a lineup that can play small with Lee at the 3 and Pierce at the 4.
Something that they will need to develop should they hope to defeat the Miami Heat.
In comparison to last season, this team will be defined by the term "fresh." The aging legs of the Beantown boys were on full display during Game 7 of the Eastern Conference Finals, a direct result from the fact that there wasn't much to offer behind Ray Allen, Paul Pierce and Kevin Garnett.
This time around, Jason Terry, Avery Bradley and Courtney Lee will all share minutes at the 2. Paul Pierce will see a majority of the time on the floor but also be able to sit as Jeff Green covers for him. Fab Melo, although a rookie, offers the athletic big body presence that could give KG a breather.
Expect this team to maximize each and every piece of their talent, which they were unable to do consistently in 2012.
Brooklyn Nets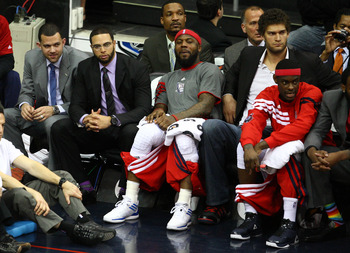 It's safe to say that the talent surrounding Deron Williams has greatly improved.
Chris Chambers/Getty Images
The Brooklyn Nets have had the most drastic roster overhaul in the NBA. They've replaced a dismal supporting cast with Joe Johnson, C.J. Watson and Reggie Evans -- three players who played key roles in their respective team's postseason run in 2012.
The Nets have also added European imports Mirza Teletovic and Tornike Shengelia via free agency and the draft. This has all been rounded out by the re-signings of Deron Williams, Gerald Wallace, Kris Humphries and Brook Lopez.
Four players who would be locks to start almost anywhere else in the NBA.
As a result of this active Summer, the Nets have gone from a contender for the first overall draft choice to a darkhorse for the title. At the very least, they've firmly established themselves as one of the better teams in the Eastern Conference.
Something they haven't been since Jason Kidd, Vince Carter and Richard Jefferson were roaming the floor in New Jersey.
Although we've yet to see this unit perform together, as injuries and a lack of a 2011 offseason have derailed the current core's hopes, expectations should be set high. Joe Johnson may be tremendously overpaid, but he remains one of the Top 5 shooting guards in the NBA. He's also a player who has taken a solid core with very little else around them to the postseason.
Just ask the Atlanta Hawks.
Expect the Nets to attack in the halfcourt and preach defense this time around. Williams, Johnson and MarShon Brooks are all excellent ball handlers while Brook Lopez has proven to be capable of 20 points a night.
The style of play will not be much different, but the results certainly will.
Charlotte Bobcats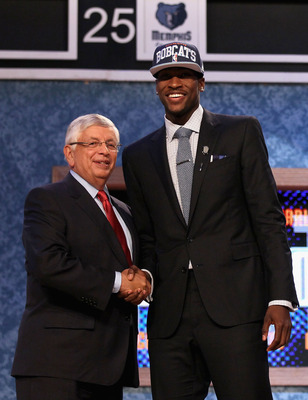 Elsa/Getty Images
With all due respect to the optimistic Charlotte Bobcats fans seeking big things in 2013, the only logical expectation is another trip to the top of the NBA Draft Lottery. Crossing your fingers for not being screwed out of the top pick sounds more promising than believing in regular season success.
With that being said, Michael Kidd-Gilchrist and Jeffery Taylor were two excellent selections on draft day. The Bobcats landed the top two perimeter defenders in the nation and instantly improved the quality of the position in the process.
The team also landed veterans Ben Gordon, Ramon Sessions and Brendan Haywood during free agency. Each signing should improve the all-around quality of this team and provide a mentor for the younger players on the roster.
Just don't get your hopes up that the trio of Gordon, Sessions and Haywood spells postseason. It likely spells no more than 20 wins in their first season together.
Now here's where the optimism kicks in.
With this newly crafted roster, there is no reason to expect the Charlotte Bobcats to be anything but competitive. The team's lack of fundamentally sound performers has been addressed, while high-quality motor players have been added to positive influence the team.
Unfortunately, this team does not have a closer and uncertainty beckons at almost every position besides the 3. For instance, should the team sacrifice the legitimate progression of Gerald Henderson to start Ben Gordon?
If the team doesn't make the right decision early, there may not be a point of return.
Chicago Bulls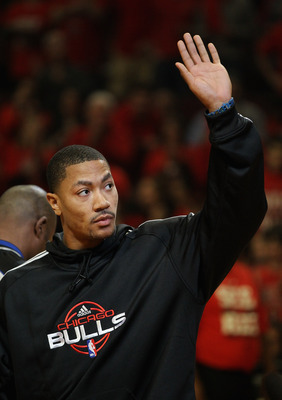 How will the Bulls fare with D-Rose out until March? More importantly, how will he play upon returning?
Jonathan Daniel/Getty Images
The Chicago Bulls have finished the regular season atop the Eastern Conference for two years running, capitalizing on one of the best systems in basketball and the brilliance on Derrick Rose. After gutting the roster and losing D-Rose until March, both of those qualities have been called into question.
There should be no doubt that head coach Tom Thibodeau will lead the Bulls to the postseason. He's one of the best in the business and guided Chicago to the top seed in the East with Rose missing roughly half of the team's games in 2012.
What we cannot forget, however, is that the Bulls dropped their first round series to the Philadelphia 76ers. A team that didn't even show up for half of their postseason games, losing by double-digits in four of their six losses and failing to reach 90 points in five of their seven wins.
This came as a result of, not Derrick Rose's injury, but the loss of center Joakim Noah. While Noah should be back in time and fully healthy, one has to be concerned when two of a contender's best three players are injured.
As for what we can expect in comparison to last season, it's basically going to be more of the same. Derrick Rose return speculation throughout the duration of the season and an irrational belief in the play of a questionable veteran.
This time around, it's the wildly inconsistent and injury-plagued Kirk Hinrich instead of John Lucas III. Derrick Rose can't return soon enough.
Cleveland Cavaliers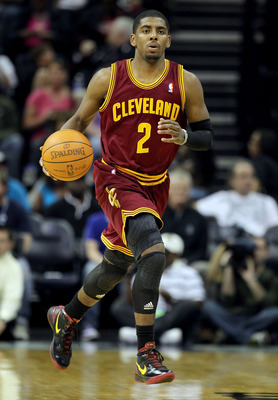 Kyrie Irving got some major help this offseason, but also lost a key weapon and mentor.
Andy Lyons/Getty Images
The Cleveland Cavaliers utilized the 2012 NBA Draft to reach on a shooting guard and trade three legitimate role players for a player whose upside appears to be somewhere between Zaza Pachulia and Jason Thompson.
Although Dion Waiters possesses superstar upside with a skill set and motor similar to that of Dwyane Wade, it's hard to call draft night a success just yet. It's also hard to justify an offseason when the best signing they had was of C.J. Miles.
Nevertheless, the Cavaliers should take more steps the postseason in 2013 than they did in 2012. Tristan Thompson is finally starting and is set to emerge as the true "second-best player" on the team. Waiters and Anderson Varejao, meanwhile, have all the opportunities in the world to prove doubters wrong.
For Waiters, he's fighting critics of his draft position. For Varejao, it's simply proving he can remain healthy as he continues to pus out 11 points and 11 rebounds each night.
Expect the Cavaliers to run more half-court sets than transition attacks, despite the addition of athletic swingmen. Kyrie Irving and Dion Waiters are both elite level ball handlers who can attack the basket and set opponents up for quality looks.
C.J. Miles, meanwhile, can attack off of the dribble and finish at the basket quite well. It's time that a team learns to properly utilize that ability.
While the postseason is a lofty expectation, 35 wins is not. That's a significant number for a team where four of your top five options are under the age of 22.
Dallas Mavericks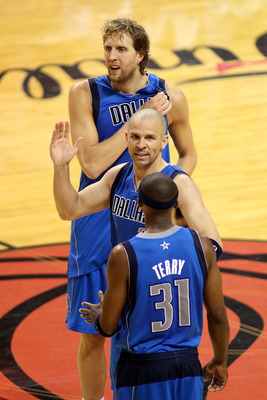 Dirk Nowitzki lost some aging friends in favor of younger assets.
Marc Serota/Getty Images
Now if this isn't a new-look roster, I'm not sure what is.
The Dallas Mavericks lost Jason Terry, Jason Kidd and Brendan Haywood to free agency. That's two starters and one of the best Sixth Men in the NBA, if you're counting.
While Haywood's departure came via the amnesty provision, these are three losses that are tough to make up for. Fortunately, owner Mark Cuban did not bow out in the face of the defeat and added crafty veterans and a young shooting guard with star ability waiting to be maximized.
Long the team's greatest need, Cuban began the offseason by going out and signing Chris Kaman to hold down the center spot. Kaman is familiar with superstar Dirk Nowitzki from their days on the German national team and should pick up on team chemistry relatively quickly.
This was followed by claiming Elton Brand off of waivers, who should be able to post roughly 12 points and seven rebounds per game off of the bench.
The key to this offseason, however, was the signing of O.J. Mayo. While many have written him off as a draft bust, Mayo's first two years in the league were highlighted by averages of 18.5 and 17.5 points per game. His decrease in production simply came as a result of a change in role and a lack of trust from his head coach.
Expect Mayo to thrive in Dallas and return to that All-Star caliber form. Also expect the recently acquired Darren Collison and Dahntay Jones to fit in well, as Jones works alongside Shawn Marion to provide elite perimeter defense.
As long as Collison can play as he did in New Orleans during the 2010 season, Dallas is in store for a tough return to the postseason. If not, expect rookie Jared Cunningham to prove to the world why he was the steal of the 2012 NBA Draft.
Denver Nuggets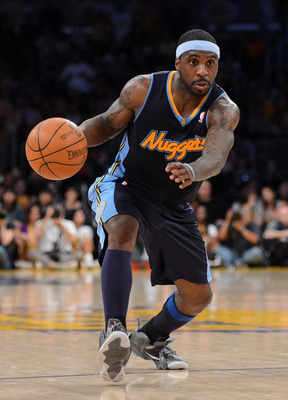 Harry How/Getty Images
Out in Denver, it appeared as if the offseason would go by quietly and the development of their already stellar core would take center stage. Within the blink of an eye, everything changed and the Denver Nuggets suddenly went from postseason lock to a darkhorse to make noise in the postseason.
Via their involvement in the Dwight Howard trade, the Denver Nuggets landed All-Star and Team USA forward Andre Iguodala. In turn, the Nuggets gave up Al Harrington and Arron Afflalo, thus freeing up valuable playing time for youngsters ready to make their mark.
Specifically Kenneth Faried at the 4 and the tandem of Danilo Gallinari and Wilson Chandler on the perimeter.
This adds to a roster that already included future All-Stars in Ty Lawson, Gallinari, and JaVale McGee. It also gives the Nuggets another veteran presence as Iguodala works with Andre Miller to lead this team deep into the postseason.
While his offensive ability may not mean much for a team who already averaged an NBA-high 104.1 points per game, his defense changes everything.
Andre Iguodala can lock down your best scorer and make them look foolish. From superstar to scorer, Iggy has been known to embarras and unravel even the greatest of player's plans for points. He's also known to be one of the best transition scorers in the game.
In other words, expect Iguodala to add to an already unstoppable transition attack while solidifying the Nuggets' perimeter as a defender. This team is capable of maintaining their 104.1 point per game pace while significantly decreasing the 101.2 points they allowed in 2012.
They may not have the big names, but if you think any team in the NBA will get by the Denver Nuggets without a fight, you're off your rocker. The Nuggets are as legitimate a title contender as any in the West should Ty Lawson, Danilo Gallinari and JaVale McGee continue to progress to star status.
George Karl's crop of gold just got a whole lot richer.
Detroit Pistons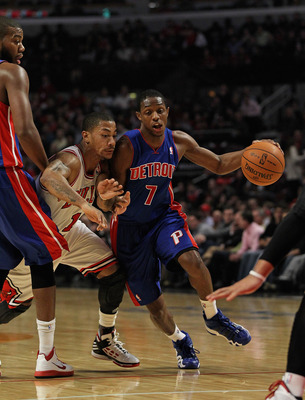 Brandon Knight has the abilities to have a long NBA career. But is he really the star guard fans expect him to be?
Jonathan Daniel/Getty Images
The Detroit Pistons have emerged as a trendy pick for a surprise team in the Eastern Conference. As we've come to learn, however, a fan-created trend does not dictate the level of success a franchise will find.
Don't expect things to be very different for a young and, for the most part, inexperienced Pistons team.
While the additions of Corey Maggette via free agency and Andre Drummond via the draft fit the roster well, neither are deal-breakers. Drummond is just a rookie while Maggette was the best player on the worst team in the NBA during the 2012 season.
Another year of progression for Greg Monroe and Brandon Knight is certainly appealing, but it's not postseason worthy. Not for a team that averaged just 90.9 points per game and did nothing but use a second round draft pick to improve the quality of their offense.
A pick that was spent on Kim English, who is excellent in the shooting and leadership categories but lacks any other true quality of note.
One might suggest that Rodney Stuckey will improve upon his 42.9 percent shooting and average more than 14.8 points per game, but why would he? That's right on par with his career numbers and Stuckey has shown no signs of improving in either department.
This offseason of complacency may have been a sign of confidence in things to come, but that doesn't mean it was the right move to make. The Detroit Pistons are in for the same thing as they saw in 2012: short spurts of greatness with no true signs of life.
Golden State Warriors
The Warriors' season rides on Stephen Curry and Andrew Bogut's ability to stay healthy.
Robert Prezioso/Getty Images
From the trade deadline to the end of free agency, the Golden State Warriors have been masterful with their moves. Although unpopular amongst fans, the Warriors completed an intelligent deal when they swapped scoring guard Monta Ellis for one of the best interior defenders in the game, Andrew Bogut.
The Warriors proceeded to trade defensive liability Dorell Wright, a deal that landed them stability at the point with veteran Jarrett Jack.
Golden State drafted Harrison Barnes in his place and padded the perimeter with second round selection Draymond Green. They also re-signed Brandon Rush, who shot 45.2 percent from distance in 2012 and firmly established himself as the team's best perimeter defender.
The key for the Warriors in 2013 will not be the progression and development of these players, as most are ready to compete right off of the bat. Instead, it lies with the great battle that every team faces on a yearly basis: overcoming injuries.
Stephen Curry and Andrew Bogut are, arguably, the team's top two individual players. They're also two of the most injury-prone guys in the league. If one or both of them sustain an injury, those postseason hopes that Californians seem to be rallying around will fall far short of expectations.
Should the duo remain healthy, however, Bogut and David Lee would make for one of the most balanced frontcourts in the game. Curry, meanwhile, would work with sharpshooters Klay Thompson, Brandon Rush and Harrison Barnes to hold down the perimeter and pose a tough task for any team to stop.
This high-low combination with an emphasis on defense could in fact lead to a postseason berth in 2013.
Houston Rockets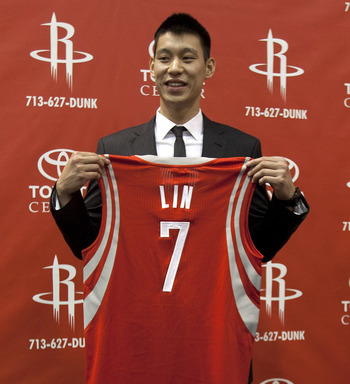 Bob Levey/Getty Images
The Houston Rockets got significantly younger, and in turn, drastically worse. In fact, the Rockets are more likely to come away with the first overall draft choice than they are the slightest sniff of a postseason berth.
As is the risk one takes in betting the bank on a trade that never happened.
The Houston Rockets lost four starters in Kyle Lowry, Goran Dragic, Luis Scola and Samuel Dalembert. To replace them, the team drafted shooting guard Jeremy Lamb, along with forwards Royce White and Terrence Jones.
And they signed this guy named Jeremy Lin.
While Lin has been criticized as an overpaid asset, the team truly bit the bullet when they signed Omer Asik to a three-year deal worth $25.1 million. That's the same Omer Asik who was used for energy minutes while averaging 3.1 points, 5.3 rebounds and 1.0 blocks in 14.7 minutes per game.
Averages that went to 3.3 points, 4.7 rebounds and 1.7 blocks in 21.3 minutes of play during the postseason.
While Asik will always be recognized as a quality player, the team had an opportunity to start international sensation Donatas Motiejunas while building for the future. Instead, they locked themselves in a financial jam that will significant damage their chances of landing a star during the packed class of free agents in 2013.
It also assured the team of a rebuilding phase in which "ugly" cannot adequately describe what we are about to witness. Unless Jeremy Lin re-discovers Linsanity and Kevin Martin begins to try again, we could be in for a Charlotte Bobcats type season.
Indiana Pacers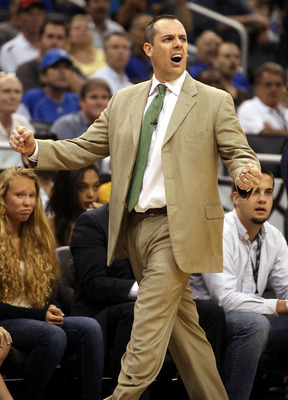 Marc Serota/Getty Images
The Indiana Pacers are an elite defensive team that lacked any sense of direction on offense during the 2012 NBA season. While the points came as they came, the team often dribbled up the court and passed until the shot clock ran out.
No plays ran, just aimless ball movement.
With a full offseason to work on these flaws, expect the Pacers to find the balance they lacked this past year. Also expect the newly acquired D.J. Augustin and Gerald Green to improve the team's half-court execution with their abilities to beat their respective opponents off of the dribbles.
Green's ability to get up and throw a dunk like no one else only further bolsters an attack that was in desperate need of improvement.
As for what we can expect, it's a mix of the same and a change. The defensive dominance will continue as Roy Hibbert further establishes himself as one of the true impenetrable forces in the game. The offensive execution will improve as David West continues to build off of the success that progressively improved over time.
With West returning to his 2011 form, George Hill and Augustin will be able to run the pick-and-roll with far more efficiency than they had in 2012. As Danny Granger re-discovers his shooting touch and Paul George has another year to grow into his massive frame, the points will come at an even more rapid pace.
With that balance of elite defense and well-rounded scoring, the Pacers could go from the team who nearly knocked off the Miami Heat to a Conference Finals mainstay.
Los Angeles Clippers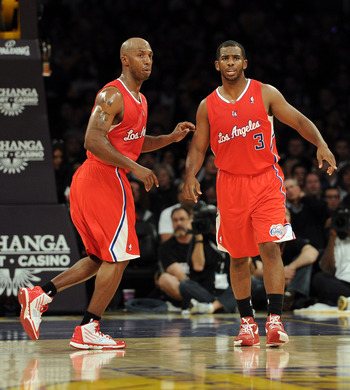 Harry How/Getty Images
In 2012, the Los Angeles Clippers had, arguably, the best season in franchise history. Led by superstar point guard Chris Paul and the athletically gifted Blake Griffin, the Clippers made just their fifth postseason appearance since the franchise moved to Los Angeles in 1984.
One year later, the team returns all of their starters and has quite a few significant additions to boot. So what can we expect?
While the Clippers' lineup is far from conventional, it's proven to be effective. Chris Paul and Chauncey Billups are both solid enough off of the ball that they coexist in harmony while starting at the two guard positions. They're also sound on defense, thus making for a respectable two point guard set.
Coming off of the bench will be Eric Bledsoe and Jamal Crawford, who offer a third and fourth option as a ball handlers. Once again, both players have proven capable of playing the 2.
For Bledsoe, his tenacity and energy make him a menace for any opponent while on defense. His ability to penetrate off of the dribble also helps him hold his own on the offensive end of things.
Crawford, meanwhile, has a long track record as one of the most dynamic scorers in the game. Regardless of what position he plays, just put the ball in his hands and expect points.
The question is not the backcourt, however, as they are sound enough in that area to win games. The true area of concern is the frontcourt, where DeAndre Jordan and Ryan Hollins will combine to hold down the 5.
If those athletically gifted but fundamentally inept players cannot make the most of their abilities, we may end up seeing a shorter season than we had expected for the L.A. Clippers. If either of those two can emerge into a reliable option, this team will be scary.
And that's before we acknowledge the health and consistency of Caron Butler and Lamar Odom. A whole lot of question marks for L.A. A surplus of grand possibilities, as well.
Los Angeles Lakers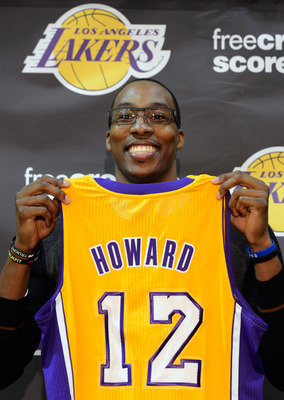 Kevork Djansezian/Getty Images
I think it's safe to say that the Los Angeles Lakers had one of the greatest periods of free agency in the history of professional basketball. If you don't believe me, find another team that acquired a two-time MVP, three-time Defensive Player of the Year and 17 point per game scorer in one month's time.
Thought so.
The Los Angeles Lakers first made waves this offseason when they acquired long-time rival Steve Nash in a sign-and-trade with the Phoenix Suns. The move addressed the Lakers' greatest needs as they filled a void at the point and added one of the game's best perimeter shooters.
They also added a point guard with serious postseason experience, as Nash has made four Conference Finals appearances.
The next move fell under the radar but will earn recognition as the season progresses. With the second unit in need of a scoring leader, the Lakers went out and acquired veteran forward Antawn Jamison, who averaged 17.2 points per game in 2012 with the Cleveland Cavaliers.
Giving Pau Gasol time to rest had always been a problem in Los Angeles due to their lack of depth. That no longer appears to be an issue.
Finally, we get to the move that made waves throughout the league. After already re-establishing themselves as a legitimate threat for the title, the Lakers shocked the world when they pulled off the unthinkable.
General Manager Mitch Kupchak and Los Angeles acquired Dwight Howard from the Orlando Magic.
The move doesn't need explaining as we're all well-acquainted with Howard's nightly 20 points, 15 rebounds and two blocks. We're also familiar with his three Defensive Player of the Year awards and the fact that he's the most dominant in basketball not named LeBron James.
At least on paper, it appears as if a Western Conference Semi-Finals exit is far from in store. The Lakers are the best paper team in the NBA.
Memphis Grizzlies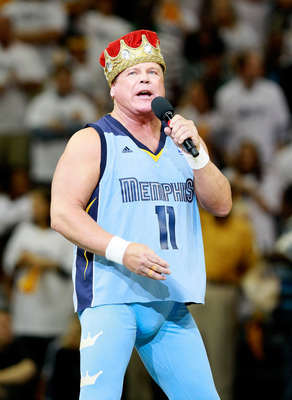 As long as Jerry Lawler believes, the Grizzlies are destined for greatness!
Kevin C. Cox/Getty Images
The Memphis Grizzlies entered the 2012 season with high expectations following their first round upset of the San Antonio Spurs in 2011. Unfortunately, those expectations were not met as the Grizzlies fell to the Los Angeles Clippers in the first round of the postseason.
A serious let down for one of the deepest teams in the league.
Through all of their extraordinary depth, however, the Memphis Grizzlies had one glaring need that they never seemed to overcome. While O.J. Mayo filled in adequately as the secondary ball handler, the team did not have a true point guard to run the second unit.
This placed a great burden upon Mike Conley Jr. and pulled Mayo outside of his comfort zone. Upon signing Jerryd Bayless, that no longer appears to be an issue.
Unfortunately, with gain often times comes loss. In this case, the Grizzlies lost O.J. Mayo to free agency when he signed with the Dallas Mavericks. Fortunately, Memphis orchestrated a trade to land sharpshooter Wayne Ellington.
While Ellington is clearly a step down from Mayo as an all-around player, this gives Memphis what they've always needed.
O.J. Mayo constantly appeared to be a player looking to take over a game. The Grizzlies, however, are a team who preach systematic basketball. Within that system, there is no room for hero ball. Each player has a specific role carved out that they must play.
For Wayne Ellington, that will be as a shooter off of the bench while Tony Allen sees the starter's minutes.
Although minor, the moves made by the Memphis Grizzlies were necessary and could push them over the top. One of the best systems in all of basketball improved marginally and the re-signing of Marreese Speights insured the franchise that the success would last a long time.
Expect a postseason run in 2013.
Miami Heat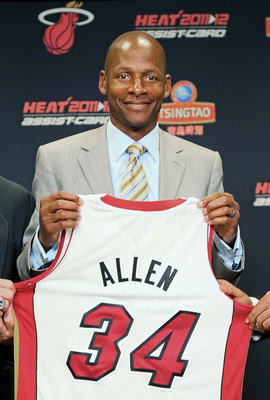 Mike Ehrmann/Getty Images
How will the Miami Heat of 2013 compare to that of 2012? Believe it or not, the 2013 team will be better in terms of all-around talent.
Just don't think that guarantees them a title.
While the Miami Heat have improved, other teams around the NBA have as well. That does not mean the Heat are no longer the title favorites, however, as the presence of LeBron James, Dwyane Wade and Chris Bosh all but guarantees the team a Conference Finals appearance.
Where the Heat improved is actually where their greatest strength lies: their three-point shooting.
Mike Miller, Shane Battier, James Jones and Mario Chalmers have all proven that they can hit the three-ball as well as any. Now, the team has added stretch 4 Rashard Lewis and the greatest three-point shooter in NBA history to the mix.
Lewis' former Seattle Super Sonics teammate and future Hall of Famer Ray Allen.
This will lead to the Miami Heat doing more of the same, as LeBron takes the ball at the top of the key and delegates from there on out. His drive-and-dish abilities will continue to thrive in the Heat's system, as he now has an even wider array of shooters to drop it off to.
We need not forget that D-Wade is a consistent six assist per game guy himself, so watch out as he finds the same success. Also watch for Chris Bosh finding even more room to work in the post.
The fact that the Heat lack a legitimate five may never be exposed.
Milwaukee Bucks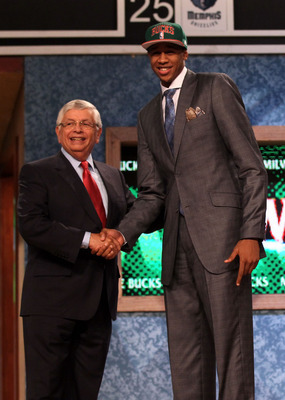 The Milwaukee Bucks have been "one year away" for quite some time. Is this the year they finally make the postseason?
Elsa/Getty Images
The Milwaukee Bucks were not the most active team in the NBA but certainly made the necessary moves to improve their postseason chances.
The Bucks send out an elite scoring backcourt with Brandon Jennings and Monta Ellis manning the guard positions. They also have a nightly double-double threat in Ersan Ilyasova at the 4, creating a young and promising Big Three.
Surrounding them, however, the Bucks lacked the necessary firepower to close out their postseason push and ended up missing the postseason in 2012.
This time around, the team has improved marginally. In drafting John Henson, the Bucks have landed an elite shot blocking prospect with an old man's game. Just because he plays the old school style, however, does not mean he's athletically inept.
John Henson is one of the most athletically gifted players in the NBA. Think of Russell Westbrook's leaping ability in a power forward's body.
To go with Henson will be veteran center Samuel Dalembert. The Bucks acquired Dalembert by swapping draft picks with the Houston Rockets and have thus added some necessary toughness to their front court.
Throw in the outstanding Summer League performances from Tobias Harris and the rotation has begun to display some legitimate postseason upside. Expect the Bucks to make noise in 2013.
Minnesota Timberwolves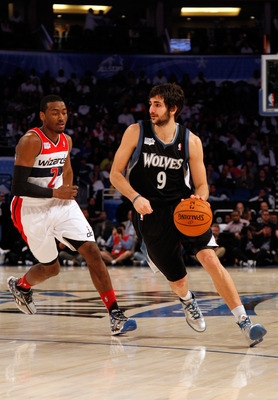 Mike Ehrmann/Getty Images
The Minnesota Timberwolves entered the offseason wondering what went wrong. After starting the 2012 season with an impressive 21-20 record, point guard Ricky Rubio went down with a knee injury and the team proceeded to win just five more games all season.
Yes, five more games. That's a record of 5-20 to close out the year for those contesting that Kevin Love is the MVP of that team.
The T-Wolves responded to this devastating collapse by padding a roster that clearly lacked the necessary depth to win. They padded their perimeter with Brandon Roy, Chase Budinger and the Russian duo of Alexey Shved and Andrei Kirilenko.
The team also traded liability Wesley Johnson and further strengthened a solid froncourt with Dante Cunningham and Greg Stiemsma.
What these signings lead to is a stronger attack on both ends of the floor.
Brandon Roy and Chase Budinger add a solid combination of shooters that can stretch the floor for a team who struggled from beyond the arc in 2012. Alexey Shved, meanwhile, gives the T-Wolves an excellent ball handling and facilitating prospect who could play either guard position in Ricky Rubio's absence.
Andrei Kirilenko, of course, was one of the game's elite perimeter defenders before leaving during the 2011 lockout. Judging by how well he played during the Olympics, it doesn't seem as if AK-47 has lost a step.
While Kevin Love and Nikola Pekovic are nearly a lock to combine for roughly 40 points and 25 rebounds a night, behind the two budding stars has been uncertainty. Greg Stiemsma, however, is an outstanding shot blocker and Dante Cunningham's energy is contagious.
While they may not appear like a contender on paper, this team has a surplus of depth and two star players in Ricky Rubio and Kevin Love. If Brandon Roy can even sniff what he once was, this team is going to make noise in the postseason.
New Orleans Hornets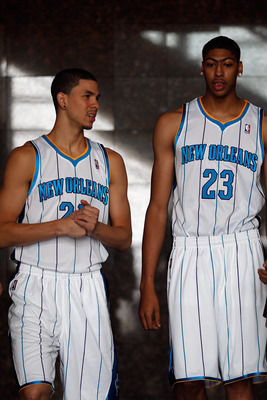 Chris Graythen/Getty Images
The New Orleans Hornets have collected a great deal of talent this offseason, using both the NBA Draft and period of free agency to strengthen their roster. Unfortunately, almost every player they've acquired has presented them with one important question.
What position are these guys meant to play?
With Anthony Davis, Ryan Anderson and Hakim Warrick all under contract, the 4 has suddenly become a position of great uncertainty. One possibility would be to start Anderson and play Davis at the 4, but with such a frail frame, it's hard to imagine the first overall draft choice playing well in that position.
Until they've figured out the proper rotation, all we can expect is inconsistent lineups that lead to a lack of team chemistry. That is until you realize how brilliant a young mind Monty Williams has for the game.
The team will be fine, but will the players truly fit their positions?
As we attempt to answer that question, we arrive at the player that the New Orleans Hornets selected with the 10th overall draft choice in 2012. Austin Rivers, who scores and plays like a 2-guard but lacks the necessary size to defend the position, has caused many to call his selection into question.
To draw a parallel, Rivers bears a close resemblance to Lou Williams.
Once again, expect coach Williams to piece this puzzle together in the proper way. Just don't overlook the possibility that the Hornets have too many positionless players.
New York Knicks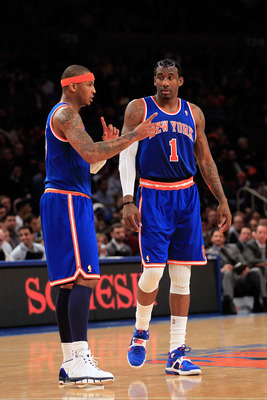 Chris Trotman/Getty Images
For the first time since bringing Carmelo Anthony and Amar'e Stoudemire together in February of 2011, the New York Knicks will have a full training camp to develop team chemistry. If you think that won't play a factor in the team's quality of play during the 2013 season, you've got another thing coming to you.
For Knicks fans, this is the year you've all been waiting for. While a title is far from guaranteed, this is the first legitimate contender the city of New York has seen since Patrick Ewing, Larry Johnson and Latrell Sprewell fell to David Robinson, Tim Duncan and the San Antonio Spurs in 1999.
See a theme here?
Much like that 1999 team, the Knicks are led by an elite trio at the small forward, power forward and center positions. Carmelo Anthony is one of the Top 5 scorers in the game, while Amar'e Stoudemire has been the lead scorer on three Conference Finals teams for reason.
Tyson Chandler, meanwhile, won an NBA Championship in 2011 and took home the Defensive Player of the Year award as a member of the Knicks in 2012.
In comparison to the 2012 Knicks team, it's safe to say that there is a marginal improvement to be made. While Jeremy Lin played at a superstar level, a team with the likes of Carmelo Anthony and Amar'e Stoudemire requires a pass-first point guard.
Jason Kidd and Pablo Prigioni are just that. Raymond Felton, meanwhile, averaged 9.0 assists per game while playing for the Knicks in 2011. He also helped Amar'e Stoudemire top almost every MVP ballot before being traded to the Denver Nuggets in exchange for 'Melo.
As long as Iman Shumpert can return to the form he flashed in 2012 and Marcus Camby can continue to swat shots and control the glass, this team is legitimate. If J.R. Smith can continue his all-out attack on defense, the Knicks will creep up as a favorite.
No matter how hard that is for opposing fans to hear.
Oklahoma City Thunder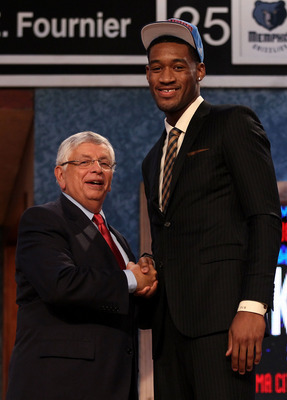 Elsa/Getty Images
The world agrees that the Oklahoma City Thunder grabbed the steal of the draft when they snagged Perry Jones III with the 28th overall draft choice. What the NBA world must also realize is that, for the first time in OKC franchise history, the team has a legitimate low-post scoring threat.
The greatest absence on the 2012 unit that made the NBA Finals.
While PJ3's minutes will likely be capped off at around 20 a night, his presence changes everything for the Thunder. While the presence of three stars in Kevin Durant, Russell Westbrook and James Harden suggests this is not an issue, having nothing but your jump shooting is a dangerous way to play.
That's exactly what the Thunder have been doing as Serge Ibaka and Kendrick Perkins are non-factors from the low-post.
Fortunately, the triumphant trio has been able to lift the team to success. Perry Jones III, however, will bring a versatility to the frontcourt on offense that hadn't yet shown up.
Joining Jones III will be 7'3" center Hasheem Thabeet, who adds some much-needed size to a relatively small Thunder defense. Sharpshooting rookie and team leader Hollis Thompson will join him as the Thunder continue to add young, promising players.
Expect Thompson to turn heads this season in whatever playing time he sees. Also look for the Oklahoma City Thunder to follow that pattern as they put forth their most balanced attack to date.
The Lakers' path to the Finals doesn't seem to easy, now does it?
Orlando Magic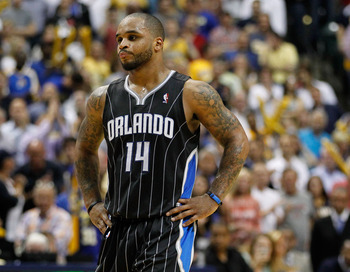 Jameer Nelson is one of the few remaining members of the 2012 Orlando Magic.
Gregory Shamus/Getty Images
Dwight Howard is gone, Jason Richarson has followed and Chris Duhon's fat contract is no longer an issue. From a financial standpoint, the Orlando Magic have received a true blessing as they compete for the first overall draft choice and also possess the necessary cap space to land a superstar in 2013.
But we're not here to discuss free agency.
The Orlando Magic were a postseason team because of Dwight Howard, so let's not confuse that with the false belief that he "had help." Such will be evident as we see something similar to the Peyton Manning effect, with the Magic lucky to reach the 30 win plateau.
Hedo Turkgolu remains one of the game's most underrated players while Arron Afflalo joins him in that very category. Glen Davis could potentially build on his averages of 19.0 points and 9.0 rebounds during the 2012 postseason, while Maurice Harkless may emerge as a darkhorse for Rookie of the Year.
Jameer Nelson, of course, will continue to play solid ball and hold down the point guard position as well as you could ask of him.
No matter how well the players listed perform, however, each would qualify as supporting players to a star on a contender. The team may have improved their chances for the future, but right now, they're too weak to contend.
Just don't think that the cast they have assembled is incapable of supporting a superstar in the pursuit of a title.
Philadelphia 76ers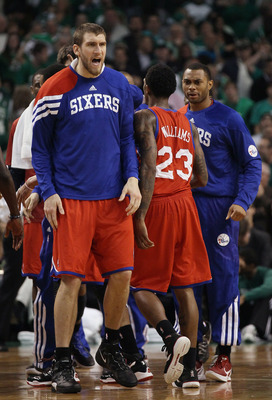 Spencer Hawes should be excited, as he'll now play alongside Andrew Bynum.
Elsa/Getty Images
If I were to have written this peace a week ago, I'd have said that the Philadelphia 76ers were in danger of missing the postseason 2013. After the Sixers shipped Andre Iguodala and Moe Harkless out, it appeared as if the team was ready to cancel their postseason aspirations right there.
And then we heard what the 76ers got in return.
In a shocking turn of events, the Eastern Conference's power structure saw a major shift in balance when Andrew Bynum was sent to Philadelphia. With all due respect to Kwame Brown and Spencer Hawes, it's safe to say that Bynum will be the starter.
It's just as rational to state that he's one of the Top 15 players in the NBA. By that account, he's by far the best individual player on the Philadelphia 76ers.
This changes the entire Sixers rotation, as Andre Iguodala was clearly set to start at the 3. Now, Evan Turner is expected to move over to the position while Jason Richardson and Nick Young split time at the 2. With Turner will be sharpshooter Dorell Wright, who should improve what was a weak shooting team in 2012.
With Bynum in the paint, don't expect the Sixers to hesitate with their J's knowing he's there to clean up the mess.
What's most important for the Sixers is they now have a fallback for their young power forwards. Whether it's Hawes, Lavoy Allen or Arnett Moultrie, all have been known to either have their struggles or struggle on D.
As long as coach Doug Collins can maximize Andrew Bynum's effort, that should no longer be an issue. Philly just went from pretender to contender in no time.
Phoenix Suns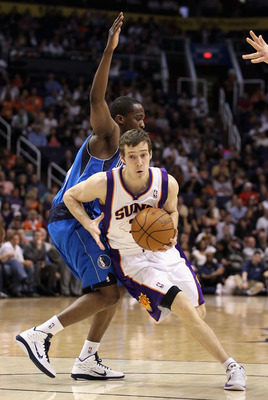 He's back!
Christian Petersen/Getty Images
The Phoenix Suns underwent a massive overhaul this offseason, starting with the departure of franchise player Steve Nash. Even before the two-time league MVP had departed, however, it became clear that the franchise was set to rebuild.
Their selection of point guard Kendall Marshall in the first round of the 2012 NBA Draft made such evident.
In a move that seemingly nullifies the value of Marshall's selection, the Suns proceeded to sign Nash's former protege Goran Dragic. Dragic will be the starting point guard in Phoenix, while Shannon Brown will reprise his role as the starting 2 and Marcin Gortat will hold down the 5.
And that's about where the familiarity ends.
Phoenix brought in the mercurial but immensely talented Michael Beasley to play the 3. The 6'10" small forward averaged 19.2 points per game in 2011 but followed that up with a 2012 campaign in which he quickly fell into head coach Rick Adelman's doghouse.
Expect Beasley to see more playing time in 2013 as he returns to his All-Star caliber form.
Another fresh face is one of the most consistent performers in the NBA. After being unnecessarily blindsided by the amnesty provision by the Houston Rockets, the Phoenix Suns claimed Luis Scola off of waivers.
Expect Scola to pair with Marcin Gortat to drive the Suns towards legitimacy. This is a team that could easily reach 40 wins and once again compete for the eighth seed in the Western Conference.
Portland Trail Blazers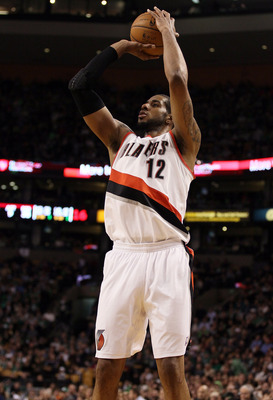 Elsa/Getty Images
The Portland Trail Blazers are one of the most frustrating franchises in the NBA. Despite possessing one of the top players in the game, LaMarcus Aldridge, the Blazers fell well short of the postseason in 2012.
A result that their fans have grown far too familiar with.
In 2013, the postseason may not be a realistic aspiration. While Aldridge will be re-joined by the verastile Nicolas Batum and do-it-all Wesley Matthews, the supporting cast does not yet seem strong enough for a playoff push in the stacked Western Conference.
Fortunately, help has arrived.
The Portland Trail Blazers were masterful with their use of the NBA Draft, selecting point guard Damian Lillard with the sixth overall draft choice. Lillard is projected by many to one day become a star in this league due to his elite scoring ability, as well as his unbelievable Player Efficiency Rating of 34.0.
This is even more impressive when you tack on his true shooting percentage of 63.5 and his ridiculously high usage rate of 33.0. While not everything translates to the NBA level, that's the type of statistic that does.
Joining Lillard will be athletic center Meyers Leonard. While many questioned this selection, Leonard is a hard working player who attacks the rim with the same aggression every time out. This is important for a young player as they build a reputation as someone who can or cannot have their shot attempts swatted.
Right now, Portland is going to see more the same they witnessed in 2012. There may not be any team built for a better future than the Trail Blazers, though, and that's a reason for optimism.
Sacramento Kings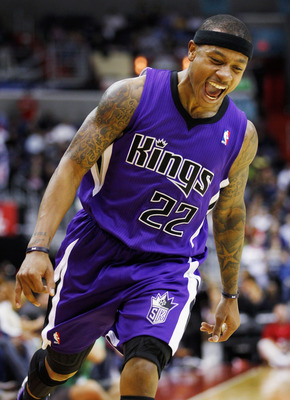 Rob Carr/Getty Images
The Sacramento Kings have always been a franchise graced by outstanding talent. As we've all come to learn, however, having a great cast of players does not always lead to instant success.
Team chemistry, the most underrated aspect of basketball, can both derail and fuel postseason aspirations.
For the Sacramento Kings, the chemistry just isn't there. During the 2012 season, each player appeared to have their own prerogative when they hit the floor. For one reason or another, padding an individual's stat sheet always took precedence over working together for a win.
Fortunately, 5'9" point guard Isaiah Thomas broke that trend and led the team to drastic improvements as the season progressed. Among the benefactors was DeMarcus Cousins, who finished the season with averages of 18.1 points, 10.9 rebounds, 1.6 assists, 1.5 steals and 1.2 blocks per game.
Numbers of an All-Star.
The question for the Kings will be, how much of an impact will training camp have on the unit? Isaiah Thomas, Marcus Thornton, James Johnson, Thomas Robinson and DeMarcus Cousins make for a solid starting lineup. But where does the positionless star Tyreke Evans fit into the group?
If that question can't be answered, the season might as well be lost.
San Antonio Spurs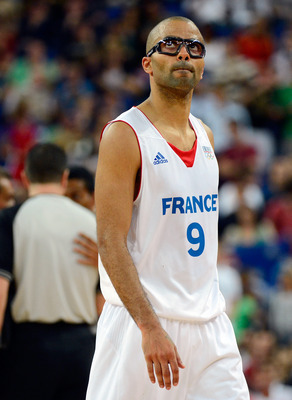 Even through the goggles, Tony Parker will be phenomenal.
Ronald Martinez/Getty Images
What will be different about the 2012 and 2013 seasons for the San Antonio Spurs? Quite frankly, not very much at all.
Tim Duncan and Manu Ginobili may be another year older, but what have they really lost? Each can stake their claim as a Top 10 player at their position. They can also remind you that they're in the conversation for "best at their position" by dominating even the greatest of opponents.
When you play for a team who preaches system over statistics, people tend to forget how good you are as an individual.
With Tony Parker running the point, the Spurs are certain to compete for their third consecutive finish at the top of the Western Conference. With youngsters Daniel Green and Kawhi Leonard continuing to develop, with Boris Diaw and Stephen Jackson returning as well, the team is bound to dominate the league once again.
If Patty Mills can flash the form he displayed during the Olympics, that would simply take this team to another level. A level that they will meet with Gregg Popovich running things.
Expect more of the brilliant same in 2013.
Toronto Raptors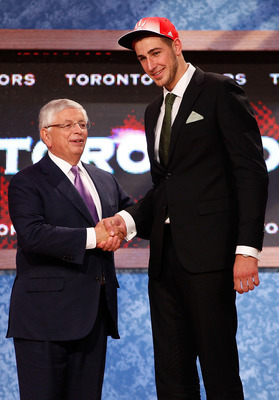 Mike Stobe/Getty Images
The Toronto Raptors are in store for a major change during the 2013 season, with three new potential starters arriving and a fourth player shifting positions. For those worried, fear not as each player brought in will only further strengthen what was a Top 10 defense in 2012.
The Raptors started their activity by drafting, arguably, the most complete shooting guard in this draft class. Terrence Ross, who is a phenomenal jump shooter and lockdown perimeter defender, could potentially start at the 2.
This move would shift DeMar DeRozan over to small forward, where many have speculated he is better fit to play.
Next on the list would be point guard Kyle Lowry, who has been known to flirt with a triple-double as often as the average point guard goes for a double-double. This elite passer offers the Raptors an unbelievable tandem at the point with Jose Calderon running the second unit.
Lowry, however, is a far superior defender to Calderon and is the much more well-rounded weapon. If push comes to shove, expect Kyle Lowry to get the nod.
The key to the 2013 season, however, will be Jonas Valanciunas. After the Raptors selected the Lithuanian big man with the fifth overall draft choice in the 2011 NBA Draft, many speculated that Valanciunas could be the missing link.
Due to his aggressive defense and physical style of play, it's hard to argue that logic. When you consider the fact that he and Andrea Bargnani would potentially create a frontcourt of two seven footers, excitement raises even higher.
The Toronto Raptors will be in competition for a postseason spot. With the roster they've compiled, there's no reason they can't grab one.
Utah Jazz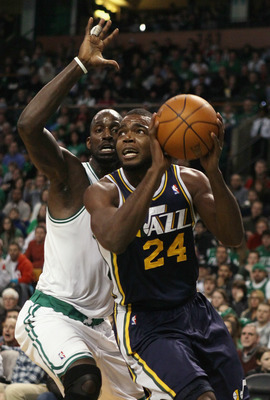 Elsa/Getty Images
During the 2012 NBA season, the Utah Jazz made their way into the postseason by virtue of a stacked frontcourt. With Al Jefferson and Paul Millsap alone, the Jazz would've been in contention for the title of best frontcourt in the game.
When paired with defensive menace Derrick Favors and the promising Enes Kanter, the Jazz's argument becomes that much stronger.
Unfortunately, Utah didn't have much else to offer beyond their big men. Their point guard, Devin Harris, was as inconsistent as any while their perimeter were virtually non-existent. Their lack of three-point shooters made it far too easy for opponents to close out on their low-post scorers.
Upon acquiring Mo Williams, Randy Foye and Marvin Williams, those issues no longer appear to exist.
Mo Williams and Randy Foye are both excellent jump shooters who know how to spread the floor. While Foye specializes from inside the three-point line, Williams is a lights out long bomber.
Mo Williams should also solidify the point guard position as a capable ball handler and facilitator.
Marvin Williams, meanwhile, is a very athletic player who thrives as a perimeter defender. This is important for the Jazz, who now have young legs to defend opponents instead of the aging Josh Howard.
Although none of those three names are necessarily stars, they offer a major improvement over what the Jazz put forth in 2012. Considering the team was able to make the postseason as they were, the upgrade suggests their return to the playoffs.
It also suggests that the team will actually avoid a sweep this time around.
Washington Wizards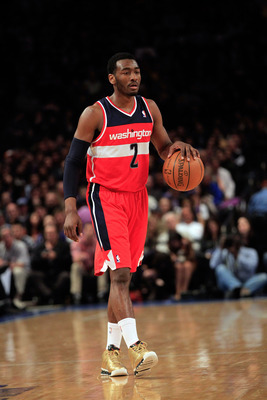 Chris Trotman/Getty Images
If there's a team to watch for, I'd suggest you take a look at the Washington Wizards. From a hot end to the 2012 season to a well-balanced roster, the team has it all.
Most importantly, they have John Wall.
While many hold onto their grown hatred of Wall's rise to fame during his days at Kentucky, the logical will acknowledge him as a star on the rise. Wall joined Chris Paul and Deron Williams as the only players in the NBA to average at least 16.0 points and 8.0 assists per game.
He was the only player in the league to average those numbers with an additional average of at least 4.5 rebounds per game.
Alongside Wall will be what he's always needed: a spot-up jump shooter. Rookie Bradley Beal can be just that and more for the point guard, as many have compared the Florida alum to both Ray Allen and Eric Gordon. Even if he doesn't live up to the hype, Beal has deep range on his J and is a sound defender.
Joining them on the perimeter will be Trevor Ariza, Jan Vesely and Chris Singleton.
Both Ariza and Singleton are lockdown defenders. They're also sound in transition and should continue to mirror each other's solid contributions throughout their time together.
Jan Vesely, meanwhile, is viewed by some as a potential star. The 6'11" forward is an athletic scorer with great size and solid skills from the post. This opens the door for him to play either forward position and develop into a legitimate scoring option.
In the paint will be a combination of veterans as Nene Hilario pairs with Emeka Okafor. This should offer the Wizards a solid tandem of scorer and defender, with rebounding specialist Trevor Booker coming off of the bench for support.
Keep your eyes peeled for Kevin Seraphin, however, as the breakout player of the team. His averages of 15.5 points, 7.0 rebounds and 1.7 blocks per game during the final month of the 2012 season should offer insight as to why.
Washington may not be the team you expect to see, but don't be shocked if they're competing for a playoff spot.
Keep Reading