Anyone remember the 2007 Northern Illinois vs. Iowa Game?
Sure, Iowa won, making their all-time record 7-0 over the Huskies. The final score was Iowa 16-3. Since the line was 12, they even covered at Soldier Field in Chicago. But do you really remember the game?
See if this helps: Iowa got a 56-yard punt return to set up one score, Northern Illinois missed a 44-yard field goal and threw three interceptions inside Iowa territory at the 35, the 3 and the 40-yard lines.
Iowa was the better team that day, no doubt. But, for some reason, the Huskies were only a couple of mistakes away from pulling a big upset. Without the long punt return, Iowa likely only scores 10 points.
Northern Illinois clearly missed three scoring opportunities. Two were lost (you could say three, but that is a stretch) on the interceptions in Iowa territory at the 3 and the 35-yard lines. The third was the wide right 44-yard field-goal attempt in the first quarter.
Still, there is no doubt that Iowa was the better team—who came close to losing the ball game—that day.
I know, shoulda, woulda, coulda—but they didn't. You can do that in any game that is within a couple of touchdowns and make them all sound more interesting. So, why be a worry wart?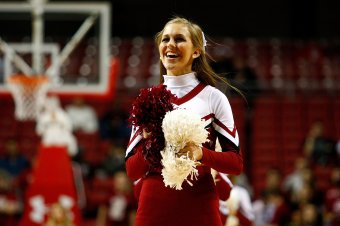 Chris Chambers/Getty Images
The reason is simple: Iowa would be wise to learn from their past. Northern Illinois should lose to the Hawkeyes again on September 1. But if ever there was a time for the Iowa coaches to be certain their team doesn't come in overconfident, this first game is that time.
The Huskies are coming off their second 11-3 season in a row. This year, expectations are the Huskies will play for the Mac title—which they won last season—again. This isn't the same Huskies team that finished the 2007 season 2-10.
Unfortunately the Hawkeyes do resemble their 2007 team, which finished 6-6 more than their 11-2 squad of 2009.
But they are a MAC team.
So, Appalachian state was an FCS team in 2007 when they beat Michigan in Game 1. Nowadays, with the 85 scholarship limits, these mid-major—and occasionally FCS—teams are not far from being as talented as the major schools.
Most often, where the difference lies is in the depth. Many smaller schools have starting playmakers almost equal in talented to the top schools. It is when you get into the second and third levels that true deficiencies show.
Iowa will likely open about a seven-to-eight-point favorite against Northern Illinois. Even though they are young, with some questions to be answered, the Hawkeyes should win the game.
Still, the coaching staff would be wise to remind their young team often about last season's Iowa State game, the Appalachian State-Michigan game, the 1980 U.S. Olympic Hockey Team, David vs. Goliath or any other little-guy-beats-big-guy story they can think of.
Just in case.