The 10 Best Drumlines in College Football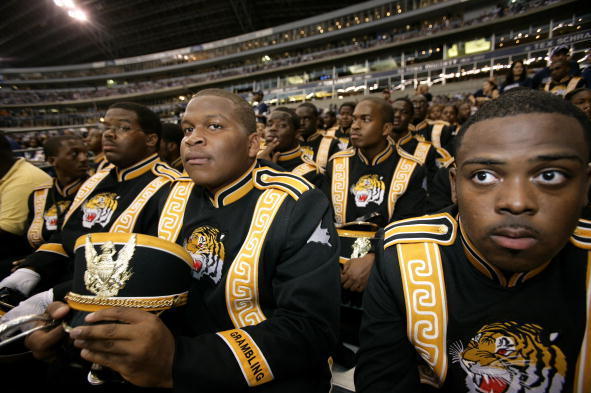 Brent Stirton/Getty Images

The sound of click-clacks on a drum is all it takes to make college football fans abruptly turn their attention to the field. What follows is slick choreography, skills and style-slamming on instruments and charismatic head tilts from the best in the business.
College football offers the world a unique flavor that instantly warms the heart and calms the soul: the drumline.
Drumlining, as we'd like to call it, is an art that perfectly complements the violent nature of the gridiron with its rhythmic yet ferocious sound. But which schools possess the greatest percussive talent?
Let's take a look.
Enjoy the sound of art.
Begin Slideshow

»
Mastering the bass sound is no simple task, so well-done, Marching Sound Machine (sounds like LCD Soundsystem).
Just one request...more cowbell please.
Style: Freestyle subwoofing
Grade: B-

It starts violently, but the Morehead State's march soon becomes one for the ages.
Add some paint and a couple of trash cans and we've got the new-and-improved Blue Man Group.
Style: Quirky, yet effective
Grade: B

This drumline clearly knows how to do it live (in the words of Bill O'Reilly).
We feel ourselves swaying from left to right.
Style: Masters of disguise
Grade: B
Grambling...err...scrambling for the right words to describe this masterpiece.
Brilliant.
Style: Hip-hop hard
Grade: B+
Grab those pong balls and start tossing them in cups of water; it's about to get crazy in here.
Shake that.
Style: Modern-day hipsters
Grade: A-
With no limit to the variety of possible instruments, Auburn University keeps its fans constantly drooling.
The Tigers roar on.
Style: Rocky-road smooth
Grade: A-
Echoing beats flood the hallways of Buckeye land.
Breathtaking footage.
Style: Militaristic
Grade: A
Led by the most animated cymbalist on earth, the Virginia State drumline gives the White House an unforgettable performance.
Difficult to stop those fingers from twitching.
Style: Boss
Grade: A
Chris Brown's "Run It" is no easy feat, but Southern University's talented group tackled the beat perfectly, further proving its status as the Human Jukebox.
Style: Rhythmically legendary
Grade: A+
The breathtaking synchronization of snares has us peeling ourselves off the floor in awe.
A touch of comedy only improves the taste.
Style: Tireless champs
Grade: A+