Predicting the NBA Leader in Every Major Statistical Category for 2012-2013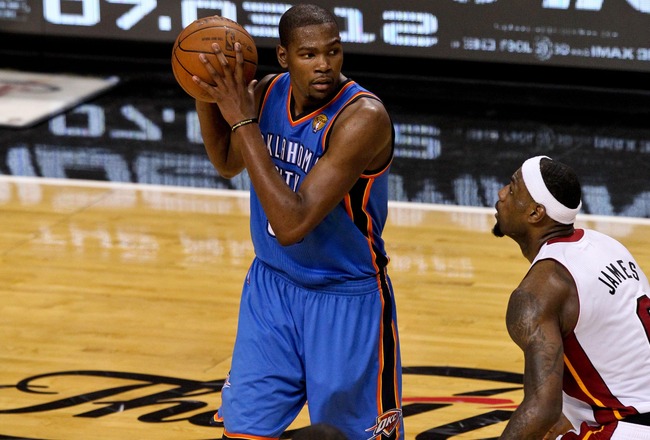 Derick E. Hingle-US PRESSWIRE
It's always an accomplishment to lead the NBA in any major statistical category over the course of an entire season, and these are the players who will add to their resumes during the 2012-2013 campaign.
For the purposes of this article, the major statistical categories are the following: points per game, rebounds per game, assists per game, blocks per game, steals per game, total turnovers, three-pointers made and field-goal percentage.
I've identified not only the player who will lead the league in the category, but also the three main contenders for the crown.
Please note that the contenders are not presented in rank order, but rather alphabetically.
Let's see what my crystal ball tells me.
Points Per Game Favorite: Kevin Durant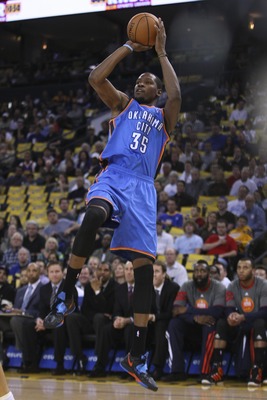 Kelley L Cox-US PRESSWIRE
Until Kevin Durant loses a scoring title, he's going to be considered the favorite.
The three-time scoring champion is coming off both a fantastic offensive season with the Oklahoma City Thunder and a Team USA-leading performance at the London Olympics.
Durant is a mismatch whenever he steps onto the court, regardless of where he lines up. If he plays small forward, he's way too tall for defenders. If he's at power forward, his quickness allows him to take over the game.
Surrounded by other tremendous scoring options, Durant doesn't draw double-teams as often as he should.
He'll continue to improve, as he'll be 24 years old at the start of the season. Already deadly from anywhere on the court, an improved Durant is a scary thought.
Points Per Game Contender: Carmelo Anthony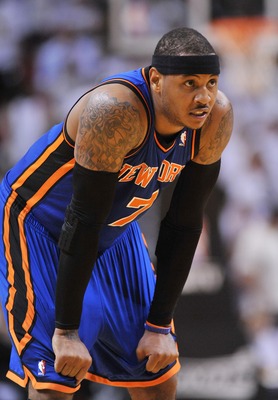 Steve Mitchell-US PRESSWIRE
Sixth in the league in scoring last season, Carmelo Anthony is only going to get better during his next season in a New York Knicks offense.
More comfortable with the system than ever before and filled with confidence after a remarkable run through the Olympics, Melo is ready to show just why he's considered one of the best offensive basketball players in the world.
Whether he's scoring via the catch-and-shoot, post-up or isolation jumper, Melo is scoring.
Points Per Game Contender: LeBron James
Kim Klement-US PRESSWIRE
Although he's willing to take a back seat and become more of a facilitator, LeBron James is still one of the best scorers in this league.
As his jumper and post moves continue to develop, LeBron is only becoming more deadly on the glamorous side of the court.
The league MVP trailed only Kevin Durant and Kobe Bryant in the points column during the 2011-2012 season. Expect him to finish second this year as Kobe's scoring dips now that he's surrounded by more offensive options.
Points Per Game Contender: Russell Westbrook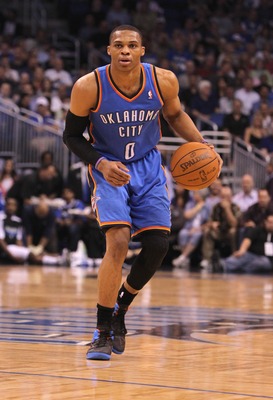 Kim Klement-US PRESSWIRE
This point guard has become such a deadly scorer that he's capable of competing for the scoring crown even while playing alongside the three-time leading scorer.
Russell Westbrook is one of the most sickeningly athletic players in the game and often uses his physical gifts to take advantage of the defense. He can get into the paint at will and throw down at least one jaw-dropping dunk per game.
As his pull-up jumper continues to develop, Westbrook is only going to increase his scoring average. He's done so during every season of his post-UCLA career and topped out at fifth in the NBA last season.
Rebounds Per Game Favorite: Dwight Howard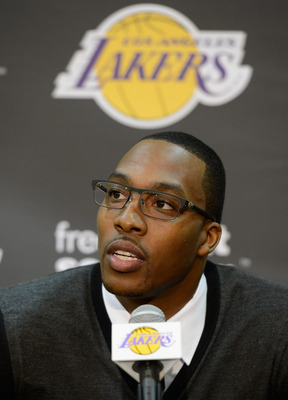 Kevork Djansezian/Getty Images
At this point—assuming that gambling on sports was legal, of course—it would be rather nonsensical to place a rebounding wager on anybody but Dwight Howard.
The league is filled with players capable of crashing the boards and grabbing the ball after missed shots, but Dwight has proven to be the best at it multiple times. At least, he's proven to have the best combination of size and skills.
Not even Kevin Love could keep the margin under a rebound per game in the final tally. Howard's 14.5 boards per game topped both Love's 13.3 and everyone else in the league's mark.
Howard has now led the NBA in four of his last five seasons, and—assuming his back is fully healthy—he will add yet another rebounding title in 2012-2013.
Rebounds Per Game Contender: Andrew Bynum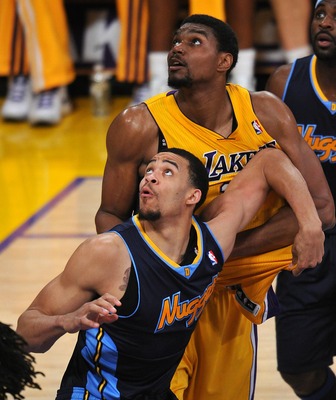 Jayne Kamin-Oncea-US PRESSWIRE
This big man pulled down enough rebounds per game when he was playing alongside another seven-footer with skills on the glass.
However, he's only going to improve upon his 11.8 rebounds per game now that he's with the Philadelphia 76ers and playing alongside the incredibly soft, perimeter-loving Spencer Hawes.
The Sixers have needed a true center for a while now, and Bynum's rebounding chops are going to prove that they finally have one.
Rebounds Per Game Contender: Kris Humphries
Jim O'Connor-US PRESSWIRE
The power forward for the New Jersey Nets was the most surprising member of the top 10 rebounders in the NBA last season, coming in at No. 5 with 11.0 rebounds per contest.
Now that the team has moved to Brooklyn, he's going to be just as successful.
Other than Kris Humphries, no one on the Nets actually enjoys rebounding. Brook Lopez, the team's starting center (if he can stay healthy), doesn't even understand what that word means.
Out of sheer necessity, Humphries will average double-digit rebounds.
Rebounds Per Game Contender: Kevin Love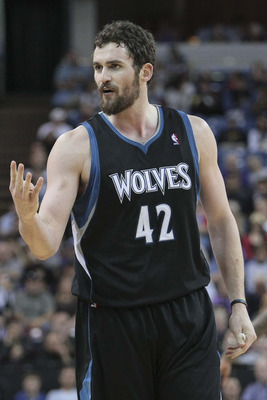 Kelley L Cox-US PRESSWIRE
Don't expect Kevin Love to finish second in the NBA when it comes to rebounding. A season full of Nikola Pekovic, who's an absolute monster on the offensive glass, will surely eat into his numbers.
That said, Love is still a physical beast who loves grabbing any missed shot that clangs off the rim or bounces off the backboard.
Love led the NBA in rebounds per game during the 2010-2011 season, but his trend of total rebound percentages makes that season seem like more of an outlier than anything else.
Outlier or not, Love is a talented glass-crasher who is a near-lock for 10 rebounds or more on a nightly basis.
Assists Per Game Favorite: Steve Nash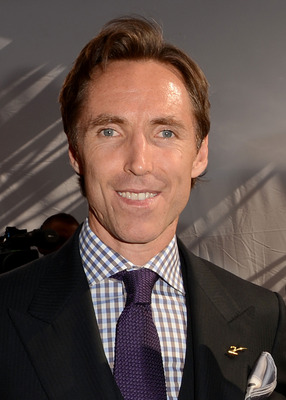 Jason Merritt/Getty Images
Steve Nash is one of the greatest passers in NBA history and remains one of the league's best facilitators, even at an age that is very nearly on the wrong side of 40.
Leading the league in assist percentage during the 2011-2012 campaign, Nash finished second to Rajon Rondo in the more well-known assists per game category.
There will be no such second-place finish now that he's with the Los Angeles Lakers.
Nash managed to average over a dollar per game—10.7 assists per contest, and assists are called dimes; get it?—while passing the ball to Jared Dudley, Grant Hill and Marcin Gortat. Now he gets to make plays for Kobe Bryant, Pau Gasol and Dwight Howard.
Even if the ball isn't in his hands as often, how could he not hit double digits once more?
Assists Per Game Contender: Chris Paul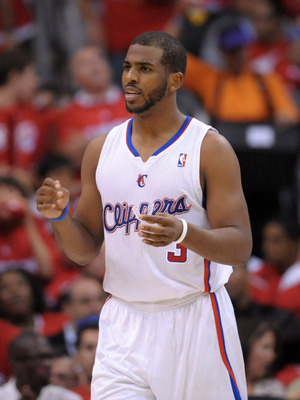 Kirby Lee-US PRESSWIRE
The best point guard in the game, Chris Paul has an upgraded set of weapons to work with and will put them to good use.
Make no mistake, the Los Angeles Clippers are still his team, even if Blake Griffin did just sign a monstrous extension to remain in L.A.
CP3 may be a talented scorer when he calls his own number, but when watching him play, you can't help but think that he's more content helping other players score the ball. If he put up a goose egg in the scoring column, he'd still be more than satisfied if he recorded 15 dimes and got the win.
Assists Per Game Contender: Rajon Rondo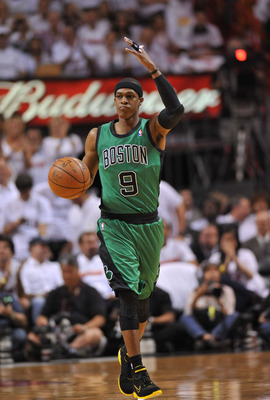 Steve Mitchell-US PRESSWIRE
Replacing Ray Allen with Jason Terry and Courtney Lee does help prevent the Boston Celtics from losing an option for Rajon Rondo to pass to, but it won't help the point guard improve upon his already tremendous numbers.
Rondo has nearly unparalleled court vision and the passing skills to fit the orange sphere into the narrowest of passing lanes. There are more than a few reasons that he led the NBA in assists per game during the last season.
If anything, Rondo's assists are going to take a slight dip during the 2012-2013 campaign.
He's becoming more comfortable shooting the ball, and the offense is starting to revolve around him to an even greater extent.
Assists Per Game Contender: Deron Williams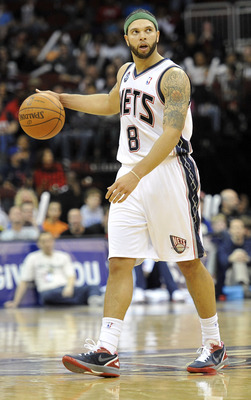 Joe Camporeale-US PRESSWIRE
Staying with the Nets as they transitioned from New Jersey to Brooklyn was a great decision for Deron Williams.
He's now going to be surrounded by a number of potent—and hopefully healthy—offensive options.
D-Will's 8.7 assists per game placed him fifth in the NBA last season, but that average is only going to be on the rise with the addition of Joe Johnson and the possibility of having Brook Lopez serve as a mainstay in the starting lineup.
Unless he gets too caught up in the glamour of putting the ball in the basket by himself, Williams will pose a strong challenge to the double-digit threshold.
Blocks Per Game Favorite: Serge Ibaka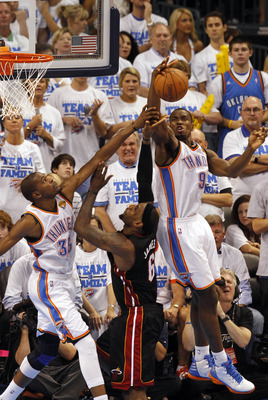 Derick E. Hingle-US PRESSWIRE
If there's any category that won't even be close, it's this one.
Unless someone makes massive strides in the shot-blocking department or Anthony Davis is even better than advertised, Serge Ibaka is going to lead the league in blocks per game with ease.
Ibaka is the two-time reigning champion in total blocks and took home the crown as the top per-game shot-blocker last year as well.
It's not as though the Congolese power forward is just playing an inordinate amount of minutes either. Ibaka also came out on top in the more telling block percentage metric as well.
The big man is only 22 years old and will continue to improve as he learns to rotate properly and play more fundamentally sound defense.
When it comes to blocking shots, no one can touch Ibaka right now.
Blocks Per Game Contender: Anthony Davis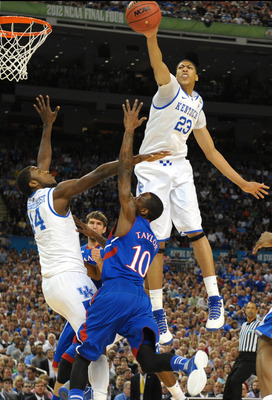 Richard Mackson-US PRESSWIRE
Even though he'll only be a rookie during the 2012-2013 season, Anthony Davis will earn enough playing time with the New Orleans Hornets to improve during his first campaign at the professional level.
The Unibrow's shot-blocking skills are simply off the charts. He won't challenge the 4.7 rejections per contest that he posted at Kentucky, but he should block two shots per game with a relative level of ease.
Last season, 2.0 blocks per game would have placed him in a tie for fourth with DeAndre Jordan and Roy Hibbert.
Blocks Per Game Contender: Dwight Howard
Kim Klement-US PRESSWIRE
With a number of offensive spark plugs around him, Dwight Howard will be able to concentrate on his defense more than ever.
As you probably know already, D12's defense is pretty decent.
The defensive deficiencies of Steve Nash—and possibly Kobe Bryant if he stops trying on that end of the court, knowing that Dwight has his back—will only boost an already impressive blocks total.
Blocks Per Game Contender: JaVale McGee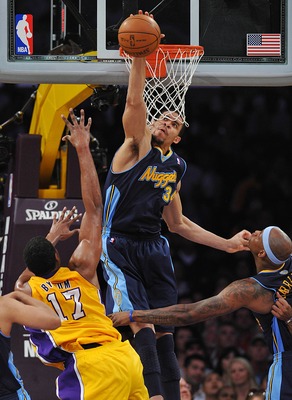 Jayne Kamin-Oncea-US PRESSWIRE
Even though he spent half the season goofing off for the Washington Wizards, JaVale McGee still managed to average 2.2 blocks per game, more than any other player but Serge Ibaka.
His numbers actually declined with the Denver Nuggets though, although the per-36-minutes blocks didn't show as large a disparity.
With a full season of tutelage in a much stricter Denver setting, McGee should be concentrated and ready to play to his full defensive capabilities.
His season-long 6.6 block percentage placed him second in the league, while his 5.9 with the Nuggets left him trailing only Ibaka, DeAndre Jordan and Ekpe Udoh.
Steals Per Game Favorite: Andre Iguodala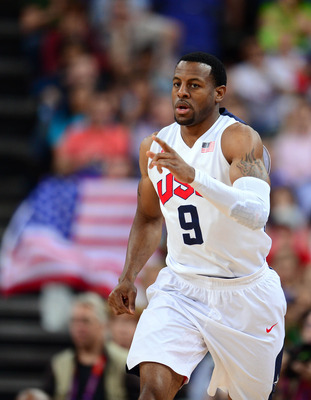 Mark J. Rebilas-US PRESSWIRE
It may seem strange to predict that a non-point guard will lead the league in steals per game. After all, the last six winners of the category have been floor generals, and you have to go back to Gerald Wallace in 2005-2006 to find a non-guard.
However, Andre Iguodala is in a great situation for bucking the trend.
Chris Paul has led the league in four of the past five seasons, and his 2.5 swipes per contest placed him 0.3 ahead of the rest of the field. Iggy was back in sixth with 1.7 steals per game.
He'll make the difference through a combination of increased focus and more opportunities.
Now that he's not one of the primary scoring options with the Philadelphia 76ers and sits behind Danilo Gallinari and Ty Lawson on the list of go-to offensive players, Iggy can expend even more energy trying to swipe the ball away and jump into passing lanes.
Additionally, the Denver Nuggets play at a much faster pace, which will allow for more possessions by the opponents and thus more opportunities for steals.
Last season, the Sixers averaged 89.7 possessions per 48 minutes, while the Nuggets sprinted out to 94.2. While those aren't the number of possessions allowed, the average is likely to be very similar, with only minute differences.
With those two factors taken into account, there's a solid chance that Iggy takes the cake when it comes to steals per game.
Steals Per Game Contender: Mike Conley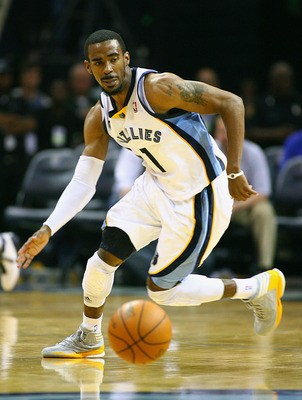 Spruce Derden-US PRESSWIRE
Last year's runner-up in steals per game, Mike Conley still possesses the same quick hands and ability to jump in front of unsuspecting passers.
With his speed and youth, Conley will continue to place high up in the thievery category for years to come.
It also helps that he plays alongside defensive ace Tony Allen and doesn't always have to guard the other team's best backcourt member.
Steals Per Game Contender: LeBron James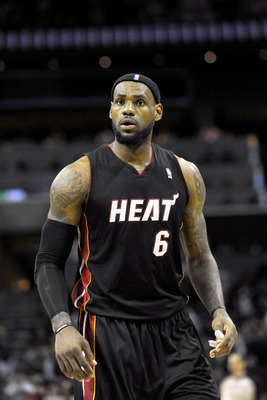 Sam Sharpe-US PRESSWIRE
Is there any facet of this sport that LeBron James isn't good at?
Even though he's a combo-forward, the league's reigning MVP still manages to create quite a few turnovers through his stealing abilities.
Last season, he was third in steals per game, although he was aided in large part by the number of minutes he played.
Don't expect the playing time to decrease and don't bet against LeBron.
Steals Per Game Contender: Chris Paul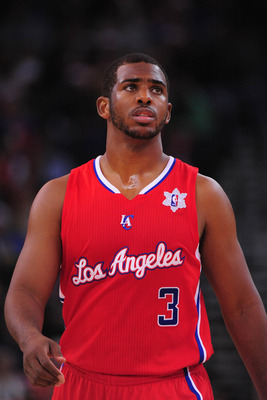 Kyle Terada-US PRESSWIRE
It wouldn't make sense to leave the two-time reigning champion off of the contenders slide. Rajon Rondo is the only one in the last five years to force Chris Paul into a vacation from the top spot on the steals-per-game leader board.
CP3 is crafty, quick, sometimes dirty and always tenacious on the defensive end of the court.
Even if Andre Iguodala does upset him—from an odds perspective, as CP3 will likely be the betting favorite—and take him the prize, this point guard for the Los Angeles Clippers is still a virtual lock to stand on the imaginary podium as either a bronze or silver medalist.
Turnovers Favorite: Jeremy Lin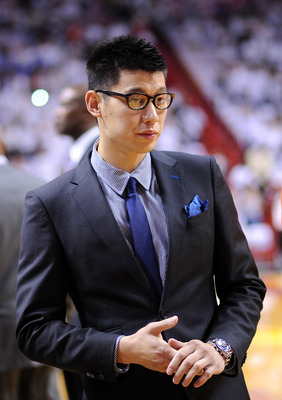 Steve Mitchell-US PRESSWIRE
As a starter for the New York Knicks last year, Jeremy Lin averaged a ridiculously high 4.7 turnovers per game.
The amount of times that he coughed up the ball is still a slightly overblown issue, but he still does commit turnovers quite often.
If that 4.7 turnovers per game average is extrapolated to a full 66-game lockout-shortened season, Lin would have turned the ball over 310 times.
As a point of reference, John Wall recorded 255 mishaps last season, putting him seven ahead of Kevin Durant and the rest of the NBA.
With even fewer options surrounding him in Houston than he had in Madison Square Garden, Lin's turnover numbers might actually rise during the 2012-2013 season.
This one is rather easy to predict.
Turnovers Contender: Kevin Durant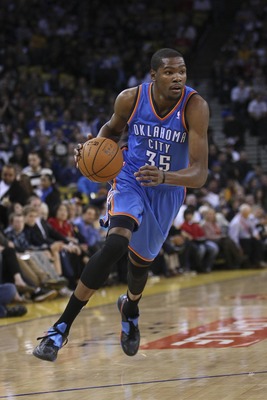 Kelley L Cox-US PRESSWIRE
The league's leading scorer turns the ball over a lot because the ball is in his hands so often.
Kevin Durant trailed only John Wall in total turnovers last season, although his turnover percentage of 14.0 is significantly lower than that of some of the other players in the league.
Wall, for example, recorded a 19.2 turnover percentage.
Regardless of the reasons for his turnovers, Durant is likely to be up near the top of the list once more because he's expected to be the leading contributor to the Oklahoma City Thunder's cause.
Turnovers Contender: Rajon Rondo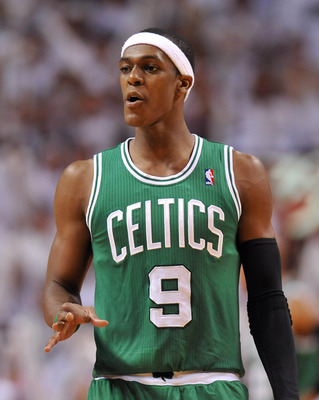 Steve Mitchell-US PRESSWIRE
One of the best passers in the game, Rajon Rondo also tends to try to make a little bit too much happen when the ball is in his monstrous hands.
The Boston Celtics point guard was eighth in the league in total turnovers last season, but he also missed 13 games. If he'd been healthy and maintained the same pace, he would have recorded 237 turnovers and found himself at No. 4.
Rondo's turnover numbers are only going to go up, though, as he continues to take control of the Boston offense. The ball is in his hands more each year, and the turnovers will keep climbing accordingly.
Turnovers Contender: John Wall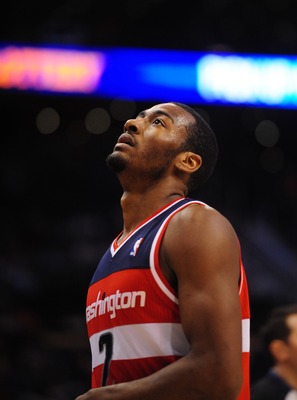 Mark J. Rebilas-US PRESSWIRE
I strongly considered leaving John Wall off this section of the article and including Russell Westbrook instead, but Wall is still going to be a ball-dominating player on a developing team.
Also, the former No. 1 pick's turnover percentage rose during his sophomore season. He simply hasn't shown the level of improvement necessary to justify a predicted drop in the turnover leader board.
To be fair, Wall's lack of progression was at least partially due to the lockout and the resulting lack of chemistry with his teammates.
He'll certainly be better this season, but he's still going to try to make too much happen more often than not.
3-Pointers Favorite: Joe Johnson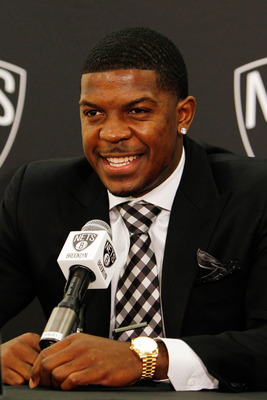 Debby Wong-US PRESSWIRE
Despite missing six games during the lockout-shortened 2011-2012 season, Joe Johnson still finished eighth in the league for most three-pointers made.
He drilled 38.8 percent of his shots from downtown—the second-highest single-season percentage of his career behind an absurd 47.8 percent in 2004-2005—while showing off a good-looking stroke and a willingness to let fly whenever the opportunity arose.
Johnson took 5.4 three-pointers per game, trailing only the 2006-2007 season for the most he's attempted on average in a season.
Expect that number to go up now that he's with the Brooklyn Nets.
No longer counted on to be the top scorer, Johnson can become a three-point specialist and reap the benefits of playing alongside a driver in Deron Williams, a slasher and crasher in Gerald Wallace and an attention-drawing big man in Brook Lopez.
He'll have the green light to fire at will, and he'll capitalize on that opportunity.
3-Pointers Contender: Ryan Anderson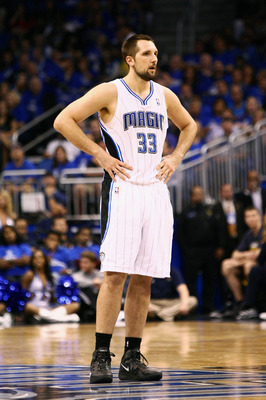 Douglas Jones-US PRESSWIRE
Ryan Anderson's 2011-2012 season was by no means a fluke, but he's still going to finish no higher than No. 2 on the three-point charts.
The former member of the Orlando Magic shot 39.3 percent from behind the three-point arc for the second season in a row despite a significant increase in attempts per game. He absolutely has the touch to continue draining triples at that level.
However, Anderson is no longer going to be the primary option—when Dwight Howard is injured—or secondary option when D12 is healthy—on offense now that he's with the New Orleans Hornets.
Given the lack of size in New Orleans and the presence of guards who need to be taking shots, Anderson will have to use less of his perimeter skills and focus a little more on his interior game.
He'll remain one of the best three-point shooters, just not the best volume one.
3-Pointers Contender: Kevin Durant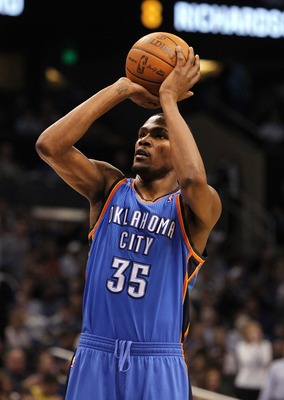 Kim Klement-US PRESSWIRE
You probably watched Kevin Durant at the Olympics, so this needs no further explanation.
3-Pointers Contender: Brandon Jennings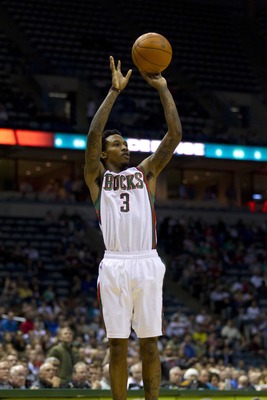 Jeff Hanisch-US PRESSWIRE
The southpaw made 129 three-pointers during this past season, leaving him tied with Wesley Matthews for fifth in the NBA.
However, expected declines from a number of other candidates have left Brandon Jennings as the favorite to finish fourth in the league at the conclusion of the next campaign.
Jason Terry won't have as many opportunities with the Boston Celtics, thanks to the presence of Courtney Lee and the looming return from injury of Avery Bradley. Steve Novak no longer has Jeremy Lin feeding him the ball.
Matthews has also just about peaked as a three-point shooter.
As Jennings' usage rate continues to climb and his conscience disappears by osmosis now that he's playing with Monta Ellis, he'll continue to jack up threes left and right, making quite a few of them in the process.
Field-Goal Percentage Favorite: Tyson Chandler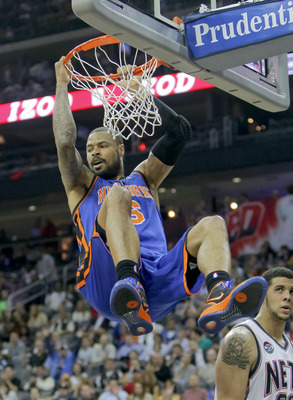 Jim O'Connor-US PRESSWIRE
Shooting a sensational 67.9 percent from the field last year, Tyson Chandler left the rest of the NBA in the dust.
No one was even close to him in this category, with Dwight Howard trailing in second at 57.3 percent.
It's pretty easy to shoot a high percentage though when you're as big as Chandler and 4.7 of your 5.7 attempts from the field per game come at the rim (according to Hoopdata.com).
Chandler's role on the New York Knicks is primarily a defensive one. In fact, "primarily" isn't a strong enough word in this situation.
If it's not a dunk or easy layup, Chandler pretty much won't shoot it. He doesn't need to be given the bountiful offensive options in Madison Square Garden.
Not much will change during the next season. The status quo reigns supreme in this category.
Field-Goal Percentage Contender: Anthony Davis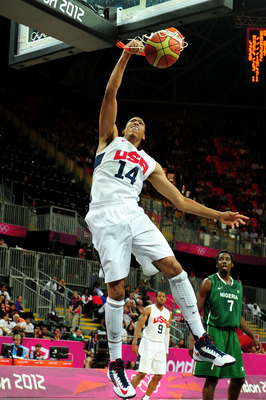 Mike Hewitt/Getty Images
The only player who can truly challenge Tyson Chandler in this category is an incoming rookie, as strange as that may be.
Anthony Davis shot 62.3 percent from the field during his single season with the Kentucky Wildcats and could easily post a similar number during his rookie season with the New Orleans Hornets—ironically enough, Chandler's former team.
I'm not suggesting that The Unibrow is a polished offensive player, but rather that he'll be serving a similar role to the one played by the reigning Defensive Player of the Year.
With Austin Rivers, Eric Gordon and Ryan Anderson doing the heavy lifting on offense, Davis won't be shooting unless he's dunking or laying the ball in.
Field-Goal Percentage Contender: Dwight Howard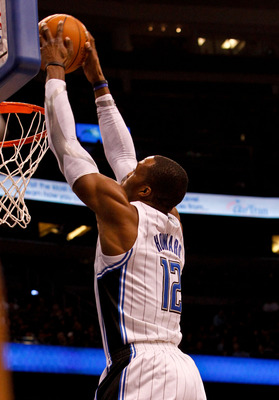 Derick E. Hingle-US PRESSWIRE
Ever since he was legally able to consume alcohol, Dwight Howard has recorded field-goal percentages above 57 percent. Last season was a down year at 57.3 percent, and he still managed to trail only Tyson Chandler.
With the number of other superstars surrounding him on the Los Angeles Lakers, Dwight will be able to capitalize on the lack of defensive attention and top 60 percent for the first time since the 2009-2010 season. That was the year that he led the NBA at 61.2 percent.
Unlike the other players on this list, Howard is actually a heavily used offensive powerhouse, making his inclusion all the more impressive.
Field-Goal Percentage Contender: Nikola Pekovic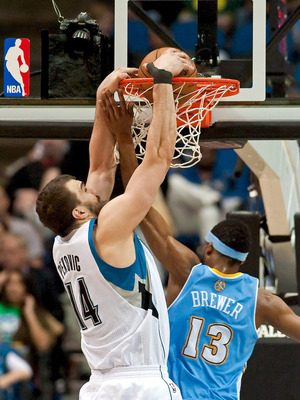 Greg Smith-US PRESSWIRE
During his breakout season—one that should have seen him named Most Improved Player—Nikola Pekovic finished third in the NBA when it came to field-goal percentage.
Pekovic benefits tremendously from playing alongside Kevin Love because defenses are forced to expand and pay quite a bit of attention to the versatile UCLA product.
With his energy and power, Pekovic is starting to make his own name, though.
He won't beat out the other three guys here for a spot on that hypothetical podium, but he will continue to compete for a top finish.
Keep Reading