LSU Tigers Football: The All-Time Dream Team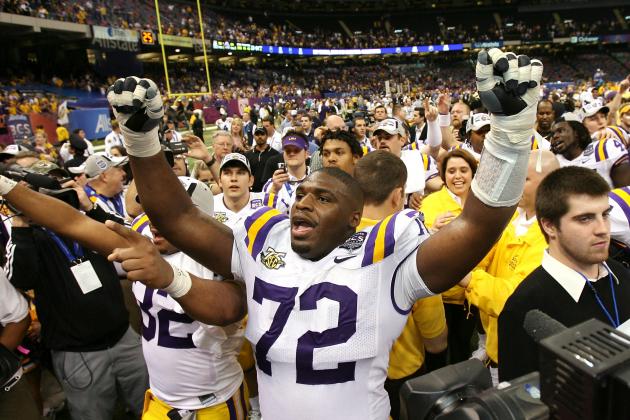 Doug Benc/Getty Images

When it comes to the top college football programs in America, LSU has to be near the top of that list.
With three National Championships, 14 conference titles and 27 football All-Americans to come through the university, this LSU program has been loaded with talent throughout its rich history.
Of course, we all know about names such as Morris Claiborne, Patrick Peterson and Dwayne Bowe, but what about the guys who established this school as a national powerhouse back in the mid-1900s? Where do those guys rank among the greatest in this program's history?
Let's have some fun here and map out what LSU's All-Time Dream Team would look like on paper.
Right here, right now. Bleacher Report Style!
Begin Slideshow

»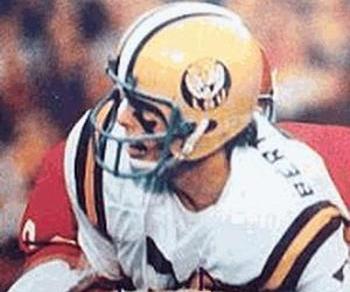 LSU fans have not been pleased with the quarterback play for the Tigers over the past couple of years, but back in the early 1970s, the Tigers had one of the best signal callers in the land under center.
Jones starred at LSU in the 70s, putting up some eye-popping numbers during his time in purple and gold. He completed 53 percent of his passes for 3,225 yards and 28 touchdowns during his college career. At the time, that was the record for most yards and touchdowns of any quarterback to wear an LSU uniform.
During his senior season, Jones led the Tigers to a 9-2-1 record and became the first quarterback in LSU history to be named an All-American.
This outstanding signal caller went on to finish fourth in the Heisman Trophy race that season and was selected second overall in the 1973 NFL Draft by the Baltimore Colts.
Others receiving votes: Tommy Hodson, Y.A. Tittle, Rohan Davey, Matt Mauck, Jamarcus Russell and Matt Flynn.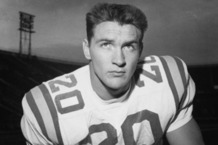 Quick!
Name the first and only LSU football player to win the Heisman Trophy award?
The answer is Billy Cannon.
Cannon was a stud running back for the Tigers all the way back in the late 1950s. In fact, in addition to being the school's only Heisman Trophy winner, Cannon also led the Tigers to their first AP National Championship back in 1958.
During his outstanding collegiate career, Cannon received over 25 prestigious awards. He was a two-time All-American and was elected in the College Football Hall of Fame in 1983, though he was stripped of the honor after being involved in a counterfeiting scheme. The Hall took him back in 2008.
When it comes to the top college football players in LSU's rich history, many would argue that Cannon stands alone on top of that long, prestigious list.
Others receiving votes: Jerry Stovall, Chris Alexander, Kevin Faulk, Dalton Hilliard, Jacob Hester and Joseph Addai.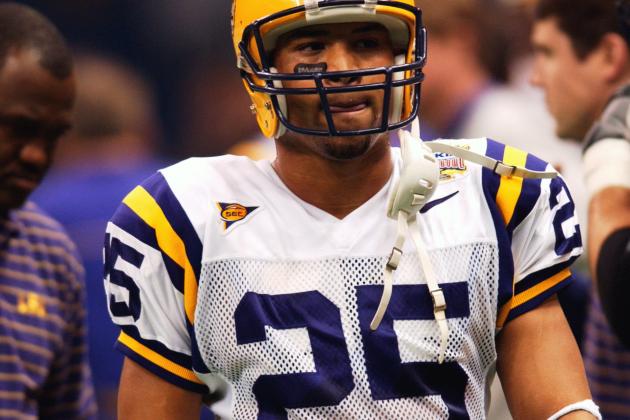 Harry How/Getty Images

Josh Reed was not only one of the top receivers in LSU football history, but he was one of the best to ever play the collegiate game.
After spending his freshman year at running back, Reed moved to wide receiver as a sophomore and put together back-to-back dominant seasons at that position.
During his 2001 junior season, Reed had 94 receptions and 1,740 receiving yards, which is the most ever by an SEC wide receiver. He also holds the SEC single season season record for receiving yards per game with a 145 yard-per-game average.
In one game against Alabama that season, Reed caught 19 passes for 293 yards, which are both LSU and SEC single-game records.
Reed was named a consensus first-team All-American that year and was also the Fred Biletnikoff winner after leading the nation in virtually every receiving category.
When it comes to the top wide receivers in college football history, you better not leave Josh Reed's name off of that list.
Others receiving votes: Wendall Davis, Eddie Kennison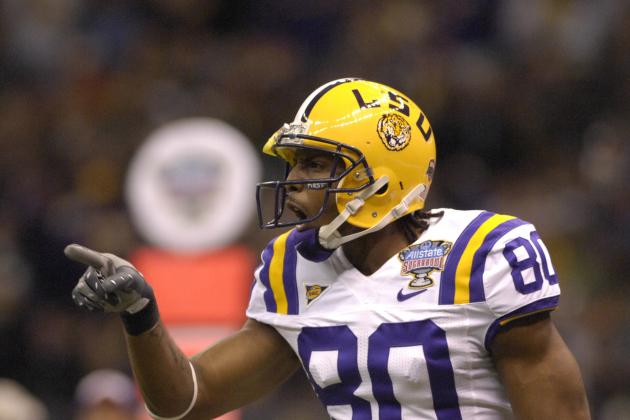 A. Messerschmidt/Getty Images

If there was one guy who could rival Josh Reed as the top wide receiver in LSU football history, that would be none other than the man known as "D-Bowe."
Dwayne Bowe had an outstanding collegiate career, hauling in a total of 154 catches for 2,403 yards and 26 touchdown receptions, an LSU record. He currently ranks fourth in school history in receptions and eighth all time in SEC history in career touchdowns.
Bowe was an All-American during his senior season and went on to be a first round draft selection for Kansas City Chiefs in 2007.
It could be argued that of all the former LSU stars playing in the NFL today, Bowe has had the best NFL career of all of them.
Others receiving votes: Michael Clayton, Skyler Green
David LaFluer might not have had the best NFL playing career, but when you consistently appear on the NFL's "Biggest Busts" list, at least you know you did something right at the collegiate level.
LaFluer was an absolute stud during his college days at LSU in the mid 90s. In fact, he was named a first-team All-American during his senior season with the Tigers.
LaFluer went on to be a first round draft pick of the Dallas Cowboys in the 1997 NFL Draft, but he never lived up to the hype coming out of college.
Still, if we're going to create an LSU All-Time Dream Team, there is no way that we can not include David LaFluer on that squad.
Others receiving votes: Robert Royal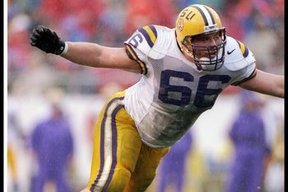 Alan Faneca should be no stranger to NFL fans as this feared offensive guard put together one of the most established careers of any offensive lineman in NFL history. It's scary to think that Faneca was just as dominant during his college days at LSU.
Faneca was the top freshman in the SEC conference in 1995 and then went on to be an All-American in his sophomore and junior seasons. He was a finalist for the Outland Trophy in 1997, where it was reported that he only allowed one sack throughout the entire season.
On the other end, Sid Fournet was a guy who did a little bit of everything for this LSU program back in the mid-1950s.
What do I mean by a little bit of everything? Well for starters, Fournet was so talented that he actually started on both sides of the ball for this LSU program. He was so dominant on both sides of the line that he was named an All-American in the 1954 season.
These are two guys that define what it means to be a "hard-nosed" college football offensive lineman.
Others receiving votes: Stephen Peterman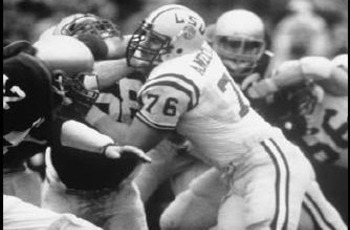 Offensive tackle was never a dominant position in LSU's rich football history, so it was somewhat of a struggle to come up with the top two offensive tackles to put on this LSU Dream Team.
But after plenty of research, the nod goes to one recent star and one old-time star: Andrew Whitworth and Eric Andolsek.
Whitworth was a staple on the LSU offensive line, putting in four solid years as a starter from 2002-05. He started a total of 52 career games for the Tigers, which ranks second in Division 1 history for an offensive lineman. He was named an All-SEC member in both his junior and senior seasons.
On the other end, Andolsek was a star for the LSU program back in the mid-1980s. He went on to be one of the greatest offensive linemen in LSU history, being named a freshman All-American his first year and an All-SEC member in 1986 and 1987.
Both of these guys were outstanding offensive tackles for this program back in the day.
Others receiving votes: Joseph Barksdale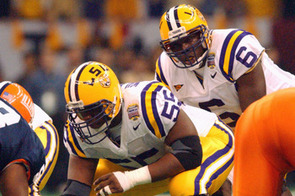 Go ahead. Call me crazy for not putting Kevin Mawae in this spot, but when you look at it, Ben Wilkerson really did have a more productive college career.
Wilkerson helped pave he way for one of the best backfields in the nation in the mid-2000s. He was named an All-American in the 2004 season and was voted as a Co-Dave Remington Trophy winner that season as well.
Of course, Kevin Mawae went on to have an incredible NFL career, but he can't say that he was named the top center in the nation during his collegiate days.
Ben Wilkerson can.
Others receiving votes: Kevin Mawae and Rudy Niswanger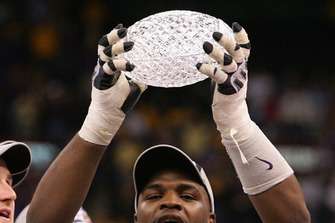 LSU has always been known as a defensive-minded football program and Glenn Dorsey and Anthony "Booger" McFarland are two of the best to ever come through the program.
Dorsey was arguably the most dominant defensive tackle throughout all of college football in the mid-2000s. He was an All-American selection in both his junior and senior seasons and went on to win the Nagurski, Lott, Outland and Lombardi trophies in his senior season. He is the only player in LSU history to win all four of those awards.
Perhaps even more impressive is the fact that Dorsey finished in the top-10 in the Heisman Trophy voting during his senior season, which is nearly unheard of for a defensive tackle.
On the other end, while Dorsey ruled this defensive line in the mid-2000s, McFarland did much the same in the mid-1990s.
McFarland was a big boy, but he knew how to use that weight to push around opposing offensive lineman. He was a dominant pass rusher and run stopper who went on to be named an All-American in 1998.
Could you imagine if this dominant duo played together? That would have been something.
Others receiving votes: Ron Estay, Chad Lavalais and Michael Brockers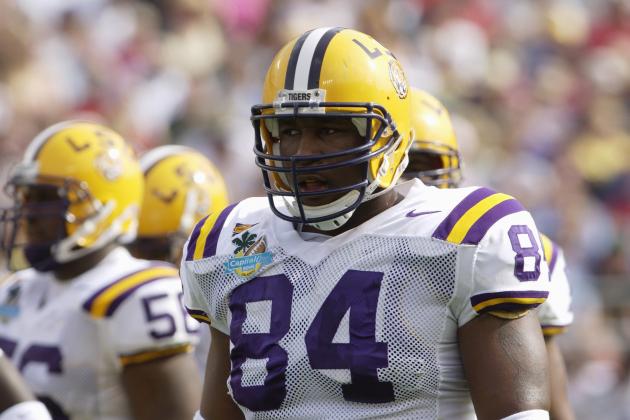 Matt Stroshane/Getty Images

When you talk about the top pass rushers in LSU's history, that conversation starts and ends with guys like Marcus Spears and Chuck Wiley.
Spears was an absolute beast for the Tigers in the mid-2000s.
The pass rush specialist was actually recruited as a tight end, but he made the switch to defensive end and excelled at the position from there on out. Spears was the enforcer on the LSU defensive line as a junior, helping to lead the Tigers to a 2003 National Championship.
In his senior season, Spears was honored as an All-American and a Lombardi Award finalist.
While Spears was the modern-day dominant defensive end, we have to go back to the mid-1990s to take a look at how special Chuck Wiley was during his time in Baton Rouge.
Wiley was an All-American in 1997, first team All-SEC in 1996 and 1997, second team All-SEC in 1995 and Academic All-SEC in 1996.
In one game during the1997 season, Wiley recorded four sacks in a single contest, which still stands as the program's single game record. His 19 career sacks currently ranks fourth all time on LSU's career sack list.
These were two special pass-rushing defensive ends during their time at LSU.
Others receiving votes: Jarvis Green, Tyson Jackson and Sam Montgomery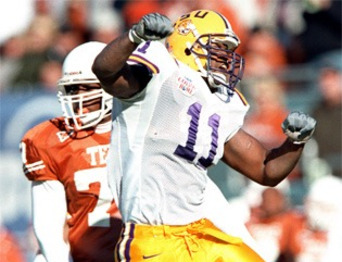 No, this isn't a list of the top linebackers in SEC history. These three dominant linebackers actually all played for LSU back in the day.
It's interesting that each one of these three were dominant in a different decade.
Back in the 1970s, Warren Capone was known throughout college football as one of the best in the game. In fact, he was one of only eight players in LSU program history to be named a two-time All-American.
However, when it comes to records, Al Richardson owns just about every record there is to own for a linebacker playing at LSU.
Richardson recorded an eye-popping 452 tackles during his career at LSU, which makes him the all-time leader in school history. He also holds the record for the most tackles in a game when he recorded 21 tackles in a contest during his senior season.
When it comes to the most dominant season for a linebacker, that would have to belong to Bradie James, who recorded 154 tackles during his senior campaign.
In his four-year career at LSU, James recorded more than 400 tackles and was named All-American in his senior season.
Three dominant linebackers in three different decades.
Others receiving votes: Mike Anderson, Michael Brooks, Ali Highsmith and Kelvin Shepard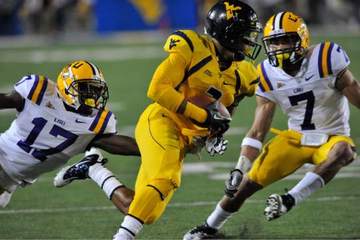 In this day and age, the cornerback position is one of the most important spots on the football field.
Anyone who has followed LSU football over the past couple of seasons knows that the Tigers have produced some of the best defensive backs in the country as of late. But none are better than Patrick Peterson and Morris Claiborne.
In 2010, Peterson was the SEC Player of the Year, an All-American and the winner of both the Thorpe and Bednarik Awards.
He went on to be drafted by the Arizona Cardinals with the No. 5 overall pick in the 2011 NFL Draft.
The following year was Morris Claibrone's turn as he earned All-American honors and was the winner of the Jim Thorpe award as well.
Claiborne was also a lottery pick in the NFL Draft, going No. 6 overall to the Dallas Cowboys.
It can be argued that there hasn't been a better combo of cornerbacks to play together ever in college football.
That's right—these two were simply that good.
Others receiving votes: Mike Williams, Corey Webster and Tyrann Mathieu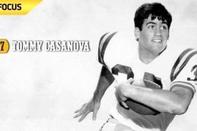 Take the top hitting player to ever put on an LSU uniform and pair him up with the most multidimensional player to ever sport the purple and gold and what do you get?
The top two safeties on LSU's All-Time Dream Team.
LaRon Landry was one of the most feared hitters in college football history. He earned freshman All-American honors during his first year on campus and only got better from there.
Landry was an All-American and a finalist for the Jim Thorpe Award during his senior season, before going on to be the No. 6 selection in the 2007 NFL Draft to the Washington Redskins.
On the other end, we have to take a trip down memory lane and reintroduce one of the top athletes in college football history—Tommy Casanova.
During his three seasons at LSU, Casanova spent time at running back, punt and kick returner and defensive back. He was the only LSU player in the programs history to be selected as an All-American in three straight seasons.
In 1971, Casanova was featured on the cover of Sports Illustrated, with the headline: "Tommy Casanova of LSU, Best Player in the Nation."
Could you imagine if you could pair these two together in this day and age?
Others receiving votes: Craig Steltz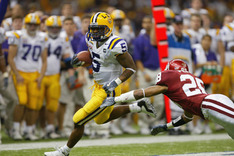 When it comes to the top return men in LSU football history, how can you possibly decide between Tyrann Mathieu and Skyler Green?
Mathieu was a Heisman Trophy candidate last season and it wasn't because of his ability as a shutdown corner, but rather his ability to change any game in an instant as a return specialist.
On the other end, you have Skyler Green who ranks No. 1 in LSU school history with four punt returns for touchdowns and No. 2 in school history in punt return yards with 1,064. During his sophomore season, he led the nation in punt returns with an 18.5 average.
During Green's four-year career at LSU, he totaled nine receiving touchdowns, four punt return touchdowns and one rushing touchdown. His 3,243 all-purpose yards ranks No. 11 all-time in school history.
As far as kickers, it doesn't get much better than Josh Jasper was for the Tigers just a few seasons ago. He is the most accurate placekicker in LSU Tigers team history, having completed 47 of 56 field goal attempts (84 percent) as a Tiger. That's the best mark in the program's history and the second best percentage in SEC history.
When it comes to punters, the Tigers certainly have a special player right now in Brad Wing, but he has some time before he can reach the status of former punter Chad Kessler.
Kessler was a four-year player at LSU and an All-SEC member in both 1995 and 1997. His senior season he was honored as an All-American and recognized as the top punter in college football that year.
Others receiving votes: Brad Wing, Domanick Davis and David Browndyke