Breakdown, Preview and Predictions for Fulham's 2012-13 Season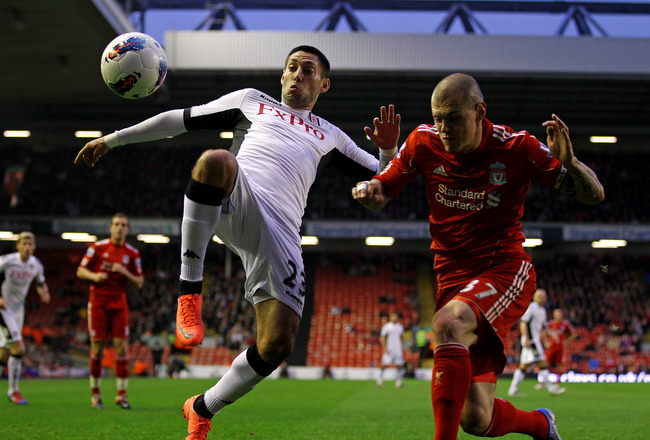 Clive Brunskill/Getty Images
There was plenty of positive play from Fulham last season, but the team still ended up in the middle of the pack among English Premier League teams.
With three top-10 finishes in the past four years, the Cottagers have established themselves as a contender for one of the European qualifying places.
Roy Hodgson took them to seventh place in the 2008-09 season, and Martin Jol will try to emulate that success this year. The players and strategies that will help him accomplish his goal will be highlighted as I feature Fulham in my next EPL preview.
Here is all the information about the team's 2012-13 season.
Transfers In, Transfers Out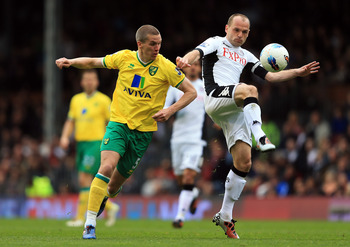 Clive Rose/Getty Images
| | |
| --- | --- |
| Transfers In | Transfers Out |
| Hugo Rodallega | Dickson Etuhu |
| Mladen Petric | Marcel Gecov |
| George Williams | Andrew Johnson |
| Sascha Riether (Loan) | Danny Murphy |
| | Pavel Pogrebnyak |
| | Bjorn Helge Riise |
| | Orlando Sa |
Key Additions
Mladen Petric
The 31-year-old Croatian will be expected to produce goals this season after several established strikers departed from Craven Cottage.
Petric scored seven goals in 26 Bundesliga appearances for Hamburg this past season. He played under Martin Jol when the Swiss coach was managing the German side and should be familiar with his tactics.
Hugo Rodallega
Rodallega was an often-used substitute for Wigan this past season, coming on during 12 matches while also starting 11 times. He recorded two goals and four assists in those league appearances.
The 27-year-old Colombian may be forced into a more prominent role this season, and it is not certain he will be able to handle the added responsibility. This signing has the potential to be a smart move, but Rodallega also may end up being a wasted addition.
Key Departures
Danny Murphy
The 35-year-old center midfielder has been a fixture in the Fulham lineup since 2007, and his departure represents a changing of the guard for the London-based club. Martin Jol is clearly trying to build a new foundation of players, and letting Murphy head to Blackburn was a clear sign of his intentions.
This could end up being an ill-advised move, as the team is not guaranteed to transition smoothly without Murphy's grit, determination and consistency in the center of the pitch.
Pavel Pogrebnyak
Clint Dempsey was the star of the Fulham attack last season, but no player helped out the American more than Pavel Pogrebnyak. The Russian scored six goals in just 12 appearances after heading to London on loan from VfB Stuttgart.
Many expected the 28-year-old striker to make a permanent move to Craven Cottage, but surprisingly, he signed with Reading. This will be a big blow to the team if Petric does not produce.
Biggest Matches and Full Schedule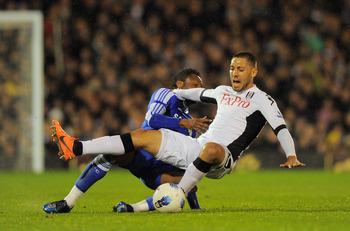 Mike Hewitt/Getty Images
The full Fulham schedule can be found via the team's website. Here are the must-see matches.
At Chelsea, Wednesday, November 28
The Fulham players will not have to travel far for this away match as Stamford Bridge is actually in Fulham, just two miles away from Craven Cottage.
The close proximity of these two clubs makes this an exciting rivalry match. These two teams played to a 1-1 draw in both Premier League meetings this past season.
Chelsea will be hoping for a better league record this coming season, but Fulham will be ready to show up their wealthier neighbors in this derby.
At Queens Park Rangers, Saturday, December 15
This is another road match that will take place within walking distance of Craven Cottage. It will also be another fierce London derby.
In the first meeting between these two teams this past year, Fulham embarrassed QPR with a 6-0 victory. The Cottagers took the next meeting 1-0.
Rangers will be looking to make up for their poor performance in last season's derbies, which should make for an entertaining match.
Versus Arsenal, Saturday, April 20
This London derby is not as fierce as the other two matchups, but this contest will come at a crucial point in the season.
Fulham pulled off a 2-1 victory over Arsenal at Craven Cottage last season, and another result similar to this would be an important win.
There will be just four league matches remaining when this match is over, and a victory over the Gunners would be a perfect way to start a late surge and jump to a top-seven finish.
Key Players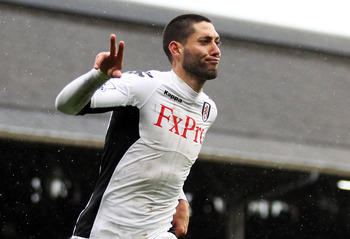 Scott Heavey/Getty Images
Clint Dempsey
Dempsey is coming off a breakout season in which he had 17 goals and six assists. This was the best season an American field player has ever had in the Premier League.
The 29-year-old was dangerous while attacking from different positions but did the majority of his damage from the left side of the pitch. He will be a focal point of the attack, assuming he stays at Craven Cottage.
There have been transfer rumors surrounding Dempsey all summer, and his departure could be a serious blow to the team's hopes at finishing in the top half of the table.
Brede Hangeland
Martin Jol relied heavily on the Norwegian center back last season, starting him in all 38 Premier League matches.
The massive 31-year-old stands 6'6", and he provided the Fulham back line with a physical presence, as well as stability.
He showed poise and discipline throughout many of the Cottagers' important matches, and his performance in the back will be crucial to the team's success.
Moussa Dembélé
Dembélé dominated the middle of the pitch in several of Fulham's matches last season.
He is an exceptional tackler for an attacking player but also an excellent passer. He averaged 3.1 tackles per game and completed 88.6 percent of his passes last season, according to WhoScored.com.
Without Danny Murphy playing behind him, the 25-year-old must be even more productive this season.
Strengths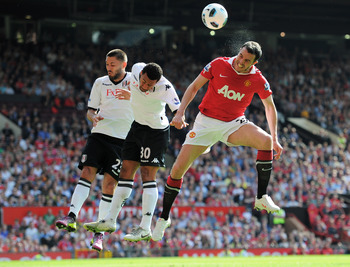 Michael Regan/Getty Images
Attacking From the Midfield
Clint Dempsey and Moussa Dembélé provide a lethal combination in Fulham's midfield.
Dembélé's contributions did not always show up on the stat sheet. His strength on the ball and intelligent passing helped drive the attack forward.
Dempsey's exploits produced eye-popping numbers. He hit the back of the net at a rate of just under a goal in every two matches in Premier League contests.
These two complement each other well, and if they are both playing in Craven Cottage this year, they will continue to torch opposing defenses.
Home Form
Ten of Fulham's 14 Premier League victories last season came at Craven Cottage, as did 36 of its 48 goals.
The team had home victories over Liverpool, Arsenal and Newcastle, while also tying Manchester City and Chelsea. The Cottagers finished with an 10-5-4 record in their hallowed ground, which accounted for 35 of their 52 points.
Dempsey was especially effective in front of Fulham's raucous crowd, scoring 12 of his 17 goals and recording all six of his assists in home matches.
The team must continue to play this well at Craven Cottage, as they often produce duds on the road.
Weaknesses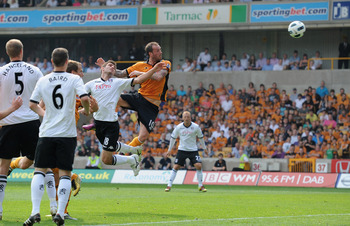 Michael Regan/Getty Images
Away Form
There are two sides to every coin. Optimistic Fulham supporters will praise the team's home form, while the more sour fans will lament the awful away performances.
The team went 4-5-10 when playing away from Craven Cottage this past season, including losses to Wolverhampton and Blackburn, both of whom have been relegated.
The Cottagers scored just 12 times on the road, while playing porous defense and giving up 25 goals.
Even if the team continues its stellar play at home, it will not be able to improve its position in the standings playing this poorly when traveling.
Over-Reliance on Clint Dempsey
Between Clint Dempsey's 17 goals and six assists, he accounted for 48 percent of Fulham's goals last season. If the team loses him, it will be in serious trouble.
The Daily Mail reported recently that the American is still pressing for a transfer to Liverpool. Fulham has been able to bat away the offers thus far, but Dempsey may force their hand.
In addition to a transfer, there is still the possibility of an injury or Dempsey not equaling his spectacular from a season ago. Relying so heavily on one player comes with a serious amount of risk.
If Dempsey is healthy, in form and at Craven Cottage this season, Fulham has an excellent shot to equal and possibly improve their finish from last season. If not, the team will struggle.
Prediction for 2012-13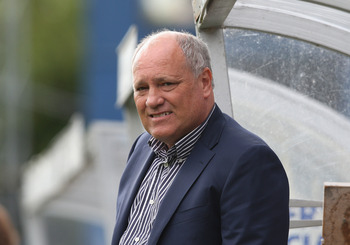 David Rogers/Getty Images
Wins: 14
Draws: 9
Losses: 15
Points: 51
Place: 9th
Fulham will have a remarkably similar campaign this season as it did last year and once again end up in the middle of the table.
This is assuming that Clint Dempsey does not leave the club, which is certainly still possible. If he does, it will take a monumental effort from Martin Jol to keep the club from sliding.
Fulham will continue to put on inspired performances at home and perplex ones on the road. There will be uplifting victories, as well as crushing defeats.
In the end, it will all balance out and the Cottagers will once again be an average side.
Keep Reading

Fulham: Like this team?