Notre Dame Football: The All-Time Dream Team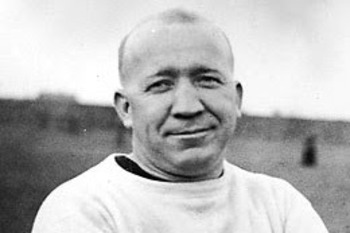 The Notre Dame football program hasn't become the nation's most prominent program for no reason.
The Fighting Irish have won 11 national championships, which have molded Notre Dame into the most recognizable collegiate athletic squad, regardless of sport.
Along the way, the Irish have had multitudes of extraordinarily talented players play under the golden dome, seven of whom have won the coveted Heisman Trophy.
But among those players, who are the best of all-time?
To answer that question, I've assembled a Dream Team, position by position. Enjoy.
Quarterback
Peerie.com
Starter: Angelo Bertelli
Backup: Johnny Lujack
Angelo Bertelli and Johnny Lujack each won the Heisman Trophy during their respective careers at Notre Dame, earning the two inclusion on the Dream Team.
Bertelli arrived at Notre Dame as a highly-regarded tailback, who head coach Elmer Layden desired to use in his rampantly successful single-wing formation. However, when Hayden left Notre Dame to become the commissioner of the National Football League, new head coach Frank Leahy moved Bertelli to quarterback.
The move was a wise one on Leahy's part, as Bertelli evolved into a star quarterback in Leahy's T-formation in which Bertelli took all the snaps from under center. Bertelli only played in the Irish's first six games of the 1943 season before being enlisted in the United States Marine Corps in World War II.
In those six games, Bertelli posted what were considered shocking figures in those days, completing 25 of 36 pass attempts for 777 yards. He received 648 votes from the Heisman Trophy committee, enough to win the prestigious award.
Halfback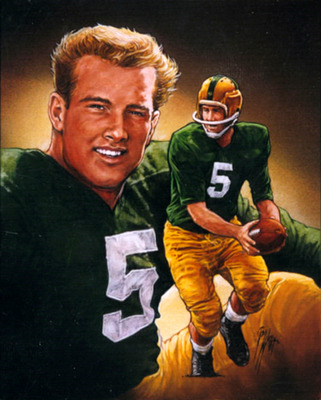 TedWatts.org
Starter: Paul Hornung
Backup: Johnny Lattner
Another position, two more Heisman Trophy winners. Paul Hornung won the award in 1956, while Lattner did the same in 1953.
As a sophomore, Paul Hornung was listed on the depth chart as a backup fullback, but was moved to halfback by head coach Terry Brennan prior to Hornung's junior season.
Hornung burst onto the scene in his new position in 1955, finishing fourth in the country in total offense, with 1,215 yards. He also reached the end zone on six occasions. Hornung's 1956 season is considered the best by any player in college football history, as he led the team in every offensive category, as well as kickoff returns, punt returns and punting.
Those accomplishments made Hornung the runaway winner of the Heisman Trophy, and he was the first player from a losing team (Notre Dame was 2-8 in 1956) to win the award.
Offensive Tackle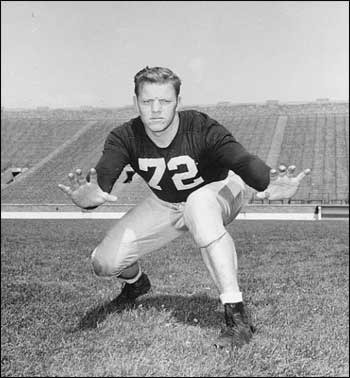 Starter: Bill Fischer
Backup: Edgar Miller
Bill Fischer is one of college football's all-time greatest offensive linemen, having earned the distinction of All-America during his junior and senior seasons.
Fischer also served as the captain of the 1948 and won the Outland Trophy, which is awarded annually to college football's best interior lineman.
Offensive Tackle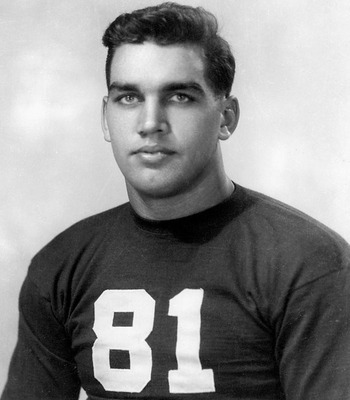 Sportsillustrated.cnn.com
Starter: George Connor
Backup: Fred Miller
George Connor was one of a slew of outstanding players at Notre Dame during the World War II era, becoming one of the premier offensive linemen in the country.
Connor brought home the Outland Trophy in 1946, two years before being drafted by the Chicago Bears, with whom he spent the entirety of his professional career. During his time in the NFL, Connor was voted to four Pro Bowls and was named to the NFL 1940s All-Decade Team.
Offensive Guard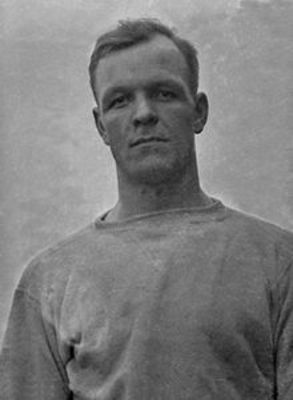 Starter: Heartley "Hunk" Anderson
Backup: Jack Cannon
Heartley Anderson excelled during his playing days at Notre Dame between 1918 and 1921 under the direction of head coach Knute Rockne.
However, Anderson was an even better coach than he was a player, being named the head coach of the Fighting Irish in 1931 and keeping the post until 1933, when he moved on to the same position at North Carolina State.
From 1942 to 1945, Anderson served as the head coach of the NFL's Chicago Bears.
Anderson was inducted to the College Football Hall of Fame as a player in 1947.
Offensive Guard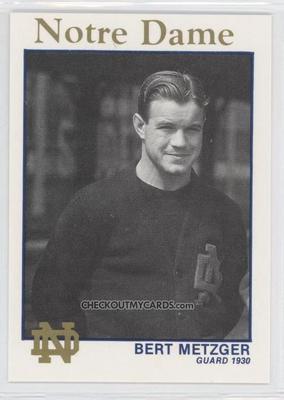 Checkoutmycards.com
Starter: Bert Metzger
Backup: John "Clipper" Smith
Despite his short stature, Bert Metzger became one of the best guards to ever play for head coach Knute Rockne. Metzger checked in at 5'9" and 152 pounds, earning him the nickname of "watch-charm guard."
Metzger went on to earn All-America honors in 1930 and was inducted into the College Football Hall of Fame in 1982.
Center
Starter: Jerry Groom
Backup: Tommy Yarr
Jerry Groom was considered a jack-of-all-trades, as the Des Moines, Iowa, native played center, defensive tackle and linebacker for the Fighting Irish.
While at Notre Dame, Groom earned All-America honors before being drafted by the Chicago Cardinals in the 1951 NFL draft.
Wide Receiver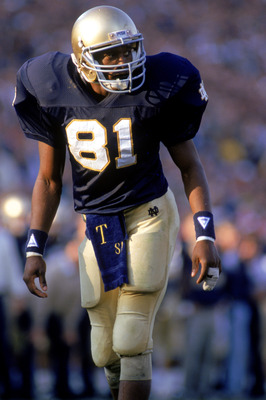 Jonathan Daniel/Getty Images
Starter: Tim Brown
Backup: Jeff Samardzija
Perhaps the most talented offensive player during the Lou Holtz era, Tim Brown is the most recent Notre Dame player to have won the Heisman Trophy, as Brown did in 1987.
"Touchdown Timmy", as he was called by the Irish fan base, hauled in 137 receptions for 2,493 yards to go along with 22 touchdowns during his career at Notre Dame. He also finished with a school record 5,024 all-purpose yards.
Unfortunately for Brown, the Irish won only 25 games during his four years on campus, and won the national championship during Brown's rookie season in the NFL.
Wide Receiver
Ezra Shaw/Getty Images
Starter: Golden Tate
Backup: Lake Dawson
One of a select few players to leave Notre Dame early to enter the NFL draft, Golden Tate was drafted by the Seattle Seahawks with the 60th overall pick in the 2010 NFL draft.
Tate is considered one of the most dynamic playmakers in Notre Dame football history and was often compared to Irish great Raghib Ismail.
After a breakout sophomore year in which he compiled 1,080 receiving yards on 58 receptions, Tate had a stellar junior season, earning the Biletnikoff Award as the nation's best wide receiver.
Wide Receiver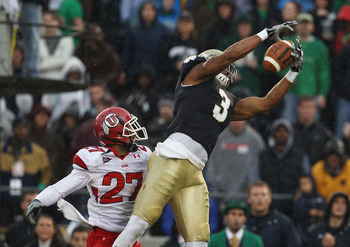 Jonathan Daniel/Getty Images
Starter: Michael Floyd
Backup: Raghib Ismail
Michael Floyd arrived at Notre Dame as a 5-star recruit and left having rewritten the Notre Dame receiving record book.
During his four seasons at Notre Dame, Floyd broke the school records for career receptions (271), career 100-yard games (16), career receiving yards (3,686) and career touchdown receptions (37).
Despite off-field troubles during his junior and senior seasons, Floyd did not miss any action during, but was forced to move back into the dorms as a senior in order to devote his full focus to academics and football.
Prior to graduating from Notre Dame in 2012, Floyd was selected 13th overall by the Arizona Cardinals in the 2012 NFL draft.
Tight End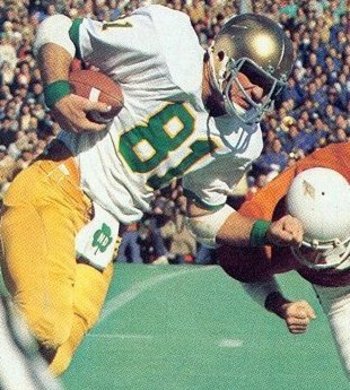 Starter: Ken MacAfee
Backup: Dave Casper
Ken MacAfee is, without question, the best tight end to have ever played for Notre Dame.
The Oregon native was a three-time All-American during his career at Notre Dame and won the Walter Camp Player of the Year Award in 1977. He also finished third in the 1977 Heisman voting.
MacAfee put up video game type numbers for a tight end during that 1977 season, racking up 54 receptions for 797 yards and six touchdowns.
Following his time at Notre Dame, MacAfee was selected seventh overall to the San Francisco 49ers in the 1978 NFL draft. However, the franchise asked MacAfee to move from tight end to guard, a decision that didn't suit MacAfee. He left the game of football to pursue a post-graduate degree from a dental school.
Defensive Tackle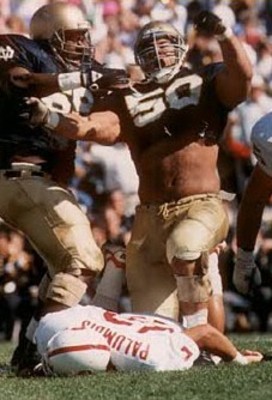 Starter: Chris Zorich
Backup: Zygmont "Ziggy" Czarobski
One of the most memorable players to have ever played at Notre Dame, Chris Zorich was a perfect display of the qualities and values that head coach Lou Holtz preached on a daily basis.
Zorich arrived at Notre Dame as a linebacker, but was moved to defensive tackle during the early portion of his freshman season. He did not play following the switch, but blossomed as a sophomore.
He finished the 1988 season ranked third on the team in tackles and was a key figure in the Irish's run to the national championship.
Defensive Tackle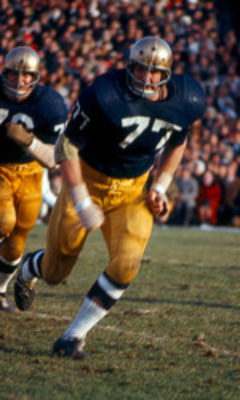 und.com
Starter: Mike McCoy
Backup: Trevor Laws
Mike McCoy played defensive tackle at Notre Dame between 1966 and 1969, during which time he earned his bachelor's degree in economics.
As a senior in 1969, McCoy earned All-America honors and was drafted by the Green Bay Packers the following year.
McCoy played 11 seasons in the NFL, having most recently played for the New York Giants in 1980.
Defensive End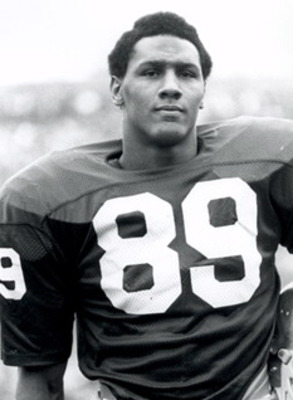 Collegefootball.org
Starter: Ross Browner
Backup: Bob Dove
A four-year starter at Notre Dame, Ross Browner went on to become perhaps the best defensive player in the history of Fighting Irish football.
A unanimous All-American during his junior and senior seasons, Browner was also awarded the 1976 Outland Trophy. The following season, Browner won both the Maxwell Award and the Lombardi Award.
Browner is also the only player to have been named UPI's Lineman of the Year twice.
Defensive End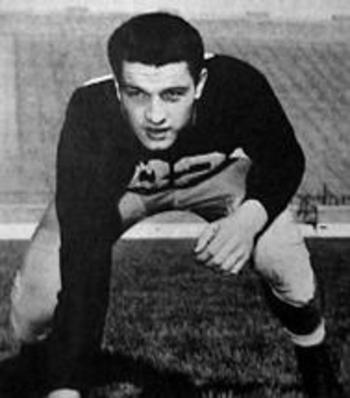 hickofsports.com
Starter: Leon Hart
Backup: Alan Page
Leon Hart, the 1949 Heisman Trophy winner, played both tight end and defensive end during his career at Notre Dame.
To this day, Hart remains as one of only two linemen to have won the Heisman Trophy. Also, Hart was the only player to win the Heisman, a national championship and become the first pick in the NFL draft in the same year until Cam Newton accomplished the feat in 2010.
Linebacker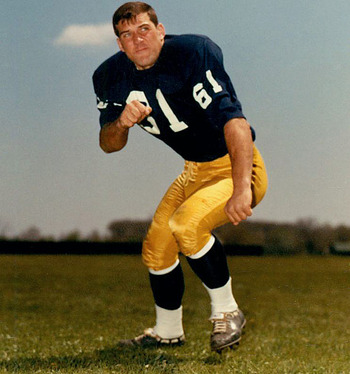 sportsillustrated.cnn.com
Starter: Jim Lynch
Backup: Rocky Boiman
Jim Lynch, who played professionally with the Kansas City Chiefs, twice led Notre Dame in tackles, with 108 in 1965 and 106 in 1966.
Lynch also captained the championship-winning Irish defense in 1966, the same season in which he won the Maxwell Award, which is annually awarded to college football's most outstanding player.
Linebacker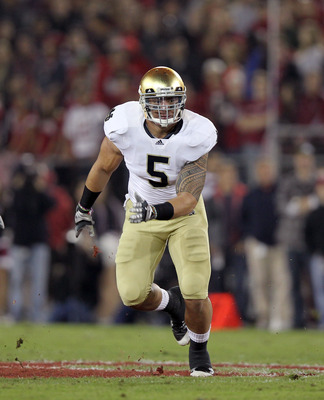 Ezra Shaw/Getty Images
Starter: Manti Te'o
Backup: Jim Martin
Manti Te'o is the only member of this Dream Team who is still currently enrolled at Notre Dame. Te'o will be a senior this fall, having decided to return to school for his senior season rather than enter the NFL draft.
2011 was the second straight season in which Te'o led the Fighting Irish in tackles, with 128.
Entering the 2012 season, Te'o will be one of only 10 players in school history with at least 300 tackles and will begin the season ranked eighth on the all-time Notre Dame tackles list.
Linebacker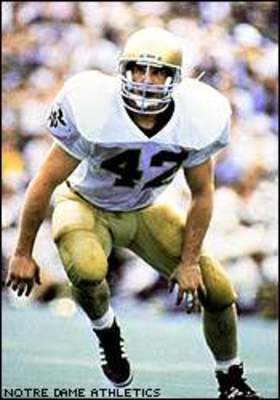 Starter: Michael Stonebreaker
Backup: Grant Irons
When you think of Notre Dame's 1988 defense, the first name that should come to mind is Michael Stonebreaker.
A two-time first-team All-American, Stonebreaker was forced to sit out the 1989 season due to injury, but returned to form in 1990, when he was named to his second first-team All-America selection.
Following the 1990 season, Stonebreaker was drafted 245th overall by the Chiacgo Bears in the 1991 NFL draft.
He most recently played for the Frankfort Galaxy in 1995.
Cornerback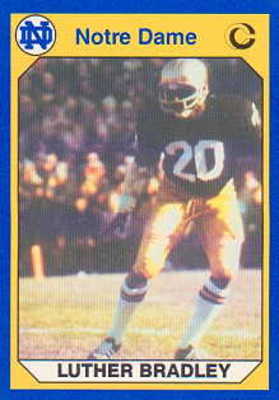 Starter: Luther Bradley
Backup: Todd Lyght
Realistically, either Bradley or Lyght could be the starter at this cornerback spot, but for conversation's sake, I've penciled in Bradley as the starter.
A four-year starter at Notre Dame, Luther Bradley was a consensus All-American during the 1977 season, when the Fighting Irish won the national championship, beating Texas 38-10 in the Cotton Bowl.
Bradley was selected 11th overall by the Detroit Lions in the 1978 NFL draft. After three seasons with the team, Bradley spent three seasons in the USFL with the Chicago Blitz, Arizona Wranglers and the Houston Gamblers.
Cornerback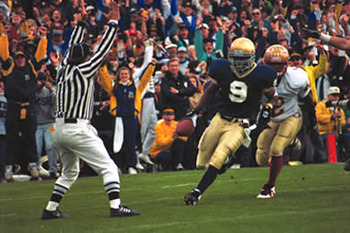 Starter: Jeff Burris
Backup: Tom Carter
Jeff Burris, the current cornerbacks coach at UMass, was voted as a consensus All-American as a senior in 1993. Aside from cornerback, Burris also played running back in Notre Dame's goal-line packages.
Burris was selected 27th overall by the Buffalo Bills in the 1994 NFL draft.
Burris had a 10-year NFL career in which he played for the Buffalo Bills, Indianapolis Colts and the Cincinnati Bengals.
Safety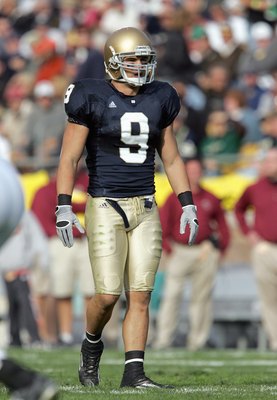 Jonathan Daniel/Getty Images
Starter: Tom Zbikowski
Backup: Shawn Wooden
Considered the best defensive player in the Charlie Weis era, Tom Zbikowski was a stalwart safety at Notre Dame from 2005 to 2007 (Zbikowski was a redshirt in 2004).
"Tommy Z," as the Irish faithful like to call him, was also a punt returner. Zbikwoski's most memorable moment at Notre Dame came against USC in 2005, when the current Indianapolis Colt returned a punt for a touchdown to give Notre Dame a 21-14 lead.
Zbikowski was also an avid boxer during his collegiate years, and even boxed professionally during the summer following his senior season. The Buffalo Grove, Ill., native flirted with the idea of a return to boxing during the NFL lockout of 2011, but never made it a reality.
Safety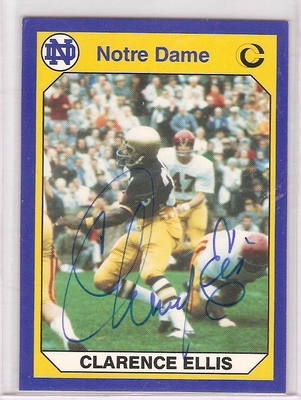 Starter: Clarence Ellis
Backup: Chinedum Ndukwe
Born in Grand Rapids, MI., Clarence Ellis was immediately noticed by the Irish coaching staff as a high school phenom. Playing for the Irish in the late 1960's, Ellis earned All-America honors as a senior and was a key fixture during the team's conquest over Texas in the 1971 Cotton Bowl.
Ellis was selected 15th overall by the Atlanta Falcons in the 1972 NFL draft.
Keep Reading

Notre Dame Football: Like this team?