Will New York Jets Show as Much Fight in Regular Season as They Have in Camp?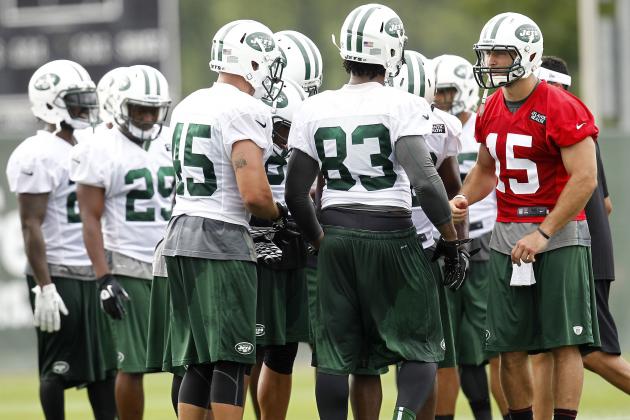 Jeff Zelevansky/Getty Images
New York Jets during training camp.
The New York Jets have dominated recent headlines, especially after a fight broke out amongst teammates at training camp—twice!
The question that seems to have remained unanswered is whether the Jets will be able to show as much fight during the regular season as they have during training camp.
My answer is a simple one—these players will fight as long as they can.
Begin Slideshow

»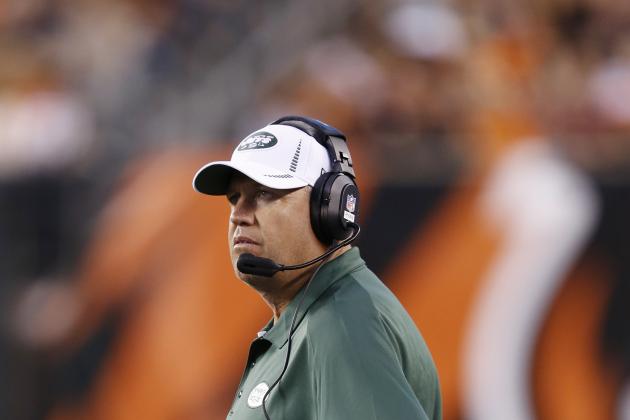 Joe Robbins/Getty Images
The slimmed-down Rex Ryan will need to light a fire under his Jets team.
Rex Ryan has failed guarantee after guarantee, and this season he's going to have to fight harder than anyone else to get the Jets back to the AFC title game and eventually a Super Bowl.
Ryan has said he'll be motivated by the season that the New York Giants just had, as the Jets enter the 2012-13 campaign (via Rich Cimini of ESPNNewYork.com):
"I want to win, I want to be special. Just like the Giants were last year, I want to be special. So that's what's driving me."
Saying he wants to be like the Giants definitely didn't sit well with the fans. It's not Ryan's job to emulate the Super Bowl winners, it's his job—and the Jets' job—to fight to be better than Big Blue.
That all starts Week 1.
With Gang Green's head coach locked in until 2014, rest assured, he's going to fight his way back into contention.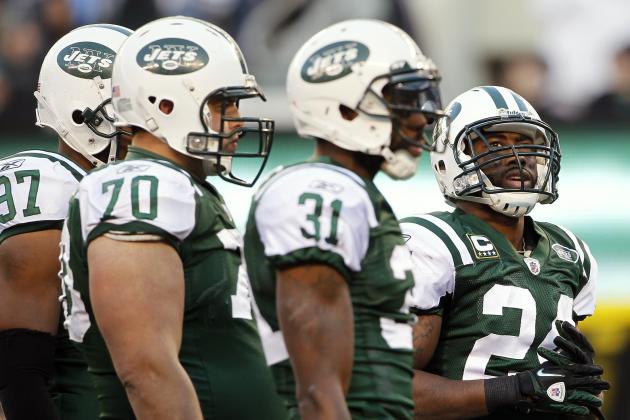 Rich Schultz/Getty Images
Rex Ryan's defense looks to return to 2009 form.
Rex Ryan transformed the New York Jets into a defensive team, so it's no surprise that the defense will fight to be the top dogs in the statistics department.
In 2009, New York's defense was ranked No. 1 in the NFL. Kimberley A. Martin over at Newsday.com wrote how the Jets players felt that being the No. 5 defense last season was a "failure."
Cornerback Darrelle Revis told Martin just how he and his teammates felt about it:
I think a lot of guys on defense felt we failed as a defense a little bit in terms of accomplishing what we wanted to last year. So this year, we're excited. We've got a lot of guys back and we're just ready to play ball.
Any team that feels like it's failed, especially a franchise that's so dedicated to its fans, will strive to become a better team.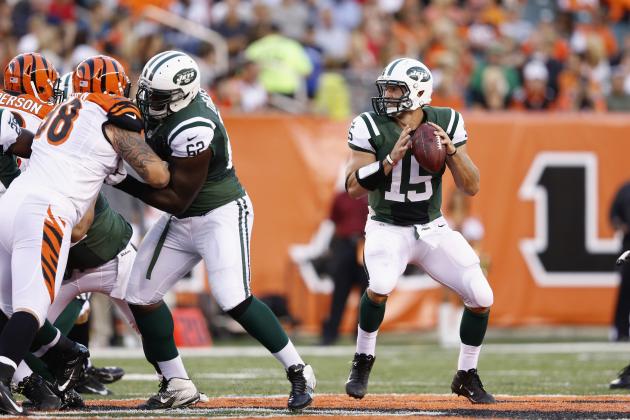 Joe Robbins/Getty Images
Tebow drops back in his first preseason game as a Jet.
In his first preseason game as a New York Jet, Tim Tebow showed glimpses of what we can expect to see from him this upcoming season.
The 6'3", second-string quarterback completed four of his eight passes for 27 yards and picked up an additional 34 yards on the ground on four rushing attempts
The 25-year-old Tebow has the weight of the world on his shoulders due to all the expectation that the New York media has created. Tebow will fight to influence the team as best as he can from the position that he's placed in, but that might start in the locker room instead of the field.
The Jets front office has said over and over again that Mark Sanchez will be the team's starting QB. If this holds true, Tebow will have to speak some motivational proverbs in the locker room to get the team to go to war as a unit.
Either way, Tebow will not give up on his teammates, and they will use that to continue to fight for progression.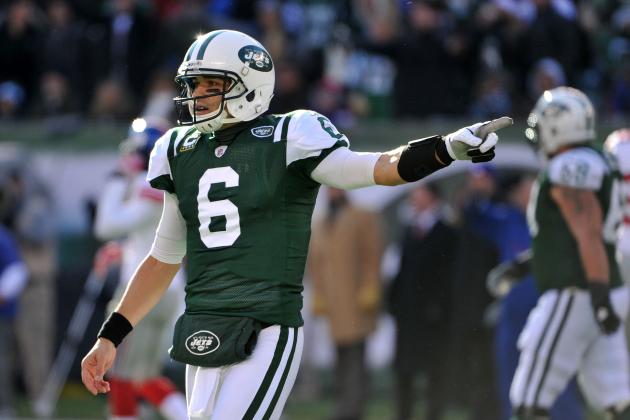 Christopher Pasatieri/Getty Images
Mark Sanchez looks to fight and maintain that starting QB job.
Mark Sanchez is the Jets starting quarterback, but if he wants to keep his job, he has to continue to fight off the pressure and succeed.
With Tim Tebow breathing down his neck, Sanchez will progress and become a better quarterback this year.
He won't be mentioned among the likes of Tom Brady, Drew Brees or Aaron Rodgers, but he will play his heart out for the fans of New York City.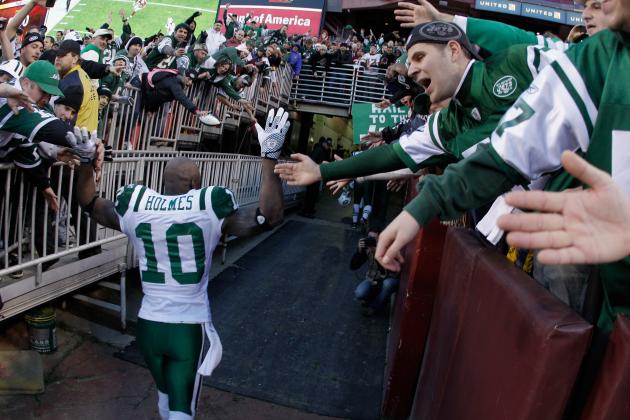 Rob Carr/Getty Images
The wide receiver will look to unleash his fury on opponents, not those in his own locker room.
Santonio Holmes has had one of the roughest offseasons in recent memory. Therefore, his regular season will have to be aimed at those opponents that square off against the Jets.
The allegations against Holmes are no secret. In the concluding game of the season against Miami, he quit on his team, was a cancer to the locker room and just an all-around unpleasant teammate. Nevertheless, the wide receiver shares the same goal as the rest of the Jets franchise.
That is, to hoist the Lombardi Trophy.
With that commonality in the New York locker room, fans could expect Holmes to put last season behind him. He must strive to be the lead receiver on the team and impact the Jets in a positive way, not a negative way.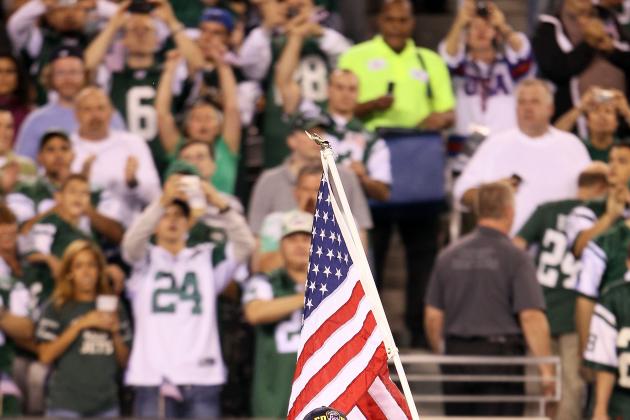 Elsa/Getty Images
New York plays the game with their heart on their sleeves.
The New York Jets will show as much fight in the regular season as they have in training camp simply because they all love the game.
When you love something with a passion, you give it your all—Rex Ryan's New York Jets love the game of football.
This team will go on the field in Week 1 and fight in hopes of playing after Week 17.