Benson Henderson: Can He Surpass Anderson Silva?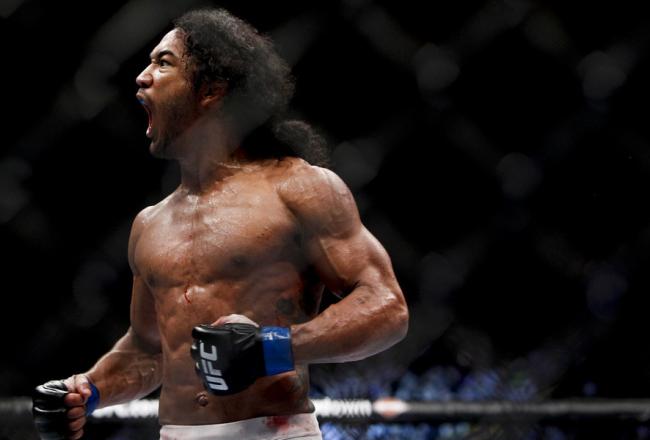 Benson Henderson - Esther Lin/MMAFighting

Now that Benson Henderson has solidified himself as the UFC lightweight champ, he can finally work towards surpassing arguably the greatest fighter in MMA history, Anderson "The Spider" Silva.
Henderson is easily one of the most ambitious fighters in the world. Most would consider winning a UFC title to be the apex of a fighter's career.
For Henderson, it was only the beginning.
"I definitely have long-term goals [and] short-term goals, but that's been my goal since I first got into fighting—to be the best fighter on the planet, no ifs, ands or buts about it," Henderson said during a media teleconference leading up to his UFC 144 bout with Frankie Edgar.
"I don't think me beating Frankie gets me anywhere near the conversation. I'd have to beat Frankie and beat a couple of other guys and defend the belt. What is Anderson up to? He's up to 12 right now? 13? So after I beat whatever Anderson's record is, whatever he stops at, 14 times, 15 times, after I beat that, then the conversation is going to begin."
Most critics chalked this up as crazy talk coming from an ex-WEC champion. Wasn't this the same guy that got Liu Kang'd across the cage by Anthony Pettis a little over a year ago? A walking highlight reel was going to oust Edgar, one of the greatest lightweights in UFC history?
Nostradamus couldn't have predicted what happened next, as Henderson went on to take the title from Edgar and successfully defend against him in the same year.
Is there something we're missing? Could Henderson actually surpass Silva's UFC record for title defenses?
As Henderson alluded to in the teleconference, he isn't anywhere near in the conversation of Silva, who has defended his middleweight title 10 consecutive times. There is still a lot of ground to cover, and the path to greatness at lightweight isn't nearly as smooth as at middleweight.
With that said, Henderson isn't the same fighter he was in the WEC. Since coming to the big stage, he has amassed a 5-0 record over stellar opposition.
At only 28 years of age, there is a tremendous upside to Henderson's career. He will continue to make improvements and become a better fighter.
Since his UFC debut, Henderson has been an underdog with the sole purpose of proving his critics wrong.
There's no reason that should stop now.
This article is
What is the duplicate article?
Why is this article offensive?
Where is this article plagiarized from?
Why is this article poorly edited?