Why the Pirates Not Using Gerrit Cole in Playoff Run Would Be a Huge Mistake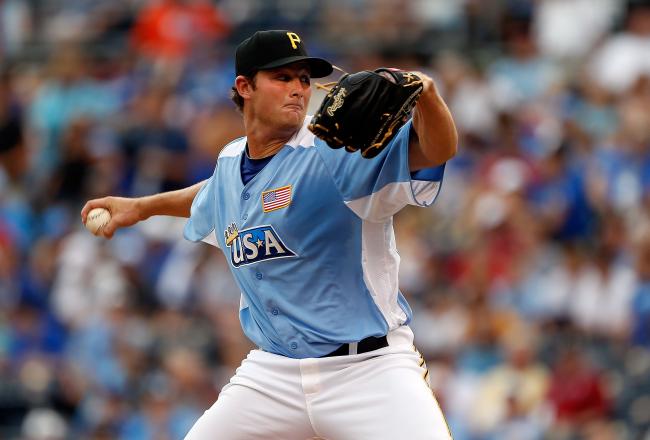 Jamie Squire/Getty Images
While the Baltimore Orioles' call-up of 20-year-old Manny Machado was unexpected, the team's corresponding promotion of baseball's top pitching prospect, Dylan Bundy, to Double-A Bowie was the shocker. With the organization all in for a playoff berth, one can only conclude that the right-hander may follow Machado's rapid ascent to the major leagues in September.
To some the idea is insane: How can you call-up a 19-year-old in his first full professional season? Others believe such a promotion is justified if it improves the team.
As we enter the final two months of the season and the thought of expanded rosters on September 1, prospect speculation is rapidly intensifying. Machado and Bundy's respective promotions have caused everyone in the baseball realm to look toward the minor leagues, hoping to identify that one superstar prospect that will lead a surge into the postseason.
Essentially the National League equivalent of the Orioles, the Pittsburgh Pirates have a tenuous grasp on the second wild-card seed with a 1.5-game lead over both the Dodgers and Giants. And considering they now trail the Reds by five games in the NL Central, the organization must consider any option that in some way ensures at least a wild-card berth.
On the prospect front, the Pirates find themselves in a position similar to that of the O's, with Pittsburgh's top prospect, Gerrit Cole, the No. 1 draft pick in 2011, currently stashed at Double-A. With arguably three plus pitches—the changeup is a real weapon when he's locating his fastball—Cole is a power arm with absolutely electric stuff. Possessing a fastball that reaches triple digits and a wipeout, late-breaking slider in the upper-80s, the 21-year-old has the potential to be a superstar-type No. 1 starter in the major leagues.
But on Sunday afternoon, Pirates GM Neal Huntington stated that the thought of promoting Cole in September had not been entertained by the organization, according to Rob Biertempful of the Pittsburgh Tribune-Review.
"We've not talked about it internally," Huntington said. "My gut [feeling] is no. We have a lot of other options, instead of rushing a young prospect."
Relative to the Dylan Bundy scenario, Cole's call-up hardly seems like a rush. In fact, it makes a hell of a lot more sense.
First of all, with Joel Hanrahan thriving as the team's closer, Cole wouldn't be asked to shut the door in the ninth—but that wouldn't make him any less valuable or dynamic.
He's pitched on a big stage before; he was the Friday night starter for UCLA, leading the team into the College World Series finals in 2010 as a sophomore while also anchoring the rotation for the U.S. Collegiate National Team.
Should the Pirates promote Cole in September?
Endless similarities can be pointed out between this and the Rays' decision to call up 2007 first-rounder David Price in mid-September of 2008. After Price made 19 starts over three levels, the Rays inserted him into the back of their bullpen, confident that the 22-year-old would improve their chances of making the playoffs. Like Cole, Price was his collegiate team's (Vanderbilt) ace as well as an accomplished pitcher for the Collegiate National Team.
Obviously there's no guarantee that Cole would have a Price-like impact. While he's been highly impressive at times this season at both levels, his mechanics are still inconsistent, and he therefore doesn't dominate opposing hitters as he should.
Overall, his numbers look great: 3.05 FIP, 0.58 HR/9, 9.25 K/9 and 2.81 BB/9. However, he's struggled to put together a string of great starts that would suggest things are beginning to click.
However, the Pirates don't need him to start and worry about working deep into games—both notions that could be detrimental to even the most experience prospect.
Rather, they need him to come out of the bullpen for an inning here and there—if even that often—and unleash his arsenal on big league hitters. That may seem like a dangerous thought, but Cole's deadly three-pitch mix is filthy enough to get hitters out at any level.
Then, after the season, they offer him more innings as a starter in the Arizona Fall League and then ideally assign him to Triple-A to open 2013. There are no red flags or reasons to believe promoting Cole to the major league bullpen in September would impede his development. He has the potential to be the Pirates ace for the years to come regardless of how he's ultimately used this season.
This article is
What is the duplicate article?
Why is this article offensive?
Where is this article plagiarized from?
Why is this article poorly edited?