Tampa Bay Rays: How Luke Scott's Return Could Affect the Roster Situation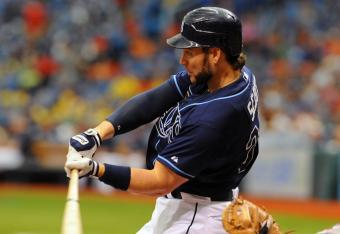 Al Messerschmidt/Getty Images
Luke Scott, who has been sidelined with an oblique strain since July, is expected to be activated from the disabled list and rejoin the Rays this week. Scott, a designated hitter, probably wouldn't be an everyday starter when he initially returns to roster as Evan Longoria is currently in the DH role.
Until the Rays decide Longoria's hamstring is healthy enough to play third base again, Scott will likely platoon with Longo and serve as a pinch-hitter.
The main question to be asked here is who will the Rays option down to make room for Scott on the 25-man roster. Sean Rodriguez—currently batting just .209/.275/.325—definitely seems like the most likely answer at the moment. The only other option really is Ryan Roberts, but the Rays are probably going to hang on to him because he provides more offensive production than Rodriguez. With the rosters expanding to 40 men on September 1, however, this minor league trip should only be a temporary one for Rodriguez.
Another thing to keep an eye on is how the Rays' infield situation will work out once the roster move is made. Joe Maddon experimentally started Ben Zobrist at shortstop (first time since 2009) for four of the last five games, which strengthened the Rays' offense by keeping the weaker bats of Rodriguez and Elliot Johnson—the Rays' only other options at short—out of the lineup.
Hopefully there is more to this "experiment," and Zobrist could see a lot more playing time at shortstop throughout the rest of the season. If he can hold up defensively at short—which he has done so far—the Rays can finally be able to put out the best possible lineup game after game. Monday night was a big step forward for Zobrist to become the Rays' permanent shortstop for the rest of the year. He got the start with Alex Cobb—the most ground-ball-heavy starter in the rotation—pitching and performed well again.
What do you think of Ben Zobrist becoming the Rays' main shortstop?
So if Zobrist does end up making the transition back to short, his original position, how would the infield shape up once Scott returns? Jeff Keppinger could man third base while Ryan Roberts takes over second, or vice versa, and Elliot Johnson would be on the bench like he has been lately.
Against left-handed starters, however, the field could have a bit of a different look. Keppinger could possibly play first instead of Pena, who Maddon is apparently planning to start less against lefties. Elliot Johnson could get the start at short if Joe decides not to start Joyce, because Zobrist would have to play right field.
We could see all these possibilities happen in the next couple of weeks, but things will be different when Longoria eventually returns to the hot corner. Against right-handers the infield would be the same except either Roberts or Keppinger would play second with Longoria at third. Against lefties Keppinger would probably start at DH instead of Scott, and Roberts would get the start at second. And once the rosters expand in September, Pena (and possibly Joyce) could be relieved of their duties at their respective positions against left-handers.
We know how Joe Maddon and the Rays love their matchups, so don't be surprised to see any of these possibilities.
In conclusion, Zobrist becoming the Rays' main shortstop is the key for them fitting as many key bats into the lineup as possible per game. Defense is obviously crucial as the shortstop position, but with Johnson owning a .970 fielding percentage and Rodriguez having a .959 percentage (both below the league average) at short, the move couldn't be much of a downgrade.
It's going to be really nice to see the Rays go from having maybe the worst shortstop combo in baseball to having a middle-of-the-order switch-hitter as their shortstop.
This article is
What is the duplicate article?
Why is this article offensive?
Where is this article plagiarized from?
Why is this article poorly edited?

Tampa Bay Rays: Like this team?