Manchester City Transfers: Is Jack Rodwell the Right Signing?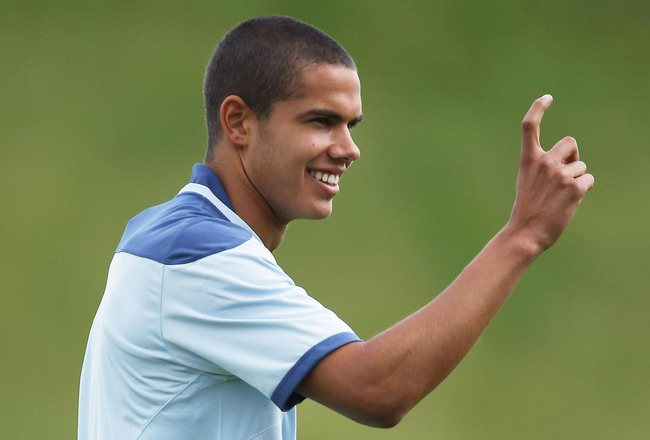 New City Signing Jack Rodwell
Ian Walton/Getty Images
Just days after several press reports, including this report from ITV.com, have commented on Manchester City boss, Roberto Mancini, bemoaning the club's lack of summer signings, they have landed their first player—Jack Rodwell.
Signed from Everton for an undisclosed fee, believed to be between £12 million (metro.co.uk) and £20 million (teamtalk.com), Rodwell's signing is likely to be met with mixed views by Manchester City fans. Now that Mancini has his first new signing on the books, is Rodwell the right man for Manchester City? Let's look.
Who Is Jack Rodwell?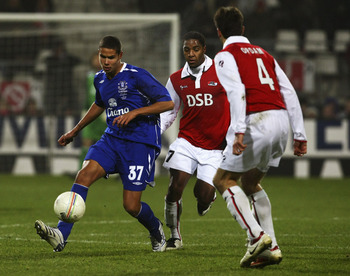 Rodwell's Everton Debut - 2007
Clive Rose/Getty Images
Jack Rodwell is a product of the Everton youth system, having joined them as a seven year old and developed through their ranks. Rodwell made his senior debut for Everton in 2007, before the age of 17, when he appeared as a substitute in their European clash with Dutch side AZ.
Over the ensuing five seasons since making his senior debut, Rodwell went on to make 109 appearances for Everton prior to his transfer to Manchester City this week.
During his time with Everton, Rodwell also represented the England national team at all competitive levels from the Under-16s to the senior squad.
His national service has included captaining the England Under-16 side, making 20 appearances for the Under-21 squad—which include inclusion on the 2009 Under-21 European Championship squad—and two appearances to date with the England Senior squad. Rodwell has made a total of 39 appearances for England throughout all the competitive levels.
Rodwell's Reputation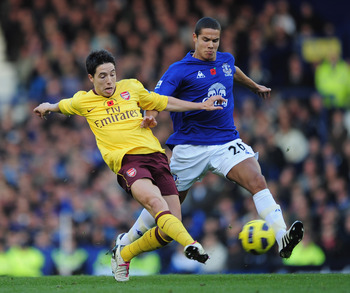 Jack Rodwell battles with new teammate, Samir Nasri
Shaun Botterill/Getty Images
Since making his debut for Everton before turning 17, Rodwell has been a highly-touted prospect. Making 39 appearances for England throughout the different age groups, and forcing his way into the Everton squad on a regular basis, Rodwell's status as one to watch was growing.
It seemed universal within the footballing media that Jack Rodwell was going to be a star for both club and country. He was touted on lists like this, from The Sun, including Rodwell as a "Top 10 future England star."
Rodwell's talent and potential were such that he was subject to constant transfer rumours of a switch to Manchester United throughout the 2010-11 Premier League season. Reports from goal.com and metro.co.uk reported that inquiries had been made by Sir Alex Ferguson and a fee was being discussed for a summer 2011 transfer.
There was even a report on manutd.com in a paper roundup written by Steve Bartram that proposed a summer bidding war between Manchester United and Real Madrid for Rodwell's services for the 2011-12 season.
Injuries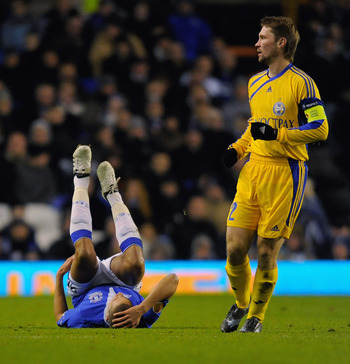 Rodwell clutches hamstring
Michael Regan/Getty Images
Injuries and football go hand in hand. Some players are lucky and suffer only minor niggles throughout their careers, or have the ability to recover quickly and with no ill result. Craig Bellamy, for example, has been plagued with knee injuries throughout his career but has managed to retain his lightning speed and acceleration that has allowed him to torment English sides for many years.
Michael Owen, on the other hand, appears to have lost the edge from his once legendary speed thanks to a succession of knee and other related injuries. It's difficult to tell how injuries will affect a player.
At just 21 years of age, Jack Rodwell knows all about injuries. In his five years with the Everton senior team, Rodwell has managed 109 appearances in all competitions. Given his obvious talents, this figure would likely be close to double that amount if not for the injuries he has amassed in his fledgling career.
Physioroom.com disclose a list of Rodwell's reported injuries dating back to 2009. In just three years, Rodwell has officially missed games through injury on 12 occasions. One of these was a virus, so for the sake of argument let's say 11 reported injuries in three years.
The main question fans will want answers about is how the repeated injury troubles will affect Rodwell's ability to compete in both the short and long term.
The troubling sign from the injury report is the recurring groin and hamstring injuries. These can be problems that will plague a player's career if there is no way to diagnose the cause of the injury so adequate treatment can be established.
According to a report by Andy Hunter on guardian.co.uk, Everton manager David Moyes was looking at sending Rodwell to German specialist Hans-Wilhelm Müller-Wohlfahrt in a bid to rid the youngster of his persistent hamstring troubles that had caused his season to prematurely end, and destroyed his hopes of making the England squad for the Euros.
Manchester City's Midfield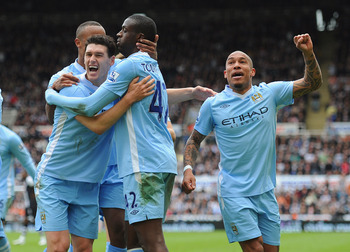 Toure, Barry and De Jong celebrate
Michael Regan/Getty Images
Manchester City just won their first title in the English top flight in 44 years. In this winning season, huge plaudits were placed on the Manchester City midfielders, which includes players like Gareth Barry, Yaya Toure, Nigel de Jong, Samir Nasri and James Milner.
All these players have been retained thus far for the new season. Given this depth through the center of midfield, will Rodwell be able to break into the team, or would staying at Everton to get regular football have been better for a still developing player?
In the defensive, or holding, midfield role that many have touted as Rodwell's best position, Manchester City have Gareth Barry and Nigel de Jong as their current main two.
In spite of QPR's Joey Barton slamming Gareth Barry last year (read a report from goal.com here), Barry is considered by many footballing experts to be an outstanding holding midfielder. He showed this time and time again for Manchester City during their run to the title, and was an essential part of the midfield.
Ahead of Barry and de Jong, City have Yaya Toure. I read several reports last season, through Bleacher Report and other sources, that were discussing the virtues of having Yaya in the team. Also, speculating as to whether he is more essential to Manchester City than the likes of Messi to Barca and Ronaldo to Madrid.
Yaya operates primarily as a box-to-box midfielder and is just as adept breaking up play in his own half as he is finishing off an attacking move with a goal.
In the more creative midfield roles, City have players like Samir Nasri and David Silva to call upon. Both players have adapted excellently to life in the English Premier League. Both have won rave reviews with their tireless performances for Manchester City and their invaluable contribution to their successful title run.
Rodwell's Role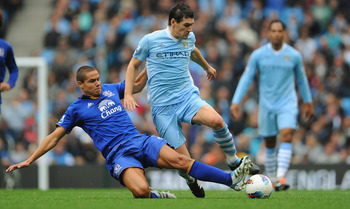 Jack Rodwell challenges new teammate, Gareth Barry
Michael Regan/Getty Images
A player of Jack Rodwell's talent can undoubtedly bring something to any team who enlist his services. So, where exactly does he fit into the Manchester City midfield.
Rodwell has played mainly in the center of Everton's midfield in his career, but has been deployed in a variety of roles within the midfield.
In the 2009-10 season, Rodwell was primarily assigned with an attacking midfield role, and received great reviews and a lot of attention from other teams with his performances. In this role, Rodwell exhibited good pace on and off the ball, impressive passing and vision and provided a great link between the midfield and attack.
In Rodwell's full debut for the England senior squad he was also instructed to get forward and support the attack. He responded by playing a fine game and having several attempts on goal as England beat their nemesis 1-0.
Defensive midfield is the role many see as Rodwell's best position.
Since his debut for the England U-21s in 2009 against Germany, and throughout his stop-start career, Rodwell has earned praise for his performances in a defensive midfeild capacity. In the 2011-12 season, before succumbing to a succession of hamstring injuries, Rodwell had forged an excellent partnership in the Everton midfield with Marouane Fellaini. Both fed off each other and knew when to stay put and when to charge forward.
Rodwell's prowess as a defensive midfielder is one of the reasons for all the speculation about a move to Manchester United.
Opinion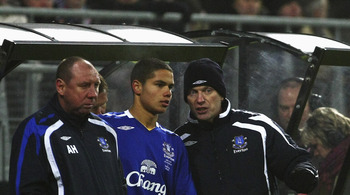 Rodwell receive instructions from manager, David Moyes
Clive Rose/Getty Images
Given the strength of the Manchester City squad, and the fact that their championship winning team is largely intact, it would be naive to think that a 21-year-old midfielder with a troublesome injury history will walk into the starting lineup and take over.
In fact, City manager Roberto Mancini is quoted in this article from goal.com stating, "Jack Rodwell is a young player who needs to improve to play at this level."
It brings up the question of why did they sign him. Was Rodwell signed because Mancini knew he had been on Fergie's radar for Manchester United for some years and feared that they were just watching and waiting for some consistency of body before purchasing him?
Was Rodwell a "panic buy" for a club who were under pressure from their manager to bring in some fresh blood? Or, does Mancini actually see the youngster as an eventual successor to the now 31-year-old Gareth Barry in the heart of the Manchester City midfield?
One thing looks to be fairly certain for Rodwell's future with Manchester City—he could be seen as the immediate replacement for their current backup defensive midfielder, Nigel de Jong.
Since before the January 2012 transfer window, there have been rumours of a move away from the Etihad Stadium for the Dutchman. In December, crunchsports.com reported that Liverpool was in for de Jong and Real Madrid and Liverpool were ready to battle for de Jong's signature when the transfer window opened in January.
Since the end of the season, there have been reports linking de Jong to Arsenal and Liverpool (see this crunchsports.com article), and more recently, mailonline.co.uk reported that Inter Milan could be a destination for the enforcer this summer. If any of these moves happen, Rodwell would be in line to play as a backup to Barry this season. The article from crunchsports.com regarding Arsenal and Liverpool's interests also states that City could be willing to let de Jong play out his contract with them before moving for free next summer.
This would limit Rodwell's chances for the 2012-13 season.
The less viable option for Rodwell is to be the player to take over from Yaya Toure. Toure was quoted in an article with mailonline.com that he "would love to return to Barcelona" to finish his career. While his quotes were vague in terms of a timeline for departure, it has to have set alarm bells ringing for Mancini and Manchester City.
With Rodwell's ability to play both defensively and offensively, he could have been bought to be groomed as their next box-to-box general.
Personally, I see Rodwell consigned to the bench or possibly to loan moves, next season and slowly being brought in to replace Barry as his career starts to slow down. What do you think?
Keep Reading

Manchester City: Like this team?