Oklahoma Sooners Football: The All-Time Dream Team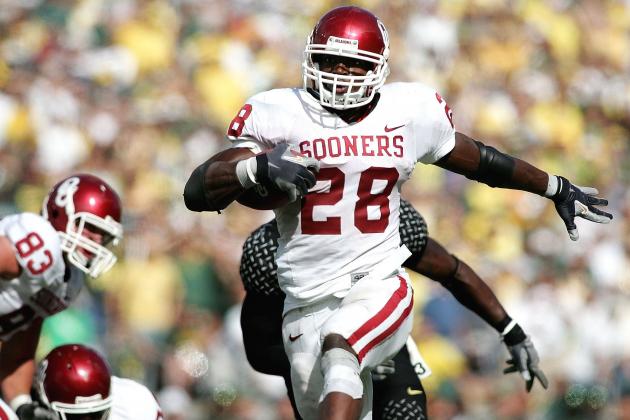 Jonathan Ferrey/Getty Images

Have you ever wondered what an Oklahoma Sooners "dream team" might look like? Well, look no further! Of course, this is my version of my dream team, so yours might look different.
What if Lee Roy Selmon, Brian Bosworth and Roy Williams all played together at the same time? What if Adrian Peterson and Billy Sims shared carries in the backfield?
Throughout the years, the Sooners have seen a bevy of talent come through the town of Norman, Oklahoma. Honestly, picking a designated starter and backup for each position turned out to be rather difficult, thanks to all of this said talent.
My thought process going into making this "dream team" wasn't necessarily clouded with facts—some guys who won more awards and placed on more All-American lists were named backups to starters with a less impressive resume.
However, I was thinking about whether or not I'd want this guy over that guy if I happened to be playing against a different dream team. Still, of course, things like this are bound to be subjective.
Begin Slideshow

»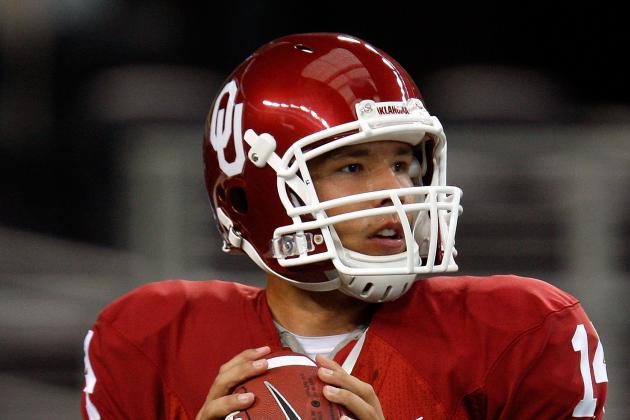 Ronald Martinez/Getty Images

Starter: Sam Bradford
Let's begin with the quarterback: the predetermined leader of our dream team. No, Sam Bradford isn't the Sooners' all-time passing yards leader, and no, he never won a national championship, but if I have to choose just one guy to be my starter, it's going to be Bradford.
Bradford didn't win a Heisman Trophy for no reason—the guy was a really great quarterback at the University of Oklahoma. Maybe it's because I'm only 24, but I've never seen another Sooner quarterback with such poise in the pocket and such an accurate arm.
After playing in just 31 games—two full seasons, three games as a junior—Bradford was able to throw for 8,403 yards, 88 touchdowns to only 16 interceptions, all while maintaining a 175.6 passer rating, the best by any Oklahoma quarterback. Had Bradford not gotten injured during his junior season, I have no doubt that he would be sitting on top of every all-time Oklahoma record (for quarterbacks, of course).
Backup: Jason White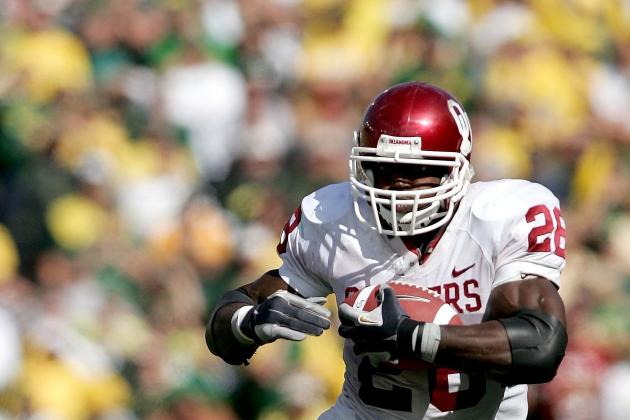 Jonathan Ferrey/Getty Images

Starter: Adrian Peterson
Adrian "All Day" Peterson was something to marvel at; well, he technically still is, but he looked even more impressive against college athletes. At 6'1" and 215 pounds with ungodly amounts of speed and power, Peterson was tough for any defense to bring down.
As a freshman, Peterson ran the ball 314 times for 1,843 yards and 15 touchdowns. He was the first-ever finalist for the Doak Walker Award and also a Heisman Trophy finalist. In his three-year career as a Sooner, Peterson averaged over 130 yards per game on the ground.
Peterson ranks only behind Billy Sims and Joe Washington in terms of all-time rushing yards as a Sooner, and that's even after suffering a few injuries and missing more than a handful of games.
If Peterson is 100 percent, then there's nobody else like him. He is the No. 1 back on my dream team, which may be a bit controversial for Billy Sims fans. However, the way I look at it, if I can only choose one running back to carry the load for a Sooners dream team, it has to be Peterson. The guy has too much talent to be a backup.
Backup: Steve Owens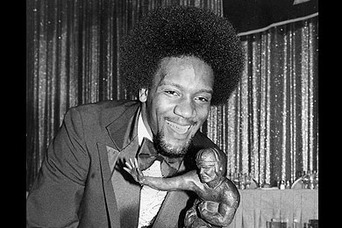 Photo Credit: AP Photo/Dave Pickoff
Starter: Billy Sims
After much deliberation, I've decided to make a huge decision: I'm forgoing the fullback position on my dream team and instead giving two running backs "starter" nominations. To be fair, if Bradford is my quarterback, I'm going to be out of the shotgun formation more times than not, so is a fullback really necessary?
Peterson may be my No. 1 back, but Billy Sims will get his fair share of carries on this team. If Peterson goes down with an injury, there's not another back to whom I'd rather give his job.
Sims had a very decorated career as a Sooner. Not only is he the team's all-time leading rusher with 4.111 yards, he also won the Heisman Trophy in 1978, finished second for the Heisman Trophy in 1979, was a consensus All-American in 1978 and 1979 and is a member of the College Football Hall of Fame.
Backup: Joe Washington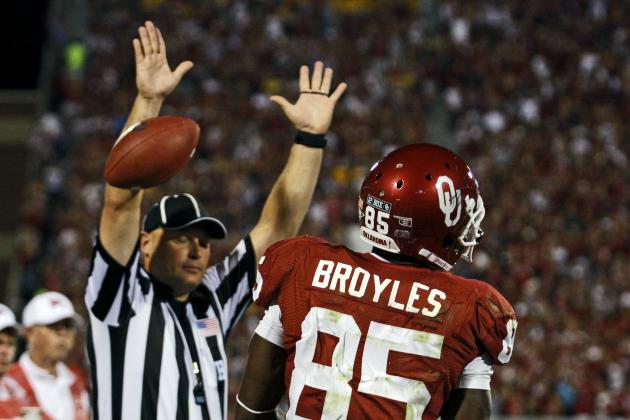 Brett Deering/Getty Images

Starter: Ryan Broyles
Given that Ryan Broyles just graduated a few months ago, it may be a bit early to declare him as the best receiver in Oklahoma Sooners history. However, I'm going to go ahead and do it.
Whether Broyles was the most talented wide receiver in Sooners history is certainly debatable, but he was without a doubt the most productive. He is the Sooners' all-time leader in both receptions and receiving yards, and it's not even close.
Last season, despite missing four games due to injury, Broyles was still able to record enough receptions to become the all-time receptions leader in FBS history. He has been a consensus All-American twice (2010-11) and First Team All-Big 12 twice (2010-11).
Broyles' success was certainly benefited by the Sooners' spread attack offense, but his reliability and sure hands were unquestionable.
Backup: Juaquin Iglesias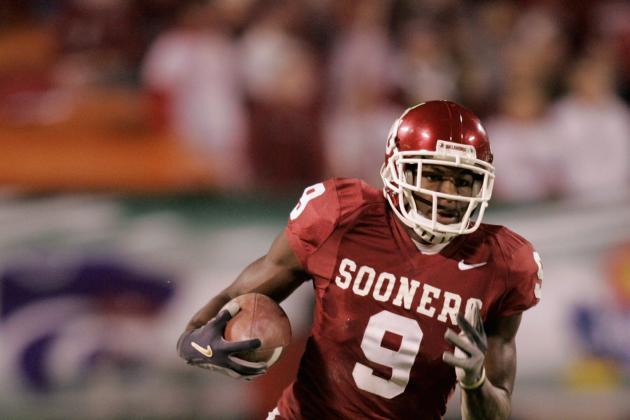 Dilip Vishwanat/Getty Images

Starter: Mark Clayton
This is where the debate is supposed to take place: Mark Clayton or Ryan Broyles? Like I said on the last slide, there's no debating Broyles' production. Broyles had 1,350 more receiving yards and caught over 120 more passes than Clayton.
Clayton also only had one season in which he produced over 1,000 yards receiving, whereas Broyles had just two. Still, Clayton is second all-time on the Sooners' receiving yards list and rightfully deserves some recognition for his stellar career.
At 5'10" and 190 pounds, Clayton and Broyles are relatively the same size, so neither are Calvin Johnson-esque in terms of size and athleticism. However, Bradford wouldn't have two better receivers to whom he can throw.
And at 6'4" and 225 pounds, Malcolm Kelly would be a great sub to bring off the bench and mix things up.
Backup: Malcolm Kelly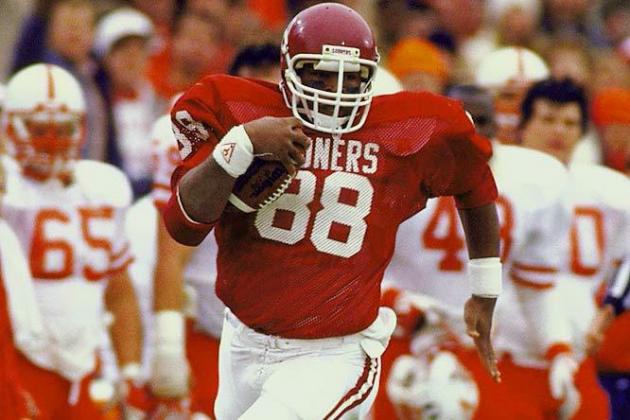 Photo Credit: Sports Illustrated
Starter: Keith Jackson
Keith Jackson was not only one of the most prolific football players in Sooners history, he was also one of the most prolific football players in the history of college football. Jackson set the bar for receiving tight ends and finished his career with 62 receptions for 1,407 yards and 14 touchdowns.
Jackson was a beast at 6'2" and 258 pounds. His size and talent made him virtually unstoppable, which alludes to his 23.7 yards per catch average. He was a consensus All-American twice in his career (1986-87) and was inducted into the College Football Hall of Fame in 2001.
He is without a doubt the No. 1 option at tight end for my dream team, but if I ever have to run a double-tight set or split a tight end out for fun, having Jermaine Gresham as a backup is probably a wise decision.
Backup: Jermaine Gresham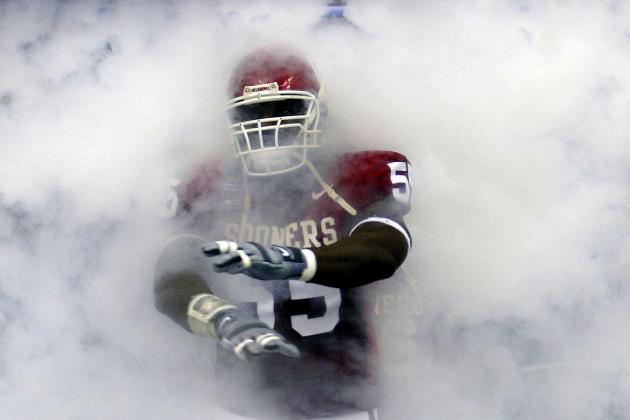 Brian Bahr/Getty Images

Starter: Jammal Brown
Jammal Brown is more than just a big body, but at 6'6" and 310 pounds, his size definitely helps his candidacy for being one of the offensive tackles on this dream team. Brown may very well be the best offensive lineman in Sooners history.
Brown saw playing time as a freshman, but he moved into a full-time starter's role during his sophomore season. During his first year as a starter, Brown committed only one penalty. His junior season was filled with more of the same: consistently great production, only allowing one sack, etc.
However, it wasn't until his senior season that Brown finally was recognized for his outstanding play. He became the fifth Sooner to win the Outland Trophy after anchoring an offensive line that paved the way for Adrian Peterson's breakout freshman season.
Backup: Jim Weatherall
Starter: Anthony Phillips
Anthony Phillips is more or less the Gabe Ikard of the 1980s. What I mean by that is, Phillips, like Ikard now, was a very versatile offensive lineman. There would be times that Phillips would lineup at tackle, but his primary position was guard, and Ikard's ability to play both guard and center (and probably tackle if he desired) is very similar.
Phillips' versatility stems from his on-the-field and off-the-field IQ. Phillips was named Academic All-Big Eight four times as well as GTE/CoSIDA Academic All-America in 1987.
His stellar play was rewarded with two All-American honors in 1986 and 1987, and he was also named All Conference every season as a Sooner.
Backup: Buddy Burris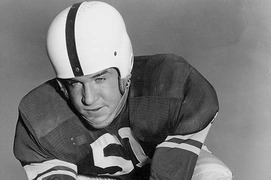 Starter: Kurt Burris
As much as I'd like to pay homage to recently retired Ben Habern for his great career as a Sooner, I can't put him over either Kurt Burris or Jerry Tubbs. Burris, my starter, was a huge factor in Oklahoma's success in the 1950s.
In 1954, Burris anchored an offensive line that helped the Sooners to an undefeated season. That year, he was also named Offensive Lineman of the Year, was a consensus All-American and finished second in the voting for the Heisman Trophy.
An offensive lineman finishing second for the Heisman Trophy sounds unheard of for our (well, I should say my) generation—sign him up!
Backup: Jerry Tubbs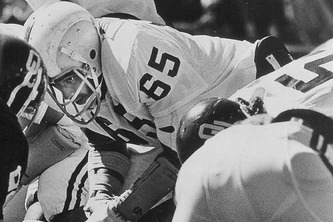 Starter: Greg Roberts
Anthony Phillips may have been the smartest and most versatile offensive lineman in Sooners history, but Greg Roberts may have just simply been the best offensive guard that ever wore crimson and cream.
Roberts was a two-time All-American in 1977 and 1978 and was the fourth Sooner to win the Outland Trophy. Roberts was a dominant right guard that helped clear the way for Billy Sims. He anchored a line that helped the Sooners offense lead the nation in scoring and rushing yards.
As much as I would have liked to use Gabe Ikard in one of my offensive guard positions, it's hard to argue with Anthony Phillips and Greg Roberts. My dream team line is looking pretty great.
Backup: Mark Hutson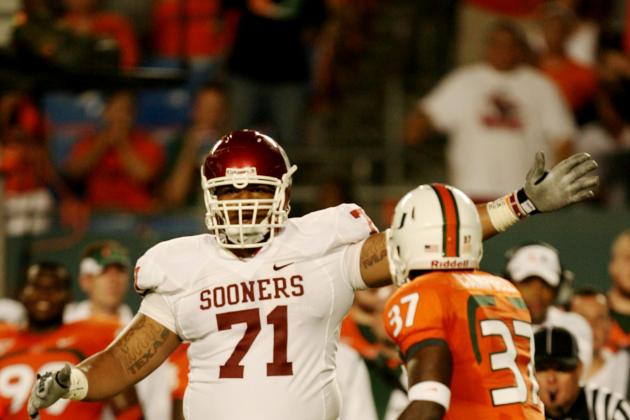 Doug Benc/Getty Images

Starter: Trent Williams
In what might be the upset of the article, I've elected to use former Sooners tackle Trent Williams as my starter over past legends such as Mike Vaughn and Jim Weatherall. My reasoning? Well, I guess I have a few.
The first of which is his size and modern-day athleticism. At 6'5" and 318 pounds, Williams was a dominant force on the Sooners offensive line. With Williams and Jammal Brown anchoring my dream team's offensive line, Bradford is going to have all day to throw the ball, which consequently leads me to my next point.
I need Williams because of his pass-blocking ability. Bradford is definitely going to be throwing the ball a lot, even with Peterson and Sims in the backfield. Williams has a history of blocking for Bradford, anyway. It all works out!
Backup: Mike Vaughan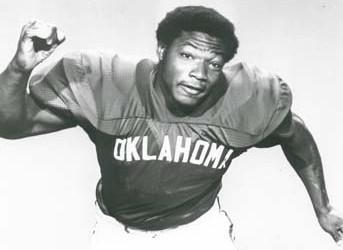 Photo Credit: Jim Thorpe Association
Starter: Lee Roy Selmon
Now we move to the defense, and what better way to start than with arguably the best player in Sooners history? Lee Roy Selmon was a dominant defensive lineman in the mid-1970s, and he would be a dominant defensive lineman if he were playing today.
He's one of the rare athletes that would have no problem transcending decades thanks to his superior talent and athleticism. Selmon was an absolute monster in college, where he anchored the defensive line that won the national championship in both 1974 and 1975. He topped his collegiate career off by winning both the Lombardi Award and the Outland Trophy in 1975.
Selmon also finished as an All-American in both 1974 and 1975. Spanning his final two seasons as a Sooner, Selmon recorded 104 tackles and 28 sacks. Ridiculous.
Backup: Rick Bryan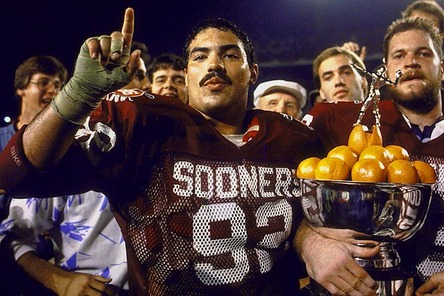 Photo Credit: Sports Illustrated
Starter: Tony Casillas
If Lee Roy Selmon is the best defensive lineman in Sooners history, Tony Casillas would have to be ranked No. 2. Casillas was a tough, hard-working nose guard that anchored the Sooners defensive line to a national championship in his senior season.
Barry Switzer, his coach at the time, labeled Casillas as perhaps the best the defensive lineman in Oklahoma history. Though he likely doesn't measure up to Selmon, Casillas still had a rather decorated career as a Sooner.
Aside from winning a national championship, Casillas also was named a consensus All-American in 1984 and 1985. His awards as a Sooner include: Defensive Player of the Year in the Big Eight (1984), National Lineman of the Year by UPI (1984) and the Vince Lombardi Award (1985).
Backup: Granville Liggins
Harry How/Getty Images

Starter: Tommie Harris
It's really hard to pick another interior lineman to play alongside Tony Casillas on this dream team, and it's not because there aren't very many options. Just to name a few, Tommie Harris, Dewey Selmon, Gerald McCoy and Granville Liggins are all viable options.
I'm giving the nod to Harris to be the starter, but having Selmon and Liggins as backups/rotation players helps ease the uncertainty. To be fair, Harris is more than qualified to be the starter.
Harris was a consensus All-American in both 2002 and 2003. After finishing as the runner-up for the Vince Lombardi Award in 2002, Harris returned for his junior season to claim the top spot in 2003. Harris continually fought through double-teams all season, and even then offensive lines had trouble containing him.
Harris is just another great example of the long-line of talented defensive tackles that have come into Norman, OK, and dominated.
Backup: Dewey Selmon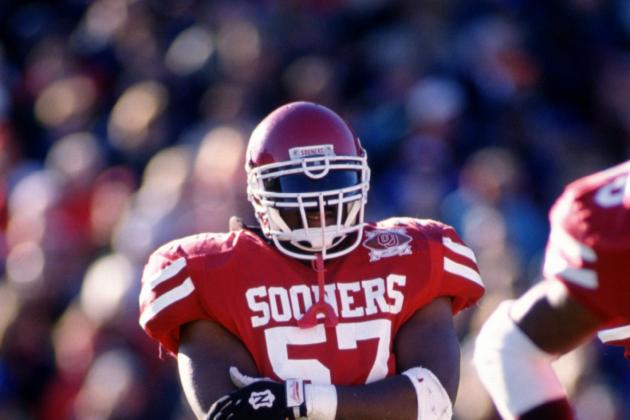 Jamie Squire/Getty Images

Starter: Cedric Jones
Starting at defensive end opposite of Lee Roy Selmon is often-unheralded Cedric Jones. I feel like less is mentioned about Jones, possibly due to his lackluster NFL career, but that shouldn't outweigh his performances as a Sooner.
Jones was unstoppable coming off the edge for the Sooners in the mid-1990s. His ability to get into the opposing team's backfield has been unmatched since his departure (and even before), and his terrifying pass-rush proved worthy enough for All-American honors in 1995.
Jones finished his college career with 31.5 sacks and 46.5 tackles for loss. In 1994 alone, Jones finished the season with 14 sacks. Why is this guy not talked about more?
Backup: Jimbo Elrod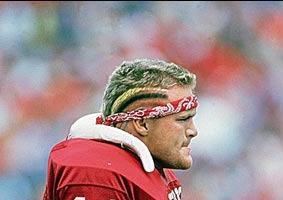 Photo Credit: Orlando Sentinel
Starter: Brian Bosworth
Brian "The Boz" Bosworth is normally noted as the best linebacker in Sooners history. This would be an amazing feat in itself, but given the school's rich history of linebackers, this is a huge honor.
Though Bosworth was very well recognized for his wild style and cocky nature, his relentlessly brutal tackles made him a widely-feared linebacker throughout college football. The Boz led the Sooners in tackles in 1984, 1985 and 1986. He was also the winner of the first two Butkus Awards, which honors the nation's top linebacker.
To this day, Bosworth is still the only player that has garnered more than one Butkus Award. His two consensus All-American honors, three All-Big 8 honors and one Academic All-American honor add to his legacy as one of the best linebackers in college football history.
Backup: Daryl Hunt
Photo Credit: Brian Bahr/Getty Images
Starter: Rocky Calmus
After the Boz, Rocky Calmus could be the second-best linebacker in Sooners history. The guy was the definition of "tough." Consequently, Calmus was deemed the "toughest player in college football" by The Sporting News following Oklahoma's national championship season in 2000.
Though the Sooners defense in 2000 was littered with talent, Calmus was the heart and soul... and the muscle. During his final three seasons as a Sooner, Calmus led the team in tackles each season, and to this day, Calmus has recorded the most tackles for loss by any linebacker in Sooner history.
His dominant performances were well recognized. During his senior season, he won the Dick Butkus Award as the nation's top linebacker but also finished as a finalist for the Nagurski, Bednarik and Lombardi Awards.
Backup: Travis Lewis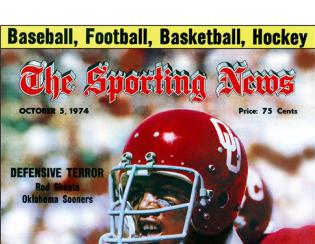 Starter: Rod Shoate
I feel like this final linebacker position could have gone a number of different ways. Teddy Lehman, Travis Lewis, Daryl Hunt and George Cumby were all worthy, but I'm giving the edge to Rod Shoate. As you can see in the picture, Shoate was labeled as a "defensive terror" among all of college football.
Shoate's size and speed were unmatched among most linebackers in college football. He was everywhere on the field at all times, which alludes to his 426 career tackles—good enough for fifth all-time as a Sooner.
Shoate received All-American honors three seasons in a row (1972-74) and remains one of only two Sooners to ever achieve such a feat.
Backup: Teddy Lehman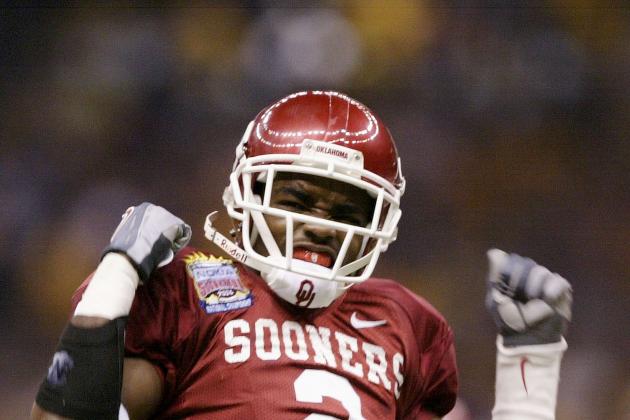 Brian Bahr/Getty Images

Starter: Derrick Strait
Derrick Strait had a great career as a Sooner, and it all started during the their national championship season in 2000. As a redshirt freshman, Strait earned the Big 12 Defensive Newcomer of the Year Award, and after that, he never looked back.
Not only was he a dependable defensive back, he was also durable. Strait started 53 games as a Sooner, which helped him earn the right as best defensive back in Sooner history. As a senior, Strait won both the Nagurski and Thorpe Awards. He was also named a consensus All-American.
Strait set career records as a Sooner in both interception return yards (397) and passes broken up (53). I think it's safe to say that the Sooners have missed his presence in the defensive backfield.
Backup: Zac Henderson
Ronald Martinez/Getty Images

Starter: J.T. Thatcher
Every time I hear the name "J.T. Thatcher," I automatically think of "TD snatcher." That's mostly thanks to a surprisingly catchy and memorable "Sooner Rap" that was made after the Sooners won the national championship in 2000.
However, the nickname is fitting, as Thatcher recorded eight interceptions during the 2000 season. He was one of the best ball hawks in the country, and the Sooners haven't had a free safety of the same caliber since his graduation. Unless, of course, Tony Jefferson proves us otherwise (and I think he will).
Thatcher's great senior season deemed worthy enough for consensus All-American honors. He was also a finalist for the Jim Thorpe Award in 2000. However, defensive back wasn't the only position that Thatcher completely owned during his time as a Sooner, as he was also named an All-American as a return man.
Thatcher's presence on this team might be debatable, but at least he provides talent in multiple areas.
Backup: Tony Jefferson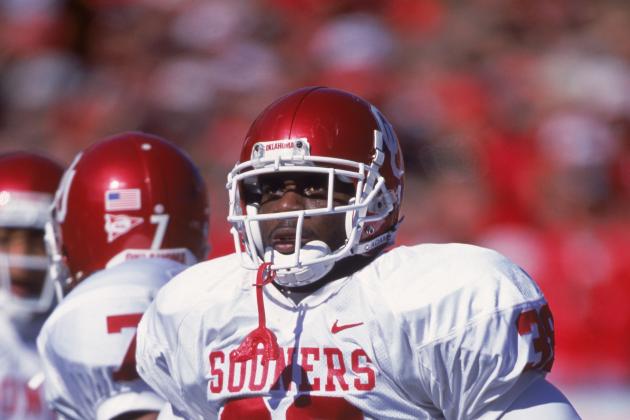 Scott Halleran/Getty Images

Starter: Roy Williams
Other than Lee Roy Selmon, Roy Williams may have my vote as the best defensive player to ever wear a Sooners uniform. I know, that's a pretty heavy statement with some of the other names on this list, but Williams was a monster.
Though he may be best remembered for his "Superman" tackle in the Red River Shootout, Williams' whole career as a Sooner was astonishing. He quickly became renowned in the college football world for his brutal, hold-nothing-back type tackles. He was feared and respected, two things that went hand-in-hand.
In 2001, Williams' junior season, he was named a consensus All-American for the first (and only) time. However, he also won the Bronko Nagurski Trophy (honoring the nation's top defender), the Jim Thorpe Award (honoring the nation's top defensive back) and the Jack Tatum Trophy (again, honoring the nation's top defensive back).
Backup: Brodney Pool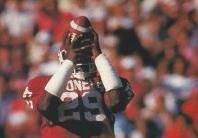 Photo Credit: Fanbase
Starter: Rickey Dixon
I'm giving Rickey Dixon the nod as the starting cornerback opposite of Derrick Strait on this dream team. Though he wasn't on quite the same level as Strait, Dixon had a solid college career in his own right.
Like Strait, Dixon was awarded with the Jim Thorpe Award as a senior and named a consensus All-American. Also like Strait, Dixon was a major player in a national championship victory early in his career and was named All-Conference in both 1986 and 1987.
Dixon may not have as impressive of a resume as either Zac Henderson or Darrell Royal, but he wins out on my dream team due to his athleticism. I feel like Dixon would have an easier job covering other team's "dream team" caliber wideouts than either Henderson Royal.
Maybe that's just me, though.
Backup: Darrell Royal