NBA Eastern Conference: 5 Reasons the Pacers Will Challenge for Conference Crown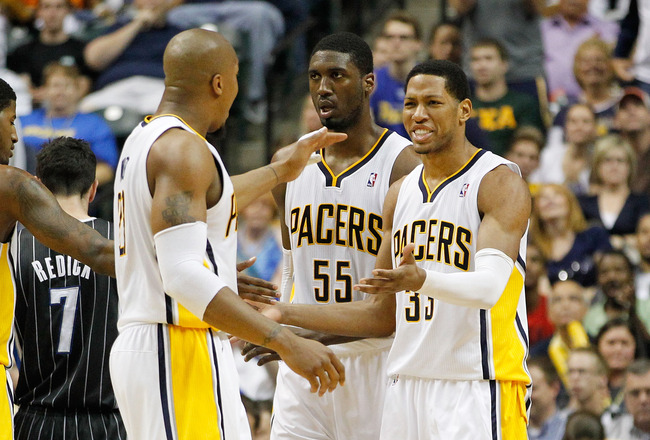 Gregory Shamus/Getty Images
Over the past several seasons, the NBA has watched the Indiana Pacers take off in the Eastern Conference due to smart draft picks, trades and good coaching.
That success culminated in a third place finish in the Eastern Conference and a hard fought second round playoff loss against the eventual champions, the Miami Heat, last season.
While the Pacers already seem to have had a breakout year, things are still looking up for the team who won 42 games last year.
Because of their youth, talent and team chemistry, the Indiana Pacers will challenge for the Eastern Conference crown and here are the reasons why.
1. No More Chicago Bulls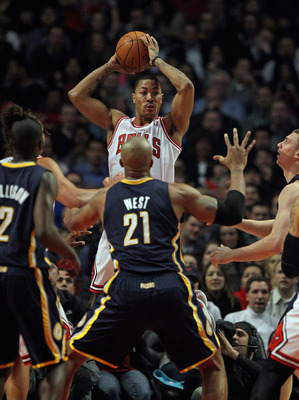 Jonathan Daniel/Getty Images
Last season, the team to beat in the regular season was the Chicago Bulls, who won 50 of their games despite Derrick Rose missing 27 games due to a variety of injuries.
Unfortunately for the Bulls, but fortunately for the rest of the league, Rose will likely miss a good portion of the coming regular season.
Without Rose, the Bulls simply aren't the threat that they have been for the past two years and Indiana should be able to pass them in the standings with ease. Although they were able to continue winning with Derrick missing 27 games last season, having an entire year without him is a much bigger task to face.
Last season the Pacers ended up eight games behind the Bulls in the Eastern Conference, good for third place. With the Bulls out of the way, Indiana should be able to move up the ladder.
2. Roy Hibbert's Development and the Lack of Big Men in the East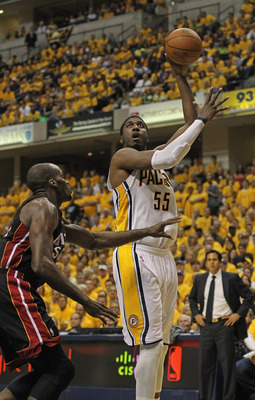 Jonathan Daniel/Getty Images
This offseason Indiana locked up Roy Hibbert with a four year max contract. While most people consider this an outrageous amount of money to spend on the 25-year-old big man, Hibbert will prove that he is well worth the money over the next season.
Last season Hibbert averaged 12.8 points, 8.8 rebounds and 2 blocks per game. Furthermore, he saw his rebounding numbers go up drastically to 11.2 per game in the postseason, along with a nine block performance in the first game of the Pacers playoffs against the Orlando Magic.
More importantly, he is only 25 and has considerable room to grow, especially given that he has only been in the league for four years.
Hibbert gives the Pacers something that few teams in the East have—a skilled player who is taller than seven feet. Despite his numbers, which were not outstanding, Roy managed to make the All-Star team last year, which should speak volumes about the poor crop of centers that the East has.
There is a very good possibility that Hibbert will continue to grow as a player, which is something that should allow Indiana to create match-up problems with almost every team they play next year, especially the Miami Heat.
3. The Emergence of Paul George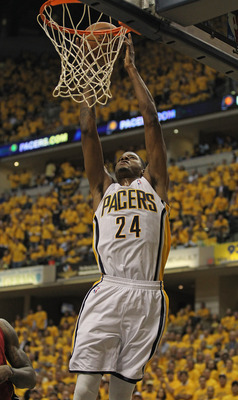 Jonathan Daniel/Getty Images
Paul George has quickly become one of the most hyped young players in the NBA mostly due to his freakish athleticism and talent. George will be a third year player this coming season after averaging over 12 points and 5.6 rebounds per game last year.
The first place that George will hopefully improve is in his scoring. He has shown that he can knock down the outside shot as well as score at the rim. If the Pacers are smart, they will find a way to give both George and Hibbert more touches on the offensive end.
Where George should be more valued, and will continue to improve, is on the defensive end. Being 6'10", Paul George should really be somewhere between a small forward and power forward. Over last season, however, he showed a great ability to defend opposing shooting guards which is not easy at his size.
If all goes well, Paul George will use his length and athleticism to give problems to whichever player is the opposing team's best scorer. Supposing George is able to do that, he will prove to be a versatile asset for the Pacers moving forward.
4. Offseason Acquisitions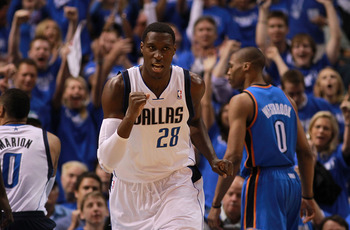 Ronald Martinez/Getty Images
This offseason, the Pacers have managed to re-sign key players Roy Hibbert and George Hill, which will be huge for them going forward. Beyond those two moves, however, the Pacers have had several small, but great, acquisitions over the offseason.
First, the Pacers sent off point guard Darren Collison to the Dallas Mavericks for center Ian Mahinmi. This deal will give Indiana a big man who can come in and give quality defensive minutes. Last season, Mahinmi averaged 4.7 rebounds per game in fewer than 20 minutes.
That deal, however, would have left the Pacers with only combo guard George Hill had they not also managed to pick up D.J. Augustin through the free agency. Last season Augustin averaged 6.4 assists per game, 1.6 more than Collison, to go along with 11.1 points and will give Indiana a great option as a point guard off the bench.
While neither of these players are great, they should prove to be key players as each fills an important role. Combine them with draft pick Miles Plumlee, who the jury is still out on, and they should give Indiana one of the best benches in the league.
5. Team Chemistry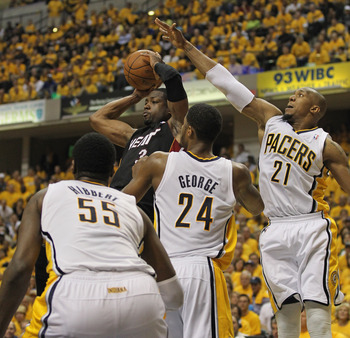 Jonathan Daniel/Getty Images
This final piece will be a huge, yet underrated, part of next season's success for Indiana. The Pacers are finally beginning to come together as a unit and now have a full year under their belt with all of their starters.
The most important things for the Pacer's chemistry this year will be that David West has had a year to jell with the team, Paul George is no longer a second year NBA player, and that Danny Granger has hopefully found his role on a team which does not need him to shoot quite as much.
While Indiana has several new players to break in, they all are role players who should catch on quick. This season, due to the added experience that Indiana has together, they will play better defense, score more efficiently and win games as a solid unit.
Keep Reading

Indiana Pacers: Like this team?