Seattle Seahawks: Which Seahawks Are Having Worst Training Camps?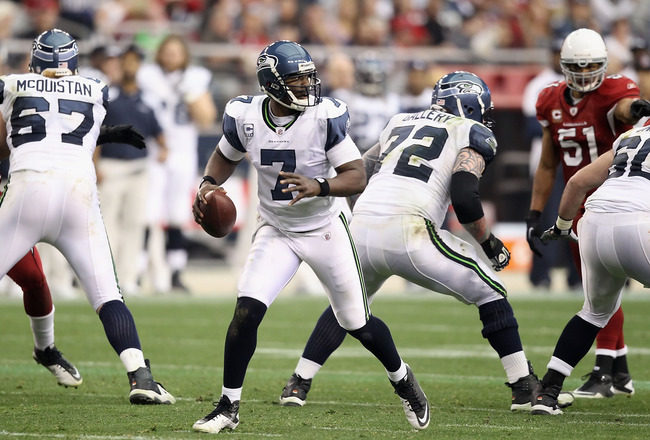 Christian Petersen/Getty Images
The Seattle Seahawks got off to a quick start in the preseason by nabbing a 27-17 victory against the Tennessee Titans.
Head coach Pete Carroll has garnered plenty of attention throughout training camp by bringing in various new faces. Terrell Owens, Kellen Winslow and Braylon Edwards are just a few of the newest additions, and Hawks fans are eager to see how they will benefit the team.
As training camp moves forward, many players are competing for a limited amount of roster spots. Some will be cut before the end of training camp, although it is still unclear who will be called upon when the season officially opens on Sunday, Sept. 9.
Obviously there are questions surrounding the quarterback situation in Seattle, and the first preseason game did little to provide insight into who will be starting under center.
Here are a few players who have not impressed during camp thus far.
Kris Durham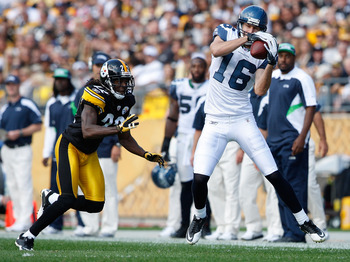 Jared Wickerham/Getty Images
The second-year receiver out of Georgia is a big target. He stands 6'6" and represents a true big-play receiver.
But so far during camp, Durham has been mostly forgettable.
He finished the first game with no catches, although he was only targeted once during the game. However, with his combination of size and strength Durham should be able to create space down the field.
The Hawks were counting on Durham to help alleviate the burden of Mike Williams being released before camp, but apparently Durham may not be the answer.
With Durham already on the roster, Seattle made the decision to target not only Braylon Edwards, but also Terrell Owens. Both represent a big-bodied receiver that can help move the ball downfield.
Even if Owens does not make it out of camp, one of the two will grab a roster spot, which will leave one less for Durham.
He needs to make a justified impact during the remainder of camp if he wants to make the cut.
Barrett Ruud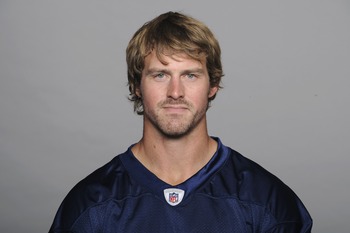 Handout/Getty Images
After the departure of leading tackler David Hawthorne to New Orleans, Seattle was left searching for his replacement.
Ruud was signed after an injury-plagued season with Tennessee. He played in only nine games last season due to a groin injury.
Some believed Ruud would step into the starting role, as he is regarded as a tackling machine. He eclipsed more than 114 tackles four times during his career while in Tampa Bay.
However, Ruud's window may be closing, as rookie Bobby Wagner has emerged as a leading candidate to grab the starting gig.
Wagner has already drawn comparisons to Patrick Willis, and his speed and tackling ability has been highlighted during camp.
Ruud did not play against the Titans because of a sore left knee, but he must be able to get back on the field to grab the starting job.
If he can't contribute, then Seattle will have to count on the rookie Wagner to solidify the middle of their defense.
Tarvaris Jackson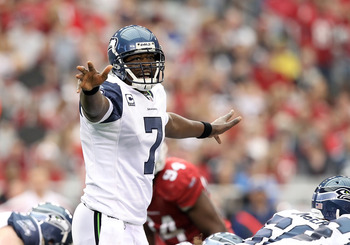 Christian Petersen/Getty Images
Jackson has been the topic of debate throughout Seahawks camp, and not particularly for the right reasons.
He sat out the opening preseason game because the coaches said they were already familiar with Jackson. Carroll said the coaches could evaluate his performance from last year rather than in preseason games.
Jackson earned respect from the coaching staff after his gritty performance last season, when he played with a torn pectoral. Regardless of the injury, Jackson's play was mostly erratic over the course of last year.
Through camp, Jackson has not been much better. He has gotten reps with the first team during training camp, and he completed 4-of-12 passes during a scrimmage.
After Matt Flynn and Russell Wilson impressed during the preseason opener, Jackson's chances may continue to dwindle.
He is owed $4 million this season, but without a justified role on the team, his days may be numbered.
According to the Seattle Times, if Flynn and Wilson both continue to impress during the preseason, keeping Jackson may be unnecessary.
He will have to prove his worth during the remainder of camp if he wants a roster spot moving forward.
Keep Reading

Seattle Seahawks: Like this team?