What If Team USA Stayed with All College Players?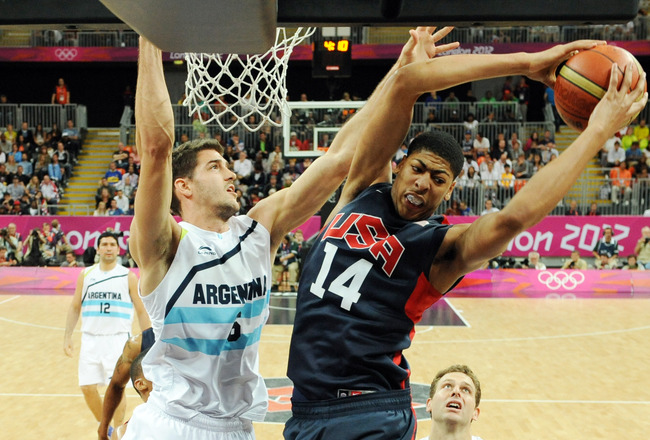 Pool/Getty Images
For the fifth time in six tries since the advent of the original Dream Team, the U.S. took home Olympic gold in men's basketball this year. But how different would those rosters have looked if Team USA had stuck with its old policy of bringing only college players to compete on the Olympic stage?
From Christian Laettner in 1992 to Anthony Davis this summer, the few token collegians who've cracked the real-life Olympic rosters would have become leaders of much younger—but still talent-rich—American squads. After all, while there's no replacing the likes of Kevin Durant and LeBron James, a 2012 team with Thomas Robinson and Michael Kidd-Gilchrist joining Davis would've been a dangerous group in its own right.
Read on for a look at the hypothetical Team USA rosters for each of the last six Olympiads, using only players who would've been eligible under pre-Dream Team rules.
1992 Bench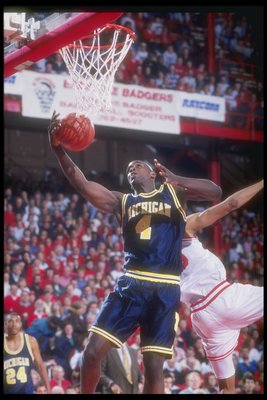 Todd Rosenberg/Getty Images
C Alonzo Mourning (Sr., Georgetown)
PF Chris Webber (Fr., Michigan)
SF Don MacLean (Sr., UCLA)
SG Calbert Cheaney (Jr., Indiana)
PG Nick Van Exel (Jr., Cincinnati)
SG Doug Christie (Jr., Pepperdine)
SF Clarence Weatherspoon (Sr., Southern Miss)
Obviously, depth in the post would hardly have been a problem for the 1992 squad, with Mourning (coming off his best scoring year as a senior) and C-Webb (who had just led the Fab Five to the national title game) at the forefront.
Cheaney and Van Exel would've brought ample three-point shooting (.387 and .380, respectively), with Van Exel anchoring the perimeter D nearly as effectively as Mourning would do on the inside.
College-era Olympic rosters routinely featured a few guys from lower-profile schools, and this edition would've had a nice pair of reserve options in versatile forward Weatherspoon and defensive specialist Christie.
The closest thing to a weak link here would've been the gangly MacLean, an effective scorer but hardly athletic enough to run the floor with this fleet-footed squad.
1992 Starting Five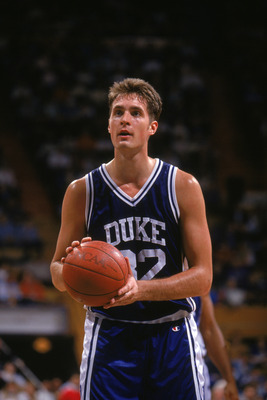 Rick Stewart/Getty Images
C Shaquille O'Neal (Jr., LSU)
PF Christian Laettner (Sr., Duke)
SF Jimmy Jackson (Jr., Ohio State)
SG Harold Miner (Jr., USC)
PG Bobby Hurley (Sr., Duke)
With Duke coming off its second straight national title, it would've been an easy call to pair Laettner (the one college player on the actual Dream Team) in the starting lineup with Hurley, the best point guard in college history.
Of course, the heart of the team would've been a young Shaq, fresh off being picked No. 1 overall by the Magic.
The real Michael Jordan is no longer an option, so this Team USA settles for "Baby Jordan," as the high-flying Miner was nicknamed.
He and O'Neal would've gotten the lion's share of the highlights, but the jump-shooting prowess of Laettner and Jackson (whose Buckeyes won the Big Ten in 1991-92) would've meant just as much to the team's success.
1996 Bench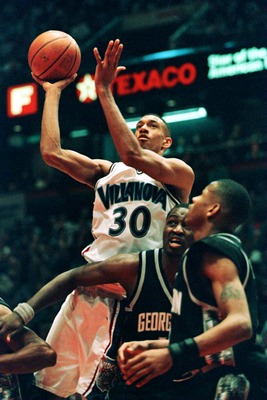 Doug Pensinger/Getty Images
C Erick Dampier (Jr., Mississippi State)
PF John Wallace (Sr., Syracuse)
SF Keith Van Horn (Jr., Utah)
SG Kerry Kittles (Sr., Villanova)
PG Derek Fisher (Sr., Arkansas-Little Rock)
SF Shareef Abdur-Rahim (Fr., California)
PF Antoine Walker (So., Kentucky)
With a decidedly non-traditional point guard in the starting lineup (see next slide), the Team USA coaches play it conservative and pick Fisher—a four-year starter in the tiny Sun Belt Conference—over mercurial Georgia Tech freshman Stephon Marbury.
Not that this bench doesn't already feature its share of ball-hogs, with the shot-happy duo of Walker (coming off a national title at Kentucky) and Van Horn (already having scored 20 points a game in his last two seasons at Utah).
Great length inside—the 6'8" Wallace is the shortest member of the frontcourt—would've had to carry an iffy perimeter game. Walker hadn't yet developed his long-range shot, leaving Kittles and Van Horn as the only serious three-point threats here.
1996 Starting Five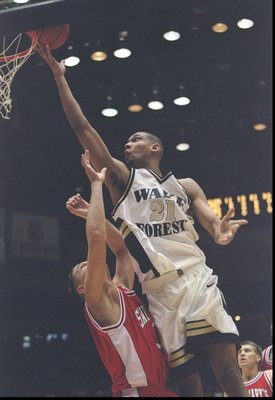 Todd Warshaw/Getty Images
C Tim Duncan (Jr., Wake Forest)
PF Marcus Camby (Jr., UMass)
SG Ray Allen (Jr., UConn)
SG Tony Delk (Sr., Kentucky)
PG Allen Iverson (So., Georgetown)
Without a bona fide small forward worth starting, Team USA goes to a three-guard look led by scoring stars Allen Iverson and Ray Allen.
Delk may not have had the NBA career of that duo, but the backcourt leader of the national champion Wildcats had scored 17.8 points a game in his senior season while knocking down 44.3 percent of his shots from deep.
The undersized wings (especially the 6'1" Delk) might've created a few matchup issues on defense, but having two of history's greatest shot-blockers in the post covers a multitude of sins.
Duncan and Camby combined for 248 blocks as college juniors, and both could run the floor with the best—meaning that Iverson could have led some awe-inspiring fast breaks in this offense.
2000 Bench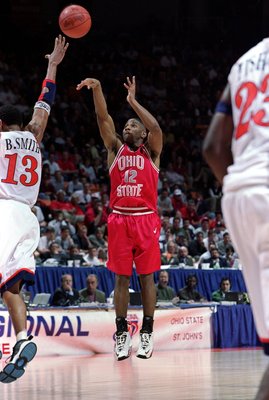 Todd Warshaw/Getty Images
C Chris Mihm (Jr., Texas)
PF Marcus Fizer (Jr., Iowa State)
SF Michael Wright (So., Arizona)
SG Courtney Alexander (Sr., Fresno State)
PG Scoonie Penn (Sr., Ohio State)
PG Speedy Claxton (Sr., Hofstra)
SF Mike Miller (So., Florida)
There's no shortage of ball-handlers on this bench, with two bona fide point guards plus the versatile Alexander at SG.
With so much backcourt talent, heralded Arizona products Gilbert Arenas and Jason Gardner take a back seat to the high-flying Wright, whose athleticism and rebounding (8.7 boards a night) would have been welcome here.
Half-court scoring, however, would be a serious issue for a group with minimal perimeter shooting aside from the streaky Miller.
Seven-footer Mihm provides a bit of back-to-the-basket punch, but for the most part, this team would depend on fast breaks and the few shooters in the starting lineup.
2000 Starting Five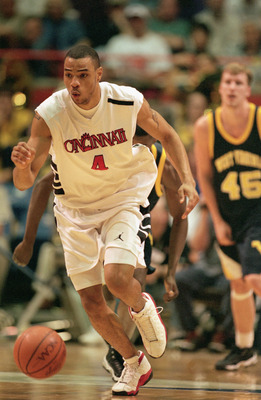 Brian Bahr/Getty Images
C Brendan Haywood (Jr., UNC)
PF Kenyon Martin (Sr., Cincinnati)
SF Chris Carrawell (Sr., Duke)
SG A.J. Guyton (Sr., Indiana)
PG Mateen Cleaves (Sr., Michigan State)
Decidedly the weakest starting five in this group, the 2000 version of Team USA would have depended on being better than the sum of its parts.
That trait was a specialty of both Carrawell, one of Coach K's classic glue-guy forwards, and Cleaves (fresh off leading the Spartans to a national title).
The athletic Martin, the best player on the roster by a wide margin, would likely have been sidelined for the Games by the broken leg he suffered in the Conference USA tournament (in which case Notre Dame's Troy Murphy would've gotten his roster spot).
Haywood and Carrawell would have led a solid defense, but Guyton (19.7 points per game and .419 long-range shooting) would've needed to carry an unremarkable offense almost single-handedly.
2004 Bench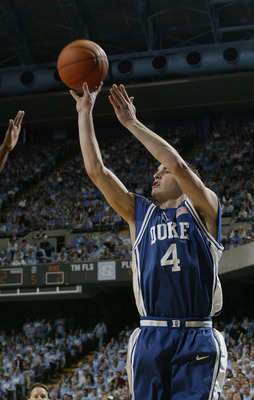 Craig Jones/Getty Images
PF Ryan Gomes (Jr., Providence)
PF Chuck Hayes (Jr., Kentucky)
SG Andre Emmett (Sr., Texas Tech)
SG J.J. Redick (So., Duke)
PG Devin Harris (Jr., Wisconsin)
SG Kirk Snyder (Jr., Nevada)
PG Blake Stepp (Sr., Gonzaga)
Length is in short supply in a group of reserves whose tallest member is the 6'7" Gomes, but both Gomes and Hayes bring toughness and rebounding acumen in abundance.
Adding physical guards Emmett and Harris to the mix makes for an imposing bunch of defenders.
The biggest asset for this group, though, is its three-point shooting, and not just because of then-rising star Redick. With the exception of Emmett, all four other guards drained at least 50 three-pointers in 2003-04, including an enviable 75 from Harris.
2004 Starting Five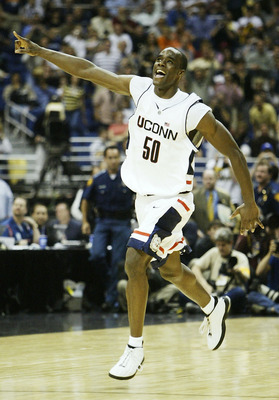 Stephen Dunn/Getty Images
C Emeka Okafor (Jr., UConn)
PF Lawrence Roberts (Jr., Mississippi State)
SF Josh Childress (Jr., Stanford)
SG Ben Gordon (Jr., UConn)
PG Jameer Nelson (Sr., St. Joseph's)
There's no shortage of leadership in a lineup that features game-changing shot-blocker Okafor on defense and the elusive Nelson running the offense.
The fast-break game (led by the dunk-happy Childress) would've been the team's best weapon, but Gordon and Nelson provide ample three-point shooting in the half court.
The X-factor would be Roberts, coming off his first year as a Bulldog after transferring from then-troubled Baylor.
Still, the mobile 6'9" PF would've fit in just fine in this lineup, providing a bit of back-to-the-basket scoring to help Okafor and adding size to a microscopic roster.
2008 Bench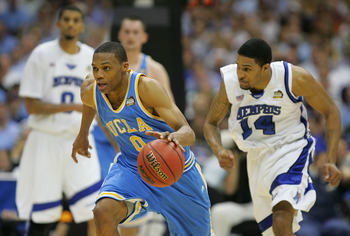 Streeter Lecka/Getty Images
C Roy Hibbert (Sr., Georgetown)
PF Luke Harangody (So., Notre Dame)
SG George Hill (Sr., IUPUI)
SG Brandon Rush (Jr., Kansas)
PG Russell Westbrook (So., UCLA)
PF Jason Thompson (Sr., Rider)
SG Darren Collison (Jr., UCLA)
Scoring options abound in this second unit, from the hulking Hibbert in the post to the sharp-shooting Rush (.419 from three-point range) outside.
There's also plenty of ball-handling, with future NBA point guards Westbrook and Collison along with combo guard Hill in the mix.
That's not to say that defense would be underserved, as Hill, Collison and Westbrook all thrive in putting pressure on opposing guards.
The biggest question marks would be the Jekyll-and-Hyde PF pairing of Thompson (relying almost entirely on raw athleticism) and Harangody (without any athleticism to speak of).
2008 Starting Five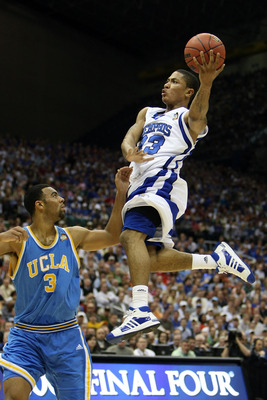 Jed Jacobsohn/Getty Images
PF Tyler Hansbrough (Jr., North Carolina)
PF Kevin Love (Fr., UCLA)
SF Michael Beasley (Fr., Kansas State)
SG Chris Douglas-Roberts (Jr., Memphis)
PG Derrick Rose (Fr., Memphis)
National runner-up Memphis provides an intimidating backcourt with the physical pairing of Douglas-Roberts and Rose bringing terrific defense in addition to their celebrated offensive talents.
Hansbrough and Love aren't the tallest low-post duo, but it's tough to beat their 20.8 combined rebounds per game.
Beasley adds even more rebounding, along with a terrific jump shot to help spread the floor. Other than back-to-the-basket scoring from the big men—and they'd get their points, make no mistake—it's tough to find a weakness worth mentioning in this lineup.
2012 Bench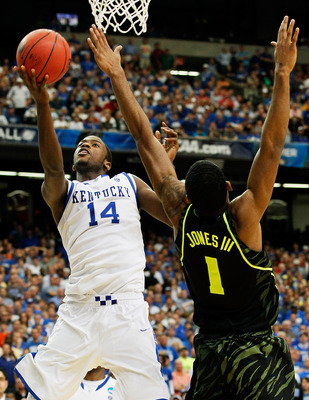 Kevin C. Cox/Getty Images
C Tyler Zeller (Sr., UNC)
SF Draymond Green (Sr., Michigan State)
SF Michael Kidd-Gilchrist (Fr., Kentucky)
SG John Jenkins (Jr., Vanderbilt)
PG Damian Lillard (Sr., Weber State)
PG Isaiah Canaan (Jr., Murray State)
PF Jared Sullinger (So., Ohio State)
The frontcourt reserves here are a ground-bound group with minimal leaping ability from any of Zeller, Green or Sullinger. Still, all three are fearsome rebounders and valuable scorers, with Green's passing ability setting him apart.
Defense isn't a problem with the tenacious Kidd-Gilchrist outside and the shot-swatting Zeller inside. On offense, the overlooked Lillard gets a chance to shine in transition, while snipers Jenkins and Canaan keep the half-court offense clicking.
2012 Starting Five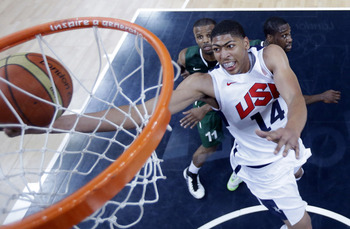 Pool/Getty Images
C Anthony Davis (Fr., Kentucky)
PF Thomas Robinson (Jr., Kansas)
SF Doug McDermott (So., Creighton)
SG Marcus Denmon (Sr., Missouri)
PG Kendall Marshall (So., UNC)
For all of Davis' magnificent defensive ability, the real core of this team would be the offense. McDermott and Denmon drained better than 150 three-pointers between them, and Robinson is a first-class low-post threat.
The pass-first Marshall would thrive running this show, but if his injured wrist had kept him out of action, either Louisville's Peyton Siva or Iona's Scott Machado could've taken his roster spot without a disastrous drop-off.
As defense goes, Siva might even have been an upgrade, especially when paired with the ball-hawking Denmon.
Keep Reading