WWE SummerSlam 2012: Ranking the 25 Best Matches in SummerSlam History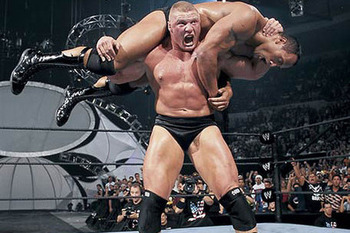 Photo courtesy of cagesideseats.com
With less than a week before the 25th edition of WWE SummerSlam, the anticipation is in the air.
Brock Lesnar will battle Triple H and CM Punk will defend the WWE Title in a triple threat match against both The Big Show and John Cena.
But will either of those matches rank as one of the 25 best in the history of the event once they conclude? That remains to be seen, but what follows are the 25 best matches in SummerSlam history to this point.
Now, not every match on the list was a technical masterpiece; some of these matches made the list for reasons such as their importance to the company at the time.
So sit back and enjoy as we take a trip down memory lane.
25. Ravishing Rick Rude vs. Ultimate Warrior: SummerSlam 1989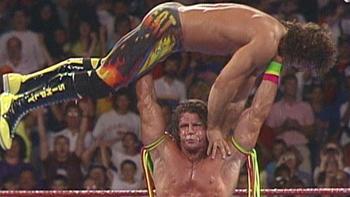 Photo courtesy of WWE.com
The Ultimate Warrior and Ravishing Rick Rude, two of the biggest stars the company had in the late '80s, squared off at SummerSlam in both 1989 and 1990.
Many may say that their contest in '90, which was contested in a steel cage and was for the World title, was better, but this was the better match.
In 1989, Rude and The Warrior went at it over the Intercontinental title and for over 16 minutes, they went back and forth. The Warrior finally got the win with his gorilla press-big splash combo, but he owed a bit of an assist to Rowdy Roddy Piper as well.
24. The Big Boss Man vs. The Mountie: SummerSlam 1991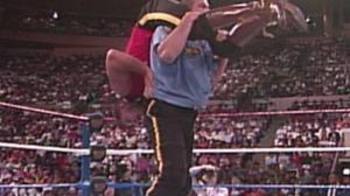 Photo courtesy of WWE.com
This match brings back instant memories as one of the better gimmick matches from the old-school era of the WWE.
SummerSlam 1991 was held in Madison Square Garden and it featured this match, billed as the Jailhouse match, where the loser had to spend 24 hours in an NYC jail.
The Boss Man and The Mountie, both claiming to be the law and order of the WWE, had been on a drawn-out collision course.
The Boss Man got the victory and the footage that followed of The Mountie being dragged to jail and booked was priceless. It certainly was one of the more memorable matches in SummerSlam history.
23. CM Punk vs. Jeff Hardy: SummerSlam 2009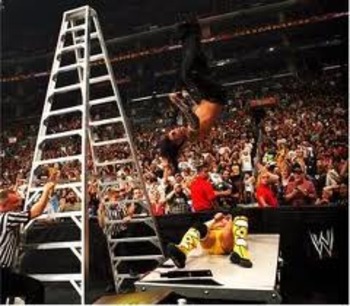 Photo courtesy of wwesuperstaralberto.blogspot.com
Jeff Hardy and CM Punk had a very good rivalry in 2009. In fact, it was Hardy's last in the company.
This was the signature match of the feud, and it featured several big spots, which you'd expect in a Tables, Ladders and Chairs match.
Late in the match, Hardy crashed through Punk and the announce table from a huge ladder and was actually taken to the back by medical personnel. He returned moments later as Punk made his way up the ladder, but Punk was able to fight him off and grab the belt.
22. Elimination Chamber: SummerSlam 2003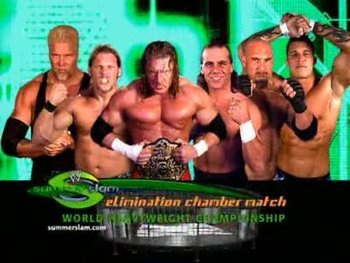 Photo courtesy of sportskeeda.com
SummerSlam 2003 had this match as its main event, featuring a who's who of the some of the biggest names the industry had ever seen.
Goldberg was made a centerpiece of the match and he was the man most fans wanted to see. He didn't disappoint, eliminating Randy Orton, Chris Jericho and Shawn Michaels from the competition. He was also responsible for the moment people remember most about this match—his spear of Jericho into one of the chamber pods.
In the end, it was Goldberg and the champion Triple H. Goldberg busted Triple H out of his pod, literally, and it looked like a new champion would be crowned. But "The Game" was able to sneak his trusty sledgehammer into the cage, thanks to Ric Flair, and after smashing Goldberg with it, he walked out still holding the gold.
21. Kurt Angle vs. Rey Mysterio: SummerSlam 2002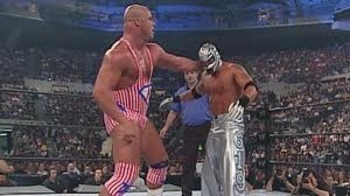 Photo courtesy of WWE.com
One of the best opening matches in SummerSlam history, Kurt Angle and Rey Mysterio put on an excellent match in 2002 in Uniondale, N.Y.
Mysterio hit Angle with everything, but he couldn't put him away. Kurt would counter a top-rope frankensteiner attempt and then lock in his vaunted ankle lock, forcing Mysterio to submit.
This was a great way to open what would go on to be one of the better overall SummerSlam events in WWE history.
20. Rob Van Dam vs. Jeff Hardy: SummerSlam 2001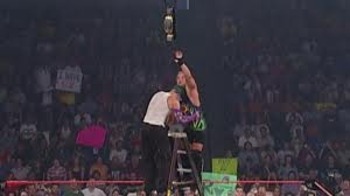 Photo courtesy of WWE.com
After these two men had an incredible match at Invasion, the match was given to fans again. This time, a Ladder match at SummerSlam, and it did not disappoint.
RVD was on his way to becoming perhaps the most popular superstar in the company at this time, and this match was what helped to put him over the top.
Both men pulled out all the stops in this one, but it was RVD who was able to pull the Hardcore title down and become the new champion, something the crowd loudly popped for.
19. Hulk Hogan and Brutus Beefcake vs. Randy Savage and Zeus: 1989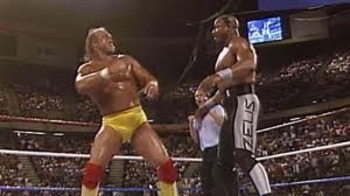 Photo courtesy of WWE.com
Was this a technical wrestling classic? Absolutely not. But it was a heavily built tag-team main event featuring the company's top two stars at the time in Hulk Hogan and Randy Savage.
This was also a takeoff from the WWF-financed film, No Holds Barred, which was just re-released on DVD. Aside from that, it was just a few months after Hogan had taken the World title from Savage at WrestleMania V.
Hogan and Brutus Beefcake, billed as the Mega-Maniacs, were facing Savage and the monstrous Zeus, who played the lead villain in the movie. Sensational Sherri was in the corner of the heels while Miss Elizabeth stood in the corner of Hogan and Beefcake.
Both ladies would play key roles in the match, as Elizabeth was able to prevent Sherri from getting involved, allowing Hogan to grab a "loaded" purse that Sherri came to the ring with, cracking Zeus in the head with it. That led to a big bodyslam and Hogan dropping his signature legdrop on his menacing opponent for for the victory.
18. Randy Orton vs. The Undertaker: SummerSlam 2005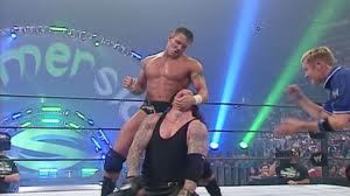 Photo courtesy of WWE.com
At WrestleMania 21, Randy Orton would come very close to defeating The Undertaker and ending the now legendary streak.
He would get another chance four months later at SummerSlam.
Just when it seemed The Undertaker would emerge victorious again after a thunderous chokeslam, a "fan" tried to get into the ring, allowing Orton to hit the "RKO" for one of the biggest wins of his career.
Moments later, it was revealed that the fan was none other than Orton's father, Bob.
17. Shane McMahon vs. Test: SummerSlam 1999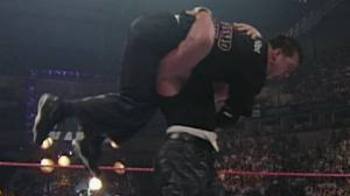 Photo courtesy of WWE.com
Test vs. Shane McMahon, which took place in a Greenwich Street Fight, is one of the more underrated matches in the annals of WWE history.
Leading into this match, Shane played the jealous brother, not accepting of the relationship Test had formed with his sister, Stephanie. So of course, this had to be a "Love her or leave her" match.
The Mean Street Posse, Pat Patterson and Gerald Brisco all got involved, and Shane hit a crazy flying elbow from the top rope to the announce table outside the ring.
Test overcame it and hit a flying elbow of his own to put Shane away as Stephanie came running to the ring to congratulate him.
16. Batista vs. John Cena: SummerSlam 2008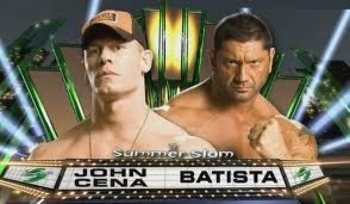 Photo courtesy of WWE.com
Though nowhere near the level of Steve Austin vs. The Rock, this was as close as WWE could get.
Batista and John Cena were arguably their top two stars and heading into SummerSlam in 2008, they were both faces. Aside from that, they had never had a pay-per-view match to that point.
Cena was having trouble with a neck injury leading up to this match, which is probably why he lost it.
Going for his top-rope legdrop, Cena saw that countered right into the "Batista Bomb," leading to a win for Batista and giving Cena a storyline reason to get his neck repaired.
15. Brock Lesnar vs. Kurt Angle: SummerSlam 2003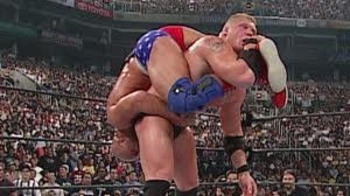 Photo courtesy of WWE.com
Brock Lesnar and Kurt Angle had a classic encounter for the WWE title at WrestleMania 19, where Lesnar took the belt away from the Olympic gold medalist.
Despite Angle winning that title back the month before SummerSlam at Vengeance in a triple threat match, the odds seemed to favor Lesnar, especially since he had Mr. McMahon in his corner.
Angle was able to overcome those odds, however, countering an "F-5" attempt into his ankle lock, which forced Lesnar to tap out.
14. Randy Savage vs. Ultimate Warrior: SummerSlam 1992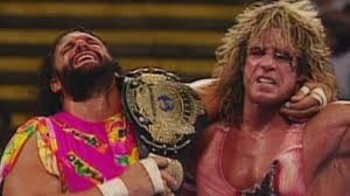 Photo courtesy of WWE.com
In a rematch from their classic battle at WrestleMania 7, Randy Savage and Ultimate Warrior went at it for 28 minutes inside Wembley Stadium, this time for the World title.
The match was somewhat marred due to interference from Ric Flair and Mr. Perfect, which allowed Warrior to win by count out. But after the match, Warrior actually helped his once bitter rival and the two embraced with a hug after the contest, which was one of the best matches of Warrior's career.
13. Hulk Hogan vs. Earthquake: SummerSlam 1990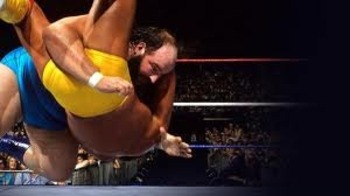 Photo courtesy of WWE.com
Remember when Hulk Hogan was just destroyed by Earthquake on the Brother Love Show? As a young fan of the WWE at the time, and a huge Hulkamaniac, I sure do.
Never was I ever more interested in seeing a superstar get revenge than I was in this one, and it's likely that is how all of Hogan's fans around the world felt.
In 1990, Earthquake was built to be unstoppable, and the company did a very good job of doing just that. Hogan finally cracked him at SummerSlam, winning the match by count out.
No, it wasn't a scientific mat classic, but it was fueled with emotion and was a match that was given much more attention than the main event of SummerSlam 1990.
12. Triple H vs. The Rock: SummerSlam 1998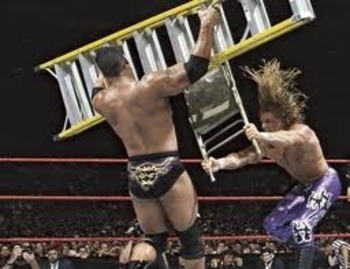 Photo courtesy of whatculture.com
It's strange that this wasn't even the best Ladder match in SummerSlam history, but it was incredibly close.
The Rock and Triple H were both on the verge of having their careers explode at this time, and they put on some very entertaining matches when they were in there together.
This match had it all in the way of ladder matches, with the Intercontinental title on the line to boot.
Although he received a big assist from Chyna, Triple H walked away the victor in this one.
11. Mankind vs. The Undertaker: SummerSlam 1996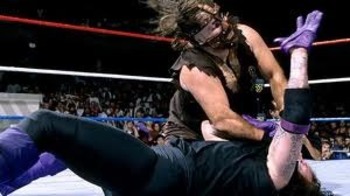 Photo courtesy of WWE.com
The infamous Boiler Room Brawl. This match opened so many doors for future WWE matches, as it was one of the first times a match actually started somewhere other than the ring.
The Undertaker and Mankind, as they would do many more times following this match, beat each other to a pulp in this match. However, it took Paul Bearer turning on The Undertaker and shockingly aligning himself with Mankind.
To this day, no superstar ever had the number of The Undertaker the way Mankind did during this time period in WWE history.
10. Tables, Ladders and Chairs: SummerSlam 2000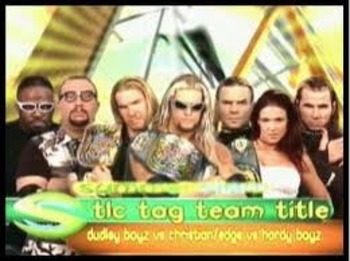 Photo courtesy of wwedvdnews.com
We kick the top 10 off with a match that will go down in history as one of the most innovative, entertaining matches of all time.
Edge and Christian, The Hardy Boyz and The Dudley Boyz, three of the best tag teams in WWE history, put on an absolute show in this match. Although it was so good they had to do it again at WrestleMania 17, and they did it even better, this match was truly incredible.
Edge and Christian emerged the winners, but anyone who was able to see this one had to feel just as good.
9. Bret Hart vs. The Undertaker: SummerSlam 1997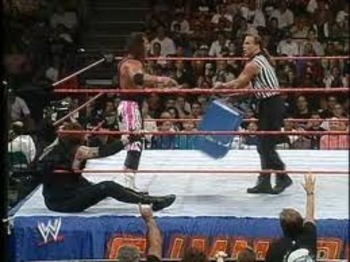 Photo courtesy of wn.com
Bret Hart challenged The Undertaker for the World title in 1997, and it was an excellent match between two of the best workers in the WWE.
But the story here was between Hart and the special guest referee, Shawn Michaels. Yet that is what made the match so good. It was a well-told story that would only lead to bigger, more historical things (via Wikipedia).
Hart won the match and the title after Michaels accidentally smashed Taker with a steel chair and then had to reluctantly make the three-count.
8. Hulk Hogan vs. Shawn Michaels: SummerSlam 2005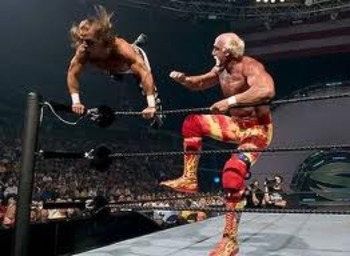 Photo courtesy of cagesideseats.com
I know everyone reading is probably thinking that this match was nowhere near as good as some of the others, but it deserves to be here. Why? Because of the historical impact behind it.
Yes, Hogan was well past his prime at the time and yes, Michaels helped make that match better than it should have been. But it was a match between two icons of the industry that had never happened before, and it got a lot of fans talking and wanting to see it.
Aside from Michaels making a complete mockery out of Hogan toward the end of the match in how he sold some of his moves, I had no complaints.
Hogan got the win after his trademark legdrop and fans got that moment of legend vs. legend that is becoming more and more rare.
7. The Undertaker vs. Edge: SummerSlam 2008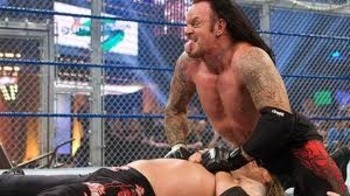 Photo courtesy of WWE.com
The Undertaker defeated Edge at WrestleMania 24, but their feud raged on past that point.
Edge was able to defeat the Deadman at One Night Stand with the stipulation being that if he did, Undertaker would have to leave the WWE.
But because Edge had dipped into an affair with Alicia Fox, his storyline girlfriend/fiance/wife, Vickie Guerrero, would reinstate Taker, signing him to a Hell in a Cell match with Edge at SummerSlam.
These two men capped their feud with one of the best Hell in a Cell matches in WWE history. The Undertaker used the Tombstone piledriver to win the match, but he also chokeslammed Edge from the top of a ladder after the match, sending Edge went through the ring, creating an unforgettable SummerSlam image.
6. Brock Lesnar vs. The Rock: SummerSlam 2002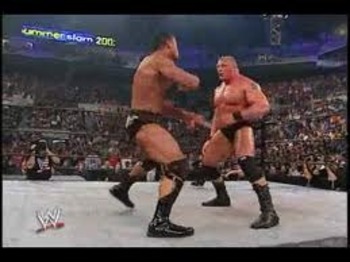 Photo courtesy of popscreen.com
Brock Lesnar's meteoric rise to prominence in 2002 was very impressive, but could he actually take the title from The Rock?
Perhaps no match in SummerSlam history has been built up as good as this one was. It was like two heavyweight boxers getting ready to face off for the title. The way WWE showed the two men training for the match was great and is something they should do a lot more of.
The match itself was very good, as both men are supreme athletes. In the end, Lesnar caught Rock with the "F-5" to get the pin and win the title, not even six months after he made his WWE debut.
5. Shawn Michaels vs. Razor Ramon: SummerSlam 1995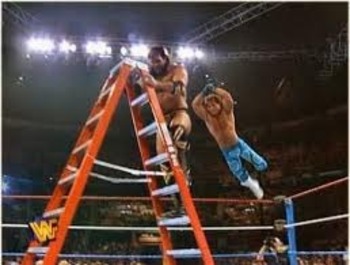 Photo courtesy of dvdtalk.com
Much like the WWE would later do with the TLC match, they decided to capitalize on the huge success of a gimmick match by doing it again.
Shawn Michaels and Razor Ramon had one of the best matches in WrestleMania history at WrestleMania 10, a Ladder match for the Intercontinental title. At SummerSlam in 1995, fans would be treated to a rematch, and it rivaled the first match in many ways.
Unlike the first match, Michaels was able to win this one, but after the match, there was a very classy moment between he and Ramon, making it seem as if there were no losers.
4. Bret Hart vs. Mr. Perfect: SummerSlam 1991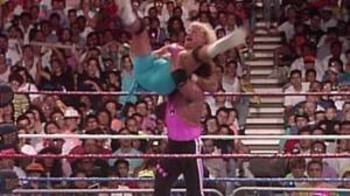 Photo courtesy of WWE.com
There is no doubting the great mat wrestling action this match featured. Bret Hart and Mr. Perfect are definitely two of the best in-ring technicians in WWE history, and that was never more evident than in this match.
Hart started his career as a tag-team performer and perhaps no match put him on the WWE map like this one did.
Both men gave it their all, but it was Hart who was finally able to counter an attempted legdrop to the groin from Perfect and turn it into the Sharpshooter to win the Intercontinental championship.
Hart can look back to this match as the day his singles career started to take off.
3. Shawn Michaels vs. Triple H: SummerSlam 2002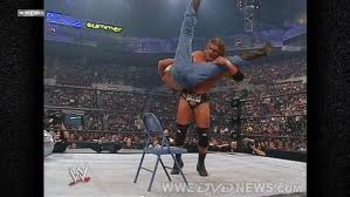 Photo courtesy of wwedvdnews.com
Shawn Michaels had not competed inside a WWE ring in over four years. Everyone was eager to see what he could do but no one, not even his most devout fans, could have thought he'd be as good as he was.
The match would become an unsanctioned street fight, as according to the storyline, the WWE wasn't willing to take responsibility for any injury that could occur to Michaels.
He and Triple H tore into one another in a terrific match. But to put an end to one of the best feel-good stories of all time, Michaels countered a Pedigree attempt into a roll-up and got the pin, ending the match in just over 27 minutes.
2. Bret Hart vs. Owen Hart: SummerSlam 1994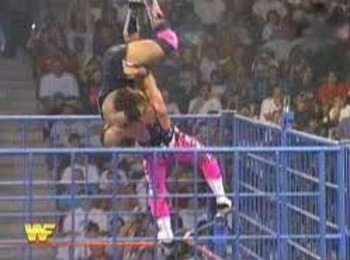 Photo courtesy of freewebs.com
One of the most well-written feuds in WWE history was that of Bret Hart and his late brother, Owen.
Owen had defeated his much highly publicized brother at WrestleMania 10 and in between then and SummerSlam, he had won the King of the Ring tournament. He was completely ready for a shot at his brother's World title.
The match would take place inside a steel cage and it went for over a half an hour, with the two brothers having an excellent contest. When Owen got his leg caught inside the cage, Bret was able to climb out to win the match, avenging the WrestleMania loss and retaining the title.
If you've never seen this match, go out of your way to do so.
1. Bret Hart vs. British Bulldog: SummerSlam 1992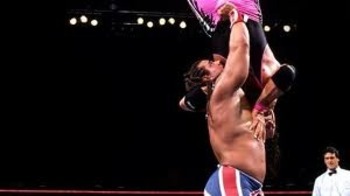 Photo courtesy of WWE.com
SummerSlam 1992 was a wildly successful event for the WWE, and it was held outside the United States.
When was the last time the Intercontinental title match went on last at a PPV? Probably never? Well, it did on this night, and what these real life brothers-in-law put on display was one of the best matches in wrestling history.
The official time of the match was 25:40, and there wasn't much of that in which fans didn't spend on the edge of their seats.
Davey Boy Smith was able to counter a sunset flip and pin Bret Hart to win the title, setting off a sea of exuberant cheers. To this day, it was one of the loudest pops ever and clearly the crowning moment of Smith's career.
What makes this match so much better is that both men were faces. It wasn't about anything other than who was the better man on this particular night.
It is, without doubt, the greatest match in the history of SummerSlam.
Keep Reading