Seattle Seahawks: Preseason Game 1 Roster Report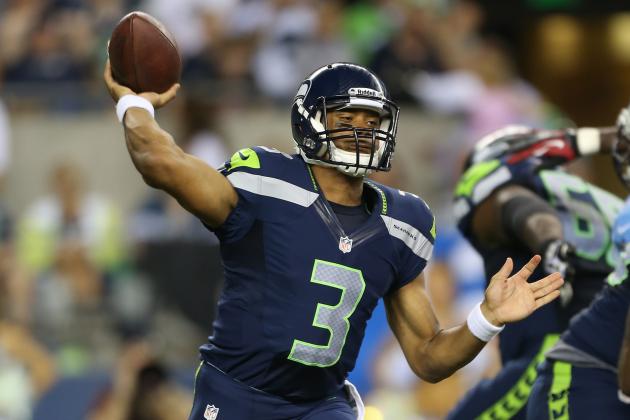 Otto Greule Jr/Getty Images

Russell Wilson stole the show in the Seattle Seahawks' preseason opener, and Matt Flynn was very efficient, leaving us to believe he should remain the starter going forward.
The 27-17 win over Tennessee was one of the cleanest preseason openers the Seahawks have played in years, which led Pete Carroll to tell 710 ESPN Monday that it means the team is now practicing at game speed and translating practice to the actual game.
Here are position-by-position highlights from the first game.
Begin Slideshow

»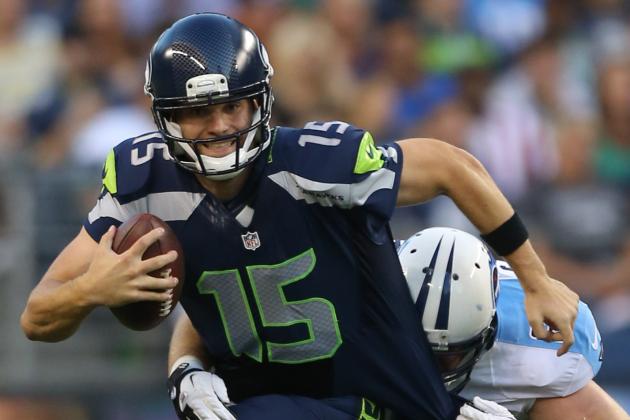 Otto Greule Jr/Getty Images

The efficient performances of Flynn and Wilson pushed Tarvaris Jackson closer to the edge of the roster. He should have been let go once the Hawks knew Wilson was everything they thought he was.
It would have been fair to Jackson, allowing him to look for a backup job then rather than wait until the final cuts of camp when it will be hard to find a gig at all.
Locks: Flynn, Wilson
Bubble: Jackson, Josh Portis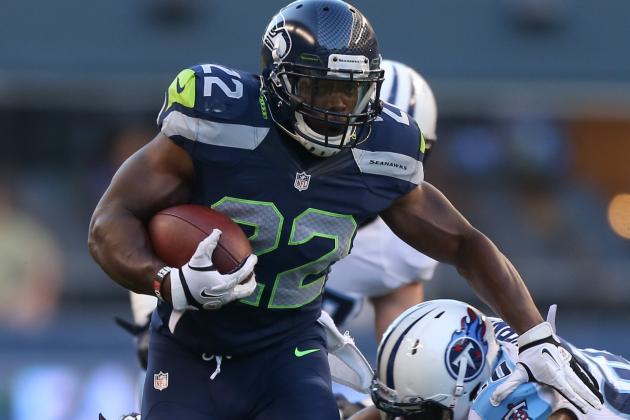 Otto Greule Jr/Getty Images

With Marshawn Lynch rested, Leon Washington and Robert Turbin got first-team reps.
Washington looked fast, bursting 26 yards on his first three carries. The Turbinator showed good all-around skills, picking up the blitz well and catching three passes on top of his rushing duties (he gained just 24 yards on 10 carries, though).
Locks: Lynch, Washington, Turbin, Michael Robinson
Bubble: Kregg Lumpkin
Other: Tyrell Sutton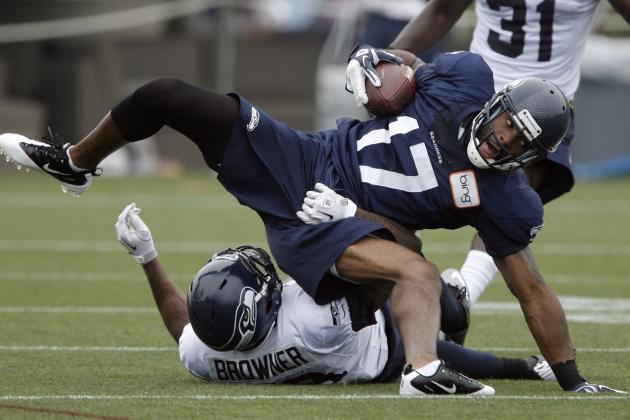 Joe Nicholson-US PRESSWIRE

With half of the roster contenders out, guys like Golden Tate, Braylon Edwards and Deon Butler got their shots. Edwards led the way with two catches for 51 yards, including the acrobatic theft of a 39-yard bomb from Wilson for a touchdown. Edwards has always shown a knack for those plays (while booting the easy catches).
Tate and Butler each got a couple of balls thrown their way (Tate caught both and Butler caught one and drew a pass interference on one). Ben Obomanu was not involved.
The anticipated debut of Terrell Owens—along with the return of Sidney Rice, Doug Baldwin, Kellen Winslow and Ricardo Lockette—will cut into everyone's reps.
Locks: Rice, Baldwin
Probable: Tate
Bubble: Owens, Edwards, Obomanu, Butler, Lockette
Others: Kris Durham, Jermaine Kearse, Charly Martin, Phil Bates, Lavasier Tuinei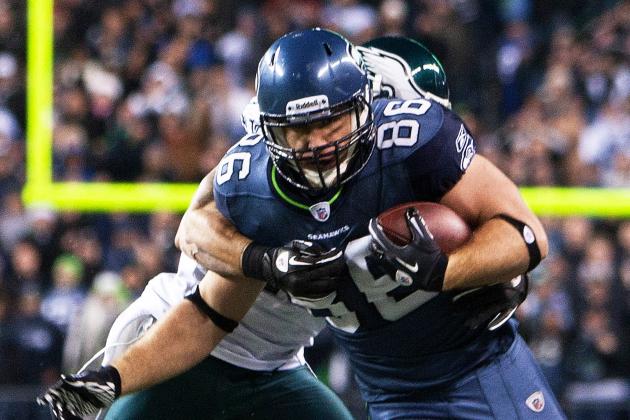 Jay Drowns/Getty Images

It was promising to see Flynn find Zach Miller twice for 23 yards, but it was depressing to see Miller suffer another concussion to go with the one he had last season and the two he suffered in 2009.
Anthony McCoy continues to drop passes (key third-down drop), and Cam Morrah was invisible. But the guy who stepped up and could overtake both for the No. 3 spot is undrafted rookie Sean McGrath, who caught two passes. He's worth a longer look in the next two games.
Locks: Miller, Winslow
Bubble: McCoy, Morrah, McGrath
Other: Cooper Helfet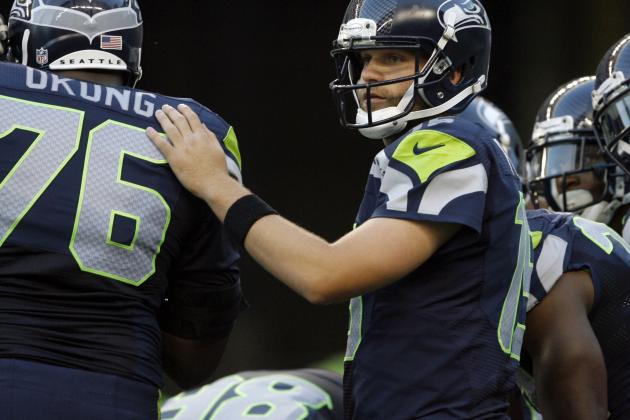 Joe Nicholson-US PRESSWIRE

The first unit of Russell Okung, Paul McQuistan, Max Unger, Deuce Lutui and Breno Giacomini was dominant on its two series.
The second unit of Frank Omiyale, Allen Barbre, Lemuel Jeanpierre, J.R. Sweezy, Alex Barron, et al., was decent, though not nearly as effective. (Omiyale and Barron lived up to their reputations by each getting called for a false start.)
But the depth here is certainly better than it was in 2011.
Locks: Okung, McQuistan, Unger, Lutui, Giacomini, John Moffitt
Probable: Jeanpierre
Bubble: Barron, Omiyale, Sweezy, Barbre, Paul Fanaika, Rishaw Johnson
Other: Edawn Coughman
PUP: James Carpenter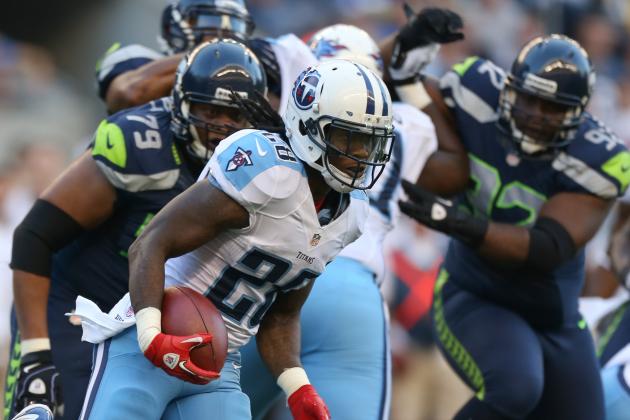 Otto Greule Jr/Getty Images

All eyes were on new guys Jason Jones and Bruce Irvin, and both made an impact on a few plays. DTs Red Bryant, Brandon Mebane and Clinton McDonald all played well. This was a strength of the team last season, and it is only stronger this year.
It will be nice to see more of Irvin to figure out how much he will contribute this season.
Locks: Bryant, Mebane, DE Chris Clemons, DT Alan Branch, Jones, McDonald, Irvin
Bubble: DE Pierre Allen, DE Pep Levingston, DE Dexter Davis, DE Greg Scruggs, DT Jaye Howard
Others: DE John Graves, DE Cordarro Law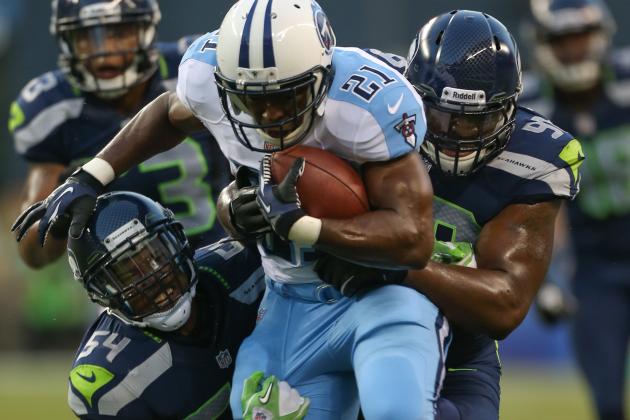 Otto Greule Jr/Getty Images

Rookie MLB Bobby Wagner played well in his debut, and these guys were all over the place in their three series. Veteran Barrett Ruud did not play, but it's hard to see him unseating Wagner for the starting middle spot even when he does return.
Heath Farwell showed his value as a backup, forcing and recovering a fumble and also nearly intercepting a pass. Korey Toomer and Mike Morgan both could have a chance to stick based on special-teams play.
Locks: K.J. Wright, Leroy Hill, Wagner, Farwell
Probable: Ruud
Bubble: Toomer, Morgan, Matt McCoy, Malcolm Smith
Other: Kyle Knox, Allen Bradford, Jameson Konz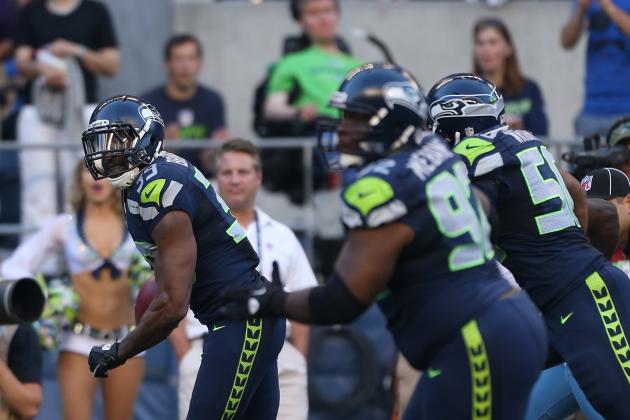 Otto Greule Jr/Getty Images

This unit picked up right where it left off last season, with Earl Thomas and Brandon Browner teaming to create a touchdown on the first play and Richard Sherman picking off a deep pass later.
These guys are just always around the ball, and they could challenge the vaunted 1984 secondary of Kenny Easley, Dave Brown, John Harris and Keith Simpson, which combined for 28 interceptions and five fumble recoveries and scored six touchdowns.
Marcus Trufant played well in his nickel role; if healthy, he offers great depth.
Locks: Thomas, S Kam Chancellor, Browner, Sherman
Probable: Trufant
Bubble: CB Roy Lewis, S Chris Maragos, CB Byron Maxwell, CB Phillip Adams, CB Jeremy Lane, S Winston Guy, S Jeron Johnson, CB Ron Parker
Others: CB Coye Francies, CB DeShawn Shead
PUP: CB Walter Thurmond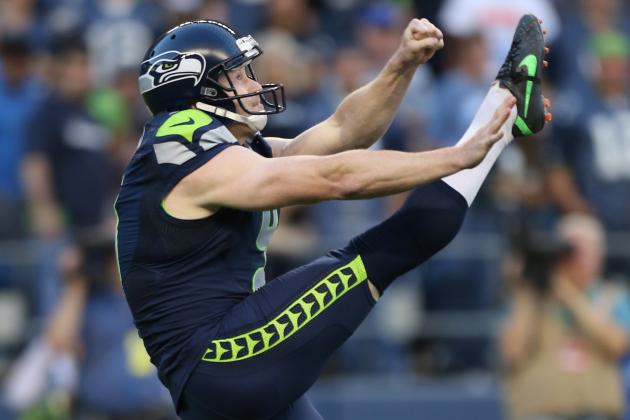 Otto Greule Jr/Getty Images

Rookies Lane (jersey No. 1?) and Toomer made strong early bids with their play. Lane led the team with six tackles (one for loss) and could make himself a factor as a backup corner.
Locks: P Jon Ryan, K Steven Hauschka, LS Clint Gresham
Other: K Carson Wiggs