LA Lakers: Breaking Down Pros and Cons of a Kobe Bryant-Steve Nash Backcourt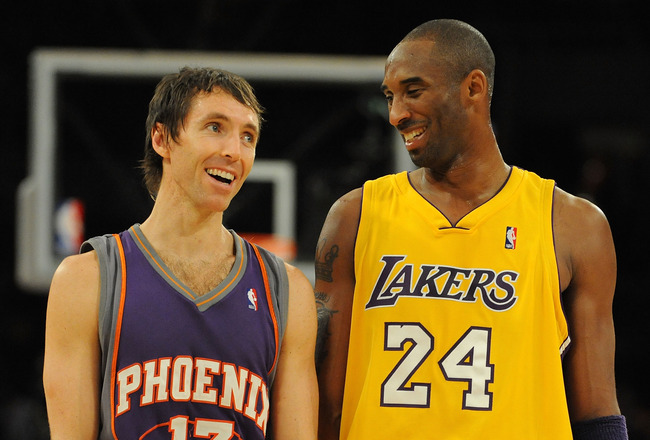 Harry How/Getty Images
The Los Angeles Lakers are still basking in the glory of the offseason that was. You know when adding a dude who averaged 17 points per game last season is an afterthought that you've done something right.
Of course, L.A. added Dwight Howard, which is a great addition no matter how you look at it, but the addition that makes them the most interesting is the sign-and-trade for Steve Nash.
Howard is going to take them from being a middle-of-the-road defensive team to one of the best in the league, but the jury is still out on how well, or terribly, Kobe Bryant will be able to cope in an offense alongside Nash.
Nash is obviously still one of the best point guards in the NBA, despite the fact that he's nearly a 40-year-old. Because of this, it's easy to imagine that the Lakers will have an offense that is fine-tuned and able to churn out points early and often.
There's still a concern over the fact that the two play such different, ball-dominant games on the offensive end that there's going to be at least a problem or two. Instead of just highlighting the good or the bad of their combination, we might as well take a look at both side by side.
Con: Age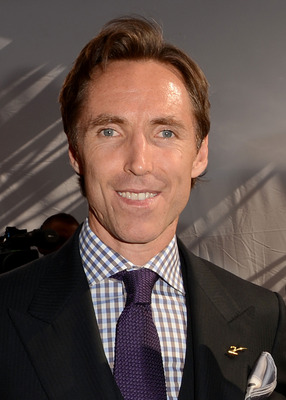 Jason Merritt/Getty Images
Despite the fact that Steve Nash's new haircut makes him look like a slightly less dorky Conan O'Brien, it can't mask the fact that he's a 38-year-old playing a game reserved for a 27-year-old. The life of his contract is going to keep him in the league until he's 41.
Kobe and Nash have both been in the league for 16 years, and the fact that Kobe has over 50,000 minutes on his knees compared to just over 40,000 for Nash means that they aren't that far apart when you try to measure their basketball age.
Guards in the NBA don't age quite like centers. Athleticism melts away, then speed and eventually the skill they have left over can't trump the youth of the rest of the league. Centers can rely on height until they're past 40.
The longest-tenured guards in the NBA never lasted well past 40 (well, I guess Kidd will, if you still consider him a viable basketball player); and if they did, they certainly didn't play at an elite level.
Pro: Age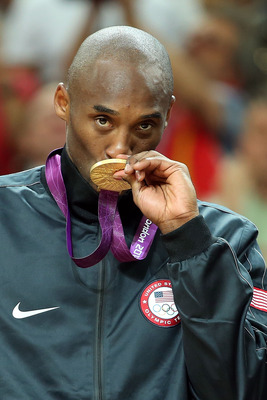 Christian Petersen/Getty Images
Kobe Bryant has an ego. Kobe Bryant has always had the need to be the alpha-male. But Kobe Bryant has always wanted to win.
It's safe to say that Steve Nash is going to accept a lesser role in terms of shooting the ball and even handling the ball at times. There's not going to be much of a problem with that at this point.
However, there are many people out there who still question whether or not Kobe is willing to stomach being option 1B, or even option three or four at times.
Kobe has dealt with playing alongside high-caliber player for the past few seasons, but Pau Gasol was never quite a No. 1 option and Andrew Bynum never got too close until this past season.
His age should show this year, for sure, but it should also show that he's more willing to accept a lesser role if it's for the good of the team, especially if it means winning that sixth ring.
Con: The Princeton Offense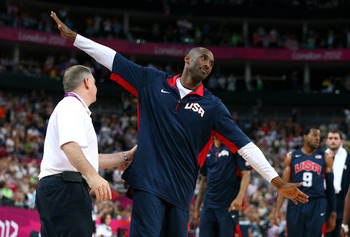 Cameron Spencer/Getty Images
The Lakers have decided to adopt the Princeton offense this year, even going as far as adding Eddie Jordan, who has run it with the Wizards and principles of it with the Philadelphia 76ers in his head-coaching days.
The offense is very beneficial to the team as a whole, especially now that Dwight Howard is the only remaining starter who could be considered above-average as an athlete compared to the rest of the league.
Kobe Bryant and Steve Nash aren't exactly the types of players you would expect to run the Princeton Offense, however. Both are ball-dominant, and very good when they are dominating the ball, but their talents aren't exactly maximized when they're running around setting picks as part of a set offense.
Of course, this isn't going to be their constant offense, some variation will be set in, but running the Princeton as their main form of offense is going to be interesting, possibly hindering the two players when it comes to preforming at their peak.
Pro: The Frontcourt
Ronald Martinez/Getty Images
What really should be concerning the rest of the league shouldn't be any one player or any one combination of players, that entire starting five should be sending shivers up and down the spines of coaches around the league.
Pau Gasol as the finesse offense and Dwight Howard as the dominating offense gives Los Angeles two seven-footers who know how to play the game and deserve the full attention of the defense just as much as the two guys chilling in the backcourt.
Sure, Metta World Peace isn't going to be much of a threat, but him as a fifth option with the occasional open shot and some good defense is a damn fine weapon to have in an arsenal.
With Los Angeles touting two top-50 NBA players under the hoop, the two top-50 NBA players hovering around the perimeter are going to have less pressure to take control of the team, leaving them more relaxed and more likely to play well.
Con: Ball-Dominant Past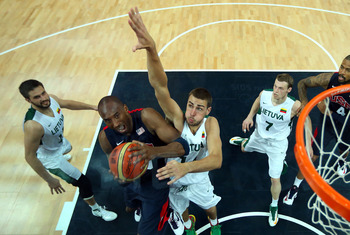 Christian Petersen/Getty Images
Kobe Bryant is perfectly fine with dribbling the ball up the court, dribbling for a few seconds at the top of the key, slowly dribbling to the wing and working his way to a contested, fadeaway 17-footer.
Likewise, Steve Nash is totally okay with dribbling the ball up the court, making a few exploratory passes around the outside, getting the ball back and waiting until there's just 10 seconds left on the clock before he really makes his play. Of course, that's only if there's no fast-break opportunity available.
Bryant has led the league in usage percentage three times in his career (including last season) and has only been below 30 percent once since the turn of the century. Nash, on the other hand, has led the league in assist percentage five times in his career (including the past three seasons) and hasn't been below 40 percent as long as he's been with the Suns.
At some point, these two guys are either going to have to figure out how to work these two extremely ball-dominant styles together or they're going to have to take turns running the offense, much like LeBron James and Dwyane Wade did for most of the 2011 season.
Pro: A Better Point Guard Leads to More Open Shots
Christian Petersen/Getty Images
If you go and watch any game from the past three years with Derek Fisher as the primary point guard for the Los Angeles Lakers, one thing that'll become immediately noticeable is how often Kobe ends up taking contested jump shots.
Fisher put together a solid career, but he ceased to be an effective starting point guard at least two years ago, many people will argue more.
Now that Nash is with Los Angeles, they've got themselves a guy who can run an offense as well as anyone in the NBA, regardless of what style of offense it is.
A better point guard leads to wiser passes, wiser passes leads to more confused defenses and more confused defenses leads to more open shots. It's as simple as that.
Con: Expectations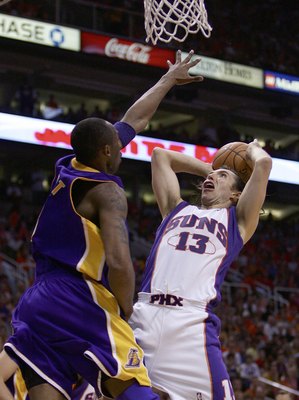 Harry How/Getty Images
It may not be the biggest concern, especially when you consider the two guys involved to be some of the most professional guys in the sport, but the fact that the expectations have gone from a depressing outlook for the Lakers to a championship-or-bust situation definitely puts pressure on this team.
More than any other players on the Lakers, Kobe and Nash are under pressure to deliver this year.
Pau Gasol has become a peripheral player (which is an insane thought) and Dwight Howard is young, plus he could leave after this season, putting most of the pressure on Nash and Kobe.
Nash is entering his last contract in the NBA, which I swear is the last time we're going to say that. There's no way he lasts past this deal. Kobe's years are fading fast, even if he is just 33.
A title this year is what the city and a lot of the world expects, and that's something that could put a butterfly or two in their stomachs.
Pro: Kobe Can Shoot, Despite His Percentages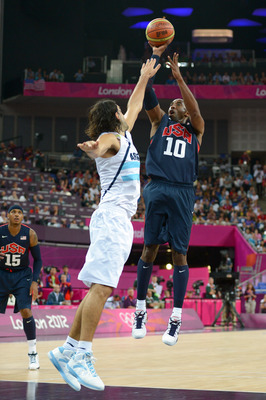 Lars Baron/Getty Images
Take a look at Kobe Bryant's shooting percentages over the past few seasons and you'll have an easy argument against Kobe taking those wild shots that he seems so capable of making. He put up a 43 percent field-goal percentage last season and has never really been an exceptional three-point shooter, percentage-wise.
He continues to take those shots, but it's because he can make them.
Kobe's biggest problem over the past few years has been that he's been needed to take those shots as the Lakers' bench has thinned and they've gotten those shots from elsewhere less often.
With Nash's pristine passes flying his way, he'll find himself with more open corner shots, more open midrange jumpers and even a few cuts to the rim here and there. It wouldn't be surprising to see Kobe put up career field-goal numbers this year.
If you are one of those twitterers, you can follow me @JDorsey33.
Keep Reading

Los Angeles Lakers: Like this team?