Buffalo Bills Preseason Review: What We've Learned About Every Positional Unit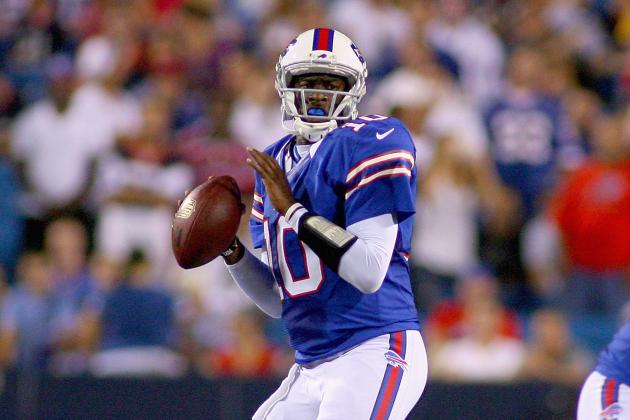 Rick Stewart/Getty Images
Vince Young's Bills debut wasn't great, but he may still have the edge for the No. 2 job
One preseason game is in the books and there's still three more contests to endure before the real thing starts in September. Preseason games only mean so much, and let's face it, it's foolish to put a ton of stock into how players perform in the preseason.
But when has that stopped anybody?
The preseason's not completely meaningless anyway. Just ask Mike Jasper, the most popular Bill to never appear in a regular season game, was cut Monday by the club, presumably after they had a chance to review the tape of Jasper in the first preseason game. It's safe to assume there were many factors at play besides how he played on the fourth unit in the fourth quarter for maybe 10 snaps, but hell, any time you can make an argument for the importance of preseason football, you should run with it.
So here's a run-down of the Bills team by positional unit, updated with impressions from both preseason game no. 1, and news from Bills camp. It should serve you well going into this Thursday's game in Minnesota against the Vikings, which, luckily for the Buffalo market, won't be blacked out.
Begin Slideshow

»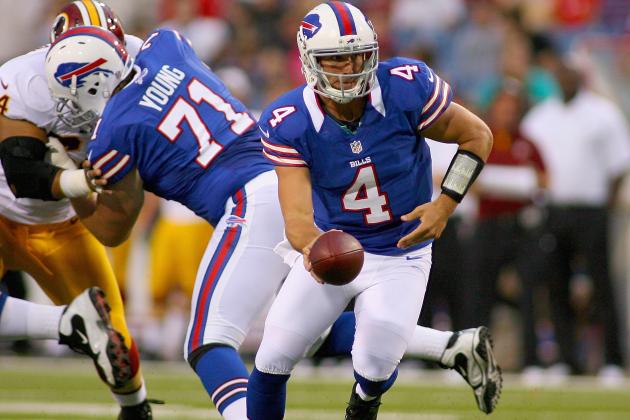 Rick Stewart/Getty Images
Thigpen being very un-Fitzpatrick like and handing the ball off
1. The Bills had no game plan for Fitzpatrick in the Bills first preseason game against the Washington Redskins, but instead relied on him to wing it in a no-huddle and look for "whatever the defense give you." It was a moderate success, but he still went only 6 for 14. For my money, the replacement officials missed some defensive holding on at least two incomplete passes, but the 20 yard pass to Chandler's towering hands down the seam was enough for me to feel good about Fitzpatrick, for now.
2. For the remaining preseason games, the Bills are much more interesting to watch in the no. 2 and no. 3 spot at quarterback. Thigpen's performance in the first game was very Thigpenish. And what I mean by that is he went 3 for 8 with 38 yards. Anyone surprised by that number? No. Does anyone want to see the ball in Thigpen's hands should Fitzpatrick go down? No.
3. And there Vince Young with his 31-19 pro record and his ability to make plays with his feet has a distinct advantage. I thought Young struggled against the Redskins with his footwork in the pocket and didn't really look comfortable. But he still went 5 for 12 with 50 yards passing and 37 more yards on the ground, including a scramble on a 3rd and 20 that was good for a first down.
4. Perhaps getting his feet underneath him in Coach Chan Gailey's system has helped his confidence, as he has since impressed in camp.
5. There's another important question to be answered in the quarterback spot and that is what the Bills may do with gadget quarterback Brad Smith. There's no reason to think they won't continue to keep Smith as their third-string/wildcat/special teams/reserve receiver, but it also wouldn't be surprising if they abandon their commitment to Smith altogether.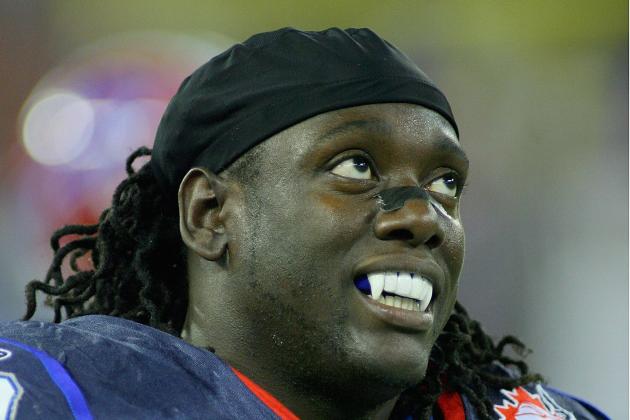 Rick Stewart/Getty Images
Corey McIntyre, how could you not love this guy?
What we've learned about the running back position:
1. Gailey let Fitzpatrick call'em as he saw 'em in the first preseason game and Fitzpatrick saw fit to throw every down. It was cool to watch Fitzpatrick pretend like the run game didn't even exist, but it gave us no indication on Fred Jackson's or C.J. Spiller's current form.
2. Not that it matters. Those guys will play every game.
3. Tashard Choice does not strike me as NFL-caliber running back. He had 9 carries for 16 yards against the 'Skins, including (if memory serves) four runs inside the five yard line that went nowhere. Replays showed holes everywhere except for where Choice was running (I'm exaggerating a little, because the offensive line looked awful in those six plays too, but I'm just not impressed with Tashard).
4. Johnny White showed a little more than Choice with five carries for 25 yards, but it was against the Reskins' fourth team. Let's not jump to any conclusions.
5. We didn't see enough from Dorin Dickerson in the run game or the pass game to form any kind of opinion. I did notice him open a few times in routes.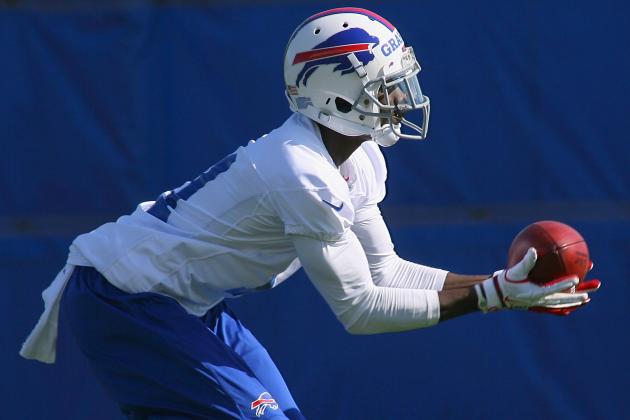 Rick Stewart/Getty Images
T.J. Graham off to an OK preseason start
1. There are four locks for the receiver position: Stevie Johnson, Donald Jones, T.J. Graham and David Nelson.
2. The best candidate for the fifth job at WR has to be Derek Hagan. After that, it's Marcus Easley, Naaman Roosevelt, Ruvell Martin and David Clowney.
3. There are some good arguments, particularly from a special teams perspective for Martin and Roosevelt. Roosevelt looks like the kind of crafty punt returner who will never flub a punt and who can shake the first coverage man.
4. T.J. Graham didn't look nearly as lost as I expected him to. Three catches for 37 yards? I'll take it.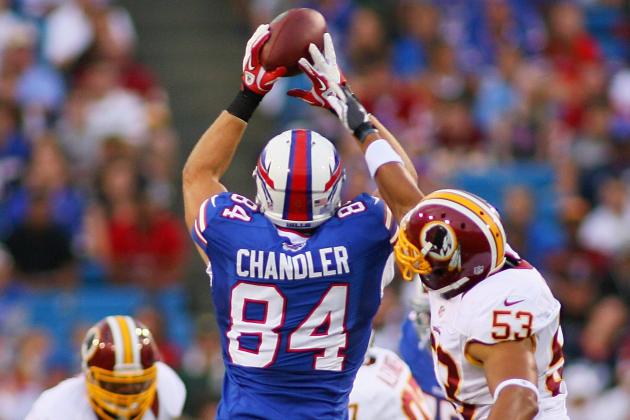 Rick Stewart/Getty Images
He's so tall it's just not fair
1. I'm impatient with the Bills tight end position. The Bills have wandered long enough in the tight end wasteland as a franchise. I want to just see it unfold before I just go ahead and say it: "Scott Chandler is the best Bills tight end since Pete Metzelaars."
2. Aside from Chandler's two catches, Fendi Onobun had one. And that's it. The Bills are thin at tight end under Chandler
3. There's a battle emerging for the third spot between Lee Smith, Fendi Onobun and perhaps Dorin Dickerson. I say perhaps, because the Bills may keep Dickerson as their fifth running back or as their third tight-end.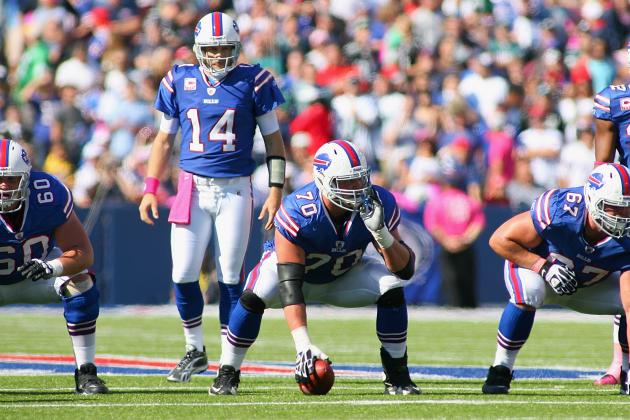 Rick Stewart/Getty Images
Urbik, Wood, and Levitre are shaping up to be a dominant trio
1. We've learned that center Eric Wood, along with guards Andy Levitre and Kraig Urbik, all in only their fourth year, are the grizzled vets of the young Buffalo O-line. The first team offense decided not to run the ball at all, so fans were deprived of watching these guys open up holes in the middle of the field.
2. The battle for starting left tackle to protect Fitzpatrick's blindside is one to keep watching. It seems both Chris Hairston and rookie Cordy Glenn are both getting an equal opportunity to win the job.
3. The Bills will probably keep 9 lineman on the final 53-man roster. Wood, Levitre, Urbik, Hairston, Glenn, and Pears are all locks. Zebrie Sanders is young, and the team has already looked at Sanders in at left guard now that Mike Jasper's enormous frame has been cut. I think Sanders is a lock to the make the team as well. That's seven. Throw the experienced veteran guard backup, Chad Rinehart on there too. Eight.
4. The ninth spot is probably a toss between Colin Brown and Sam Young. I'll put young ahead of Asper, Williams, Carmon, and Snow (who?) because the Bills had Young in every line formation against the Redskins except the first team. There's something they like with this kid.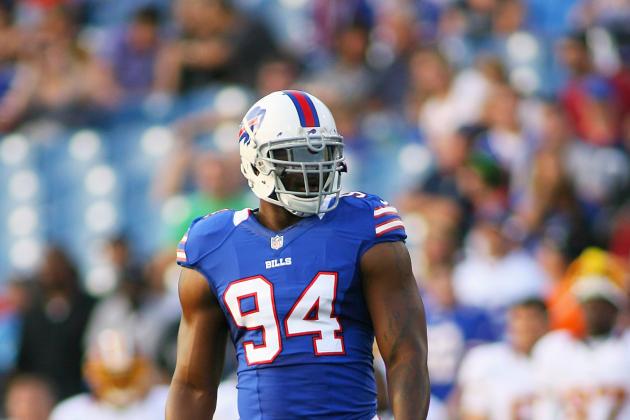 Rick Stewart/Getty Images
Mario Williams has a superhero's body frame
1. Mario Williams didn't play many snaps in his Buffalo preseason debut, but he looked amazing in that uniform, didn't he? I'm not joking. He looks unlike anyone on the Bills roster, or anyone else in the league for that matter. Maybe his body was the main reason the Texans drafted him No. 1 over Vince Young and Reggie Bush in 2006—it's not every generation you can add a real live Superman to your team.
2. I noticed Mark Anderson quite a lot in the early going against Washington. He looks to have an amazing first step and bursts into the backfield. He's a guy whose initial rush can change plays, make them break down faster.
3. I think Alex Carrington's disappointing career as a Bill is ending. Nix's former third round pick was hardly given much of a chance in the first game, playing with the fourth unit.
4. I'm paranoid that the Bills might cut Dwan Edwards and Spencer Johnson. I agree they're overpaid to be backups, but good teams have quality backups. Both are able to play exactly that role.
5. I have the Bills keeping nine defensive linemen with Dareus, M. Williams, K. Williams, Anderson, Kelsay, Edwards, Johnson and Merriman being the eight probable locks. The last spot is for Kellen Heard, Robert Eddins and Alex Carrington. Maybe in that order.
6. Torrell Troup is done. If he wasn't a second round pick, you have to think he might have already gone the way of Mike Jasper. There's some speculation the Bills may IR him for the season, as he's still struggling with back pain. I think it's more likely the Bills will just cut him.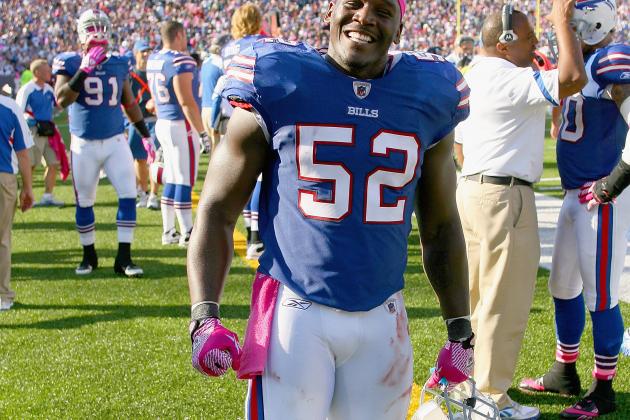 Rick Stewart/Getty Images
Arthur Moats pretty in pink
1. Arthur Moats is probably the Bills' starting strong side linebacker on opening day, as it appears he's winning a spot from the more veteran Kirk Morrison. While Moats has more upside that Morrison, this isn't necessarily a good sign. Linebacker is the team's weakest, or at least most unproven, positional unit. I doubt we'll really be able to use the preseason games to judge who has the edge here.
2. Scott McKillop looks like a strong contender for the job to backup Kelvin Sheppard in the middle. Defensive Coordinator Dave Wannstedt McKillop's coach at Pitt, so there's a comfort-level there. McKillop's already had some injury issues in his young NFL career, and Sheppard's completely unproven.
3. The Bills look strongest on the weakside with Nick Barnett, who was really one of the Bills most surprising players last year and reminded this corner somewhat of Bills legend Darryl Talley. The only rub here is the Bills have Bryan Scott behind Barnett on the deoth chart, and while Scott is great tackler and pass coverage guy (think Gronkowski), he's not an every-down linebacker and the Bills would have to rely on rookies Tank Carder and Nigel Bradham to step up into that spot.
4. The Bills probably won't carry more than 6 linebackers. Barnett, Sheppard, Moats, Scott, Bradham, and Carder have to all be locks, right? So that leaves McKillop (who at one point was the San Francisco 49ers leading special teams tackler) and Kirk Morrison vying for the final spot.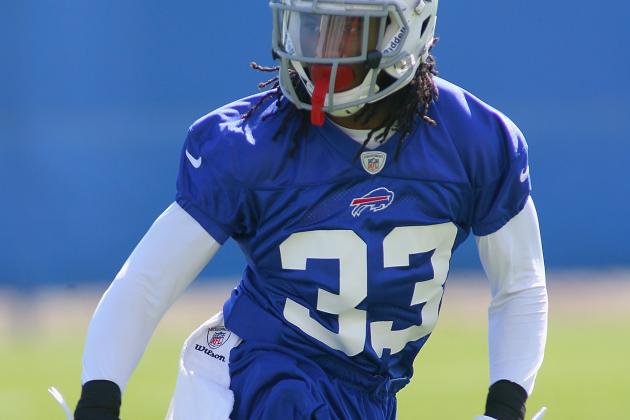 Rick Stewart/Getty Images
Nice name-tag
1. Ron Brooks saw a ton of snaps and looked good doing it. I really noticed him on the field in pass coverage and defense. I think he'll make an excellent 5th cornerback on the depth chart behind Leodis McKelvin, Terrence McGee, Aaron Williams, and Stephon Gilmore. The announcers always said that Dick Jauron always said how you always need depth at the cornerback position. I believe them both.
2. The last time I was really impressed with a Bills corner in the preseason was in Ashton Youboty's second or third year in the league. Brooks was even better.
3. The team agrees with Jauron's sage axiom and they'll probably keep six cornerbacks on the team, making this one of the least interesting positional battles on the team as the the final six seem obvious: Gilmore, Williams, McGee, McKelvin, Rogers, and Brooks.
4. The Bills admitted they still need help at safety, but they haven't done anything to address that. Their top three safeties, Jairus Byrd, George Wilson, and Da'Norris Searcy, look the part.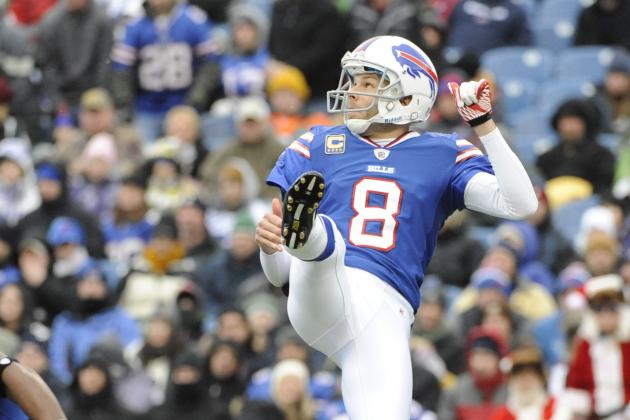 Richard Mackson-US PRESSWIRE
Brian Moorman up in da club
1. Brian Moorman has gone Aussie. Apparently somewhere in Australia there is a punting compound that is just pumping out punting prospects. Moorman looks like he's in full control of the job despite an earnest challenge from Shawn Powell.
2. Does Rian Lindell deserve the same confidence after shanking a 24-yarder against the Redskins? Does the "it's only preseason" argument extend to cover special teamers?
3. The other kicker in camp, John Potter, was brought in for a look as a kickoff specialist. It will be interesting to see if they let Potter try is leg with any field goals in the remaining preseason games.
4. Long-snapper Garrison Sanborn: solid as ever.