How Does the USA Today Preseason Poll Alter Virginia Tech's BCS Path?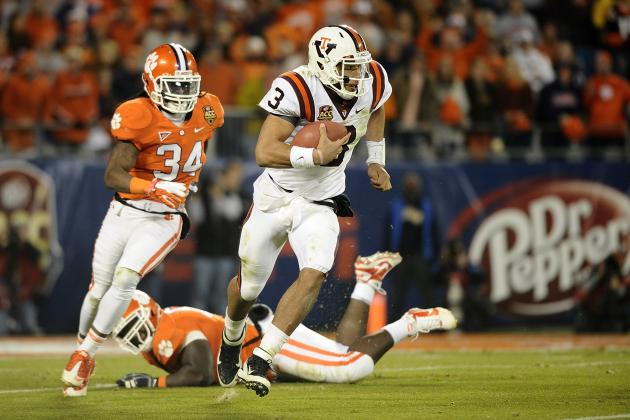 Jared C. Tilton/Getty Images
Virginia Tech is looking for better results against conference rival Clemson this year.
Virginia Tech's football program under Frank Beamer has been a model of consistency over the last eight years. They've won at least 10 games in every season during that stretch, which coincides with them joining the ACC in 2004.
However, "greatness" isn't determined by 10-win seasons or even ACC championships. It's determined by BCS championships, and the Hokies still have a goose egg in that category over that time span.
They begin the 2012 season No. 20 in the USA Today Coaches' Poll, seven spots lower than where they sat at the beginning of the 2011 season. Their roster has undergone numerous changes since last year, which certainly explains the lower ranking.
Let's take a look at how their preseason ranking could alter their BCS path, wherever it may lead.
Begin Slideshow

»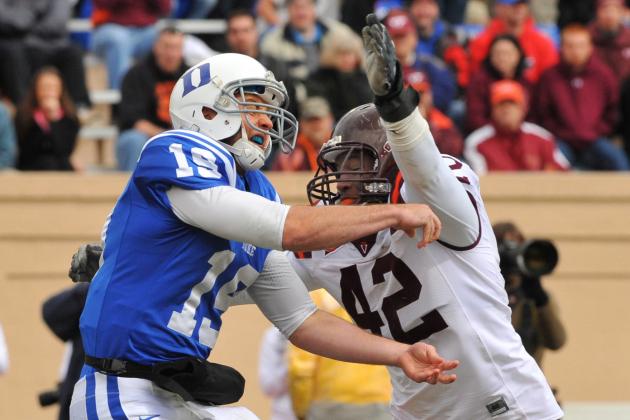 Al Messerschmidt/Getty Images
Virginia Tech plays several weak opponents this year, including Duke.
Virginia Tech's 2012 schedule features only two games vs. teams in the preseason Top 25.
The Hokies will be looking to avenge two blowout losses to Clemson (currently No. 14) last year, including a 38-10 route in the ACC Championship Game. The October 20 rematch at Memorial Stadium looms large not only from a revenge standpoint, but also because the Hokies should be 7-0 when they roll into Death Valley.
That fact is the key here. With easy early season matchups at home against Austin Peay, Cincinnati and perennial ACC doormat Duke, the Hokies won't have that "signature" win before their contest with the Tigers.
That will obviously hurt their ranking coming into that game. It's possible that a 7-0 VT squad could still be on the outside looking in for a Top-10 spot come the third week of October.
Playing in a weaker football conference like the ACC could mean a one-loss team from the SEC or Big 12 would still find themselves ranked higher at the time than an undefeated Virginia Tech.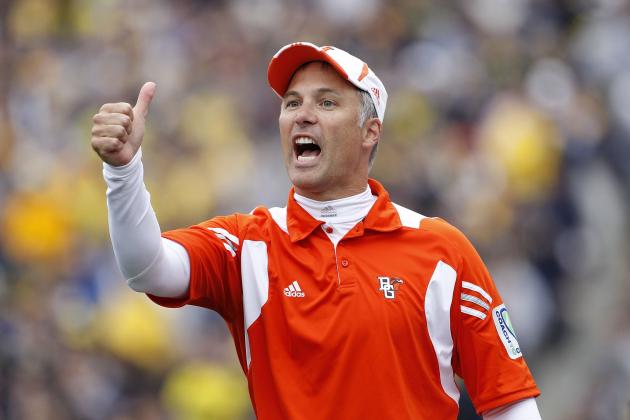 Leon Halip/Getty Images
Dave Clawson and Bowling Green travel to Blacksburg September 22nd.
Anytime a college football team has cakewalks in the beginning of their season, experts always talk about "style points." Did Virginia Tech beat Austin Peay by six touchdowns and play its backups for half of the game, or did they struggle and only win by 14?
These are the questions that will inevitably be asked when talking about the Hokies' first seven games. Virginia Tech is somewhat behind the eight-ball right off the bat because their conference as a whole is weak.
SEC teams can get away with early season patsies because their in-conference schedule will undoubtedly feature three or four games against Top-10 opponents. VT doesn't have this "luxury," if you want to call it that. The Hokie's must put up big point totals against teams like Pittsburgh and Bowling Green if they want to have any hope of entering the Top 10 before the Clemson tilt.
They may find that hard to do since this year's offense is basically being rebuilt from scratch.
According to Bill Connelly of SBNation.com:
Tech's leading returning running back carried the ball 16 times last year, its most experienced offensive linemen has started just 14 games, and it must replace five of the seven players targeted by more than seven passes last year.
Those factors might not be enough to cause the Hokies to lose one of their first seven games, but it may prevent them from putting up those "style points" that go a long way toward determining a team's week-to-week ranking.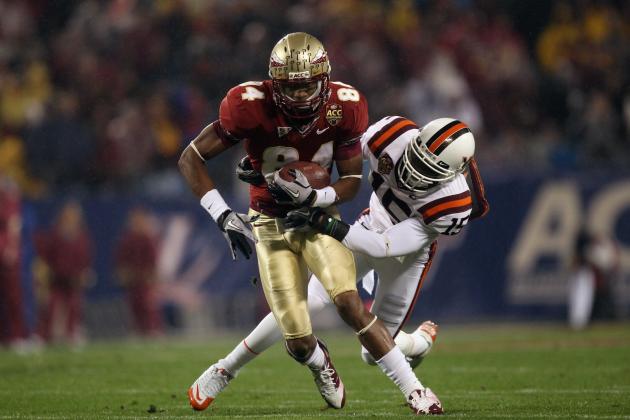 Streeter Lecka/Getty Images
The Hokies haven't faced the 'Noles since the 2010 ACC Championship Game.
As I stated earlier, Tech has two games against teams ranked in the preseason Top 25. We've already discussed the Clemson game. The other matchup is at home against Florida State (currently No. 7) on November 8 in a prime-time ESPN Thursday night showdown.
One thing I think all ACC teams can admit to themselves is that they have to go undefeated to even have a shot at making the BCS National Championship Game. Few would argue a one-loss VT or FSU team would have a better chance than a one-loss Alabama or Georgia squad.
At best, I think the ACC would rank behind the SEC, Big 12, Pac-12 and Big Ten as far as football strength goes. What does this mean for a team like Virginia Tech?
Simply put, it means the Hokies have to beat the Tigers AND the 'Noles to have any hope of a BCS title in 2012. One slip-up—whether it be to one of those teams or to one of the lesser opponents they face this year—will surely result in another season where "greatness" escapes the Hokies again.