Olympic Basketball 2012: The One Standout Basketball Star from Every Country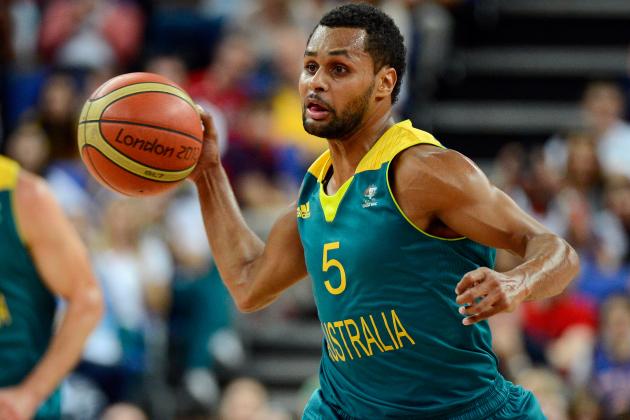 Ronald Martinez/Getty Images

North Greenwich Arena saw some fantastic basketball players do battle in the 2012 London Summer Olympics.
Over the course of the tournament, one star from each team stood out, even on squads boasting more than one NBA player.
Their exceptional play gave their teammates something to believe in, something to rally behind.
Much like the NBA's star-driven structure, international basketball fans relish the feats of the top players from each country.
Here they are.
Begin Slideshow

»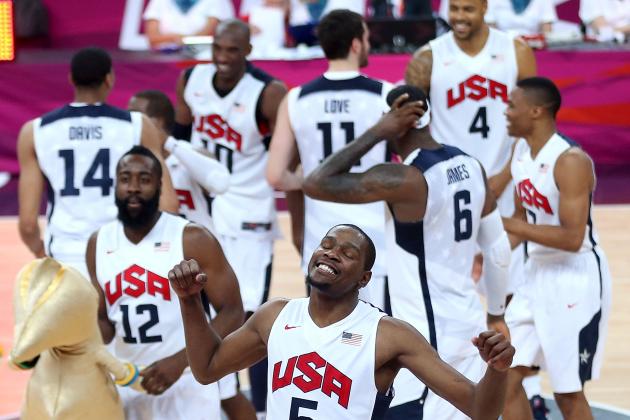 Streeter Lecka/Getty Images

This selection is largely based on Durant's 30-point performance in the gold-medal game, but it's well deserved.
The Oklahoma City Thunder superstar stepped up when Team USA needed him most, playing almost the entire game against Spain and carrying the squad offensively.
Coach K's trust in him wasn't in vain. He hit five three-pointers, went 9-of-10 from the foul line and grabbed nine rebounds.
Lost amid Durant's 156 Olympic points (an American record) is his superb defense. He's not the most physical defender or most talented stopper, but he consistently gave great effort and showed great anticipation.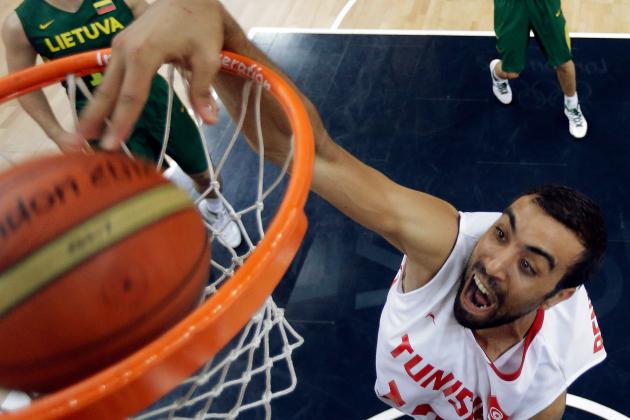 Pool/Getty Images

Tunisia failed to win in London, but Makram Ben Romdhane didn't fail to turn heads.
The 23-year-old forward represented his country by crashing the boards and accounting for nearly a quarter of Tunisia's offense.
The big question is whether he's NBA material. Does he have the tools to eventually make the jump to the big leagues?
Ben Romdhane knows how to get to the rim and finish in the lane, and he has a decent mid-range game. The limiting factors? He's not fleet of foot, and his outside shot is inconsistent.
Even if he doesn't turn into a major pro prospect, he'll be a major factor in the next couple of FIBA World Championships and Olympics.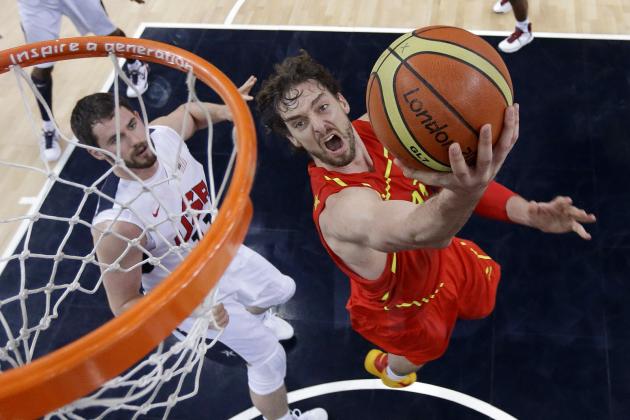 Pool/Getty Images

Spain's skilled forward has been the face of European basketball the past couple Olympics, and he justified that label by scoring the most points of any European player in London.
His stellar play not only led his country to the gold-medal game, it gave them a fighting chance to knock off the top-ranked Americans in that game.
Gasol put up 24 points, eight rebounds and seven assists against Team USA, keeping Spain within striking distance for most of the game.
From the beginning of this summer, it was clear that he deeply coveted a gold medal, and he backed that up with an outstanding tournament.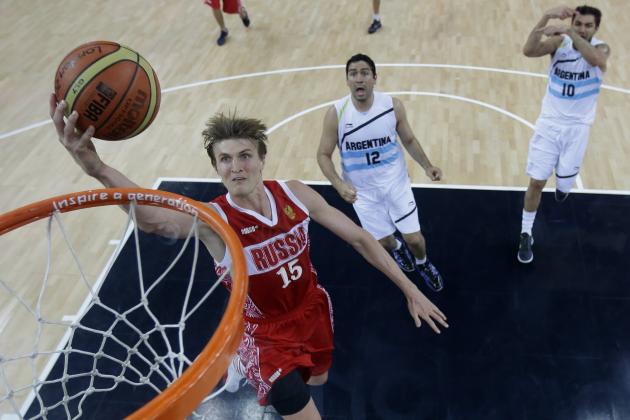 Pool/Getty Images

Andrei Kirilenko kicked off the Olympics by unleashing 35 points on Great Britain. It set the tone for a phenomenal tournament for the Russian star.
He was all over the place at North Greenwich Arena, providing energy in every phase of the game. Kirilenko has always been known as an elite defender, but his offense was just as striking. He scored 17.5 points per game and got to the free-throw line often.
His London exploits served as a primer for his return to the NBA. Minnesota Timberwolves fans will enjoy watching him in his role alongside Kevin Love and Ricky Rubio. He doesn't need the ball to impact each possession.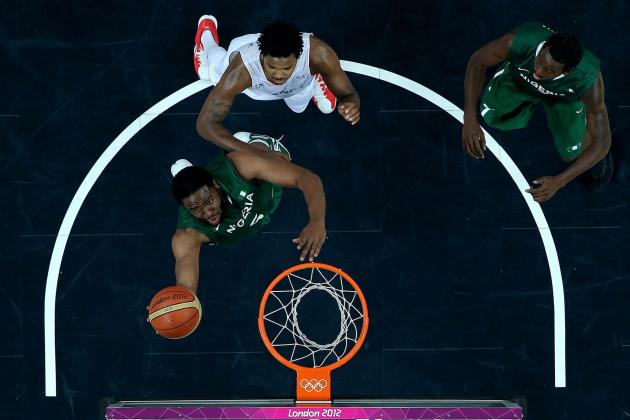 Rob Carr/Getty Images

He's no longer in the NBA, but Ike Diogu's strong performance in the paint these past couple weeks reminds us why he was drafted in the top 10 in 2005.
Diogu rebounded well every game, and his best shooting game came against Team USA, when he hit 73 percent from inside the arc.
Professional international squads have been the beneficiaries of Diogu's talents since last fall, and he's currently with Capitanes de Arecibo of Puerto Rico.
2012 was Diogu's first Olympics. There's a good chance we'll see him again in 2016 if his hapless Nigerian teammates can help him qualify.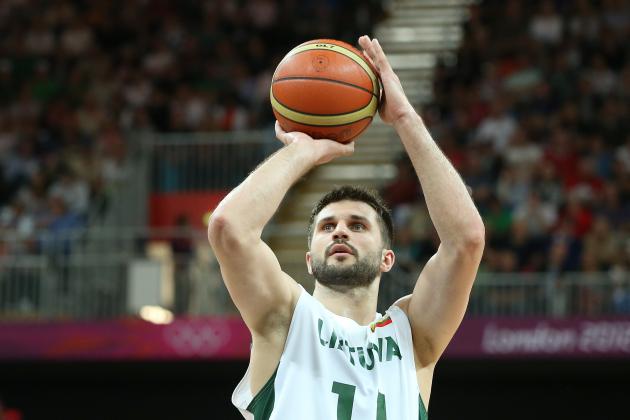 Christian Petersen/Getty Images

The Olympics were a roller-coaster ride for the Lithuanian national team.
For Linas Kleiza, the Olympics ended poorly, but that doesn't change the fact that he treated London to some fantastic basketball in the first four games.
His versatile offensive skills at the forward position made him an indispensable piece for the Lithuanians.
Kleiza played a huge role in the squad's competitive clash with Team USA. His 10-for-20 shooting night kept Lithuania close, resulting in the Americans' closest victory margin in months.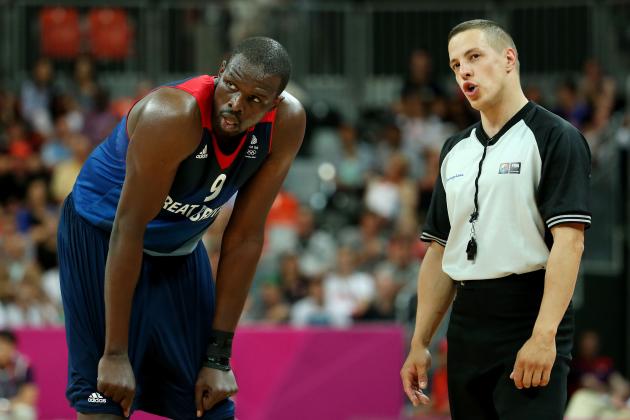 Christian Petersen/Getty Images

As the host country of the 2012 Olympics, Great Britain was a basketball underdog seeking respect.
That mission was accomplished, thanks in part to Luol Deng's brilliant playmaking and leadership. He pushed both Brazil and Spain to the limit and helped Great Britain soundly defeat China.
There are few athletes who are as important to their country's sport as Luol Deng, and he lived up to the expectations, scoring 17 points per game while snatching seven boards and dishing five assists.
Those numbers were good enough to boost him into the top 10 in scoring and assists in the 2012 Olympics.
Christian Petersen/Getty Images

Even at 30 years old and donning goggles, Tony Parker's penchant for slicing through the defense is still exceptional.
His best efforts ultimately weren't enough to secure a medal for the French, but Parker did raise his level of play against the better teams in the tournament.
Most above-average point guards can get past their defenders on a consistent basis. Parker can routinely get around the first and second defender, which makes it difficult for a team to rotate and adjust its defense.
Pool/Getty Images

Leading all Olympians in rebounding was Chinese forward Yi Jianlian. China needed him to be a gigantic force in the paint, and he obliged by averaging a double-double in London.
The agile seven-footer also used his extensive offensive repertoire to get himself open for jump shots.
One aspect of his game that must improve is his lateral quickness and overall explosiveness.
He doesn't worry about the negative criticism he gets here in America. He has the support of hundreds of millions of people in his homeland.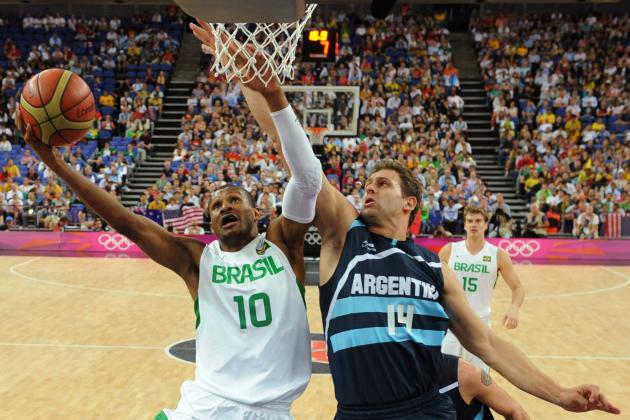 Pool/Getty Images

Brazil boasts a trio of highly effective post players, but its most outstanding talent is slashing guard Leandro Barbosa.
What I was most impressed with at these Olympics was Barbosa's shot selection and efficiency.
He shot 54 percent inside the arc and 40 percent beyond it. That doesn't sound overwhelming, but considering his irregular role in the offense and low number of shots, it's an excellent showing.
Barbosa finished his Olympics strong, scoring more than 20 points against higher-ranked Spain and Argentina.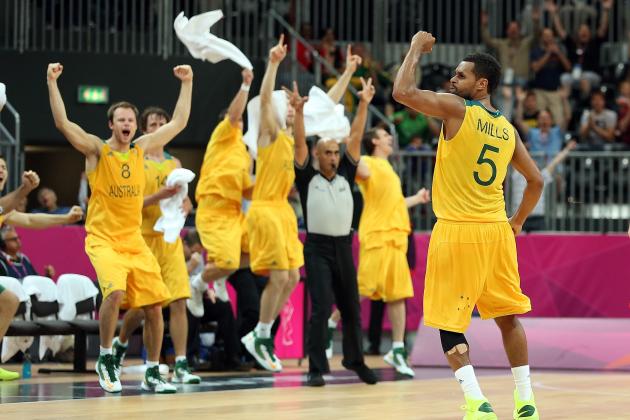 Christian Petersen/Getty Images

Australia's Patty Mills is one of the most exciting players on the international stage, and he authored one of the most exciting plays North Greenwich Arena has ever seen.
His buzzer-beater against Russia was awesome, but Mills wasn't a one-hit wonder in these Olympics. His endless drives to the hoop put enormous pressure on the defense.
Whenever the defense focused too much on keeping him in front of them, he'd pop up like lightning and bury a three-pointer or deal to a cutting teammate.
Mills is clearly the best player on Australia, and he's definitely the best shot-creating guard. The bad news for the rest of the world is that he still has another Olympics or two in his future.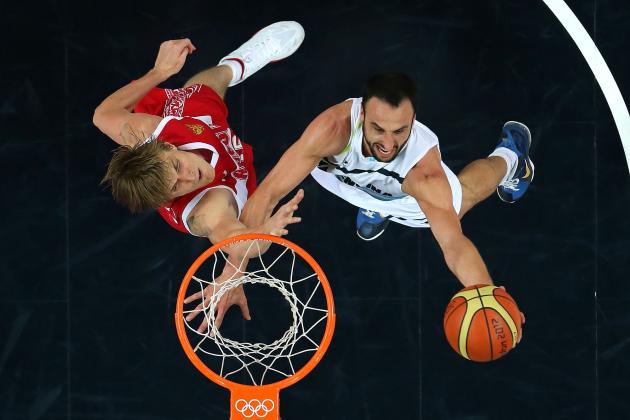 Christian Petersen/Getty Images

For the first time since 2000, Argentina didn't medal in basketball, but it wasn't Manu Ginobili's fault.
The innovative veteran has become one of the best international-style basketball players.
His signature, calculated drives into the paint and off-balance lay-ins are tough to defend, even if they're not swift or explosive. Ginobili's body control, timing and comfort with his teammates is hard to duplicate.
His most impressive Olympic stat is this: He made all 34 of his free throws.