Daniel Cormier Wants a UFC Title Shot If He Beats Frank Mir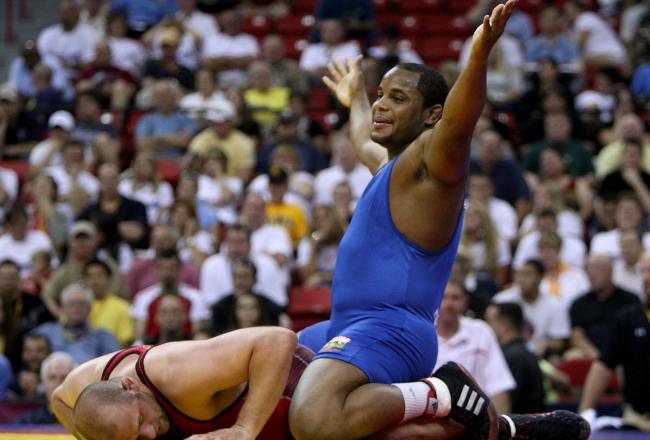 Jonathan Ferrey/Getty Images
Daniel Cormier's rise in MMA has been almost mythical. He entered the sport as one of the top blue chip prospects due to his experience wrestling internationally. Since making his debut in Strikeforce, he's picked up some really incredible wins over Antonio Silva and Josh Barnett to win the Strikeforce Heavyweight Grand Prix.
Heidi Fang over at MMAFightCorner.com had the opportunity to speak with the heavyweight standout about his upcoming fight with Frank Mir in September. Mir is making his way over to Strikeforce for this one fight to finish out Cormier's tenure in the promotion. With a win over Mir, Cormier wants a shot at a UFC belt.
"I want to throw my name into the hat, if I'm able to get past Frank Mir," he said. "Hey guys don't forget about me over here. I've been chuggin along and if I get through this fight, that's three top ten guys in a row. I should be in line for a belt. I should get a shot at either of those divisions." He later added: "Hey Dana and Lorenzo, don't forget about me over here. If I win this fight, give me a shot."
I can't say that he's off on his logic. Wins over "Bigfoot," Barnett and Mir would definitely be considered one of the most impressive runs at heavyweight over a three-fight period. However, Cormier is unsure of what he would do if his teammate and friend Cain Velasquez was the UFC heavyweight champion.
We've heard this before from fighters out of AKA. Jon Fitch and Josh Koscheck came under a lot of heat when they publicly refused to fight against each other. The idea of teammates fighting teammates isn't unique to AKA either. The fighters at Greg Jackson's academy have a similar agreement.
"Let's see what happens. A lot of things are going to be in play," Cormier said. "If I come over to the UFC as the number one contender and Cain's the heavyweight champion, then I have some things to think about. But if somebody else is holding that belt, then yea, I'm gonna stay up at heavyweight."
As a fan, I'd love to see Cormier fight Cain. It's an incredibly intriguing matchup and would test the wrestling of both fighters. To add to the intrigue, both have very heavy hands. However, I'm alright with Cormier setting his sights on current UFC light heavyweight champion Jon Jones.
While people are focusing on Dan Henderson, Lyoto Machida and Alex Gustafsson as the fighters with the best shot at testing Jones, it may be Cormier who will prove to be the man to dethrone the champ.
"Standing across the cage from that guy would be great for me. I'd love to do at some point in my career. Even if I am maybe the heavyweight champion and there's a chance to make a super fight, we could figure something out him and I, because I would not back down from that opportunity."
If you aren't familiar with Daniel yet, I'd recommend finding his fights with Antonio Silva and Josh Barnett. You'll see a fantastic display of punching power and high-level wrestling. You will want to jump on his bandwagon before he blows up into a superstar in the UFC.
And if you know who he is, then you need to start getting hyped for the Frank Mir bout and the hypothetical fights with Jon Jones and Cain Velasquez.
This article is
What is the duplicate article?
Why is this article offensive?
Where is this article plagiarized from?
Why is this article poorly edited?