Ryan Tannehill and the NFL Rookies Who Need Redshirt Years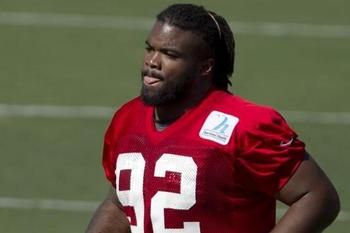 Orlin Wagner/The Associated Press
Not every NFL rookie is ready to make an impact early in his career. This is true for first-round picks and later-round developmental players.
The NFL "redshirt" is much different than the one college players experience.
Because NFL teams can only have 53 players on their active rosters, these rookies actually have chances to see the field on special teams or as part of rotations.
The following players on this list are rookies that need more time before they can make impacts. This means that I didn't include players that will have hard times making rosters. Only the rookies that have chances to develop into difference makers were included on the list.
I also want to point out that just because I included a player doesn't mean that he'll have a redshirt season. There are plenty of rookies in this article that will receive significant playing time but maybe shouldn't.
Brandon Brooks, Houston Texans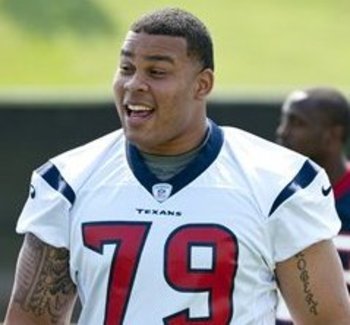 footballfutures.com
The Houston Texans lost Mike Breisel this offseason to the Oakland Raiders. This forced them to look toward the draft to add some young depth at the guard position.
They ended up selecting Brandon Brooks in the third round. Brooks isn't ready to make an immediate impact, but he has a very bright future.
As this point Antonie Caldwell is slated to open the season as the starting right guard. Brooks is projected as his backup. This is a good situation for Brooks, as he's coming from a school in Miami of Ohio that doesn't play against great competition.
The change in the level of competition is something that can affect a young offensive linemen. While in college, these players had to deal with school and were not able just to focus on football.
NFL players, however, get to work constantly to improve their strength and ability.
This is especially noticeable in the trenches, as strength plays an important role in the success of linemen. Brooks could use a season to learn the ins and outs of the NFL, while also working on increasing his strength.
Brock Osweiler, Denver Broncos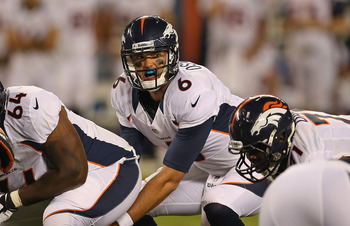 Jonathan Daniel/Getty Images
Brock Osweiler is going to get more than one year to sit and learn. The Denver Broncos brought in Peyton Manning to lead the team for the next several seasons.
However, this is what makes their selection of Osweiler a wise one. He's extremely talented but needs time to learn the game.
During his time in college, Osweiler flashed tremendous arm strength and a desire to win. However, he also showed problems reading coverages. There were too many instances in which he forced balls into double coverage. He also had a tendency to stare down his first read.
One of the other major adjustments Osweiler must deal with is a change in offensive philosophy. While at Arizona State, he was asked to run a spread attack. This limited the number of post-snap reads he was forced to make.
In the NFL, he'll need to make quicker decisions with the football.
Zack Brown, Tennessee Titans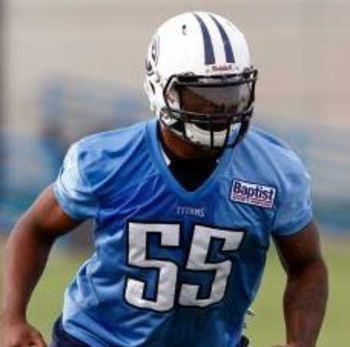 greenwichtime.com
It's very true that speed is something a coach cannot teach. Zach Brown has tremendous speed and an elite closing burst. This allows him to make plays all over the field and behind the line of scrimmage.
However, Brown needs to get stronger and work on his ability to read keys.
Too often he takes false steps, which hinders the impact his speed can have. Taking a "redshirt" year will allow Brown to get into the film room and increase his knowledge of the game.
The more comfortable he feels on the field, the better he'll be able to utilize his speed.
While Brown might not see much time on defense this season, he is sure to be a factor on special teams.
Stephen Hill, New York Jets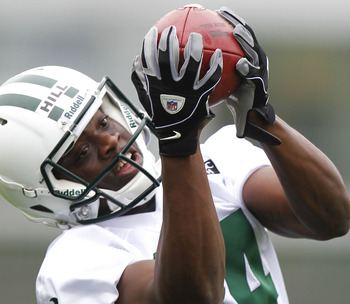 Jeff Zelevansky/Getty Images
Unfortunately for Stephen Hill and the New York Jets, there isn't an opportunity for a "redshirt" season in this scenario.
However, that doesn't mean Hill shouldn't be limited in the amount of pressure the Jets lay at his feet.
Hill is an electrifying talent, but he was one of the rawer players selected in the 2012 draft. During his time at Georgia Tech, he ran a very basic route tree that feature mostly nine routes and quick slants. It's going to be tough for him to play at full speed this season, as he'll be spending a lot of time trying to perfect his route running.
The issue is that the Jets need Hill to make an immediate impact.
The depth and talent at the wide-receiver position is really thin in New York.
Ryan Broyles, Detroit Lions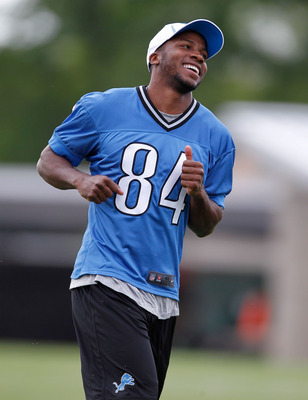 Gregory Shamus/Getty Images
Ryan Broyles suffered a ill-timed knee injury last year at Oklahoma. The injury occurred late in the season and impacted his ability to go through the NFL draft workouts.
However, the Detroit Lions felt comfortable enough with what they saw from Broyles prior to the injury to draft him in the second round.
As it stands, Broyles is on pace to open the season on the active roster. However, it could be a while until he's up to full speed. Players recovering from ACL tears usually take more than a full year to get back to 100 percent. This is an issue for Broyles in particular because so much of his game relies on his speed and quickness.
It could get frustrating for him if he struggles to gain separation and produce. The confidence of a young player is a key to how quickly he develops.
A.J. Jenkins, San Francisco 49ers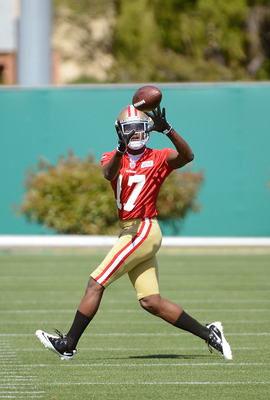 Thearon W. Henderson/Getty Images
I was very surprised that the San Francisco 49ers used their first-round pick on A.J. Jenkins. He is a good athlete, has strong hands and possesses upside. However, he would've made more sense late in the second round.
The pick becomes even more confusing when you consider the 49ers' offseason moves. The additions of Randy Moss and Mario Manningham solidified the top three wide-receiver slots on the roster.
This all points to the fact that Jenkins is anything but a finished product.
In college, he was able to get away with making plays based on his athleticism. Because of the great athletes in the NFL, Jenkins will now need to find other ways to get open.
This season is going to provide him an opportunity to sit back and learn. He can get a feel for how Randy Moss and company work to create space.
Shea McClellin, Chicago Bears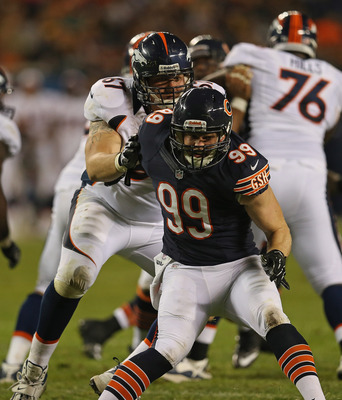 Jonathan Daniel/Getty Images
The Chicago Bears don't seem to agree with my assessment that Shea McClellin could benefit from a "redshirt" season. CBSSports' Gene Chamberlain reported that McClellin has seen increased reps with the first team after his impressive preseason debut.
However, it's important to note that the majority of his success came against the Denver Broncos' second- and third-team offenses.
The biggest issues facing McClellin are his lack of strength and bulk. These problems impact both his ability to rush the passer and stop the run.
Chicago selected McClellin because of his quick burst and ability to rush the passer. However, his struggles holding at the point of attack make him a liability against the run. Opposing offensive linemen are going to move him off the line easily. In the NFL a player needs to be well rounded if he hopes to succeed.
McClellin's lack of strength also comes into play when he rushes the passer. He has a hard time disengaging once the blocker gets his hands inside his body. This basically means that, unless McClellin gains the initial upper hand, he'll be ineffective.
The Bears can't afford to wait for McClellin to develop. However, it will become clear that he's not ready for the physical play in the NFL.
Dre Kirkpatrick, Cincinnati Bengals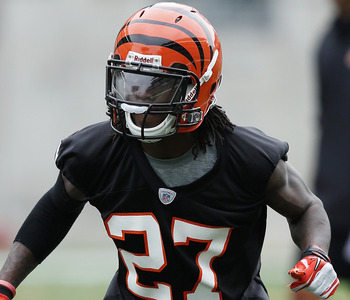 Joe Robbins/Getty Images
When the Cincinnati Bengals selected Dre Kirkpatrick in the first round, it was as much about the future as the present.
Kirkpatrick was heading to a team that already possessed excellent depth in the secondary. This means that he would've had to have a great training camp to earn playing time. As it happens, Kirkpatrick suffered a knee injury that could keep him out for as long as six weeks.
His injury and Cincinnati's depth at the position aren't the only things hold him back; when he returns, Kirkpatrick needs to continue work on his technique.
Early in the offseason he talked about how he had to learn to backpedal, saying about his time at Alabama: "We were always press man, Cover 2. It was never just sit there and reading the receiver on his route. It was something new."
The Bengals' defensive alignment requires the cornerbacks to read and react often. This requires excellent balance, a quick burst and the ability to identify developing routes.
Until he's able to perfect this craft, Kirkpatrick could remain on the sideline.
Dontari Poe, Kansas City Chiefs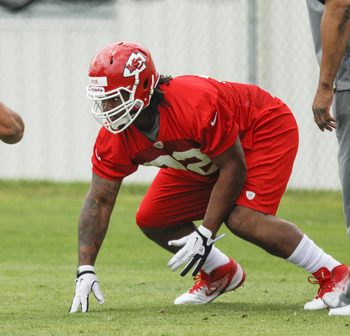 Kyle Rivas/Getty Images
Dontari Poe was one of the fastest risers in the 2012 draft class. His excellent showing at the combine forced some teams to move him up their boards.
Despite his rare physical abilities, though, Poe might be a year or two away from making a major impact.
During his first preseason game, Poe saw just how much improvement he needs. The Arizona Cardinals offensive line was able to limit his push on the pocket and seal him away from running plays. Poe was slow off the snap and wasn't able to gain inside hand placement.
His combination of size and quickness isn't very rare in the NFL. Offensive linemen are use to dealing with massive nose tackles and work at perfecting their crafts so they are not overpowered.
Poe is going to need to improve his technique if he hopes to earn significant snaps as a rookie.
Ryan Tannehill, Miami Dolphins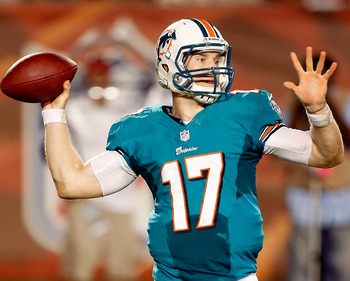 J. Meric/Getty Images
Ryan Tannehill possesses tremendous physical talent, but he has a long way to go until he's completely ready to lead an NFL team.
This is a player who received a limited number of reps at the quarterback position while in college. He began his career as a wide receiver and only took over at quarterback partly through his junior season.
This is a player that needs time to sit and learn the ins and outs of the position. He'd benefit from extended time in the film room with veteran quarterbacks like Matt Moore and David Garrard. Learning how to make better decisions will better prepare Tannehill to take over as the starter.
One of the biggest issues I had with him during his college career was his tendency to force balls into coverage. This is the type of thing that will result in a high number of turnovers in the NFL.
Unfortunately, the recent injury to Garrard and solid preseason performances by Tannehill could result in changes on the depth chart.
The Miami Dolphins appear eager to get their new toy on the field. Tannehill's superior physical abilities might make it tough for the Dolphins to begin the season with Matt Moore under center.
Keep Reading