6 Reasons Jail Time Will Have Zero Effect on Floyd Mayweather's Title Defenses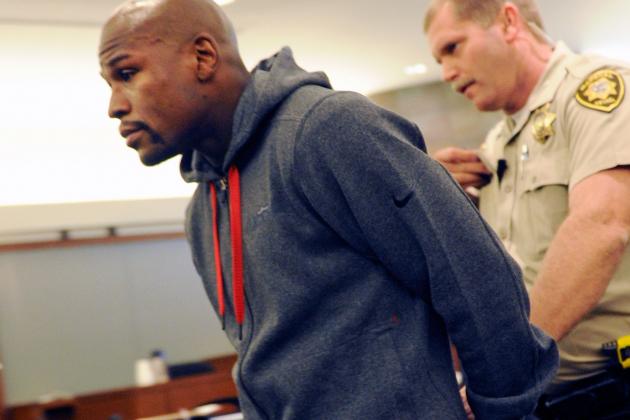 David Becker/Getty Images
Floyd Mayweather's prison ordeal will not have a long-term impact on his boxing talent.
There will come a day that Floyd Mayweather will not be the dominant figure in boxing.
He will not be the best in the world, and he won't be able to rule the ring every time he steps in it.
Time catches up with all boxers, and there will come a point that an up-and-coming fighter will have better reactions and beat him to the punch consistently.
Mayweather is such a sharp student of the game that he is likely to know when this day comes before he has to step in the ring with an opponent who can punish him.
He'll likely learn that fate when he is in the ring hammering out yet another win. He will see an opening and he will deliver a punch. It will miss its mark or it won't have the power that Mayweather knows it should have.
He will realize that he's not the same man.
But he's not at that point yet, and just because he finished a stint in jail doesn't mean that he has lost his ability. He will have the time and inclination to regain his top form before he steps into the ring again.
He has a number of attributes that will allow the 35-year-old WBC Welterweight and WBA Super Lightweight championship that will allow him to win consistently.
Begin Slideshow

»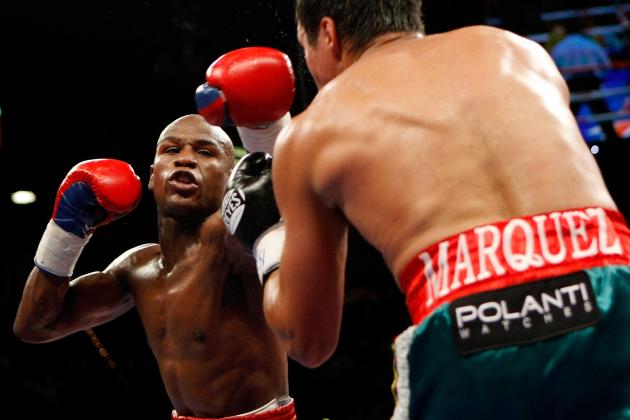 Ethan Miller/Getty Images

When you get in the ring with Floyd Mayweather, he is going to connect.
He is not going to swing and miss. He is not going to get worn out because of his punches that go awry.
Statistical measurements in boxing reveal that Mayweather is the most accurate puncher of all of his contemporaries. According to Bob Canobbio of Compubox (through ESPN.com), Mayweather lands 46 percent of the punches that he throws.
This is significantly more than other top fighters, including Miguel Cotto (34 percent) and Nonito Donaire (29 percent).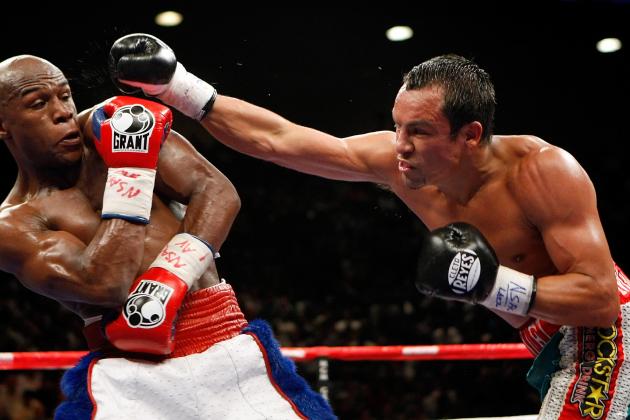 Ethan Miller/Getty Images
Mayweather's ability to avoid punches is exceptional.
If Mayweather is considered the most accurate puncher of his era, he is considered to be an even stronger defensive fighter.
The numbers are exceptional. Mayweather gets hit with 16 percent of the punches his opponents throw. His ability to avoid punches, block them or deflect hard punches and then fire heavy-duty punches of his own is exceptional.
Mayweather's exceptional defensive ability is a combination of natural athleticism and learned skill. His reaction time is clearly exceptional, but so is his positioning, head movement and instincts. These are all learned traits that come from his vast experience and the teachings of his uncle, Roger Mayweather, and earlier from his father, Floyd Mayweather Sr.
Floyd Mayweather, Jr. concluded his prison sentence looking noticeably thinner than when he entered prison in June.
He will need time to get his strength back and resume his training. That should not be difficult for Mayweather. He has had long periods of inactivity in his history and once endured a 21-month absence from the ring (source: BoxRec.com).
Once Mayweather has a fight to prepare for, he should be able to get himself in top shape once again and perform at or near his best.
Mayweather has an undefeated record. He is perfect in 43 fights, and he does not want to have a loss or a draw on his record.
Mayweather takes pride in his record as well as his titles, so that means he is not going to get into the ring unless he has prepared himself and he is ready to go into the ring and win.
Great fighters know when they lose this ability, and Mayweather is not different. He wants to keep a perfect record, something that the other all-time greats—Sugar Ray Leonard, Sugar Ray Robinson, Muhammad Ali—were not able to accomplish.
Mayweather is seen as a great technician and tactician in the ring. Both of those assessments are accurate.
However, his punching power may not get as much recognition as it should.
Mayweather has registered 26 knockouts among his 43 victories. The speed of his punches and their accuracy are key reasons why he is able to generate so much power. The other reason is his exceptional timing and balance.
When Mayweather senses an opening, he is able to deliver multiple punches in rapid-fire succession. This allows him to build his knockout totals and turn himself into a fighter who must be feared at all stages of a fight.
His punching speed makes his late-round punches dangerous. Of his last six knockouts, five have come in the sixth round or later (source: BoxRec.com).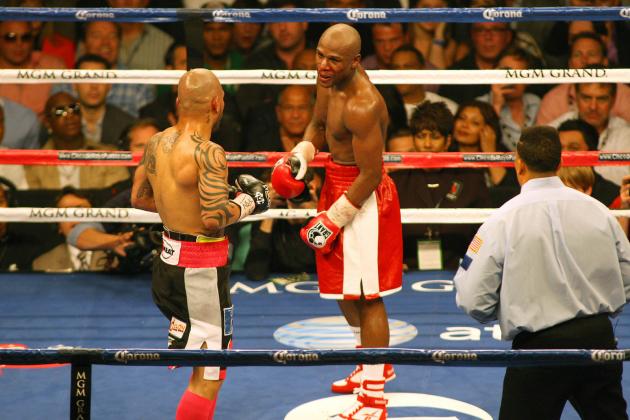 Jake Roth-US PRESSWIRE

Ego is usually thought of as a detriment to most athletes.
When an athlete has a big ego, he may think he can cut corners and still beat all his opponents.
However, with the greatest athletes—particularly those in boxing—they know if they are better than their competition, and they simply won't allow themselves to be beaten.
The idea of losing to an individual who can't match his skill set is repugnant, and an athlete with Mayweather's high opinion of himself won't allow that to happen.
He will prepare, and he will give his all to keep another man from beating him.