Best Rookie/Veteran Position Battles in the NBA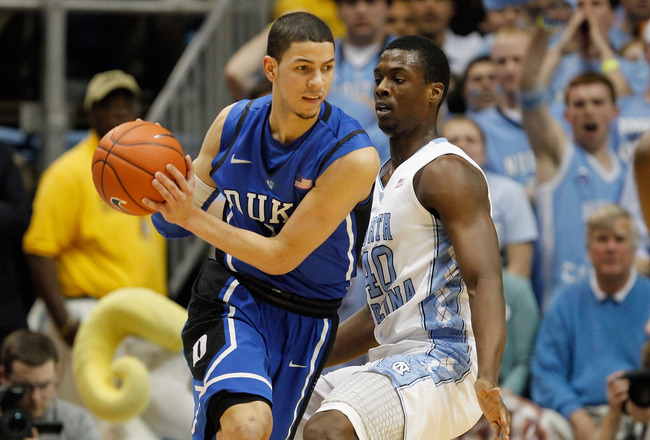 Streeter Lecka/Getty Images
Position battles aren't phenomena reserved for the NFL, you know. Football training camps may be all the rage during the dog days of August, but let's not forget about the preseason still to come in the NBA.
Basketball may be a game of fewer roles than football, with less player turnover on account of less physical contact, but that should do little to detract from the intrigue inherent in an influx of talent collectively attempting to assert itself next season.
If anything, that makes any clash between a rookie and a veteran in NBA training camp that much more monumental.
This year's fall practices will feature more such struggles than the norm. The 2012 NBA draft was considered among the deepest in years and, as such, should yield no shortage of first-year studs looking to make headway against their more experienced teammates.
These seven in particular will be well worth watching once the NBA gets back to the business of basketball when the summer of 2012 comes to a close.
Eric Gordon vs. Austin Rivers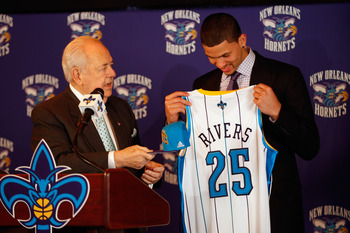 Chris Graythen/Getty Images
On paper, Eric Gordon and Austin Rivers won't be duking it out for the same position when the New Orleans Hornets open camp.
Gordon, returning to New Orleans after some noted drama this offseason, is a "shooting guard," while Rivers, the rookie out of Duke, figures to start at point guard for Monty Williams. Assuming, of course, that he beats out Greivis Vasquez for the spot—a battle within a battle, if you will.
In reality, Gordon and Rivers are both combo scoring guards, albeit ones with somewhat disparate skill sets. Gordon is an incredible athlete who can attack the rim with his speed and leaping ability, while Rivers relies more on his crafty, creative dribble to get around and do damage.
Both, as it happens, are solid-to-superb shooters.
Gordon is a bit undersized for the 2, but he has the physical wherewithal to man the position on the other end. Rivers actually measures an inch taller than Gordon, though at 6'4", Rivers fits in right along with the modern breed of tall point guards.
Ultimately, these two will be fighting less for defined spots and more for roles and various niches therein. Will Rivers be tasked with handling the ball and running the offense, even though he projects more naturally as a scorer? Or will Gordon take the reins from time to time?
Or, will Vasquez play so well as to relegate Rivers to the second unit?
Greg Monroe vs. Andre Drummond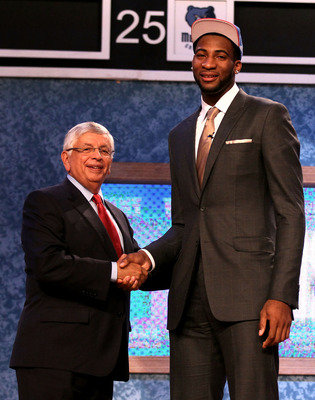 Elsa/Getty Images
Andre Drummond, taken one spot ahead of Rivers in the 2012 draft at No. 9, will likely begin camp with the Detroit Pistons as a backup, but could find himself in the starting lineup before too long.
For now, the 19-year-old seven-footer out of UConn will have to bide his time behind Greg Monroe, who emerged as a borderline All-Star during his sophomore season with the Pistons.
In due time, though, the Pistons likely will hope to play them side by side as a sort of dynamic duo in the frontcourt akin to Tim Duncan and David Robinson during their glory years with the San Antonio Spurs.
Not that Monroe can so much as touch Duncan's stratosphere, or that Drummond will ever be on The Admiral's level, especially defensively.
But in a league as lacking in legitimate size as is today's NBA, having two competent big men around whom to build would give Detroit an upper hand in the race to win the future of The Association.
In the meantime, it'll be up to Monroe to grow into his role as the franchise cornerstone in the Motor City and for Drummond to serve as the kid whose presence pushes him to work even more diligently to do so.
Richard Jefferson vs. Harrison Barnes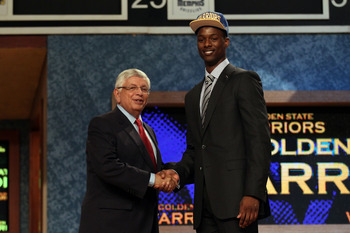 Elsa/Getty Images
Harrison Barnes already may be the one doing the pushing (rather than getting pushed) in the Bay Area. The Golden State Warriors made the former University of North Carolina standout the seventh pick of the draft, thereby rendering Richard Jefferson expendable—again.
Whether head coach Mark Jackson hands the reins of the small forward position to Barnes from the get-go remains to be seen, though.
The rookie did plenty to impress during the Las Vegas Summer League—he averaged 16.8 points and 5.6 rebounds, and hit 57.1 percent of his three-point attempts—while Jefferson, at 32, is all too deserving of the labels "old" and "overpaid."
The Dubs' decision may well come down to which player gives the team a better chance to compete for an edgewise word in the Western Conference playoff conversation.
Golden State may well find itself in the playoffs for the first time since 2007 if Andrew Bogut and Stephen Curry both return with healthy ankles to play alongside David Lee and Klay Thompson. Those are both big "ifs," but the more the team can get out of its wings, the lesser the burden on the wounded Warriors.
Jefferson clearly has experience on his side—he's partaken in eight postseason appearances, including two trips to the NBA Finals with the New Jersey Nets—but his skills are clearly on the decline and have been for the last three years or so.
Is an aging R-Jeff more valuable to the cause than a fresh-faced Barnes? The Dubs will find out soon enough.
Kevin Martin vs. Jeremy Lamb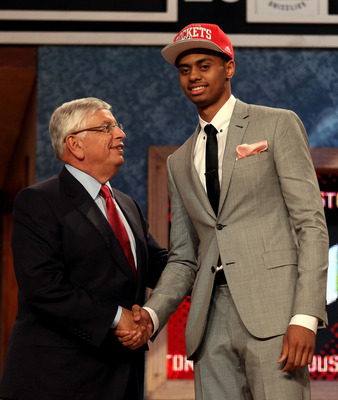 Elsa/Getty Images
If the Houston Rockets had their way, there would be no competition at shooting guard. They went hard after Dwight Howard and likely would've sent either Kevin Martin or Jeremy Lamb (if not both) to the Orlando Magic had Houston GM Daryl Morey been able to pull off a blockbuster trade.
But the Magic sprung for another consortium of crud instead, leaving Martin and Lamb to go head-to-head for time in the backcourt next to free-agent signee Jeremy Lin this season.
Both Martin and Lamb figure to be plenty motivated to give it their all.
Martin, 29, is heading into the final year of his contract and, thus, essentially will be auditioning for a new contract next summer, if not a trade out of Houston before then.
Lamb, on the other hand, will attempt to establish himself as a worthwhile lottery choice and silence those who criticized him for his seemingly lackadaisical play at UConn.
Lamb figures to have a tough time beating out Martin; though never an All-Star, he has been a solid three-point shooter and a reliable 20-point-per-game scorer for most of his NBA career.
Then again, if Lamb plays as well as he did in Las Vegas, where he averaged 20 points and 4.4 rebounds per game, he just might be able to relegate Martin to the bench.
Kirk Hinrich vs. Marquis Teague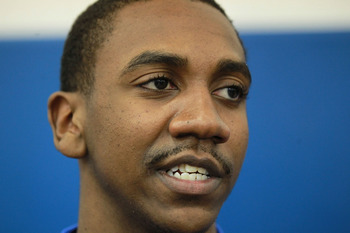 Andy Lyons/Getty Images
The Chicago Bulls were smart to sign Kirk Hinrich this summer to fill in for the injured Derrick Rose, and can only hope he's still good enough to fend off Marquis Teague.
Not that Teague is yet prepared to start at point guard in the NBA. He seemed a bit raw and too scoring-oriented during his freshman year at Kentucky, prompting a number of draft gurus to consider him one of those "lucky" prospects who probably should've stayed in school.
Teague did little to squash that notion during the Summer League, averaging more turnovers (3.8) than assists (3.0) and hitting less than 30 percent of his shots from the field.
The 31-year-old Hinrich is no wunderkind himself, though. He missed the first month of the 2011-12 season while recovering from shoulder surgery and went on to average career lows in points, rebounds, assists and minutes, even while starting 31 games for the Atlanta Hawks.
Unfortunately for Bulls fans, that may leave the door open for the kind of competition they'd never want to see, and it will only add to the anxiety that's sure to sweep through the Windy City until Rose returns from his torn ACL.
Daniel Gibson vs. Dion Waiters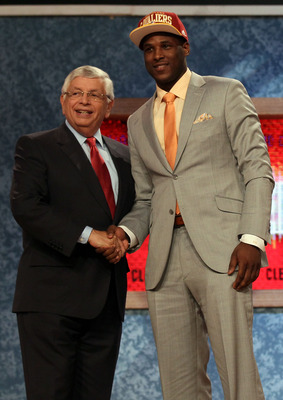 Elsa/Getty Images
Speaking of underwhelming, the Cleveland Cavaliers may be stuck with more than their fair share of facepalm-worthy situations at shooting guard, depending on how things shake out between Daniel Gibson and Dion Waiters.
Gibson is heading into the final year of his deal before he hits free agency next summer. He's proven himself to be a valuable sixth man over the years, but never consistently started in his six pro seasons.
He might have to for the first time if Waiters doesn't get himself up to speed in the pros.
A former sixth man himself, Waiters was underwhelming in Las Vegas, to say the least. The fourth pick out of Syracuse put up 12.3 points (on 30 percent shooting), 3.0 rebounds, 3.0 assists and 2.3 turnovers with the Cavs Summer League squad.
To Waiters' credit, three scrimmages with NBA scrubs constitute an awfully small and unrepresentative sample size, though for a guy who's been touted by some as the next Dwyane Wade, it's still a rather disappointing output.
Cavs coach Byron Scott can then only hope that playing alongside a soon-to-be-healthy Kyrie Irving is the cure to whatever's ailing Waiters. Otherwise, Scott's choice between reserve specialists—one at the pro level and one straight out of college—won't be all that appealing, to put it mildly.
Jason Thompson vs. Thomas Robinson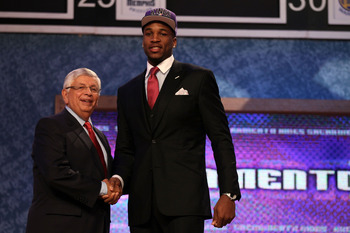 Elsa/Getty Images
Jason Thompson won't have much to worry about with the Sacramento Kings this fall if Thomas Robinson continues to play like he did in Vegas.
At first glance, Robinson's numbers don't seem bad—13.0 points, 9.8 rebounds, 3.0 assists—until his shooting percentage (34.4 percent from the field) and turnovers (4.8 per game) come into play. Those unsightly stats were borne out of T-Rob's persistent attempts to step away from the basket and show off something akin to a perimeter game.
Problem is, Robinson's game is best suited to the interior, where he can put his size, strength and tenacity to most effective use as a rebounder and occasional scorer.
Then again, it's tough to blame T-Rob too much for trying to diversify his repertoire, ill-advised as it may have seemed on the court. Thompson, the guy with whom he'll be competing, is himself a rebounding specialist of sorts who knows how to use his considerable length and, moreover, is signed through 2016-17.
As such, the battle to be DeMarcus Cousins' frontcourt partner in Sacramento could go on for years, unless one does something drastic to distinguish himself.
It ought not be too drastic in Robinson's case, though, lest he endanger his entire NBA career in the process.
Keep Reading